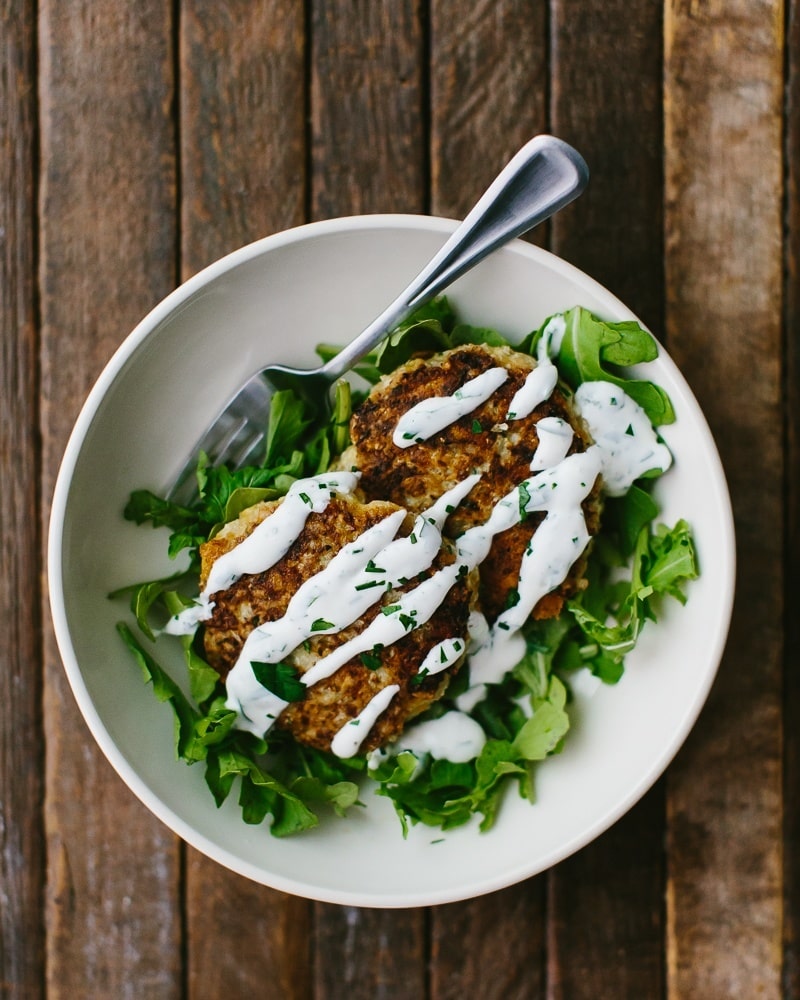 In the grand scheme of vegetarian meals, I don't think one can ever have too many recipes for veggie burgers, cakes, and/or patties. Really, they are all similar but each can have it's own role. Ever since I stumbled upon this recipe on Sprouted Kitchen, it's become a staple in many, many forms as a substantial main course. This particular version of the cauliflower cakes is made more often than not, because I almost always have brown rice sitting around. I have a thing for fried cauliflower (a weakness) with ranch and so this version is my take on the bar food.
Variations for the Cauliflower Cakes
Once you make this recipe, you'll realize the extent at which this can be used. Sara mentions a few use cases: on top of greens (my favorite, pictured here and on her site), in sandwich form stuff in pita, as a snack with dip, or another of my favorites: served with eggs. In this case, I served these patties on a bit of arugula and drizzled with homemade ranch.
Breakfast: Serve with a fried egg and drizzled with a bit of hot sauce. You can keep or ditch the greens (I nearly always keep them- feels good to me to have greens in the morning!)
Lunch: Crumbled on a salad or like mentioned above, stuffed in a pita (maybe with a nice smear of hummus and/or harissa.
Dinner: Served as I have them here and while I'm normally a wine drinker with dinner, I'd serve these with a nice IPA (can you tell I do love my fried cauliflower?)
Print
Cauliflower Cakes with Brown Rice and Cheddar
Author:
Prep Time:

15 mins

Cook Time:

45 mins

Total Time:

1 hour

Yield:

12

cakes

1

x
1 cup

short grain brown rice

1 ½ cups

cauliflower florets

¾ cup

rolled oats

3 tablespoons

chives

½ teaspoon

salt

½ teaspoon

black pepper

1 ½ cups

shredded cheddar cheese

4

large eggs

1

to

2

tablespoon olive oil, for cooking
Instructions
Bring a pot of water, with a pinch of salt, to a boil. Add in the brown rice and cook until rice is soft, 30 to 40 minutes. Drain and set aside.
In a food processor, pulse the cauliflower until it is in pieces smaller than the rice. Transfer to a bowl. In the food processor again, pulse the oats, chives, salt, and pepper until the oats are in fine pieces. Add in the brown rice and pulse a few more times.
Transfer the rice mixture to the bowl with the cauliflower and add in the cheddar cheese. Whisk the eggs, pour over the mixture and stir until well combined.
Place mixture in the refrigerator and allow to sit for 30 minutes.
Warm the olive oil up over medium heat in a large skillet with lid. Wet your hands and form the mixture into patties that are roughly 1" thick and 4" wide. Place in the skillet and cook for 4 minutes, until browning and crisp. Flip, cover, and cook for another 4 minutes until crisp and warmed through.
Featured Ingredient