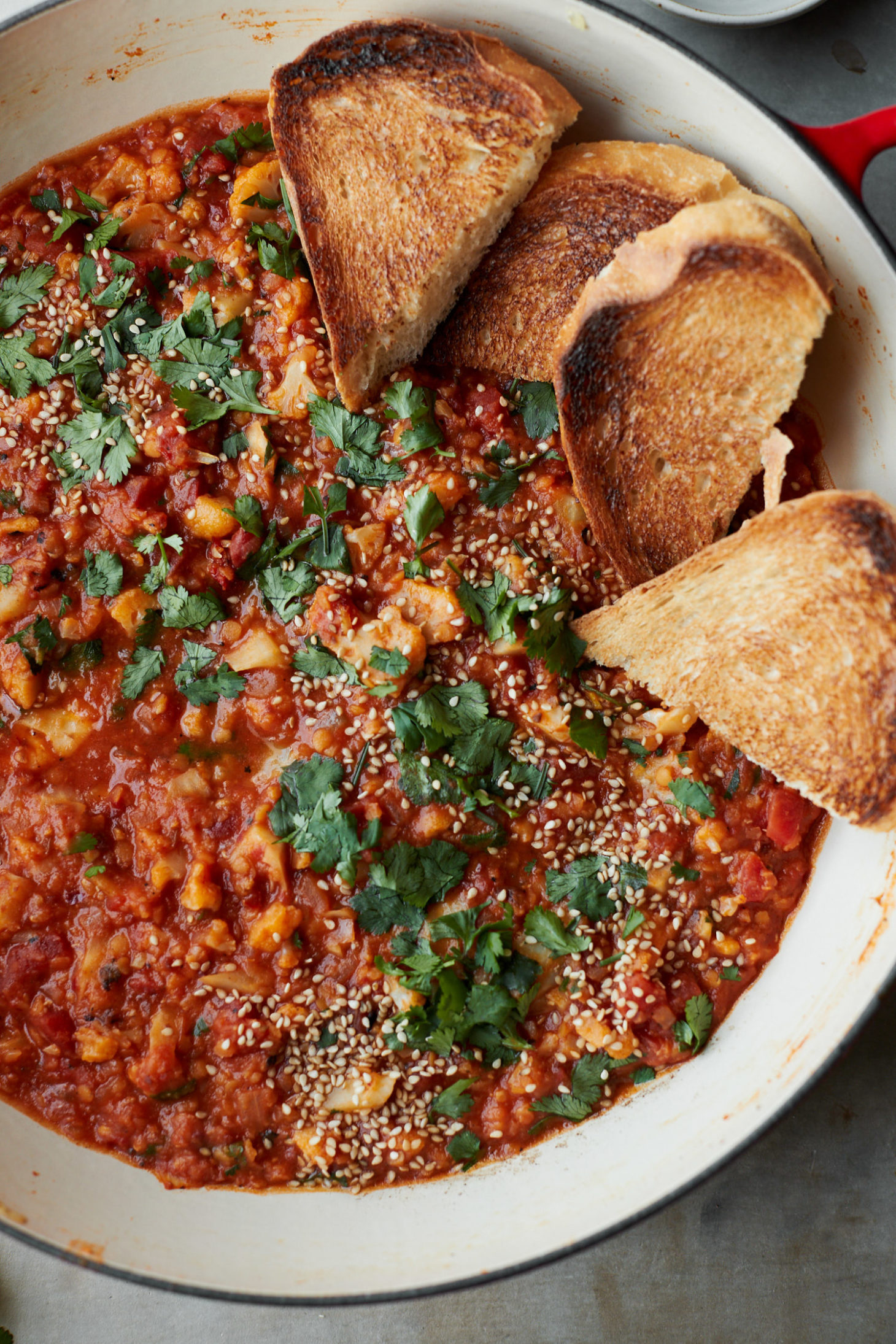 Lentil Stew: my go to recipe
I always feel like I'm never cooking with lentils enough. Sure, we make these lentil bites in some form every couple of weeks. However, for something so cheap and easy, I feel like they should be a one to two times a week meal. This lentil stew is flavorful and a perfect excuse for more lentil usage.
What about lentil types? I'm sure a few of you will wonder if you can use a different type of lentil. Truth is, you totally could. However, I really love how soft and almost non-existent the red lentils become in this stew. Plus, they keep the color a beautiful red. Neither issue is a deal-breaker for the recipe, just a couple things to be aware of if you do want to use green, black, or Le puy lentils.
Why do I cook them separate? Many recipes call for cooking lentils in tomato sauces but I always have mixed results with this. Sometimes the lentils take awhile to soften while other times it appears the lentils will never soften. While this could be age of the lentil, it's hard to tell before you jump into cooking. Instead of having comments fill up my inbox about non-softening lentils, I choose to cook them separate.
Harissa
Harissa is one of my go-to additions to spice things up a bit and there are many different recipes and brands on the market. If you're curious, NPR has a lovely article about the what and the where of harrissa. I have a mild-harissa that I use occasionally but more often than not, I look for small jars/tubs full of spicy flavor.
My main directive here: taste before you use. I've found harissa on every spice level and the last thing you want is to over-use and make something so spicy that it's inedible. This is the harissa I've been using and I picked it up at my local Whole Foods.
Cheese-it
I left feta off the top because I didn't have the day I shot the recipe. However, it's a lovely and most-welcome addition. Crumble a bit on top before serving.
Lemon/Citrus
When I posted about ways to preserve lemons, many people asked me how to use preserved lemons. This lentil stew is the perfect example. Instead of the lemon zest at the end, chopping up some preserved lemon is the perfect swap.
How to Serve it
The original recipe calls for topping a hearty bowl of brown rice. However, over the years, I've gone back and forth. Sometimes I use grains as the base but more often that not, I eat this stew as is with a nice bit of bread. I'll often pair it with a light salad and say this is a solid weeknight dinner.
Vegetable Choices
Finally, this stew is forgiving when it comes to the vegetables. The cauliflower is great but diced sweet potatoes, butternut squash, or even hearty greens would work well with, or as a replacement, for the cauliflower. Just watch cook-time. Some items might take a little longer, like the sweet potato.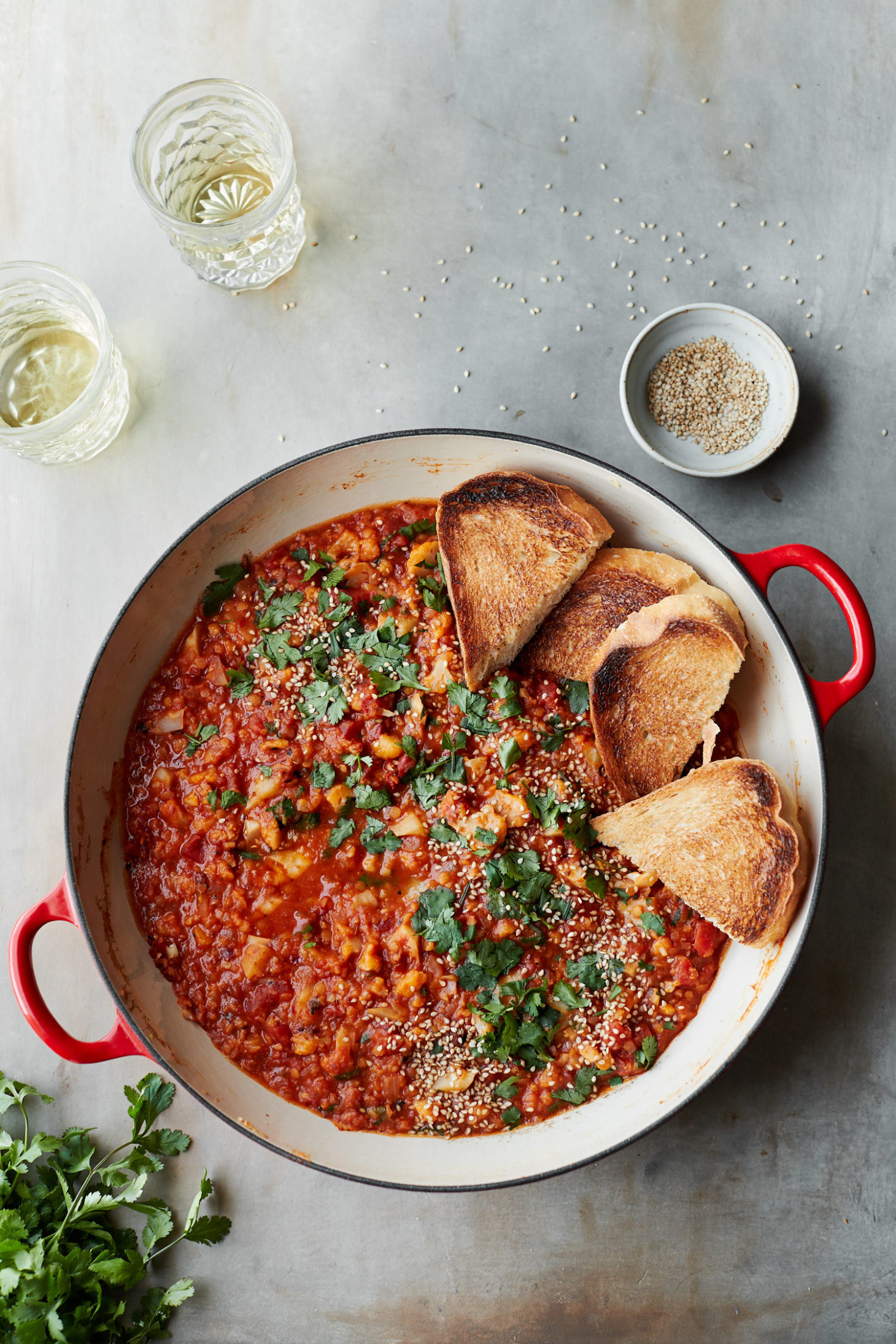 Print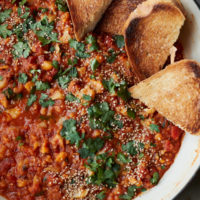 Harissa Cauliflower Lentil Stew with Lemon
Author:

Prep Time:

10 minutes

Cook Time:

25 minutes

Total Time:

35 minutes

Yield:

2

good-sized servings

1

x

Category:

dinner

Method:

stove-top
---
Description
A hearty lentil stew flavored with harissa and lemon. Perfect for serving over grains or with a side of toast.
---
Lentils
½ cup uncooked red lentils
1 cup water
¼ teaspoon salt
1 tablespoon olive oil
Stew
2 tablespoons ghee (or olive oil to keep it vegan)
½ large yellow onion, minced
¼ teaspoon salt
3 cups bite-sized cauliflower florets, about ¾ of a pound of cauliflower head
2 tablespoons lemon juice
1 tablespoon spicy harissa (see note)
1 15oz can crushed tomatoes
1 ½ cups vegetable broth or water
Salt, to taste
For Serving
Zest from one lemon
Cilantro, for serving
Toasted sesame seeds, for serving
---
Instructions
In a pot, combine the lentils with the water, salt, and oil. Bring to a boil, reduce to a simmer, cover, and let cook for about 22 to 25 minutes, until the lentils are tender but not completely falling apart. If you cook everything else while the lentils are cooking, this makes the dish go much faster.

Heat a large skillet over medium. Add and melt the ghee then add in the minced onion and a sprinkle of salt. Heat until the onions become tender then measure in the cauliflower.  Cook for a few minutes, stirring occasionally, until the cauliflower has lost the raw texture and is starting to brown.

Stir in the lemon juice, harissa, tomatoes, and broth. Bring the mixture to a boil, reduce to a simmer, and cook until the cauliflower is tender. Add in the cooked lentils, a pinch more of salt, and the lemon zest. Heat the lentil stew until hot then top with cilantro and sesame seeds before serving.
---
Notes
<h2>Notes></h2>
Many stores carry harissa in jars or in tubes. In the intro for this recipe, I've linked to the brand I'm currently using. Whatever you decide to use (store-bought or homemade), taste before you put it into the stew. The brand I use is really spicy and the 1 tablespoon is plenty but it's really a brand by brand decision and personal taste.
Keywords: lentil stew, harissa cauliflower, cauliflower lentil stew