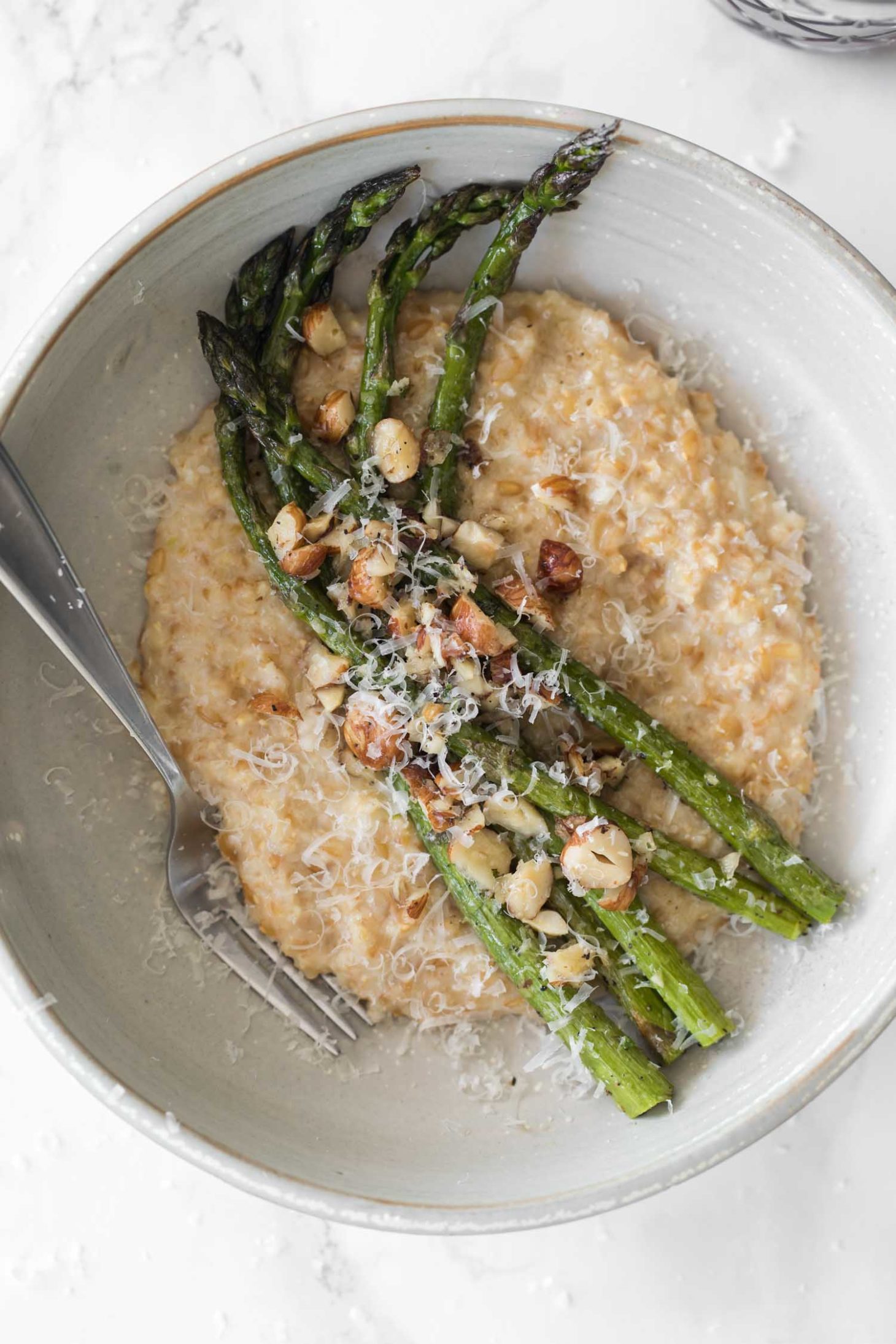 I try and use as few pans as possible when I cook. So when I was writing out this recipe, I realized I dirtied a lot for this einkorn risotto. But, it's worth it for a delicious spring dinner. There's nothing better than roasted asparagus during the spring months. Pair that with the warming einkorn base- it's a winning dinner situation.
One note about making whole grain risottos. I love the result I get when I crack the grains. It doesn't take long but the extra step provides a bit of flour to help thicken the risotto and make it extra creamy without a ton of cheese.
Print
Einkorn Risotto with Roasted Asparagus
A perfect spring recipe featuring creamy einkorn risotto topped with roasted asparagus tossed with tarragon, butter, and hazelnuts.
Author:
Prep Time:

15 minutes

Cook Time:

45 minutes

Total Time:

1 hour

Yield:

2

servings

1

x
Risotto
½ cup einkorn berries
1 garlic clove, finely minced
2 cups low-sodium vegetable broth
1 cup water
½ cup grated vegetarian parmesan
Asparagus
½ pound thin asparagus
2 teaspoons olive oil
⅛ teaspoon salt
3 tablespoons crushed hazelnut pieces
2 tablespoons butter
1 teaspoon minced fresh tarragon
Salt, to taste
Instructions
Crack the einkorn in a blender or food processor. ¾ of the pieces should be cracked with a bit of dust/flour as well (4 to 5 pulses). Combine the garlic with the vegetable broth and water in a pot. Bring to a boil, reduce to a simmer, and keep warm while making the risotto.

Heat a separate pan over medium-low heat. Add the einkorn and toast for 1 to 2 minutes, just until it has a warming fragrance. Add in 1 cup or so of the vegetable broth mixture. Stir well and let grains absorb liquid. Continue adding broth mixture ¼ cup at a time and stirring until einkorn is tender, about 45 minutes or so. Stir in the parmesan and add a splash more liquid if the risotto has thickened too much,
While the einkorn is cooking, heat your oven to 425˚F. Trim the ends from the asparagus and place on a sheet tray. Toss with the olive oil and salt. Roast until tender but still has a bit of crispness to it, 10 to 12 minutes.
Toast the hazelnuts in a small skillet over medium heat for a few minutes. Remove from the skillet and set aside. Add the butter to the skillet, melt and add the tarragon. Remove from heat. Once the asparagus is done, toss with the tarragon butter and toasted hazelnuts. Taste and add more salt if desired.
Divide the risotto into two bowls and top with the asparagus. Scrap any loose butter and/or hazelnuts over the asparagus. Serve with a sprinkle of parmesan.
Einkorn Risotto
variations
Toppings: This einkorn risotto is also delicious with garlicky greens, roasted turnips, or roasted radishes.
Grains: Cracking grains for risotto also works great with emmer, wheat, spelt, or barley.
Vegan: Make this vegan by mixing in about ½ cup white bean puree and a couple teaspoons of nutritional yeast in place of the parmesan and using olive oil in place of the butter.