I think it's become obvious that I love eating seasonally.  There was a point in my life that when asked, I couldn't tell you when asparagus was in season (because in the store, it's always "in season.")  Yet, I've learned and grown to love asparagus only when it's in season.
During the long winter months I gorge myself on root vegetables and potatoes (so much so that it has caused a few people to question exactly how many sweet potato recipes I currently have on my blog and which I respond, "I've stopped counting".)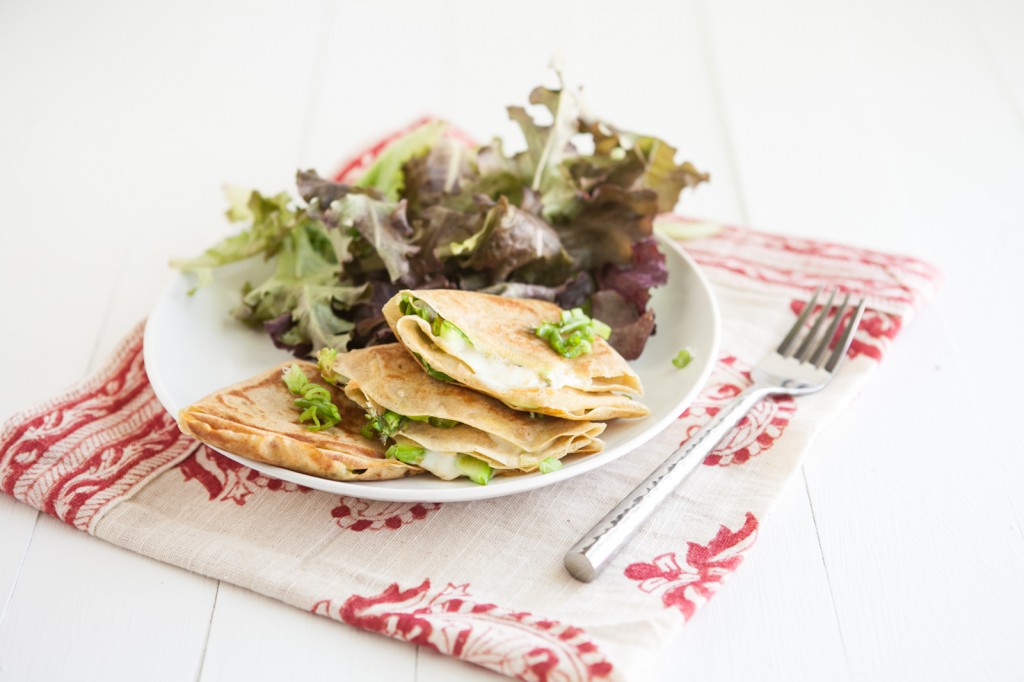 But when spring arrives, sweet potatoes are out as if they've gone out of fashion.  I will see them again (much like the 80's never seem to actually leave us) and I'm alright with this (for I have eaten my fair share.)
In the spring there's a new (green) bounty to be had.  Kale, Spinach, Swiss Chard, and asparagus.
Did I mention asparagus?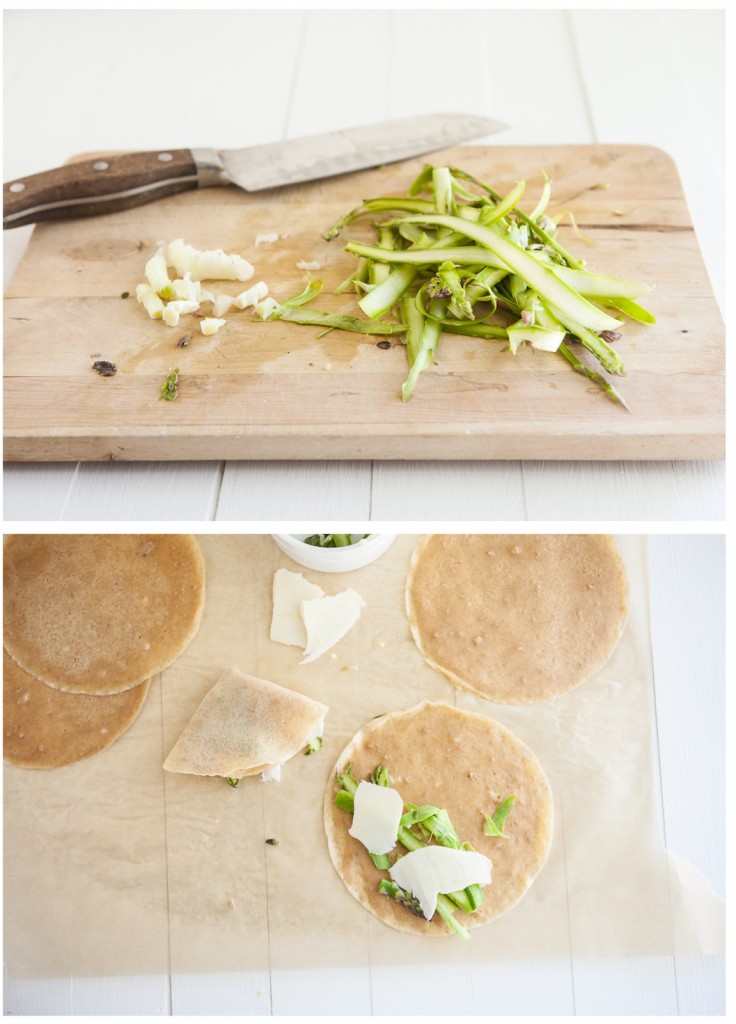 It's such a peculiar plant.  Stalks shoot out of the ground often without warning and often in the colder, dreary mornings of spring.  Signs of life. Signs of color.  Signs of beauty.
I know it sounds a bit strange but one day I'd like to find a house in the woods where asparagus grows wild (yes, this is a possibility...)
Asparagus has it's own unique, earthy taste and when roasted, may be one of my favorite meals.   A little salt, a little olive oil, a little roasted asparagus, and sometimes with an egg on top for good measure.  It's delicious.  It's spring in one bite.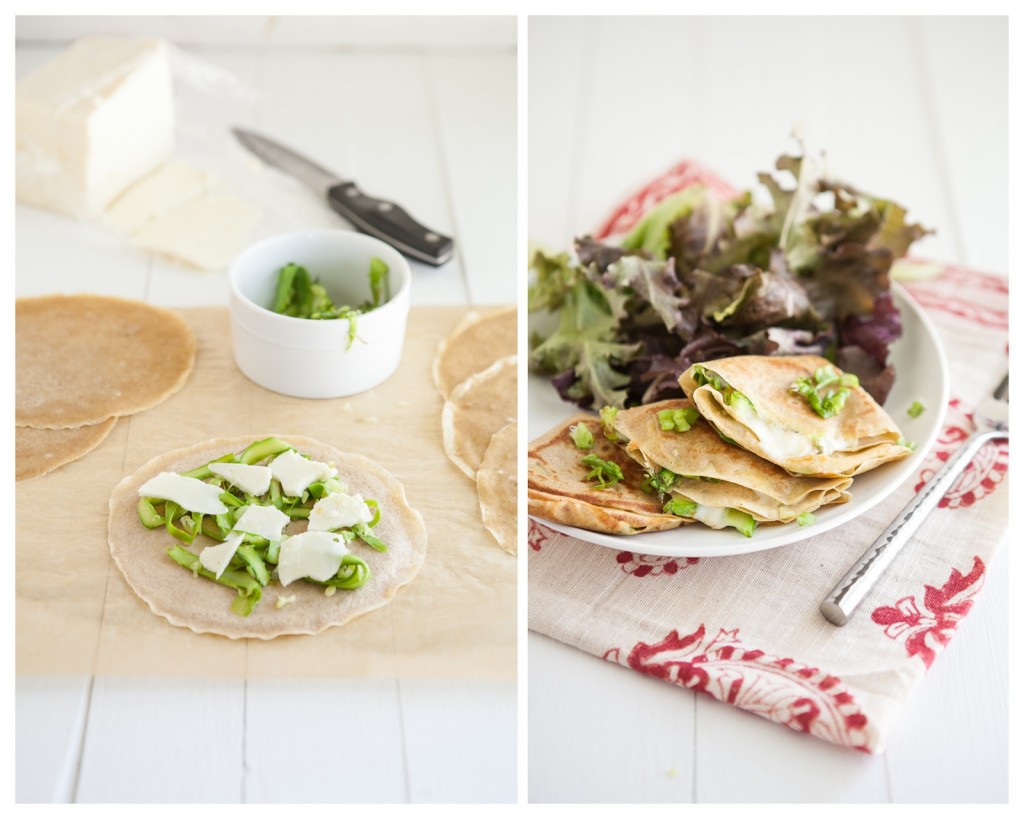 I've been meaning to make savory crepes for a while but something always comes before crepes.  Crepes are amazingly easy to whip up on a moments noticed and can have serious potential.  So really, I'm not sure why I don't make them more often!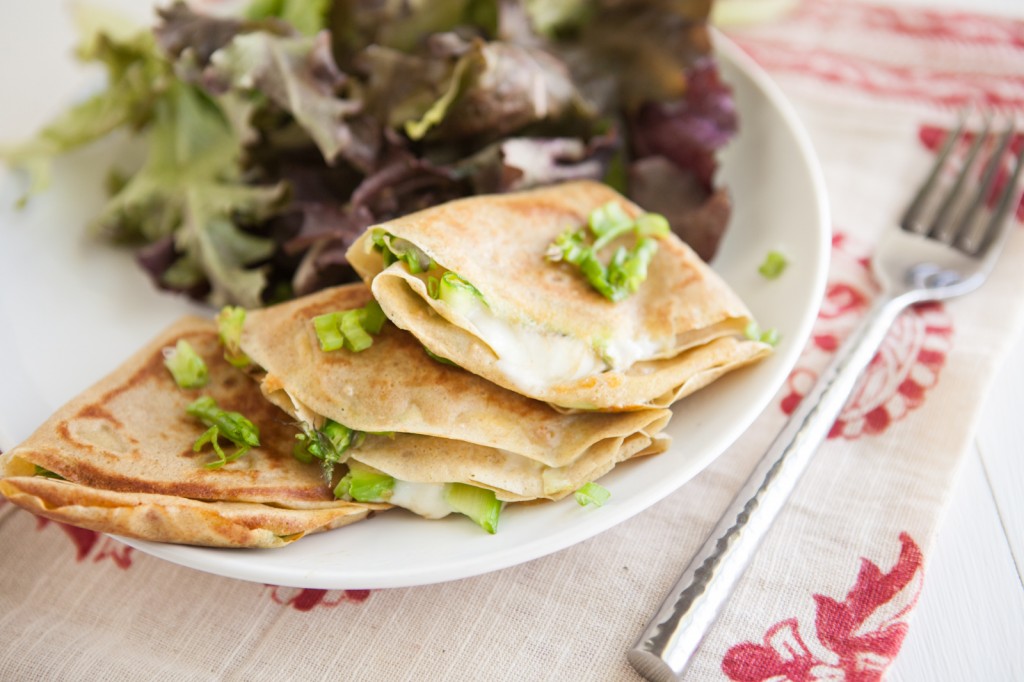 This recipe can be dressed up or dressed down depending on the occasion.  I can even imagine an amazing Saturday breakfast with  poached egg on top (yum!)
Print
Grilled Cheese Crepes with Shaved Asparagus
Prep Time:

10 mins

Cook Time:

20 mins

Total Time:

30 minutes

Yield:

2

-4

1

x
Ingredients
Crepe:

½ cup

whole wheat pastry flour

¼ teaspoon

salt

2

eggs

¾ cup

milk

1 ½ tablespoons

butter, melted
Filling:

½

pound asparagus

1 tablespoon

olive oil

1

clove garlic, minced

¼ cup

green onions
pinch salt and pepper
Mozzarella Cheese
Instructions
In a medium skillet, heat olive oil over medium low heat. Shave or thinly slice asparagus and dice green onion. Toss green onion and garlic in with olive oil and heat for 2-3 minutes, just until fragrant. Add in asparagus and heat until asparagus turns a nice bright green color, only another 2-3 minutes. Sprinkle with salt and pepper, set aside.
Whisk together flour, salt, eggs, milk, and melted butter until smooth. Heat 8″ skillet and lightly grease with oil. Place a scant ¼ cup of batter in pan. Tilt the pan so that the batter covers the entire pan and cook for about 30 seconds. Flip and cook for another 15 seconds. Place done crepes on a piece of parchment paper (be sure not to fully stack crepes.)
Once crepes are finished (this will make about eight) place a couple spoonfuls of asparagus and a bit of mozzarella on half the crepe. Fold over to cover the filling, then fold again to form a ¼ circle.
Return crepe to pan over medium low heat and cook until each side is golden brown and mozzarella has melted. Serve with a slight drizzle of olive oil and extra green onions.