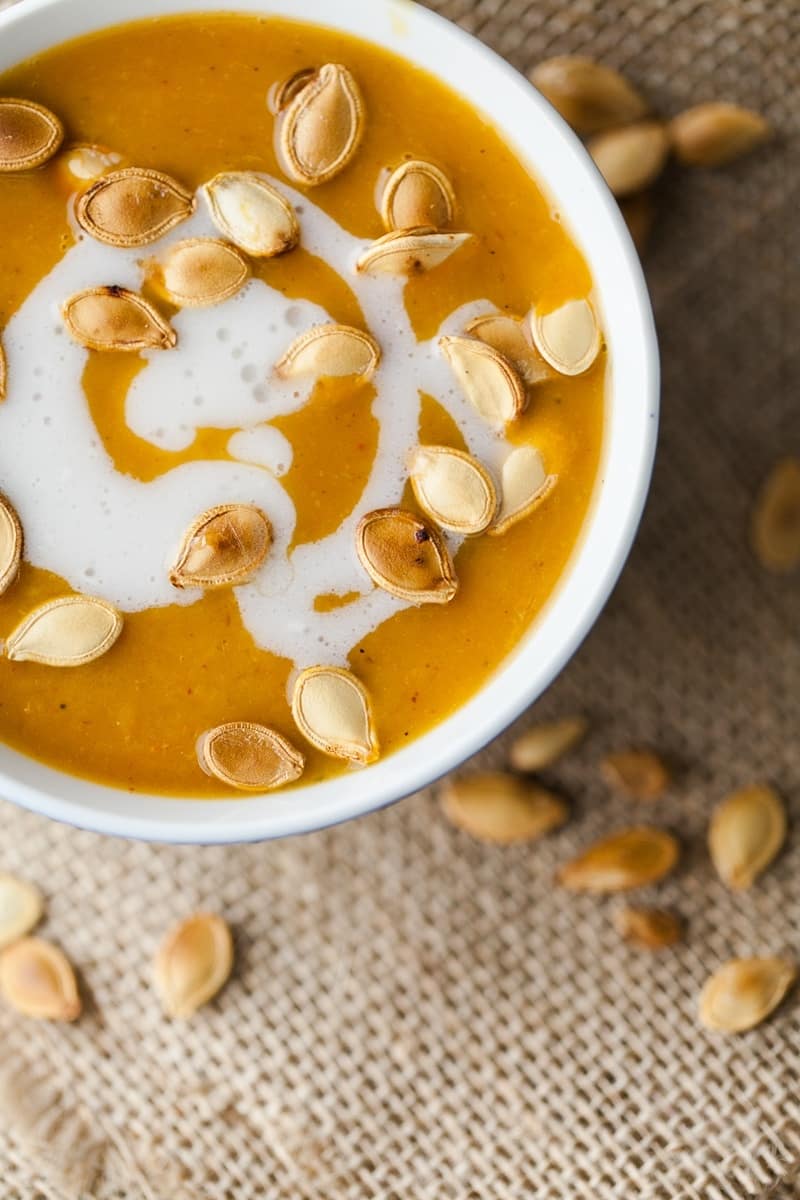 Having just made this roasted red pepper curry soup, I wanted to bring this recipe back because it's one of my favorite curry recipes. I love roasted whole pumpkin this time of year and any leftovers of the pumpkin can be used to make The Fauxmartha's maple pumpkin latte syrup (it's become my afternoon treat). While I used the curry paste in the red pepper soup, I also love to have a combination of curry powders around because I find you can play with the flavor a bit more.
This pumpkin soup is amazingly creamy and delicious with being vegan and gluten free.  The pumpkin plays well with the curry and coconut- it's a perfect meal.  I've even thought about leaving it more stew consistency and adding rice to the dish to make it a hearty main.
Print
Curried Pumpkin Soup with Coconut and Pumpkin Seeds
Author:
Prep Time:

20 mins

Cook Time:

50 mins

Total Time:

1 hour 10 mins

Yield:

3

to

4

servings

1

x
Category:

Soup
Pumpkin Soup

1

medium pie pumpkin

1 tablespoon

olive oil

1

bunch scallions,diced

2 tablespoons

curry powder

2

-

3

cups vegetable broth

¼

-

½

cup full-fat coconut milk
salt, if needed
Pumpkin seeds

½ tablespoon

olive oil

¼ teaspoon

salt
Instructions
Preheat oven to 400˚.
Remove top of pumpkin. Quarter pumpkin and remove seeds, set aside. Scrape out remaining small seeds and the stings. Place each quarter face down in a baking dish and roast for 30-40 minutes or until pumpkin is tender. Remove and let cool slightly. Carefully remove pumpkin from the shell and measure out 3 packed cups of pumpkin and set aside.
Rinse seeds, removing any pumpkin left on them. Toss with olive and salt. Spread out on a baking tray and roast until crispy, 10-15 minutes.
In a sauce pan heat 1 tablespoon olive oil. Add in scallions and sauté for 2-3 minutes. Stir in curry powder and let cook for 30 seconds more, just until fragrant.
Next, add the pumpkin to sauce pan along with 2 cups veggie broth. Bring to a boil, reduce to a simmer, and let cook for 2-3 minutes.
Remove from heat and puree with immersion blender (or carefully with a regular blender), adding more veggie broth to reach your desired soup consistency. Return to heat, add in ¼ cup coconut milk, and let simmer until ready to serve.
Serve with an extra swirl of coconut milk and roasted pumpkin seeds.
Notes
+ If you don't want to mess with the pumpkin, pre-made pumpkin will work.
+ In the same line, if you don't want to roast the seeds (or don't roast the pumpkin), pre-roasted pumpkin seeds would work or you can use pepitas.
+ Instead of using curry powder, curry paste will work as well but taste the past before using. If it's overly powerful (or spicy), reduce the amount used accordingly.
Pumpkin Soup
variations
I recommend two routes for the curry powder: homemade or buy it from a spice shop (I have a few favorites but I'm digging Oaktown right now).  The curry powder in the grocery store won't do any meal justice!  There are so many different ways you can whip up curry powder (I highly recommend just searching for "homemade curry powder" and find the right one for you).  I made this with a spicier thai red curry powder but I think any type of curry powder would be delicious! Beyond the spice:
Base: If I have roasted sweet potatoes or butternut squash around- I'll toss that in the pumpkin soup as well.
Parsnips: I love adding roasted parsnips to this soup- it adds just a hint of sweetness and an extra boost of vegetables.
Curry Swap: I've made a cross-over version of this ginger butternut squash soup using pumpkin instead.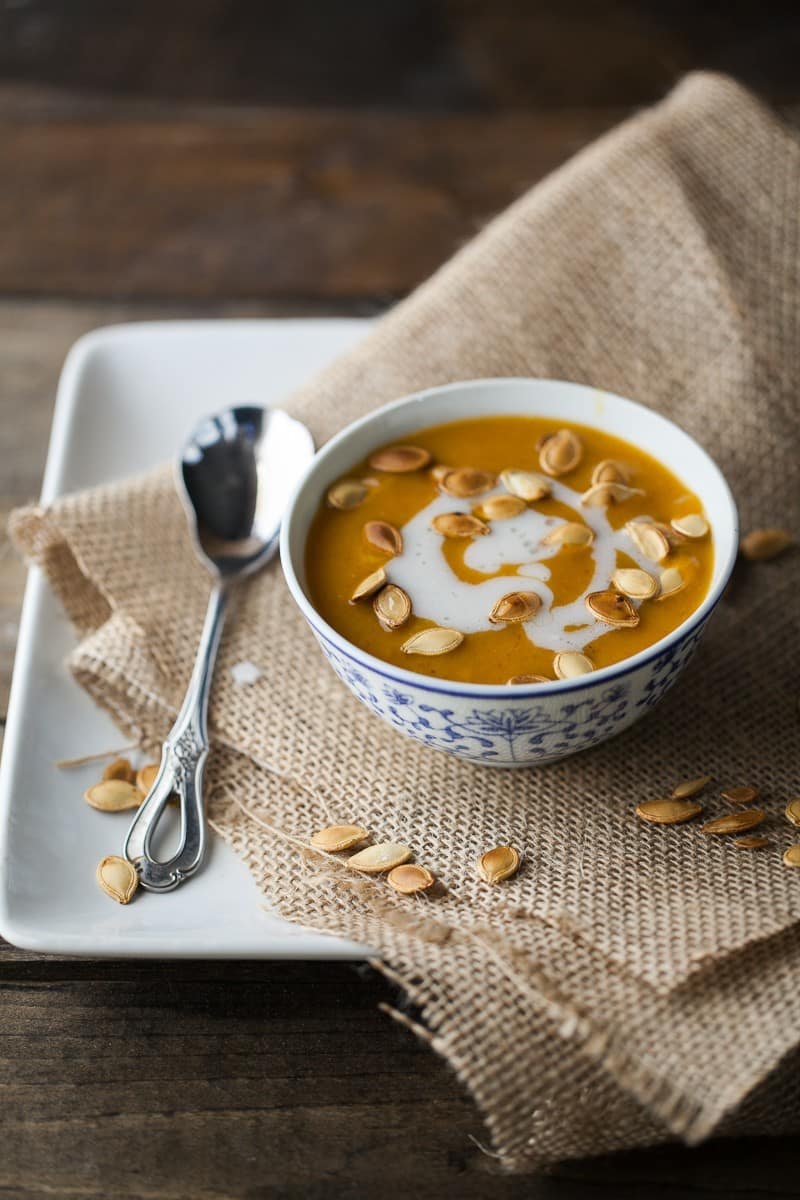 Explore Pumpkins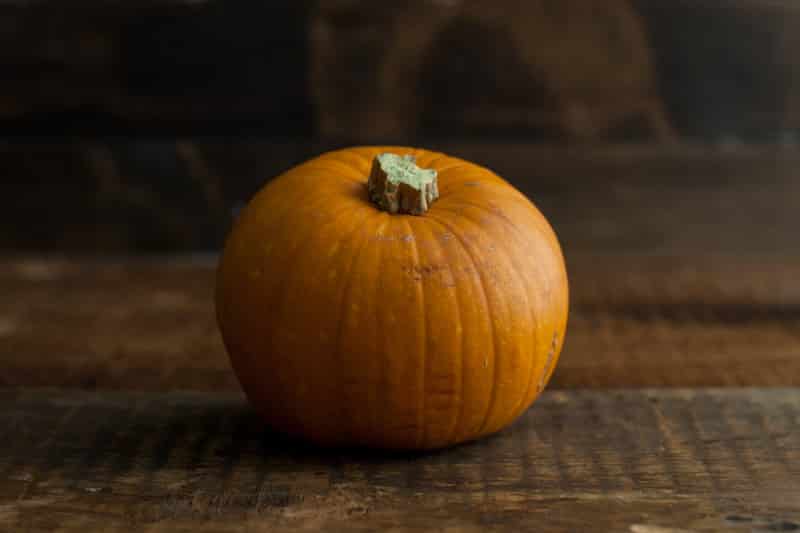 Every week during the fall I'm cooking with pumpkin. It may seem daunting at first, but a pumpkin is really no different than a butternut squash (minus a slightly tougher exterior). While I love cubed pumpkin in dishes, roasting pumpkins whole is a lot easier and helps you create a flavorful, homemade puree. Once you get in the groover, a few more ways to use that pumpkin puree include:
Pumpkin Bread with Oats
Pumpkin Pancakes with Brown Butter
Pumpkin Mac and Cheese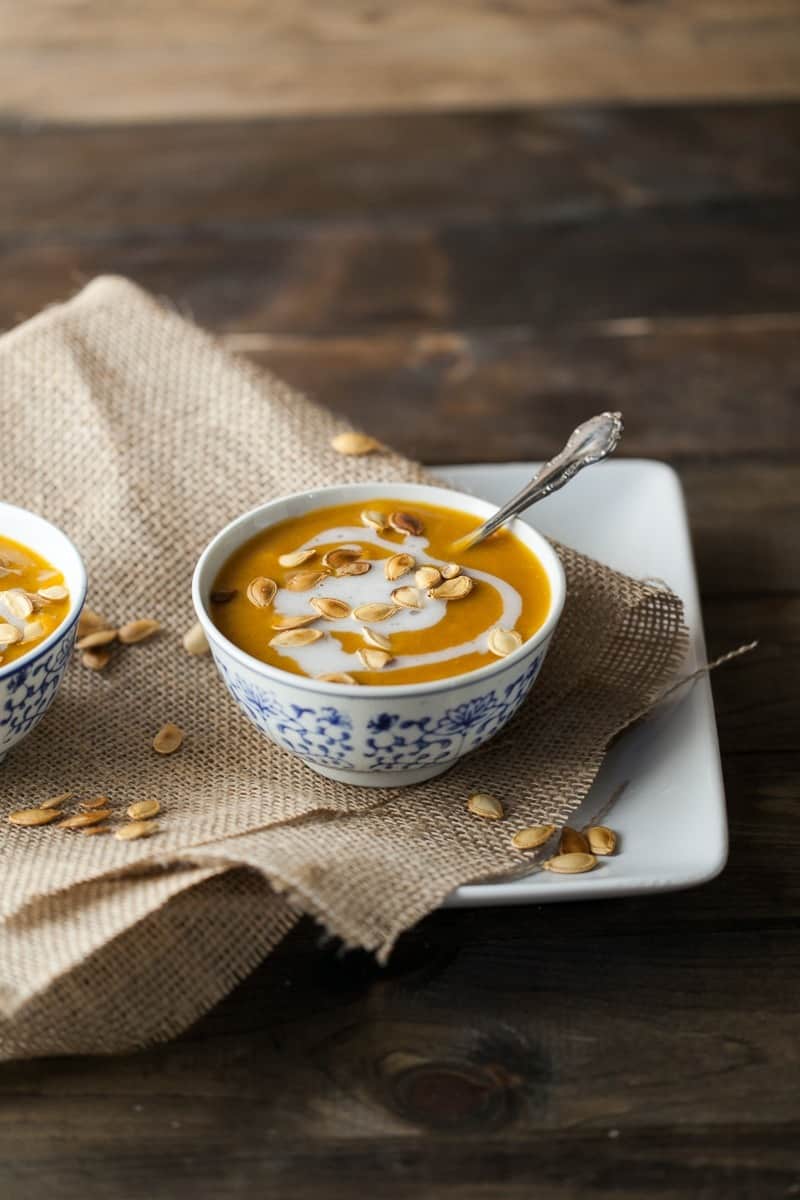 Post originally published on October 8th, 2012. Last updated on October 4th, 2015.