Something magical happened here.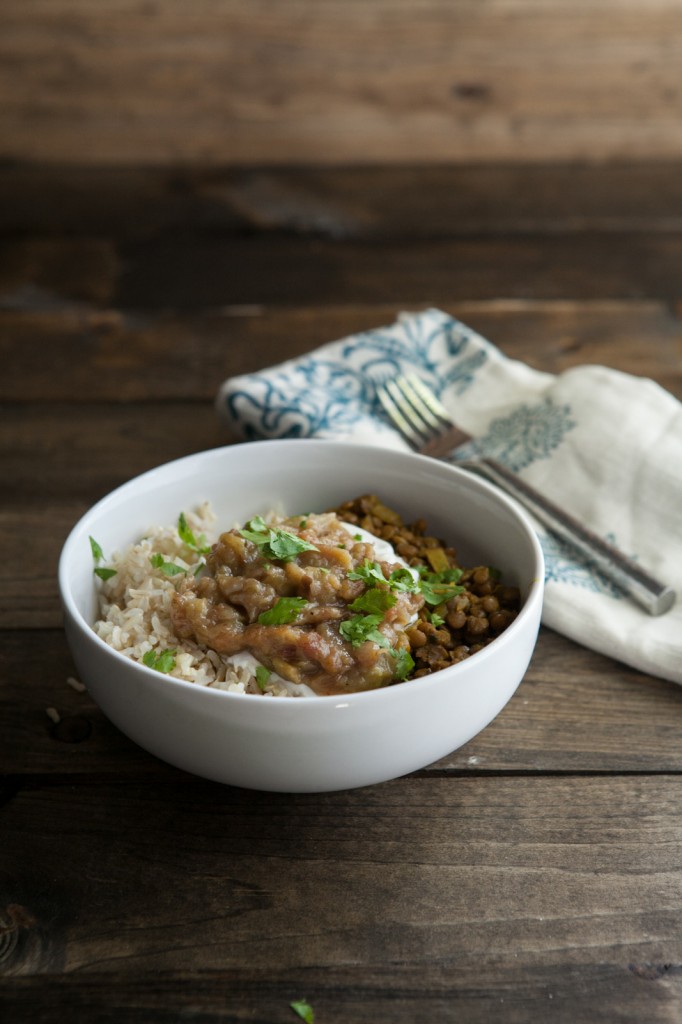 I created this dish as part of a "hooray I got the bulk bin resource section done" and to show you a recipe that used both bulk bin and seasonal items.
But honestly, I could care less about the lentils and rice.  Don't get be wrong, I love curry and I love lentils but the rhubarb chutney?  That's where the magic happens.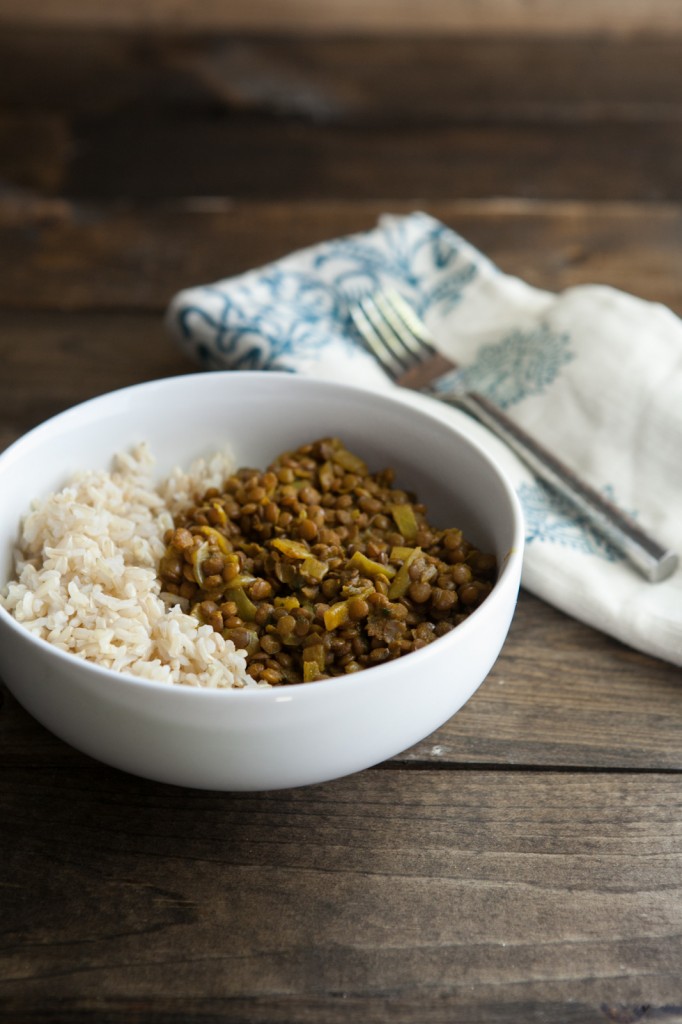 I can narrow it down even further.  If you scroll down and look at the recipe for the chutney, you'll notice there is no sugar, no sweetener.
Yes, that's right.  It's a rhubarb recipe without sweetener.  But you know what?  It's delicious.  It's amazing.
It's the power of dates.
I scoured the internet researching chutney recipes and when I became bored with ugly looking chutneys with raisins in them.  I didn't have raisins, which didn't really break my heart, but I did have dates.  Dates and rhubarb work wonders together.  It's as if dates bring out this hidden sweetness in rhubarb with leaving just even tang and taste to know the rhubarb is there.  It's a beautiful thing.
Pair it with curry and a little bit of greek yogurt- you have one heck of a meal.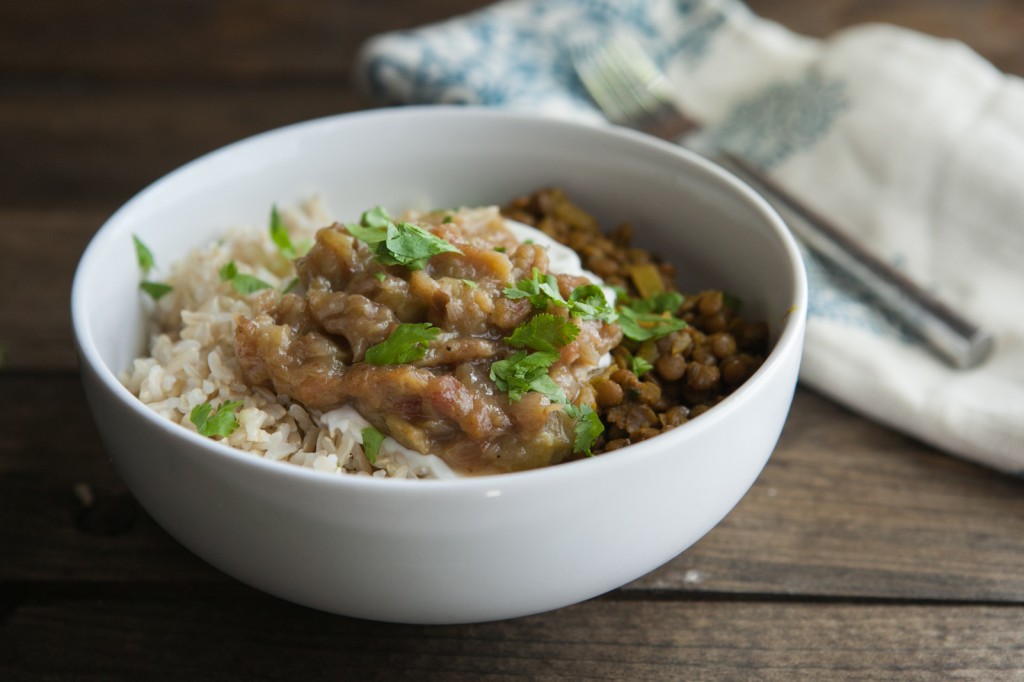 I'm seriously excited about this date/rhubarb revelation and I can't wait to play around more.  For now, however, you should take a look at this chutney (along with the curried lentils.)  Also, don't be frighten by the long list of ingredients- most of these are things you could probably find in your cupboard!
Oh, and don't forget to check out my latest bulk bin resource section!
Print
Curried Lentils and Rhubarb Chutney
Author:
Prep Time:

15 mins

Cook Time:

45 mins

Total Time:

1 hour

Yield:

2

-4

1

x
Ingredients
Lentils:

1 tablespoon

olive oil

6

-

8

green onions, diced

1

clove garlic
Juice from

one

lime

1

-

2

tablespoons curry powder

1 cup

brown or green lentils

3

-

3 ½

cups water

¼ cup

fresh cilantro
Rhubarb Chutney:

1 tablespoon

olive oil

¼ cup

green onions

1 teaspoon

minced ginger

2 tablespoons

apple cider vinegar

¼ cup

pitted and chopped Medjool dates

2 cups

cubed rhubarb

¼ teaspoon

salt

¼ teaspoon

cardamom

2

cinnamon sticks

2 tablespoons

water

⅛ teaspoon

red chili flakes (optional)
Extras:
Brown Rice
Greek Yogurt
Cilantro
Instructions
In a medium pot, heat olive oil for rhubarb chutney. Add in onions and ginger, cooking until fragrant, 2-3 minutes. Add in vinegar and give a good stir to loosen up an stuck onions. Add in the remaining ingredients and reduce heat to medium low. Let chutney cook until rhubarb and dates have broken down into a chunky sauce, 15-20 minutes (depending on stove-top heat.) Remove cinnamon, taste and add seasonings if needed. Remove from heat and let sit until ready to serve.
To make lentils, follow a similar procedure to that of the chutney. Heat olive oil over medium heat. Add in onions and garlic, letting cook for 2-3 minutes. Next, squeeze in lime juice and add 1 tablespoon of your favorite curry powder. Let cook for one more minute to get the curry powder fragrant. Add in lentils and three cups water, bring to a boil, then reduce to a simmer.
Let lentils cook until tender but not mushy. If you find the lentils are still not tender and most the water has been absorbed, add in a bit more water to reach desired consistency. I will taste occasionally along the way to determine doneness and to determine if I need more curry powder (which you should add as you see fit.) Stir in cilantro and let cook for one more minute.
Serve lentils over your favorite cooked grain (I like brown rice for curries) and top with a big scoop of rhubarb chutney, plain greek yogurt, and cilantro.
Notes
***A note about curry powder. I'm very picky when it comes to this. While I rarely construct my own, I have an army of different types of curry powders in my cupboard that I purchased from a spice shop. The one I used for this particular meal was a salt-free hot curry powder purchased from the spice shop in Breckenridge, CO. For more information on quality spice shops, see this post.