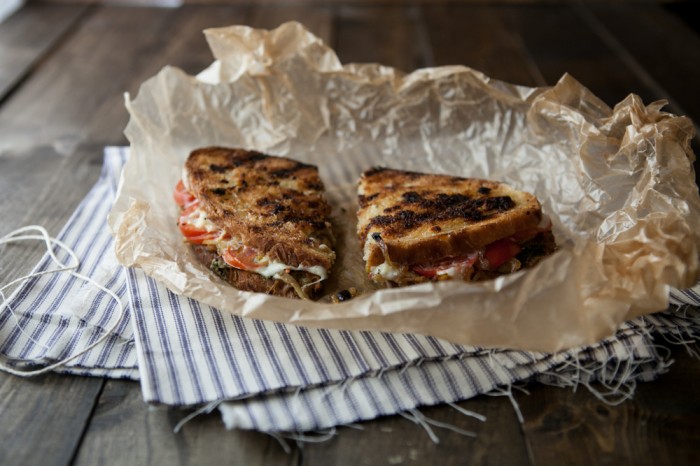 I once declared on this site that sandwiches weren't my thing.  I much preferred toast covered with ingredients over ingredients sandwiched between two thick slices of bread.  For me, it is all about the ingredients, not the bread.
I think I forgot about one thing: grilled cheese sandwiches.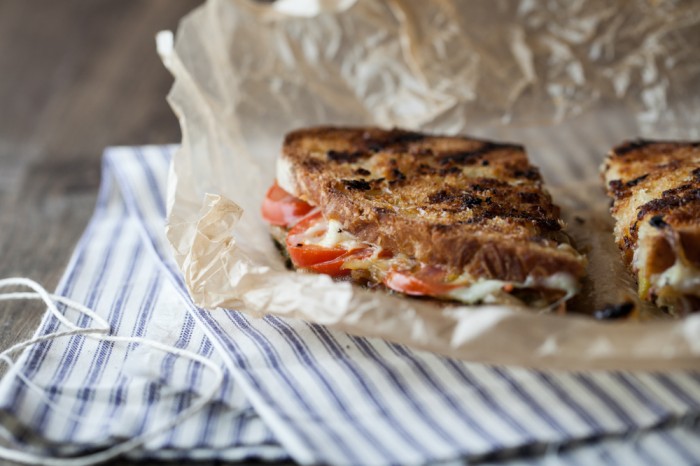 Don't get me wrong- I love cheesy melted crostini but there is something so fundamentally right about a grilled cheese sandwich.  The way the cheese oozes out and that no matter how messy, you can still eat the sandwich with your hands.
I mean, I've been known to make grilled cheese before (like my hummus and grilled cheese or my roasted tomato and egg grilled cheese) but I guess I occasionally forget how amazing a grilled cheese sandwich can be.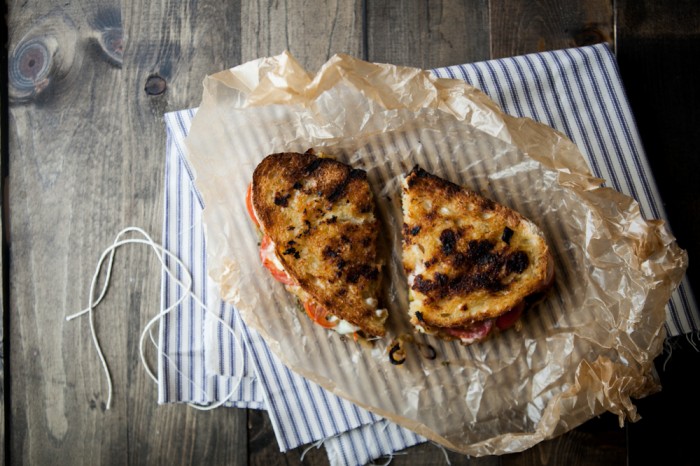 This sandwich is the result of having onions from the CSA that didn't dry right and needed to be eaten soon along with a few tablespoons of pesto left over from the pesto potato skillet.  You could use any cheese here but I prefer the mild taste of the mozzarella which doesn't overpower the flavor of the pesto and caramelized onions.  If you plan ahead, you can make a big batch of caramelized onions and use them for a few meals (they make a wonderful addition to homemade pizza)!
Also, for an added flavor, replace the caramelized onions with balsamic onions-yum!
Print
Caramelized Onions, Pesto, and Grilled Mozzarella Sandwich
½

recipe for pesto

1

recipe for caramelized onions

1

-

2

tomatoes

2

-

3

ounces whole milk mozzarella

4

pieces crusty bread

2 tablespoons

olive oil
Instructions
Start caramelized onions (or do ahead of time.)
Brush the outsides of the bread with olive oil and heat a griddle to medium-low heat.
Smear 2-3 tablespoons of pesto on the inside of one of the slices and then layer tomatoes, caramelized onions, and mozzarella cheese. Cover with remaining piece of oiled bread.
Cook on each side until crusty and cheese has melted.