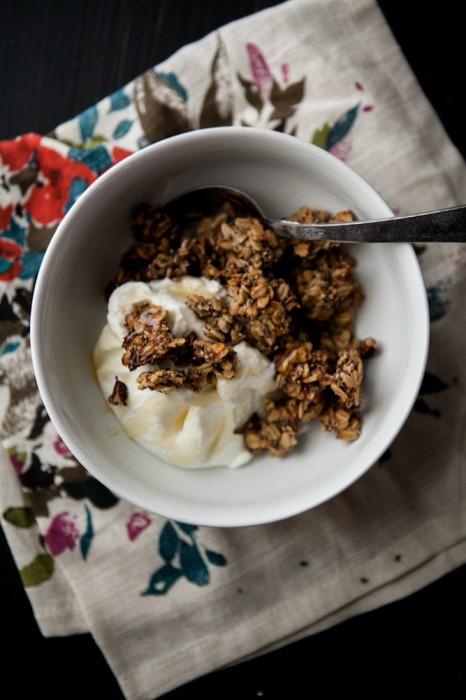 Technology can be great for hoarding small things.  I'm allowed to keep all of my photos I've ever taken (even though I need to start deleting them).  I have enough music to play for days on end and yet not a cd in sight (although I would be happy if I could have a mass amount of records).  But most of all, I hoard recipes.  I pin, clip, and save at least 10 a day- it is a bit out of control.
While the majority are stashed for inspiration and flavor combinations, there is the occasional recipe I find perfect.  I tuck those away as "must make."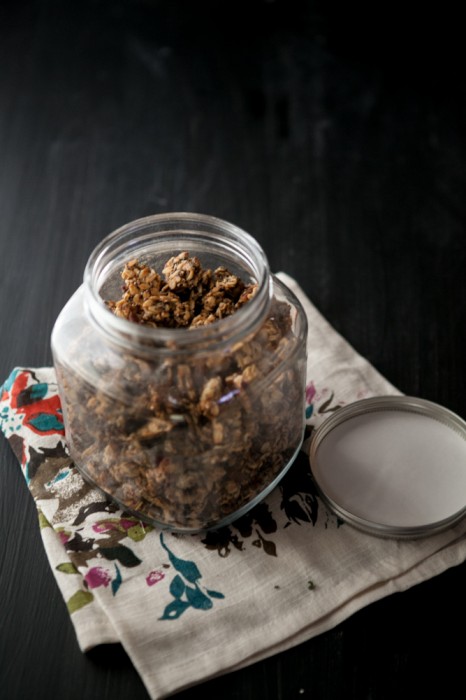 The problem becomes, I usually decide to make these recipes on a whim with no planning or preparation.  This granola was made at 9:00pm on a Monday night just because I felt like having granola.
I've been saving Kelsey's Banana Hemp Granola recipe for a while now (a whole month, actually).  I don't find myself at the store during the summer months and therefore rarely have a banana around.  After I decided I wanted to make the granola, I ran to the store only to find that all the bananas were barely ripe (for which a quick roast in the oven took care of that problem).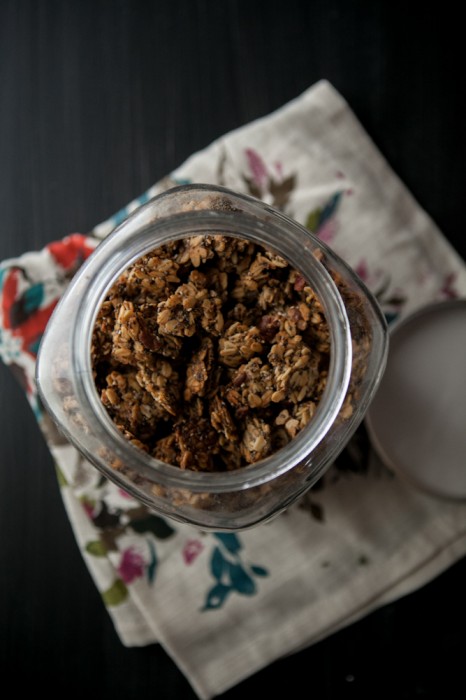 This granola is perfectly clumpy and crispy.  A little greek yogurt, a little honey, and a good size scoop of this granola makes for the perfect meal.  I've also found myself using just the granola as a quick snack.
If you want a break from the normal, slightly clumpy granola- I suggest you give this recipe a try!
Print
Roasted Banana-Nut Granola
Ingredients
2

barely-ripe bananas

⅓ cup

walnut oil

⅓ cup

maple syrup

1 tsp

cinnamon

¼ teaspoon

nutmeg
pinch of sea salt

3

-

4

cups old fashioned oats

½ cup

chia seeds

½ cup

pecan pieces
Instructions
Preheat oven to 400˚. Place whole bananas in the oven and let roast until peel has browned. Remove and let cool slightly.
Remove banana from peel and place in the bowl of a stand mixer. Add walnut oil, maple syrup, cinnamon, nutmeg, and sea salt. Mix on medium-high until mixture comes together a bit.
Add the 3 cups of oats and let mix on medium-low until oats are covered. Toss in pecans and chia seeds, mixing and adding a few more oats until granola comes together and clumps.
Scrap out onto a covered baking tray and return to 400˚ oven. Bake until golden brown, 20-25 minutes. Half way through baking remove from oven and flip granola.
Notes
*I baked mine but my clumps were rather large and the center was still soft. I let it sit for a while (overnight actually) and it was still not quite crispy. I simply broke the granola in to smaller pieces and returned to the oven until everything was brown and crispy!