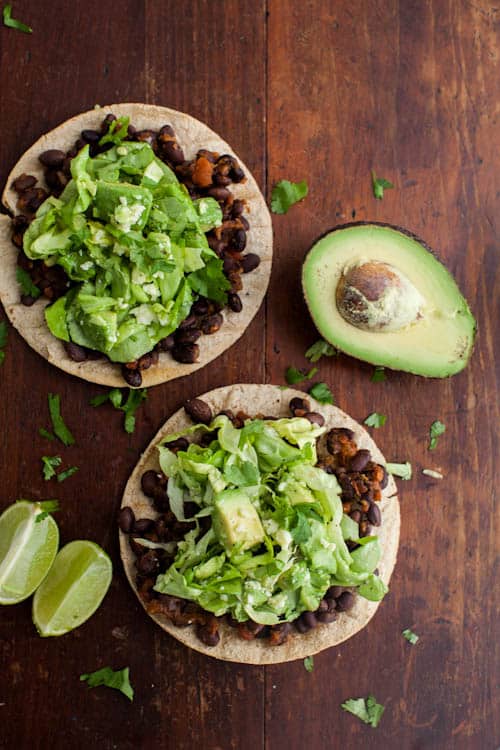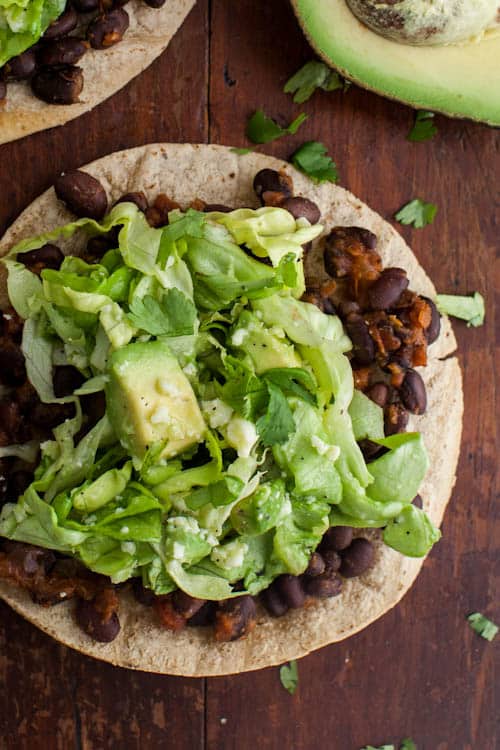 When it comes to food, I'm a texture kind of person. Part of the reason I'm not a huge fan of tofu and mushrooms is because I can't get around the texture (I've tried, numerous times, especially with mushrooms.) My favorite texture, however, is anything that has a bit of crispness to it. As a child, I'd stack potato chips on my sandwiches (okay, I probably still do this on occasion) and I found that I whenever I cook vegetables, I like to leave everything on the "not-mushy" side.
This tostada is a perfect meal for me. I love the crispness of the tortilla, the flavor of the black beans, and the freshness of the avocado salad. The topping for this tostada may look familiar as I loved the combination so much from this meal that I made an entire salad with chickpeas and avocado. If you didn't want to mess with toasting the tortilla, the filling would be great in tacos as well. And of course, don't be afraid to make tortillas!
Print
Black Bean Tostadas with Avocado Salad
Tostadas

3

to

4

corn tortillas

½ tablespoon

olive oil

1 cup

cooked black beans

¼ cup

bean liquid or water
Salad

2 cups

lightly packed shredded lettuce

1

avocado, cubed

1 ounce

cojita cheese, crumbled

1 tablespoon

lime juice

1 tablespoon

olive oil

2 teaspoons

honey

¼ teaspoon

salt

¼ teaspoon

black pepper
Cilantro, lime wedges, to garnish
Instructions
Preheat oven to 425 degrees. Brush tortillas with olive oil. Place on a baking tray; bake until crisp, 8 to 10 minutes.
In a skillet, heat the black beans, liquid and salsa until boiling. Reduce heat to low; simmer, stirring occasionally, until the majority of juice has been absorbed, 5 to 6 minutes.
For the salad, combine lettuce, cubed avocado and crumbled cheese in a bowl. Whisk together lime juice, olive oil, honey, salt and pepper. Pour over salad, then toss until coated.
Top the tortillas with a layer of black beans, then salad. Serve with extra cheese or lime wedges as desired.