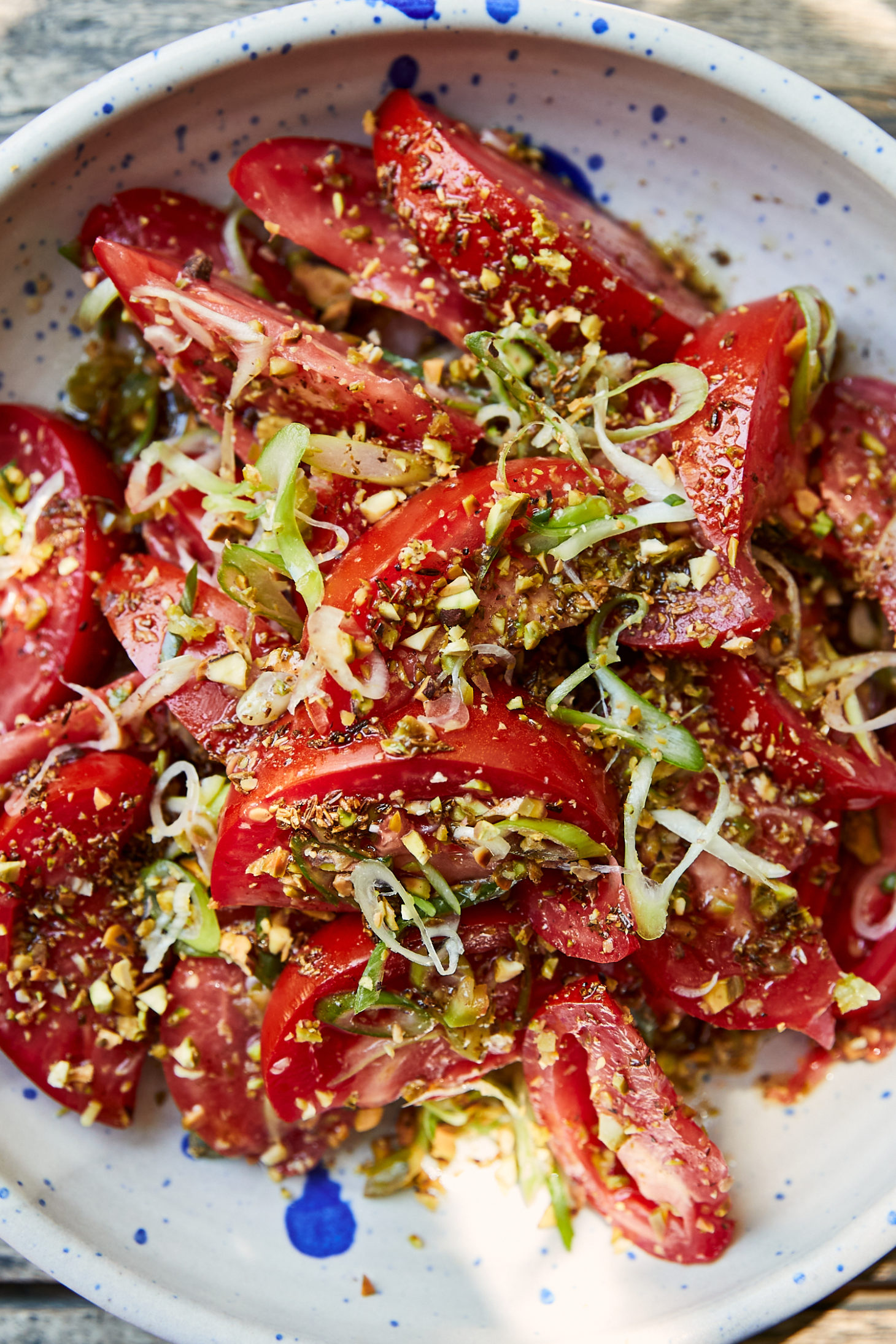 With the summer heat still lingering around California, my meals revolve heavily around fresh produce and components (usually vegetables, fruit, and beans). This tomato salad started as a topping for a bean/rice bowl, but I added and changed a bit to make it stand on its own.
The oil draws from chhonk (a spice blooming technique most notably found in many regional Indian cuisines-links to articles in the notes of the recipe). Add to that a bit of tang from pickled jalapenos and crunch from roasted pistachios- it's a delightful summer salad.
Print
Tomatoes with Pistachios and Scallions
Author:
Prep Time:

15

Cook Time:

15

Total Time:

30 minutes

Yield:

4

servings

1

x
Category:

side dish
¼ cup (30g) raw pistachios
1 scallion (30g)
1 ¼ pound (575g) just-ripe tomatoes (about 3 medium)
¾ teaspoon sea salt
2 teaspoons (6g) minced pickled jalapeno (see note)
2 tablespoons (10mL) olive oil
1 teaspoon cumin seeds, cracked in a mortar (see note)
Instructions
Heat your oven to 300˚F. Spread the pistachios on a sheet tray. Roast until fragrant and starting to brown, 15 minutes. Remove, let cool, and chop into mostly fine pieces. 

While the pistachios are roasting, trim the end from the scallion and thinly slice (slicing back and forth across the scallion, not chopping). Place the scallions in a strainer and rinse with cold water. Drain and pat dry the scallions dry in a clean cloth. Let air dry until ready to use (see note). 

Core the tomatoes and cut into wedges. Place in a bowl and sprinkle with the salt, jalapenos, ⅔rds of the chopped pistachios, and ⅔rds of the sliced scallions. Toss until combined and transfer to a serving bowl with any pistachios/scallions left in the bowl. Leave as much tomato liquid behind as possible.

Heat the olive oil in a small pot over medium-low heat. When hot, add in the cracked cumin and sizzle for about 20 seconds- just until fragrant/slightly darken in color. Remove from heat and spoon over the tomato mixture, trying to distribute as best as possible evenly. Finish with the remaining scallions and pistachios before serving.
Notes
Notes
Scallions: I picked up this scallion technique from Hooni Kim's book: My Korea. By cutting across the scallions, rinsing, and patting drying, the scallions stay crisp and beautiful. It's perfect for a salad. 
Cumin- Chhonk/Tarka/Tadka. I took inspiration for blooming the cumin from the Indian technique of Chhonk (or Tadka/Tarka- there are many variations). Most of the chhonk recipes, the spices are kept whole, but I like to crack my cumin seeds in a mortar to help the cumin stick a bit more to the tomatoes. Chhonk is such an amazing technique- I'd recommend reading the three articles I've linked to for a better understanding (and to up your cooking game!) The cumin I've bloomed here is about the simplest rendition. 
Jalapeños: I like to keep a jar of pickled jalapenos on hand for finishing many meals. I make small batches: slice 2 jalapeños (60g) and place in a heat-proof jar. Heat ½ cup water with ½ cup white vinegar, ½ teaspoon salt, and 2 teaspoons cane sugar until hot. Pour over the jalapenos and let cool. Will keep in the fridge for a few weeks. This recipe would also be a great place to use fermented jalapeños instead of the vinegar-based method.