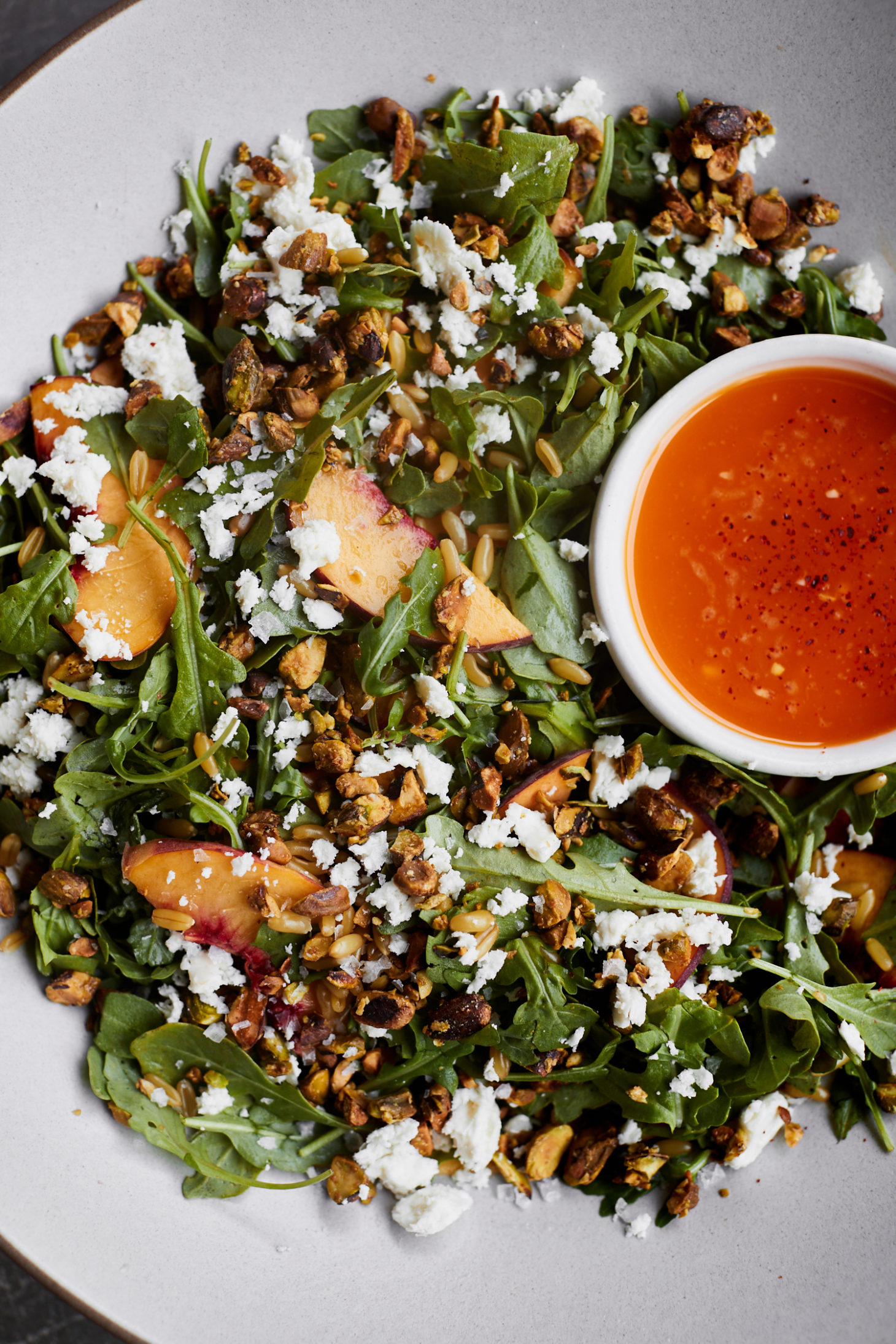 Summer salads are a daily occurrence in our house. This peach salad brings enough heft that it can hold it's own as a meal or be a delightful side salad.
Grain Alternatives
I typically make this type of salad with grains I have leftover from dinner the night before. For the grain, I like something that adds texture which usually means going with wheat grains, hence the Khorasan. If you wanted to have a similar texture but make the salad gluten-free, I'd recommend sorghum.
If you want to make this salad quick and don't have leftover grains, I'd shift to something quick cooking: quinoa, millet, or bulgur. These grains won't have the same texture but do help keep this salad on the filling side of a meal.
Make it Vegan
I like the salty balance the feta adds to the salad but it's definitely secondary to the peaches and the pistachios. To make this salad vegan, drop the feta and swap the butter for olive oil.
Greens
Arugula isn't everyone's favorite green and that's no problem. This salad would make an excellent kale salad. The hearty greens would balance great with the wheat and the peaches. You could also make this with lettuce- I like to keep a leaf lettuce mix on hand for salads like this.
Nuts
When it comes to nuts, I like the bigger flavor of pistachios in the salad. The slightly sweet/woody flavor of the pistachio is a great companion for the peaches. However, I've been known to use hazelnuts or walnuts in a similar way. Just don't skip- the crunch from the pistachios really brings the salad together.
Print
Peach Salad with Maple Pistachios and Chile Butter Dressing
Author:
Prep Time:

20

Cook Time:

60

Total Time:

1 hour 20 minutes

Yield:

2

large servings or

4

side servings

1

x
Category:

Salad

Method:

Stove-top
Grains
⅓ cup (60g) dried Khorasan wheat
¼ teaspoon sea salt
Pistachios
½ cup (60g) raw pistachios
1 teaspoon olive oil
2 teaspoons maple syrup
¼ teaspoon sea salt
Dressing
½ small shallot (15g)
2 tablespoons champagne vinegar
¼ teaspoon sea salt
3 tablespoons (42 g) unsalted butter
½ teaspoon or so good quality chili (see note)
Salad
2 cups (90g) packed arugula 
1 just-ripe peach (180g)
¼ cup (36g) crumbled feta cheese
Instructions
Combine the 60g of Khorasan wheat with salt and about 1 ½ cups water. Bring to a boil, reduce to a simmer, and cook until the wheat is tender but still chewy, 45 to 55 minutes. Like with all whole wheat grains, Khorasan maintains a chewy texture. Drain and let cool slightly before using in the salad. Alternatively, use leftover grains. 

While the grain is cooking, heat your oven to 325˚F. Roughly chop the ½ cups of raw pistachios and place on a sheet tray along with the 1 teaspoon of olive oil, 2 teaspoons maple syrup, and ¼ teaspoon sea salt. Toss until pistachios are well coated and place in the oven. Roast for 15 minutes then remove and cool.

Next, mince the small shallot and place in a bowl with the 2 tablespoons champagne vinegar and ¼ teaspoon sea salt. Let rest until the Khorasan is done. 

When ready to assemble the salad, heat a small skillet over low heat and add the butter. Once the butter is melted, add the ½ teaspoon chili powder and cook for one minute. Remove from the heat and carefully the butter mix into a jar. Add the vinegar/shallot mixture and shake vigorously. 

Cut the peach in half, remove the pit, and cut each half into thin slices. Place the arugula in a large bowl and add the peaches, cooked/cooled Khorasan, feta, pistachios, and the dressing. Toss the salad until well combined, taste/add salt if needed, and serve.
Notes
For the chile, I used the Piment D'ville (grown in California). It's a sweet and spicy one that's perfect to bring a bit of oomph.