100% whole wheat savory scones that are delicious and have amazing texture? It's not too good to be true. All you need is a bit of flour knowledge!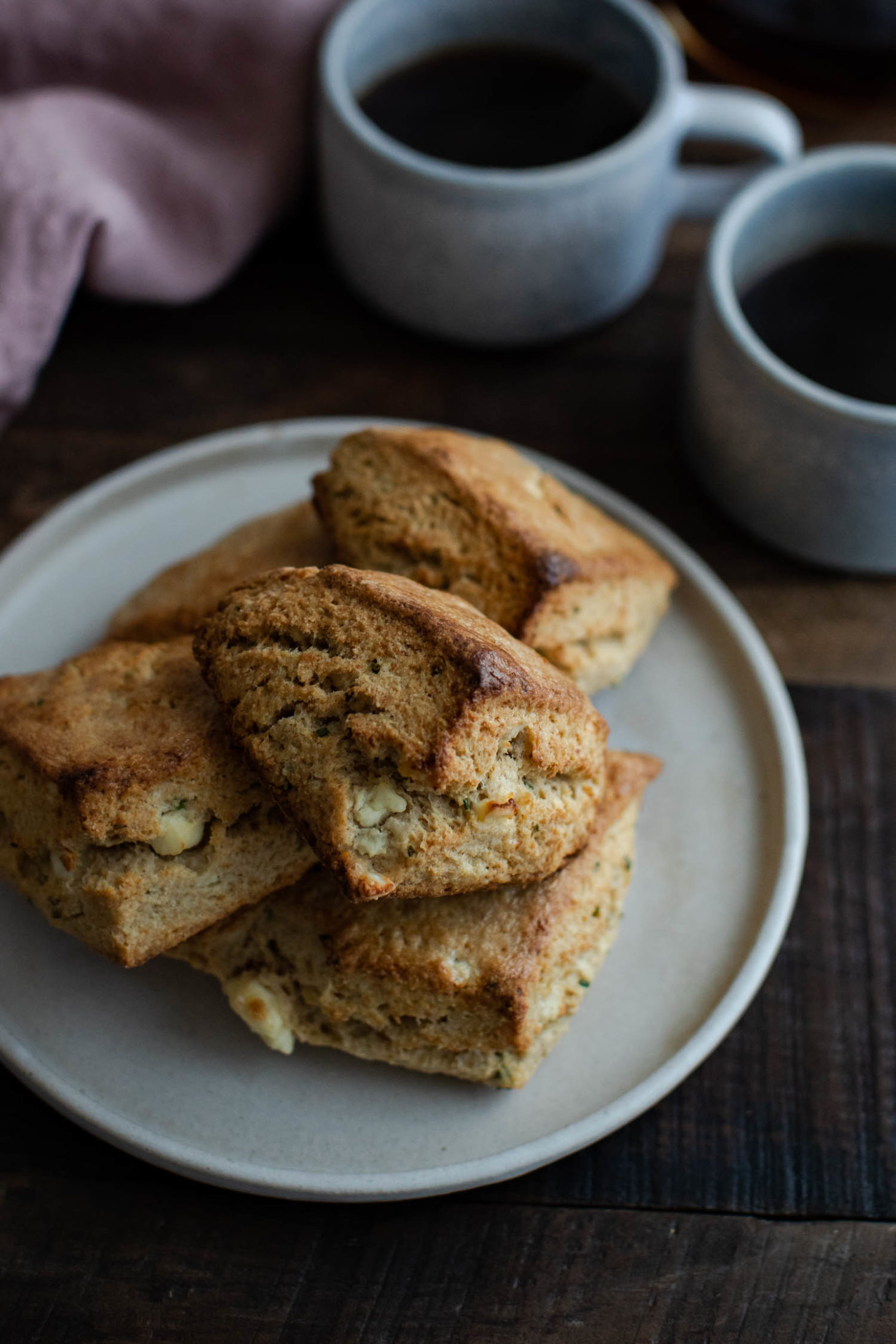 Recently, I was part of a small workshop about local flours/grinding. It's something I'm quite passionate about for many reasons, not limited to taste and nutrition. For this particular event, I was lucky enough to work with some beautiful Chiddam Blanc de Mars (soft white) flour from Capay Mills. Lucky for me and you, I had a bit of flour leftover and decided to make scones.
Wheat Flour 101: Hard/Soft and White/Red
For those who need a quick primer on wheat flour, there are MANY different varieties within the wheat category but they primarily fall into two overall categories: Red versus white and hard versus soft.
The color difference of red and white is at the kernel level but translates into flavor differences. White wheat was developed from red wheat by removing the red bran color. White wheat has a bit softer, less pronounced flavor compared to red. Red wheat also has slightly higher protein levels compared to white. This makes red wheat great for hearty, whole-grain bread and white for slightly more delicate baked goods.
On top of color, you can have hard and soft wheat. Hard wheats have higher protein levels making them perfect for breads that need that structure and elasticity. Soft wheats are much lower in protein counts which translates into a delicate flour. This makes them perfect for pastries.
And so, when talking about whole wheat pastry flour, I'm really talking about soft white flour. This delicate, low-protein flour is the perfect pastry/baked good companion. For a recipe like scones, it's a great 1:1 for all purpose flour. The end result is 100% whole grain but still buttery, delicious layers. If you're looking for a decent source for this kind of flour, I recommend Bob's whole wheat pastry flour.
If you're curious about grains in general or locally grown California grains, I recommend checking out the California Grain campaign.
Scone Texture
As mentioned in the flour section, scones are all about texture. I've had my fair share of horrible scones. Many coffee shops sell what I call knock-off versions of scones that are rubbery or dense. Sweet or savory scones should have a golden, crisp outside and flaky buttery layers inside.
To achieve this, there are two primary things to note. The first, you cannot overwork the dough. One of the keys is to ensure there are still pockets of butter in the dough. Our bodies are warm and easily melt butter. This means, work with/touch the dough as little as possible once the butter is worked into the flour. You can also use a food processor for cutting the butter into the flour- I just like the feel of the butter/flour together.
Secondly, when shaping the scones, folding is key. Without folding, the layers won't be created. This is actually a step I've skipped in the past but it's too important. Without those layers, the scone won't bake properly.
Savory Scone Elements
Finally, most scones out there are sweet but I love the savory element. It's like a biscuit that's been filled with all the most delicious things. You can play around with ingredients a bit in these savory scones.
Swap the feta for another sharp cheese- I suggest cheddar. You can also add other types of produce/herbs. Stir in roasted squash or sweet potatoes before folding or freshly minced rosemary. Of course, if you're a sweet scone kind of person, you could make these lemon poppy seed scones or black raspberry oat scones.
Print
Savory Scones with Chives and Feta
Delicious and flaky whole wheat scones are only about 30 minutes away. Make sure you pick up whole wheat pastry flour or you can swap all purpose in if needed.
Author:
Prep Time:

10 minutes

Cook Time:

20 minutes

Total Time:

30 minutes

Yield:

8

large scones

1

x
Category:

breakfast

Method:

baked

Cuisine:

none
Ingredients
2 1⁄4 cups whole wheat pastry flour or unbleached all-purpose flour
3 tablespoons cane sugar
1 tablespoon baking powder
1⁄2 teaspoon sea salt
10 tablespoons cold butter, cubed
3 tablespoons minced chives
½ cup crumbled feta
1 large egg
½ cup (45 ml) heavy cream, plus more for brushing
Instructions
Preheat the oven to 425 ̊F. Cover a baking sheet with parchment paper.

Place the flour, baking powder, sugar, and salt in a medium bowl. Add the cold, cubed butter and using your hands, rub the butter into the flour. The end result should be a flour mixture that looks crumbly with pea-sized pieces of flour-coated butter.  

To the butter-flour mixture, add the minced chives and crumbled feta. Stir briefly to combine.

In a separate bowl, whisk together the egg, and heavy cream. Pour into the dry ingredients and stir until just combined, adding a splash bit more cream if the dough feels dry.

Turn out the dough onto a floured surface and gather into a semi-tight rectangle. Fold like a letter and flatten out again, using a rolling pin, into 1 ½" or so thick rectangle. Continue twice more then flatten once more.

Using a knife or bench scoop, cut into 8 squares or triangles.

Place the scones 1 to 2 inches (2.5 to 5 cm) apart on the baking sheet. Brush with heavy cream. Bake the scones until firm to the touch and golden, 18 to 20 minutes. Remove from the oven and transfer to a rack to cool.
Notes
Just remember- don't overwork your dough to keep the butter still in small pieces!
Nutrition
Serving Size:

1 scone

Calories:

367

Sugar:

6.4

Sodium:

255

Fat:

23

Saturated Fat:

14.2

Carbohydrates:

34

Fiber:

1

Protein:

6.9

Cholesterol:

87
Keywords: savory scones, whole wheat scones, chive scones