It's hard to believe today is the last day in November.  It feels like just yesterday that I started my job, ran band camp, and began classes.  Now, in a little over a week, I'll have successfully made it through my first semester as a college professor.  While I may not know where I will be next year, it feels good to have a slight path to my life, to know what I want to do and where I can see myself in 10-20 years.
I was looking through old writings the other day and found a musing on what happened when the school paper asked me where I saw myself in five years.  I promptly said, "I don't know where I see me myself next month, let alone five years." I was just graduating college, the recession was beginning to hit, and I had no idea where I was going to end up.
It's funny where life takes you.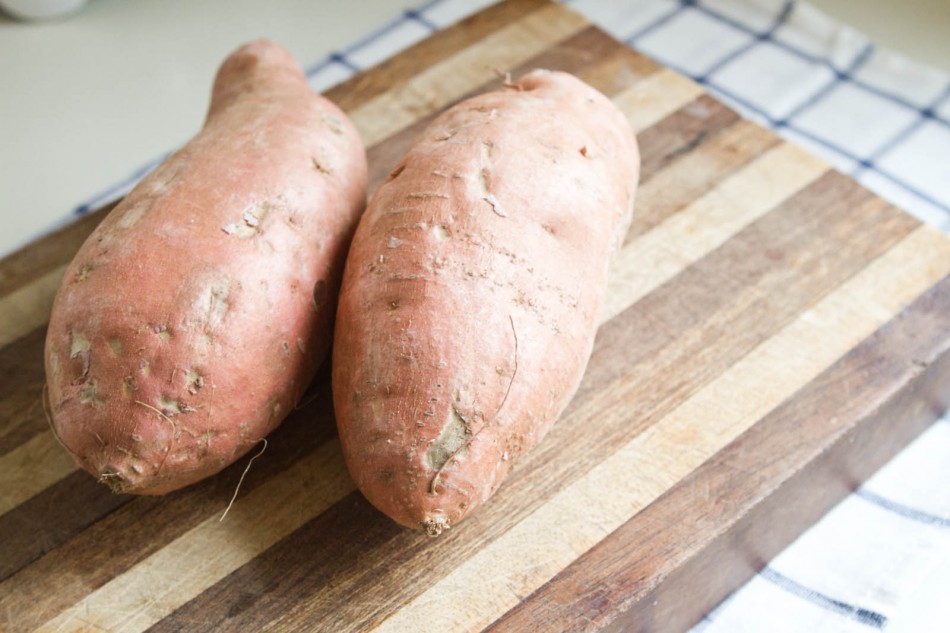 I've done a lot of reflecting recently through looking for jobs, applying for doctoral schools,and dealing with relationships.  There are times I forget that I really like being me.  I get down on myself because I feel like I'm just not quite good enough.  Excuse my language but sometimes self-esteem is a bitch.  They don't tell you that in school.
I have to step back and really say to myself that I like being me.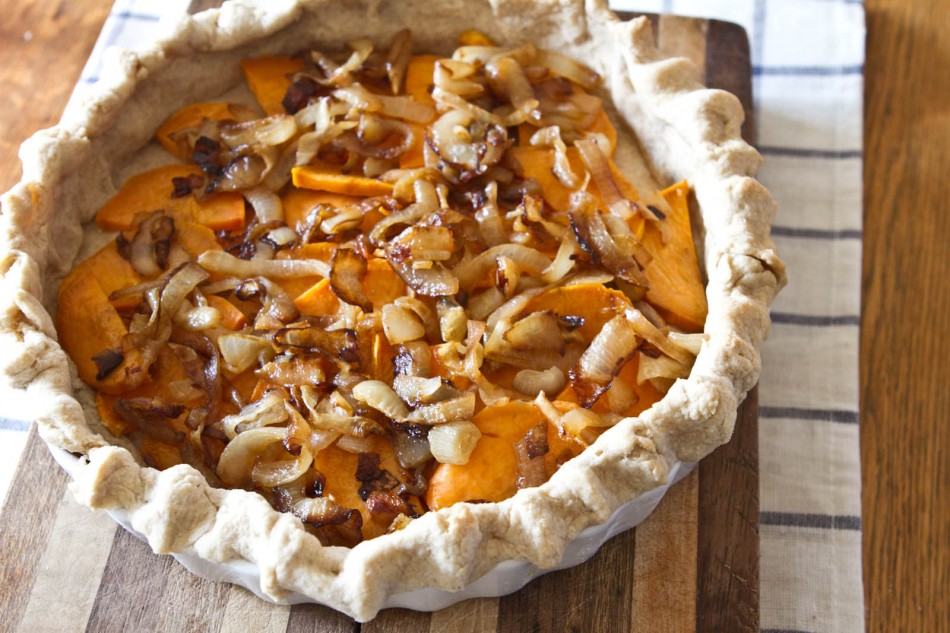 This really has nothing to do with this quiche, it's just what I had on my mind today and felt like sharing.
But I suppose while I'm at it, I can tell you a little bit about this quiche.
This quiche is my lifesaver during the holidays.  While everyone is chowing down on turkey, beef, or ham, I'm eating quiche and couldn't be happy.
I love quiche.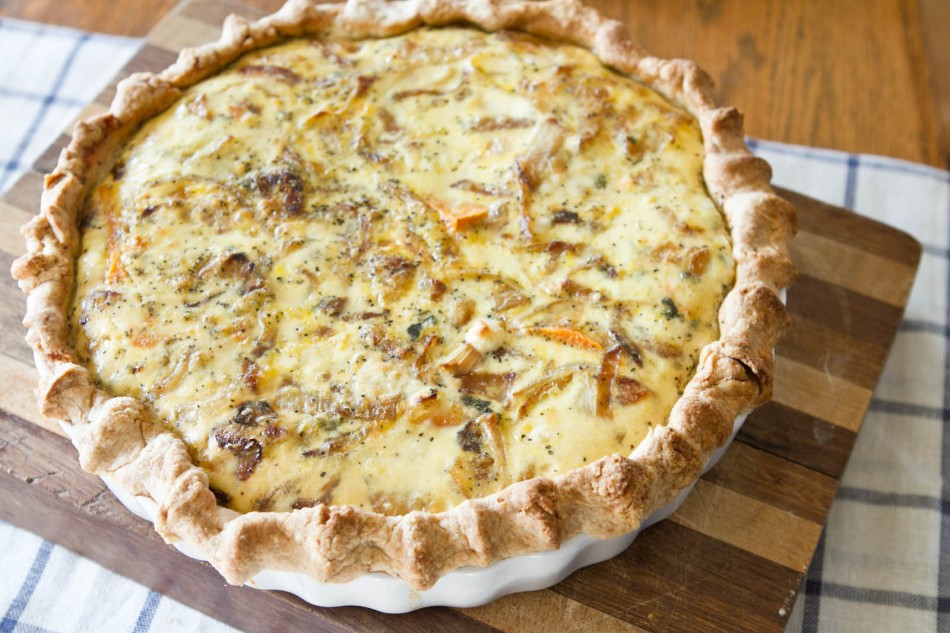 I also love the flavor of caramelized onions, sweet potatoes, and tangy cheese. I actually feel sorry for the people eating the meat- they're missing out.
(PS.. pat yourself on the back today.  You deserve it.)
Print
Roasted Sweet Potato, Caramelized Onion, and Gorgonzola Quiche
Prep Time:

1 hour 15 mins

Cook Time:

55 mins

Total Time:

2 hours 10 minutes

Yield:

8

-

1

0

1

x
Crust

1 ½ cups

whole wheat pastry flour

2 tablespoons

natural cane sugar

¾ teaspoon

salt

½ cup

cold butter, cubed

¼ cup

cold water
Filling:

1

large sweet potato

2

-

3

large onions

3 tablespoons

olive oil, divided

1 teaspoon

salt

½

-

1

cup crumbled gorgonzola cheese

5

eggs

2 ½ cups

milk

½ teaspoon

salt

½ teaspoon

pepper
pinch nutmeg
Instructions
To make crust, combine the dry ingredients into a bowl and cut in butter with your fingers (or a pastry blender.) Once butter is broken down to the size of peas, add water to the mix and stir/knead until the dough comes together. Roll out onto a flour surfaced and gather into a disc. Wrap with plastic wrap and place in refrigerator for 20 minutes to chill. Pre-heat oven to 425˚. Roll out dough and crimp into an 11" quiche pan. If you have dough left over, store in the freezer for later use. Parbake the crust for 10-15 minutes, just until the crust gets a little brown color. Remove from oven and set aside on a baking tray.
To caramelize onions, slice onions into an even ¼" slice and heat a medium pan with 2 tablespoons olive oil over medium low heat. Start cooking onions, stirring occasionally. After onions have cooked for 15-20 minutes, add salt. Continue to let cook, letting more time go by before you stir the onions (I go for about 15-20 minute increments.) Continue to cook and stir onions until golden, soft, and cooked down- usually 60-75 minutes. Set aside.
To prepare sweet potatoes, peel and cut into ¼" slices. Toss with one tablespoon of olive oil and place on a covered baking tray. Roast for 15-20 minutes or until sweet potatoes are soft and begin to brown. The crust, onions, and sweet potatoes can be done all at the same time.
Reduce or preheat oven to 375˚.
Once these three elements are ready, layer the sweet potatoes in the bottom of the crust. Sprinkle caramelized onions and gorgonzola cheese on top. Finally, whisk eggs, milk, salt, pepper, and nutmeg together. Pour over filling ingredients. It is at this point you can cover the quiche, place in the refrigerator, and let sit for up to day before baking.
To bake, carefully transfer quiche to the oven. Bake for 45-55 minutes until the filling domes up and barely jiggles. Remove from the oven and let sit for 10-15 minutes before serving.