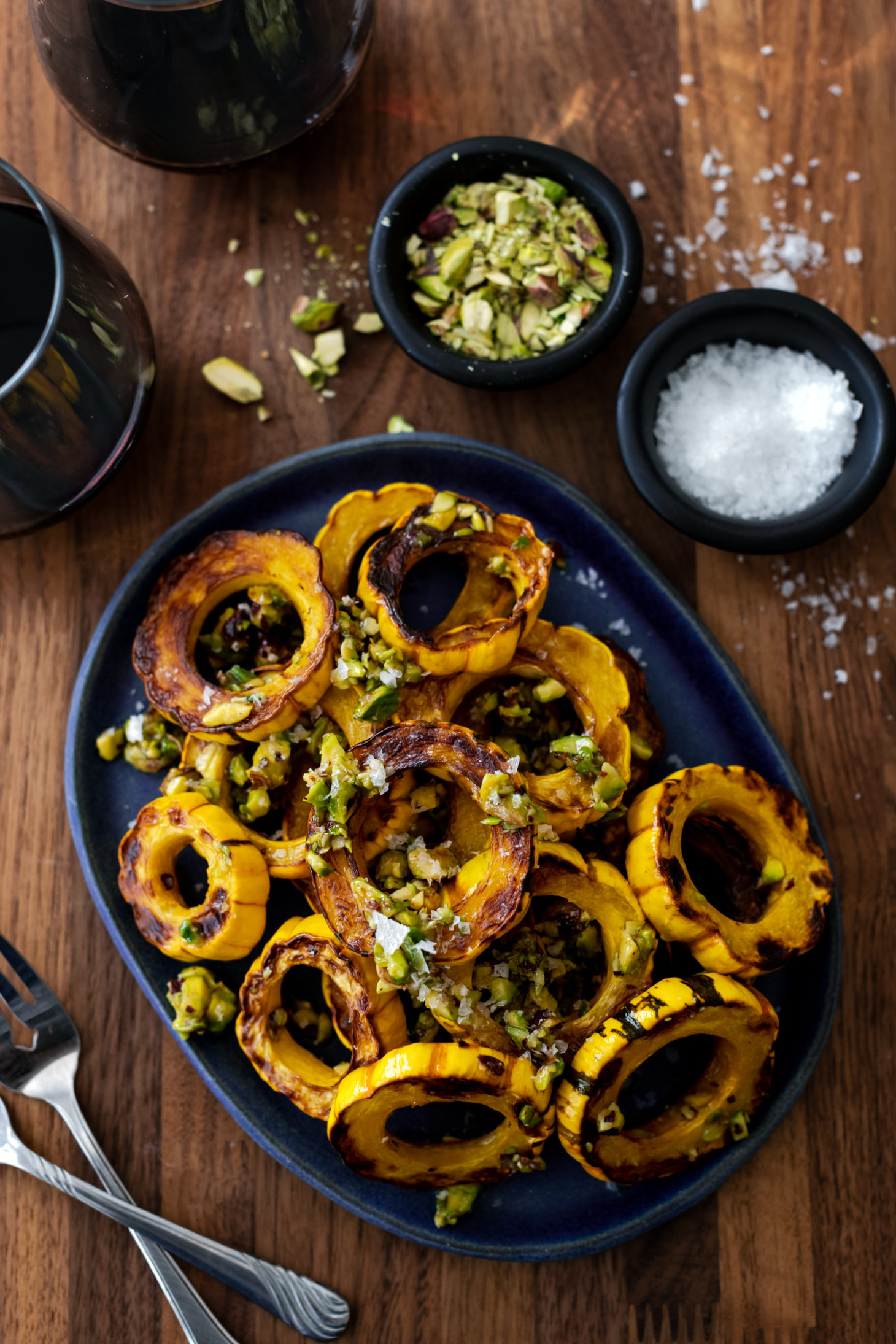 This recipe is in partnership with Nugget Markets. See below for more details.
Constant inspiration is one of my favorite things about food. It takes one bite to take you down a road you might not have explored before. This is one of the reasons I'm always game to try something. You never know what will ignite your next love.
Those are strong words for a recipe about squash but I mean it. On a harvest in October, a restaurant catered lunch in the grove. The location was ace but it was the first dish they brought out that put it over the top. Roasted delicata squash smothered with a whipped butter. It was magical and everything I wanted in one bite. This recipe is a nod to that dish.
This recipe is the perfect companion on your holiday table. It's minimal on ingredients but the overall flavor has a big impact. Of course, you don't have to wait for your holiday meal to enjoy this dish- I've happily eaten this for dinner on a few occasions!
Roasted Delicata Squash
Of all the winter squash, I lean towards using delicata more often than not. It's a versatile little squash that requires no peeling and tends to be a bit more quick cooking compared to other varieties. Delicata works well as a side, like in this recipe but I love it in tacos, on top of pizza, and stuffed.
Pistachios are not usually my go-to nut but this side dish was inspired by a recent meal I had that featured something similar with delicata/butter/pistachios. I loved how the pistachio flavor melded with the roasted delicata squash.
I know pistachios are a bit on the expensive side, especially shelled. This roasted squash would also work well with toasted pecans or walnuts. You could also swap out the pistachios for pumpkin seeds. This would keep the beautiful green pop of color.
Crushed Red Pepper
It's probably pretty obvious if you look at my recipes but I'm obsessed with adding crushed red pepper to things. I love a bit of heat to my meals and this honey delicata squash is no different. However, you don't necessarily need it. You could also add a sprinkle of aleppo pepper (also borrowed from the aforementioned side dish I had).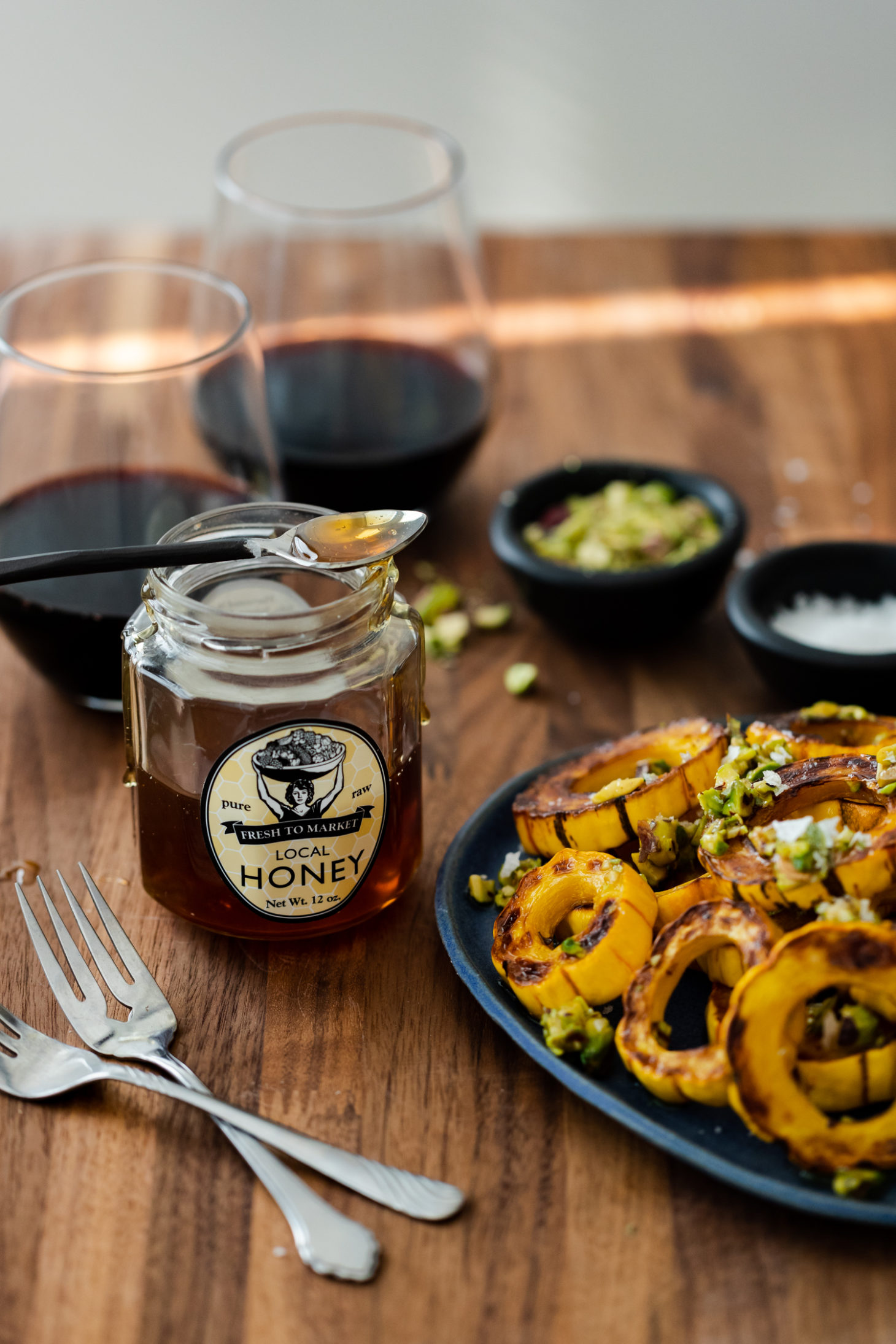 Nugget Markets Fresh to Market honey
You may remember that a few months back I took a trip out to the honey farm where Nugget Markets sources their honey. After that, I stocked up on the honey and have been using it on everything from crepes, in dressing, and in dishes like this roasted delicata squash!
Nugget Markets
I'm excited to partner with Nugget Markets to bring you this simple holiday side dish. I have a slight obsession with Nugget Markets. It's like all my favorite grocery stores came together under one roof. I can pick-up things from bulk, grab some organic produce, and find all the cheeses I would ever need.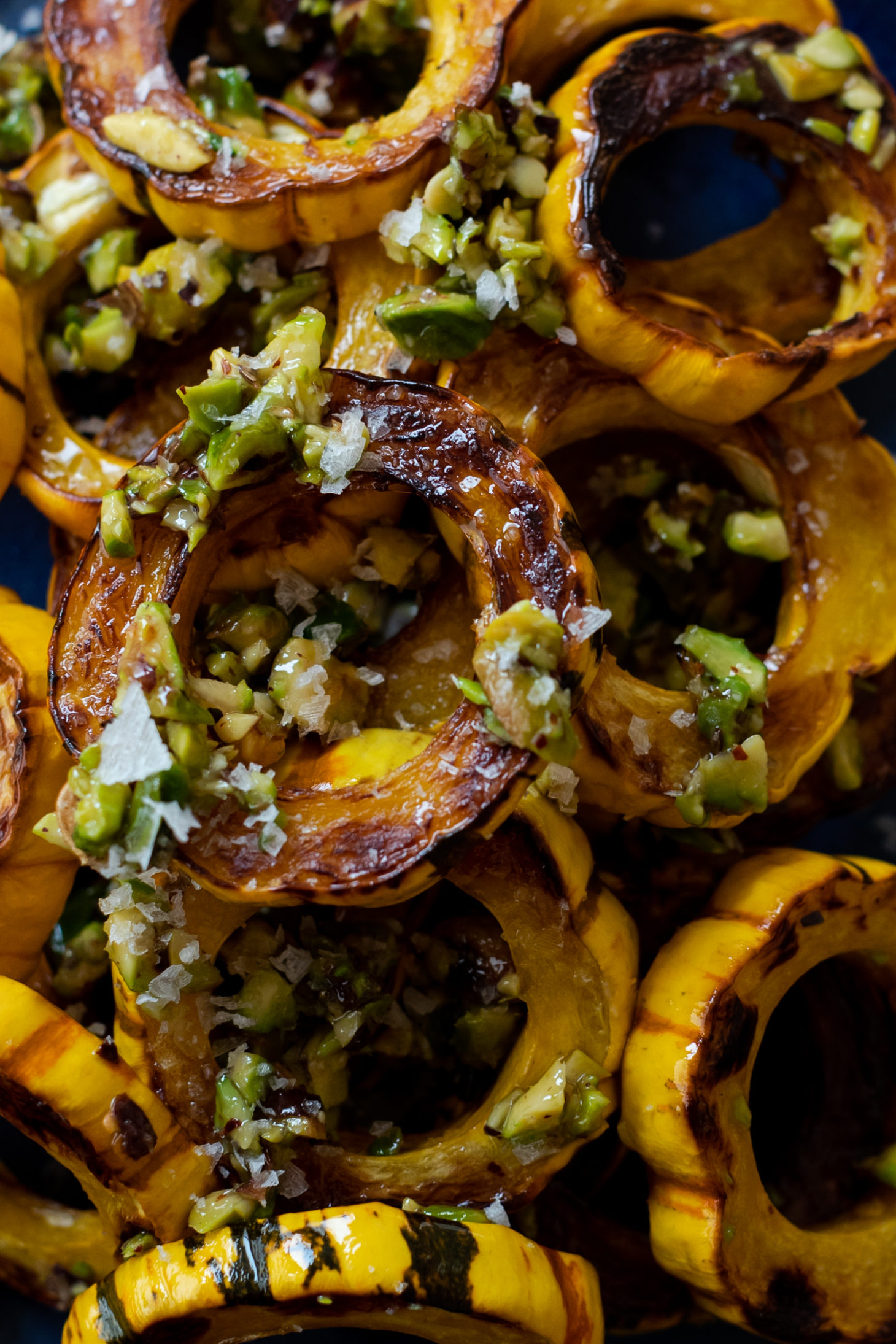 Print
Roasted Delicata Squash with Honey Butter and Pistachios
Ingredients
Squash
2 medium delicata squash
2 tablespoons olive oil
¼ teaspoon sea salt
Butter
3 tablespoons butter
¼ cup pistachios
2 tablespoons honey
¼ teaspoon crushed red pepper
¼ teaspoons salt
Instructions
Heat your oven to 425˚F. Rinse the squash and cut the squash into ¼" thick slices. Using a cookie cutter or a paring knife, remove the seeds from each squash circle. Place on a sheet tray and toss with the olive oil and salt. Spread into a single layer and roast, turning once, until tender and browning, 25 to 30 minutes.

While the squash is roasting, melt the butter in a small pan and add the pistachios. Cooking for 1 minute then add the honey, crushed red pepper, and salt. Swirl the pan a few times, remove from heat, and let rest until the squash is done.
When the squash is done, transfer to a bowl and toss with the melted butter mixture. Serve with more pistachios sprinkled on top if desired.
Disclosure: This recipe was created in partnership with Nugget Markets. All thoughts and opinions are my own. It's content like this that helps me keep this site running to provide the vegetarian recipes you see every week.