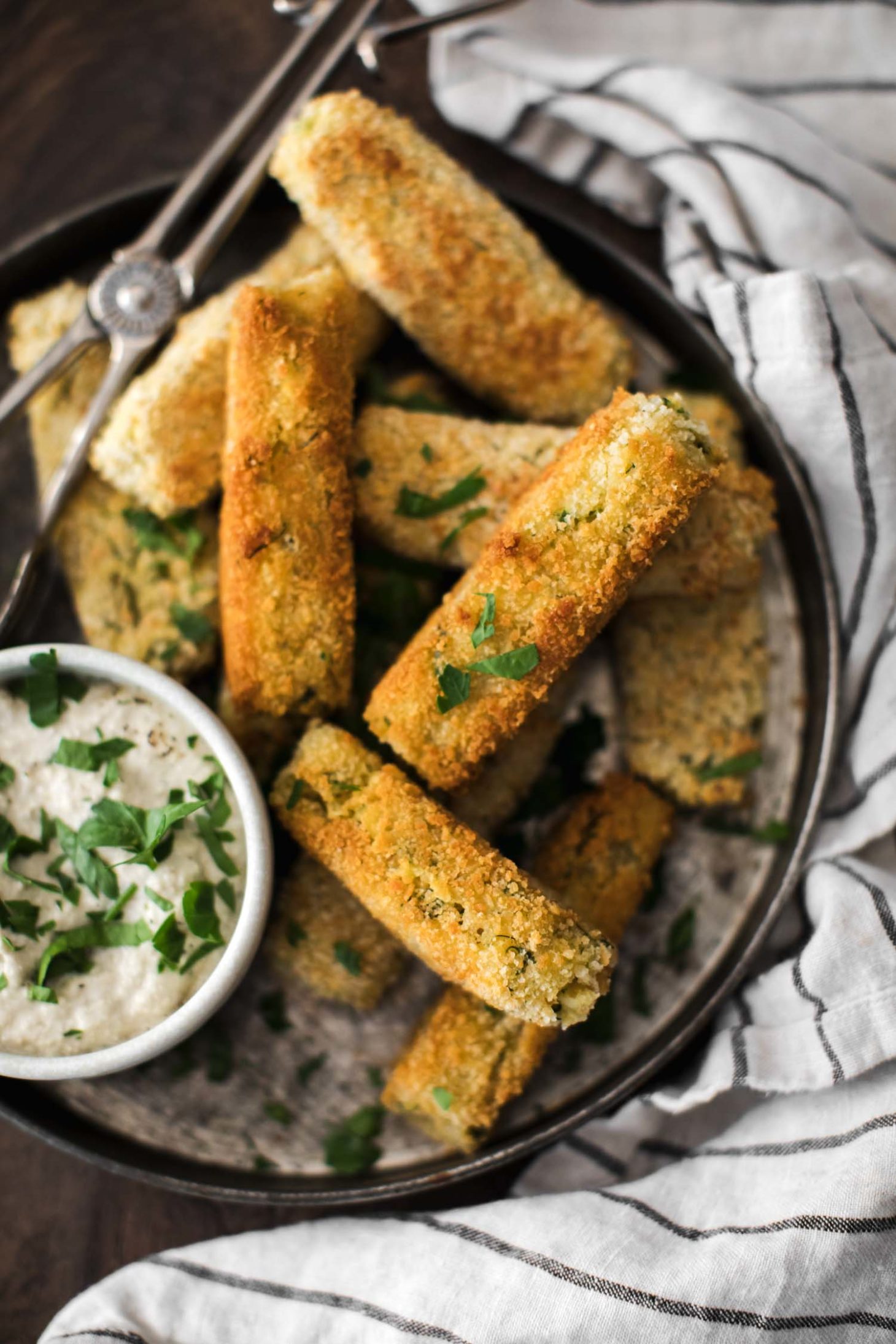 I know I've mentioned before that I have a penchant for fried foods. It's a once-in-awhile treat but there's just something kind of magical about a crisp outside and a perfect inside. Given this love, it's a bit surprising I've not shared croquettes before given the literal definition (bread + fried, made with potatoes). It's easily a winner and although it takes a bit of time, I'd gladly make these for dinner.
This version is adapted from a classic potato version. In place of some of the potatoes, I've added chickpeas. Once the these chickpea croquettes are fried (or baked) up, the chickpeas are barely noticeable. Add to these, a delightful dip and you have yourself a perfect snack or if you're me, dinner.
I will also say, the color and the crispness is much better when fried. However, I know this isn't everyone's favorite method so I've also included instructions on how to bake. You could also prepare these ahead of time, freeze, then bake/fry whenever you were ready!
Chickpea Croquette
variations
I've not done much adapting in this recipe but there are a few ways to have some fun. Also, I'm thinking you could probably make these vegan by dropping the egg(s) and using a bit of flax in the mix and a bit of non-dairy milk and starch in the breading.
Herbs: Swap out the herbs for whatever you have on hand (or leave them out all together).
Cheese: I think these chickpea croquettes would be amazing with about ½ cup of sharp cheddar cheese mixed into the potato/chickpea puree.
Gluten-free: Use your favorite gluten-free breadcrumbs.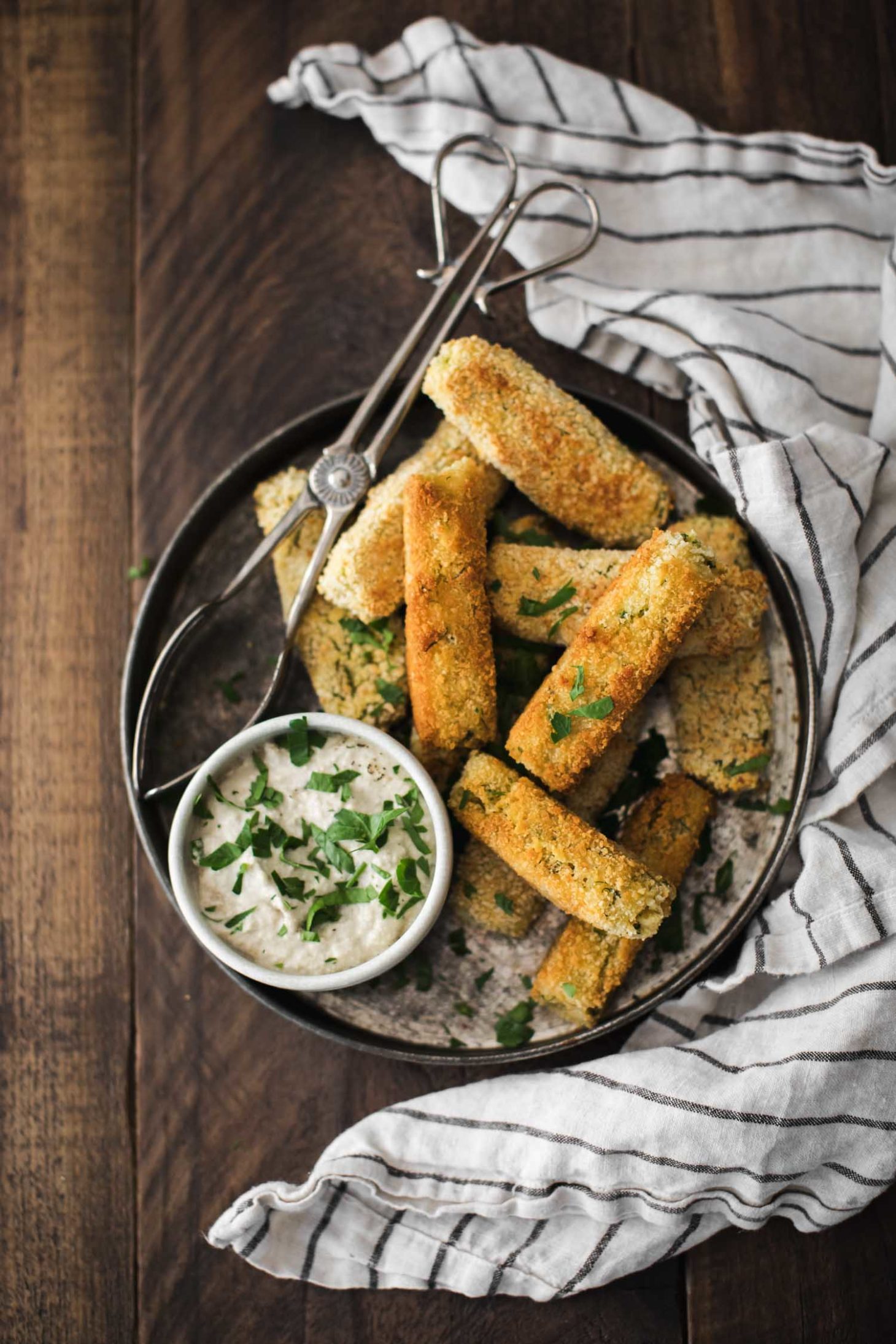 Print
Potato Chickpea Croquettes with Garlicky Sunflower Dip
Crisp outsides and creamy centers, these chickpea croquettes are the perfect snack or dinner.
Author:
Prep Time:

30 minutes

Cook Time:

20 minutes

Total Time:

50 minutes

Yield:

1

dozen croquettes

1

x
Croquettes
1 ½ cups cooked chickpeas, drained and rinsed if using canned
1 cup mashed potato
1 egg yolk
2 tablespoons breadcrumbs
¼ teaspoon sea salt
¼ teaspoon black pepper
3 tablespoons minced chives
3 tablespoons minced dill
3 tablespoons minced parsley
Breading
1 cup breadcrumbs
1 egg, whisked
Sunflower Sauce
2 teaspoons olive oil
2 cloves garlic, thinly sliced
½ cup soaked toasted sunflower seeds
½ cup water
2 teaspoons lemon juice
⅛ teaspoon salt
Instructions
Place the all the ingredients, except the herbs, in a food processor or blender. Pulse until the mixture is fairly smooth. Add the herbs in a pulse a few more times. Transfer the mixture to the refrigerator and let rest for 20 minutes.

To get the croquettes ready to cook, remove the mixture from the refrigerator. With your hands slightly wet, take about ¼ cup worth of mixture and pat/roll it into a log that is roughly ½" thick and 4" to 5" in length. Place it in the whisked egg then transfer it to the breadcrumbs. Pat the croquette into the breadcrumbs, flatting the sides as you do. Repeat with the remaining mixture.

To Fry (my preferred method): Heat ¼" of oil in a pan with tall sides. Place the croquettes in the hot oil and fry for 2 to 3 minutes, until crisp and gold. Repeat with remaining three sides.
To Bake: Heat oven to 425˚F. Make croquettes as written and place on a sheet tray covered with parchment. Brush with a bit of oil and bake for 15 minutes. Flip and bake for another 10 to 15 minutes until crisp and golden.

To make the dip, pan-fry the garlic in the olive oil until it's golden then add it to a blender with the remaining ingredients. Purée until smooth, add more water as needed. Taste and add salt. Serve the croquettes the sunflower dip.