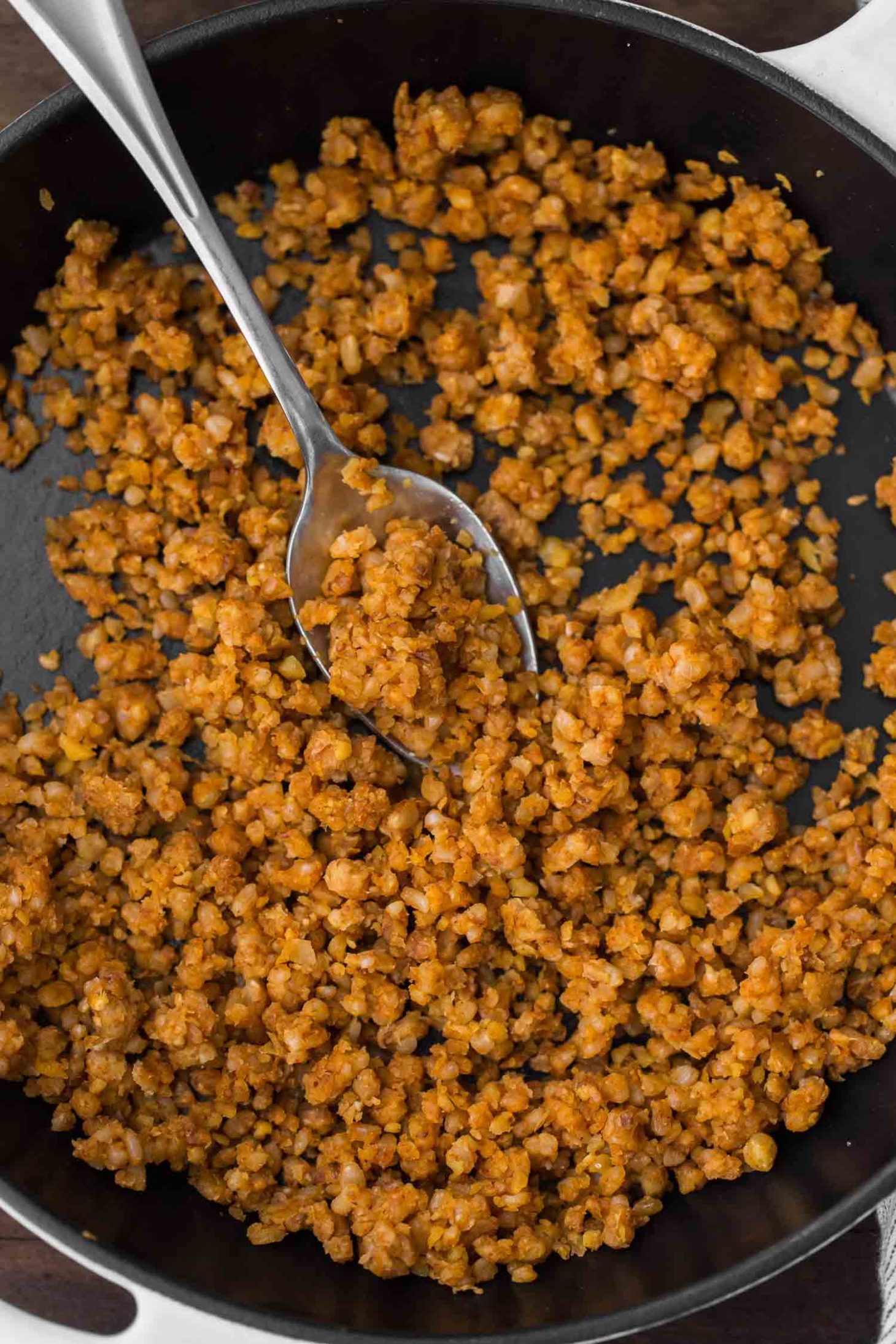 Early on, when I was vegetarian but not cooking for myself, I found frozen veg burgers to be my friend. Were they wonderful? No. Were they easy? Yes- especially for a busy college student. I found that beyond burgers, I could crumble the burgers on a salad or grain bowl with ease. This was a huge meal-saver. When I started cooking, I would do similar things with homemade veg burgers until one day, I realized I should just skip making the burgers. That's where this chickpea crumble comes into play.
This crumble comes from one of my favorite veg burgers that uses rice and nuts. The stickiness of the short-grain rice holds everything together while the chickpeas bring the protein and pecans add the texture. I like to make a meal that uses the rice and save ½ cup to make this crumble. Once I make this crumble, I store it for a week and heat the mixture up as needed. It's an easy addition to so many different meals!
Print
Pecan Chickpea Crumble
This crumble is one of my favorite items to use in place of meat. The crumble is great with a myriad of spices + herbs and perfect for topping salads, grain bowls, or even nachos. 
Author:
Prep Time:

5 minutes

Cook Time:

10 minutes

Total Time:

15 minutes

Yield:

2

servings

1

x
Ingredients
½ cup

cooked short-grain brown rice

½ cup

cooked chickpeas, drained and rinsed if using canned

¼ cup

toasted pecans (see note)

½ teaspoon

smoked paprika

¼ teaspoon

garlic powder

¼ teaspoon

salt
Instructions
In a food processor, combine chickpeas, cooked brown rice, pecans, smoked paprika, and garlic powder. Pulse a few times until mixture comes together and resembles a coarsely ground meal.
Heat a skillet over medium low heat and add olive oil follow by mixture. Stirring occasionally, heat mixture until hot and fragrant, 4-6 minutes.
Notes
Tips & Tricks: I like to lightly toast pecans in a dry skillet. Add the nuts to the skillet over medium-low heat. Shake the pan and let the pecans toast until fragrant. 
You could make this sauce ahead of time and assemble when ready to eat. 
Stock up: get the pantry ingredients you will need: Chickpeas, Rice, Pecans
Nutrition:  see the information.
Nutrition
Calories:

241

Sugar:

2.5

Sodium:

391

Fat:

10.7

Carbohydrates:

31.6

Fiber:

5.3

Protein:

6.7

Cholesterol:

0
Chickpea Crumble
variations
I like this crumble to be a bit of a 'use what I have' recipe. This means, I've tried it with different nuts/seeds, spices, and grains- all of which can be changed easily. A few examples:
Spices: I like to keep it simple with just smoked paprika and garlic. However, many different spice blends would work well with this crumble. Any of the blends mentioned in the spiced chickpeas component or one of my favorite, chorizo.
Nuts/Seeds: The nuts really provide the texture in this crumble and while I love the flavor of pecans, I've found that walnuts, pepitas, and sunflower seeds work as well.
Grains: The short-grain brown rice is great because it provides an extra bit of stick to the crumble. However, I've had similar luck with millet.
How to use Chickpea Crumble
Salad: Use the crumble raw or lightly toasted as a topping for salads. I like to mix the crumble with a bit of Frank's Red Hot to make a buffalo style salad with homemade ranch.
Grain Bowls: Similar concept to the salad, top your favorite grain bowl with this spiced crumble or toss the crumble with a sauce.
Loaded Potatoes: Best with a sauce or cheese, top a potato or sweet potato with this crumble mixture and roasted vegetables.
Egg Skillet: Fry eggs to your liking and top with this crumble. I like to include vegetables in the skillet or top the whole skillet with a fresh arugula salad.
Nachos: One of my favorite uses- make homemade nachos and use the crumble as a topping.
Tacos: Replace legumes in tacos with this crumble. My favorite is to use this crumble on these halloumi tacos.
Sloppy Joes: Instead of doing lentil sloppy joes, I like to make the sauce then stir in the crumble at the end. Similar to if you were making bulgur sloppy joes.
Recipes that use the Chickpea Crumble