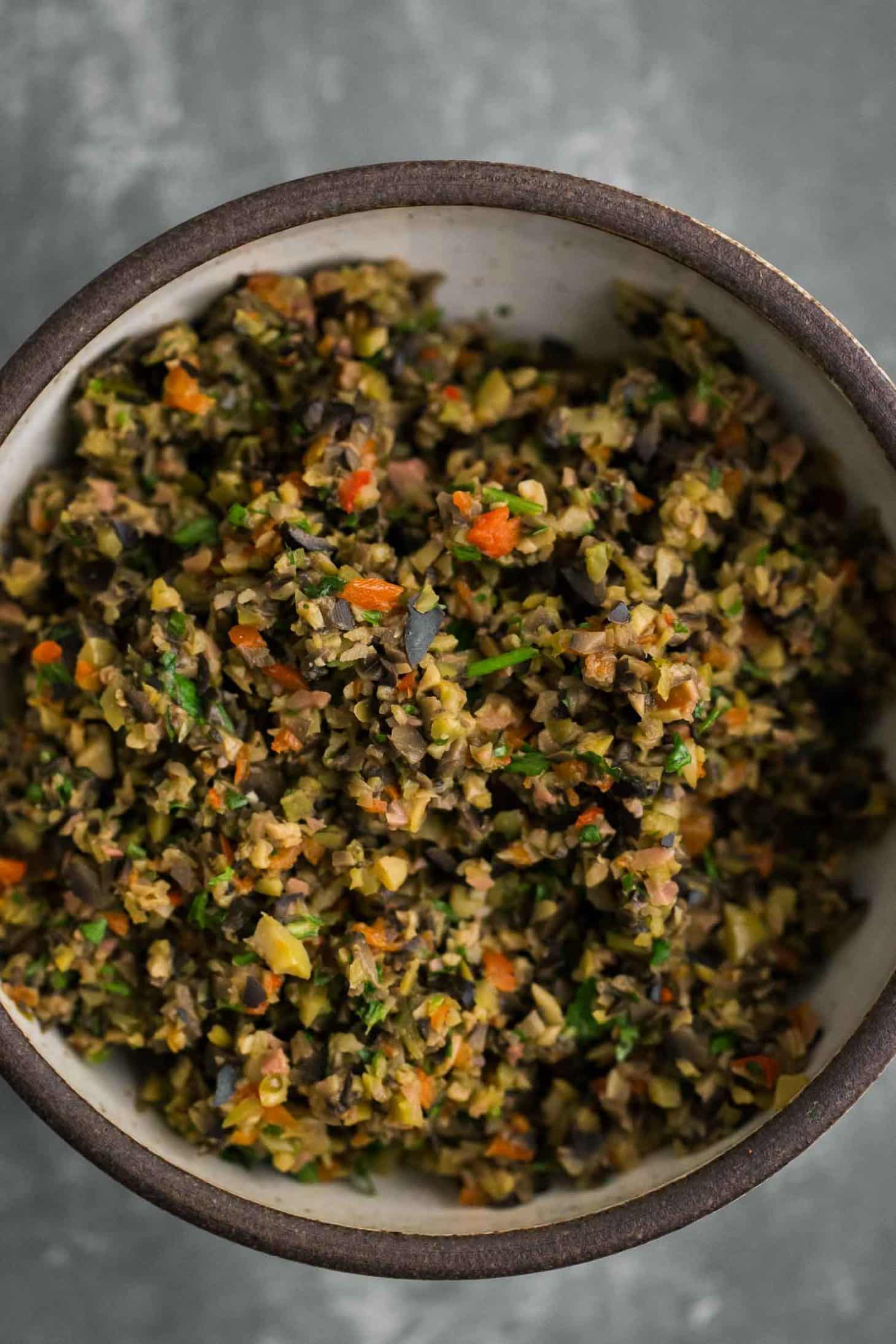 My first experience with tapenade was on a cheese sandwich from a local shop in my small hometown. My mother was the first one to discover this sandwich and I was still new to enjoying olives. However, the salty flavor from the olives with the creamy cheese quickly became a favorite of mine. From there, I started making my own tapenade only to realize just how versatile this mixture can be.
One note: this is not a traditional tapenade in that I don't use anchovies and I also don't use capers. The former for obvious reasons, the latter for the fact I just never have them on hand. You could easily add a tablespoon or two to the mixture.
Print
Olive Tapenade | Cooking Component
An easy spread, this olive tapenade comes together in 10 minutes and can be used on sandwiches, pasta, and pizza.
Author:
Prep Time:

10 minutes

Cook Time:

25 minutes

Total Time:

35 minutes

Yield:

2

to

2 ½

cups

1

x
Cuisine:

component
1

clove garlic

3 cups

olives, mix of black and green that have been drained

1

roasted red pepper

3 tablespoons

tablespoons fresh flat leaf parsley

2 tablespoons

fresh basil

2 tablespoons

lemon juice

1 tablespoon

olive oil

¼ teaspoon

sea salt

¼ teaspoon

black pepper
Instructions
Pulse garlic in the food processor until minced. Add olives, roasted red pepper, parsley, basil, lemon juice, olive oil, sea salt, black pepper, and lemon juice. Pulse until olives are in small pieces. Add salt and pepper to taste. Alternatively, chop all the ingredients well and stir to combine.
Store in an airtight container in the refrigerator for up to a week.
Olive Tapenade
variations
I keep my tapenade fairly similar to the recipe above but there are a few variations you can always throw in. Also, as mentioned in the opening, you can add a couple tablespoons of capers.
Artichokes: add ½ cup or so of cooked artichoke hearts to the tapenade. I like to keep a can of the artichoke hearts on hand for pizza, which usually leads to a few leftovers!
Sun-dried Tomatoes: In place of or with the roasted red pepper, the sun-dried tomatoes add a nice, warm tomato taste.
Feta: After I minced everything in a food processor, I like to fold in a bit of feta.
How to use Olive Tapenade
Sandwich/Grilled Cheese: Spread a layer of the tapenade on a sandwich or grilled cheese, before cooking. I like to pair the tapenade with a strong cheese but really any type of sliceable or melted cheese works.
Pizza: I nearly always have olives on pizza and this tapenade can work as the 'sauce' (in place of the tomato sauce) or you can sprinkle the tapenade over the tomato sauce for an easy pizza topping.
Pasta: One of my favorite uses, toss cooked pasta in a drizzle of olive oil then add a few spoonfuls of the tapenade. Finish the pasta with some vegetarian-friendly parmesan and you have an easy pasta dish!
Eggs: Add the tapenade into an omelette or I like to add a couple of scoops into a frittata with a bit of feta and vegetables.
Grain Bowls: Roast vegetables, like squash, and toss the warm vegetables in a bit of the olive tapenade and serve on a bed of grains.
Tapas: We do a tapas night occasionally and I like to have a small bowl of this tapenade as a spread with cheese and toasted bread.
Recipes that use Olive Tapenade