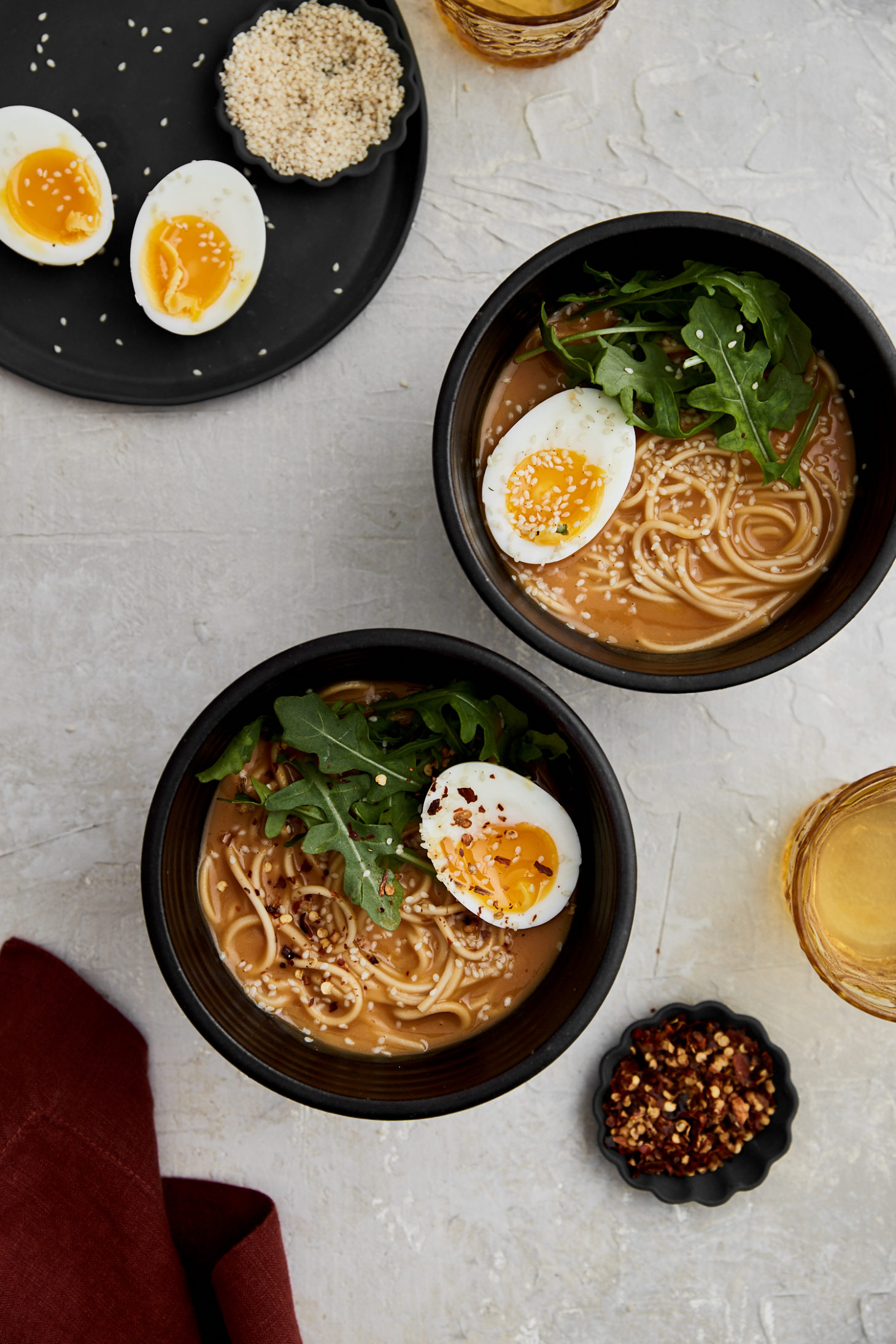 When I first started planning meals, I found I would over plan and buy too much. I'd schedule every weeknight dinner, but inevitably, something would come up, and I'd have to shift things around. In return, I'd feel some emotion towards that, and it was usually negative.
This feeling led to now, where I keep things loose. I plan to make four recipes and wing the other three nights. Each week we often have a leftover night, a whatever we have left night, and a wild card night. It keeps me agile in the kitchen, which also helps with my ability to use what I have on hand instead of relying on a strict recipe.
For this particular week, I'm back with another vegetable puree (this happens in the winter months). It's a hearty week with enchiladas, noodle bowls, and a nudge to explore breakfast for dinner.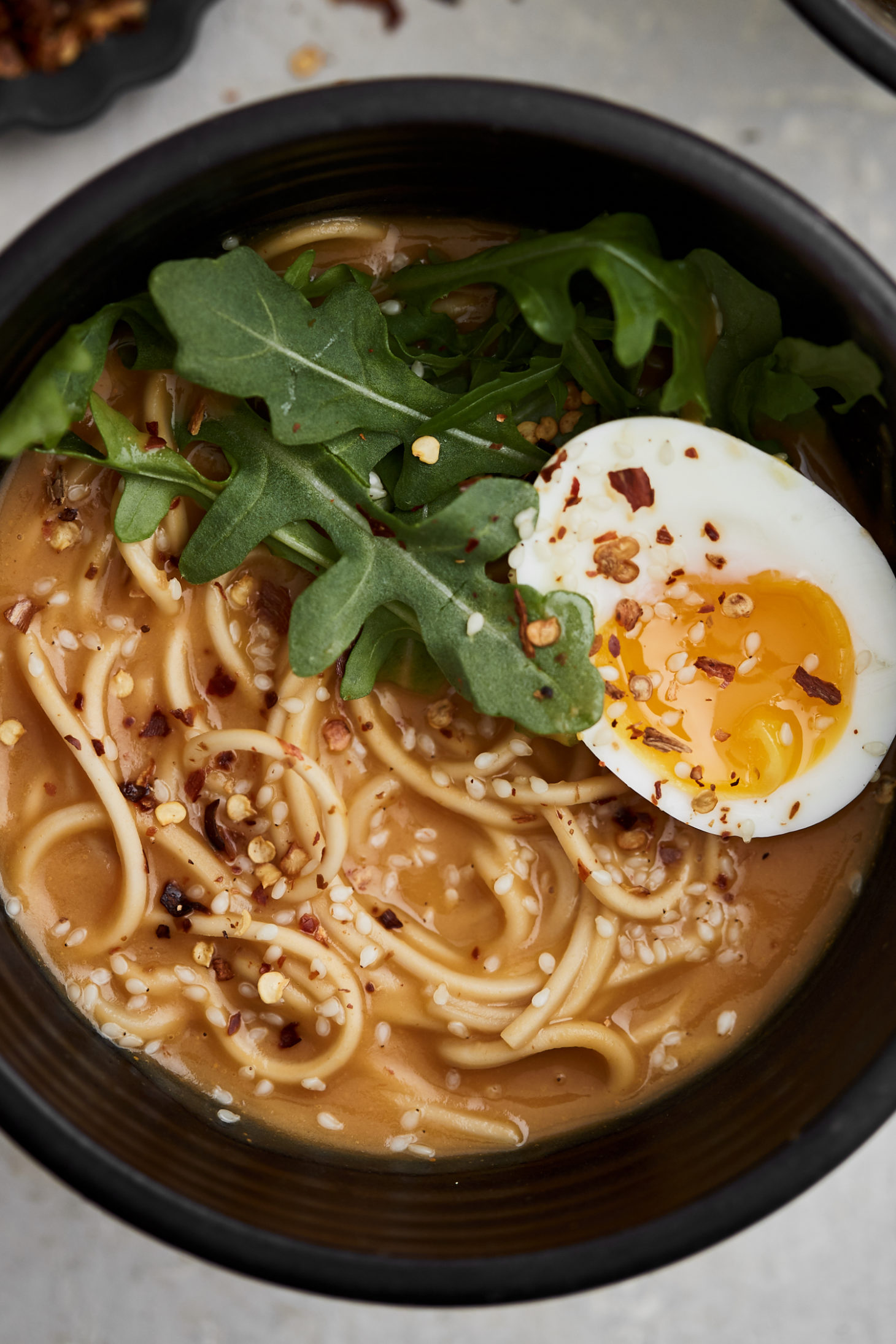 I think noodle bowls are the best of all worlds. It's soup. It's noodles. It's protein adaptable. How can you possibly go wrong? This version has a silky broth with help from a sweet potato puree. If you
Make it vegan: I love these noodle bowls because it's easily vegan. Simply swap out the jammy egg for your favorite tofu recipe. I recommend using one like this or like this.
Make it Gluten-free: Instead of using ramen or udon, look for gluten-free ramen (it exists!) or use 100% buckwheat soba noodles.
Sweet Potato Swaps: As I mention in the post, I've made this noodle bowl with many different types of purees. Try a carrot, butternut squash, or even acorn squash puree.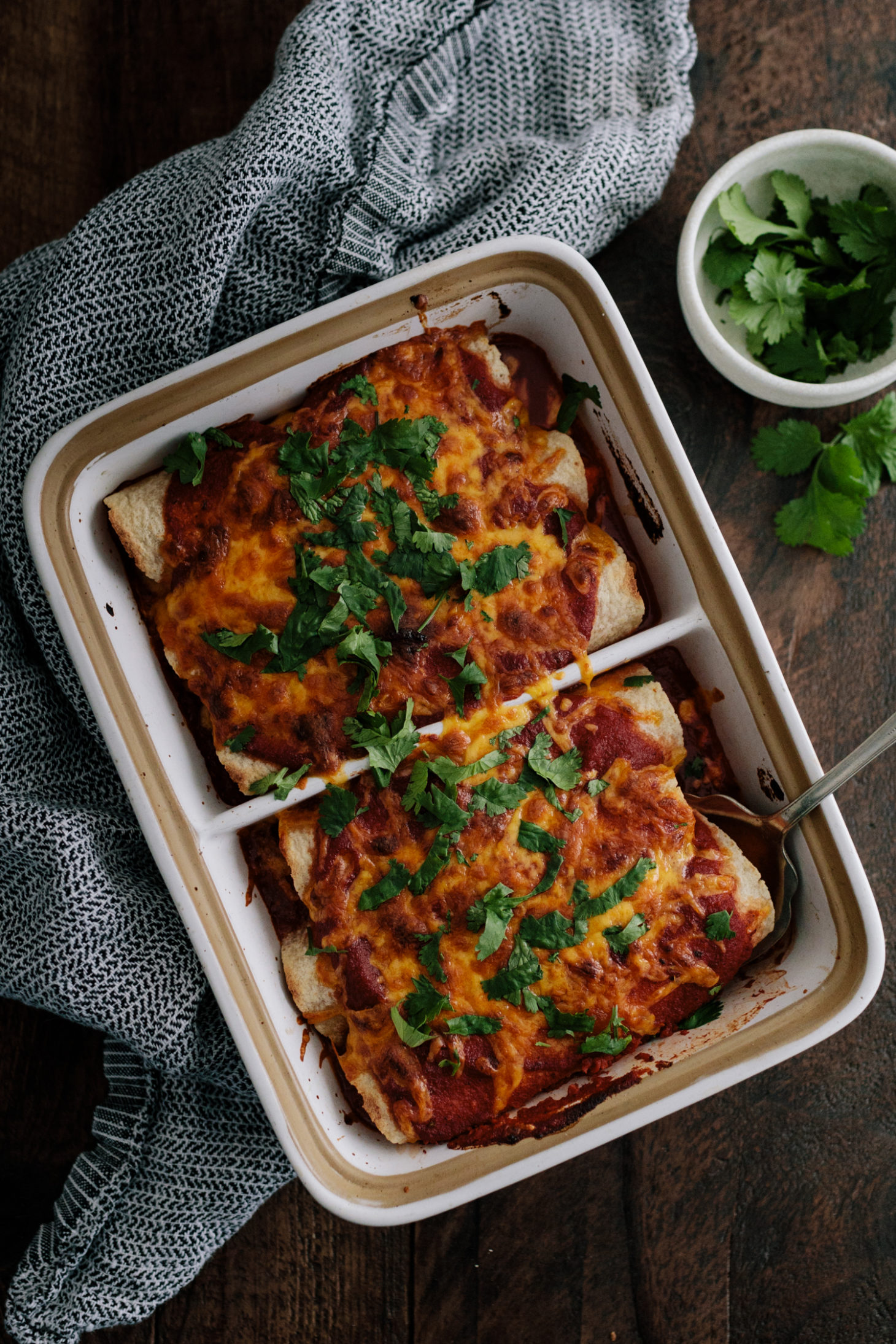 This is, hands down, one of my favorite ways to make enchiladas. The recipe uses my spiced pinto beans and sweet potato puree. This combination is creamy, which means I typically use less cheese in the filling.
In terms of the filling, you could easily swap out the pinto beans for black beans or lentils. For the sweet potato puree, swap out from another vegetable puree or roasted vegetables. Options include roasted squash, summer squash, sweet corn, or shredded greens.
I like to serve this recipe with a simple side salad. If I have enough leftover farro, I'll toss it in the salad with nuts and a simple lemon vinaigrette.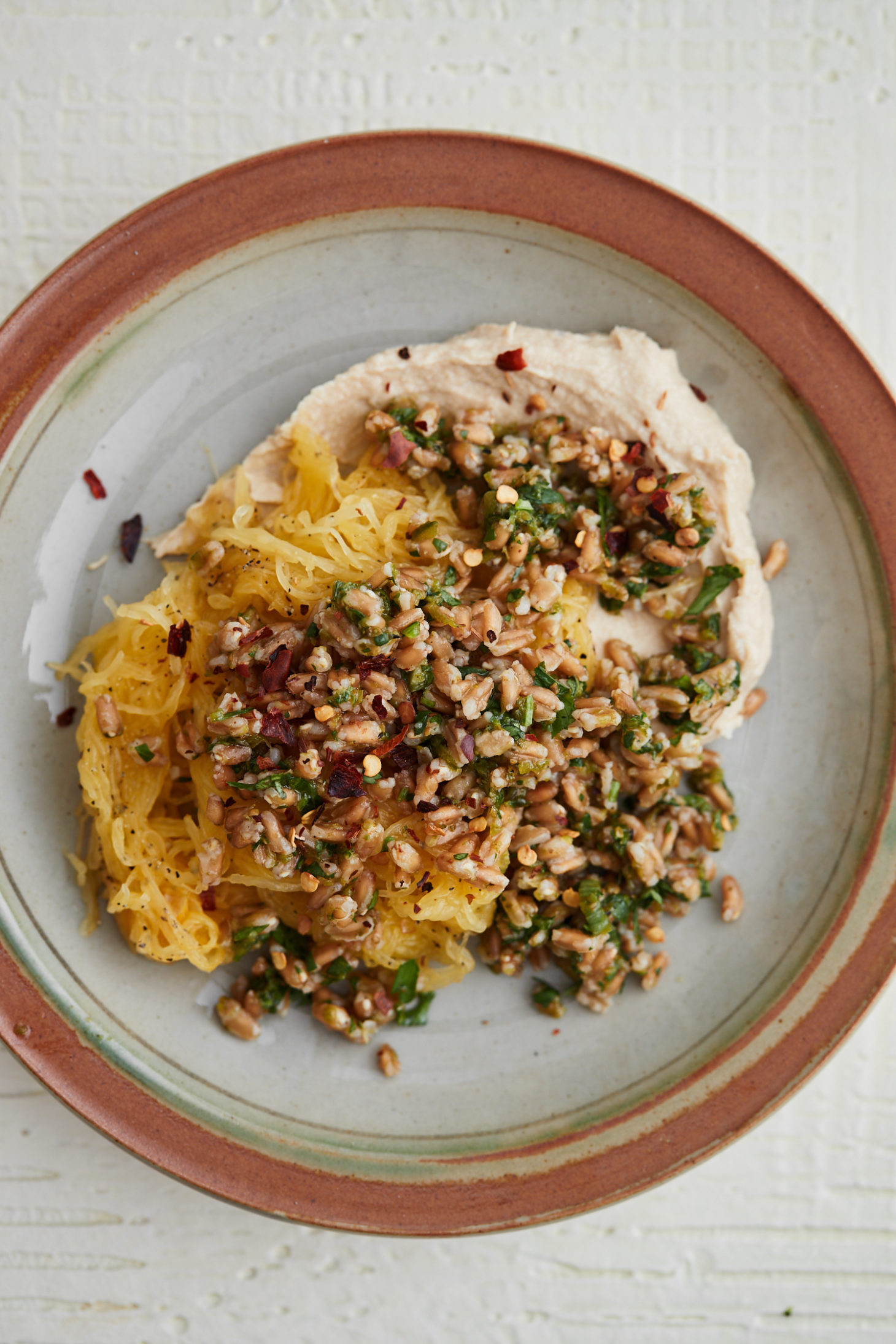 This is the type of recipe built on making everything ahead of time, which also means, it's the type of recipe that can be altered the most. Take this bowl as a guide and less as a strict recipe.
Harissa swaps: The harissa really brings everything together, but you can use something similar and still get the same result. Toss the warm farro in a compound butter, use romesco, or simply toss the farro with a bit of olive oil, fresh herbs, and salty cheese.
Make it gluten-free: I mention this in the original post, but I like to keep the chewiness of the farro the same. To make this gluten-free, I do a switch for sorghum.
Serve it with: I think this dish could easily be paired with cooked greens or a light salad.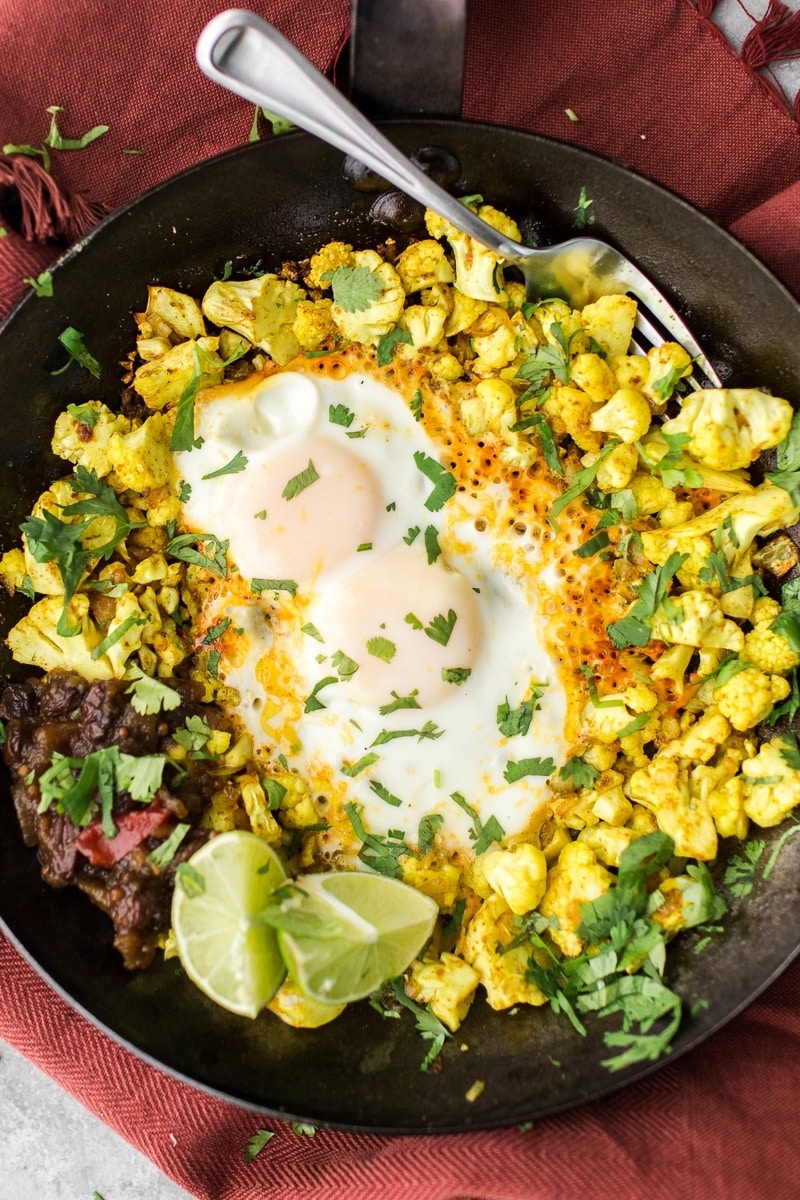 I love the idea of breakfast for dinner because, more often than not, they are quicker and just as tasty as something I'd make for dinner. This egg skillet is a riff on this turmeric egg skillet, except instead of the turmeric/lime/ginger, use ⅓ cup or so of the harissa.
Obviously, this idea is not vegan-friendly. You could, however, make this cauliflower and harissa dinner instead (if a cauliflower 'steak' is your kind of thing!)
Recipe 5 (the leftover meal): Cheesy Bean Bowls
Finally, I'm giving you a bonus idea for the week. It's something we often eat with the help of any leftover vegetables and beans. I like to mash the pinto beans and heat them along with a bit of cheese. Load the bowls with any roasted vegetables, hot sauce, sour cream, and/or greens you might have hanging around. Serve with chips, and you have your own bean-dip meal.