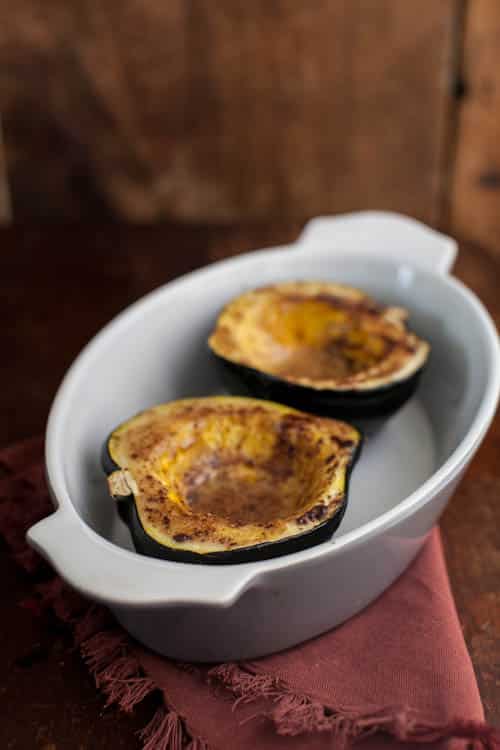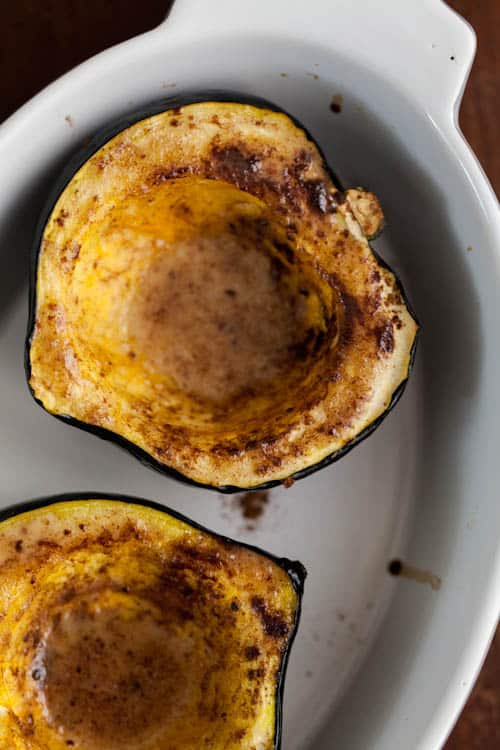 This recipe is a lovely treat for fall. It's simple and low maintenance- squash and a bit of heavy cream baked together. This could be a side but I see this much more as a dessert. The maple/cream combo caramelizes the edges while the remaining heavy cream collects in the bottom well of the squash. It's a creamy dessert that seems too good to actually be healthy. While you could try other squash, I think acorn squash is the perfect fit for this recipe.
Print
Maple Cinnamon Roasted Acorn Squash
Author:
Prep Time:

5 mins

Cook Time:

45 mins

Total Time:

50 mins

Yield:

2

to 4

1

x
1

acorn squash

½ tablespoon

butter, room temperature

2 tablespoons

heavy cream

2 teaspoons

maple syrup

½ teaspoon

cinnamon
Instructions
Preheat oven to 375˚ F. Slice the acorn squash in half and remove the seeds. On the bottom of each half, cut a thin slice off so that the acorn squash doesn't wobble. Place the squash cut-side up in a baking dish.
For each half, take a knife (or fingers) and rub the inside of the acorn squash with butter. Whisk the heavy cream and maple syrup together, then add to each squash half. Sprinkle cinnamon over both.
Roast for 45 to 55 minutes until squash is tender. Half-way through roasting, remove squash and spoon some of the heavy cream mixture over the exposed squash parts.
Variations for the Roasted Acorn Squash
After a long evening, when I'm working on dinner, I'll feel like I need something sweet. Typically it's a piece of chocolate but sometimes I want something that's more indulgent. This squash gives me the indulgent feeling without being overly rich. The recipe above is straight forward but a few changes can be made:
Spice Mixture: I keep it simple with just using cinnamon but using a pumpkin pie spice mixture is also nice (or just adding nutmeg, ginger, and a pinch of cloves.)
Squash: Acorn squash is really the perfect squash for this dish but I've also use pumpkin cut in half.
Granola: While it's not pictured here, I love this roasted acorn squash topped with a dollop of yogurt and a sprinkle of granola.