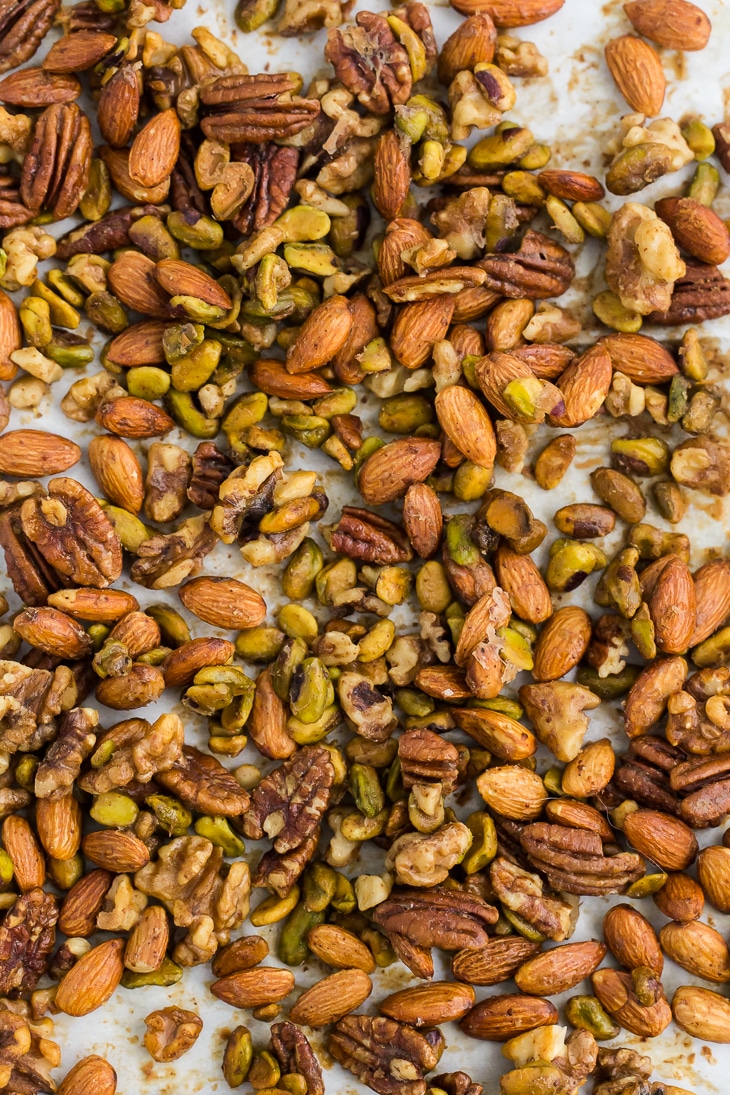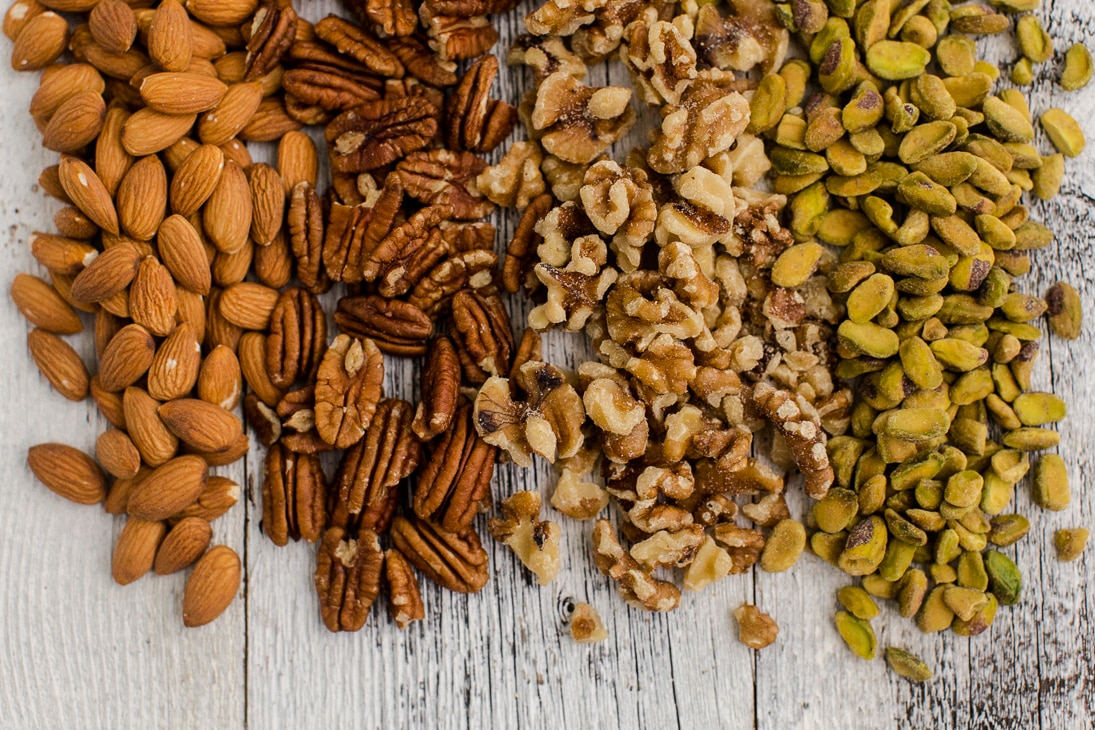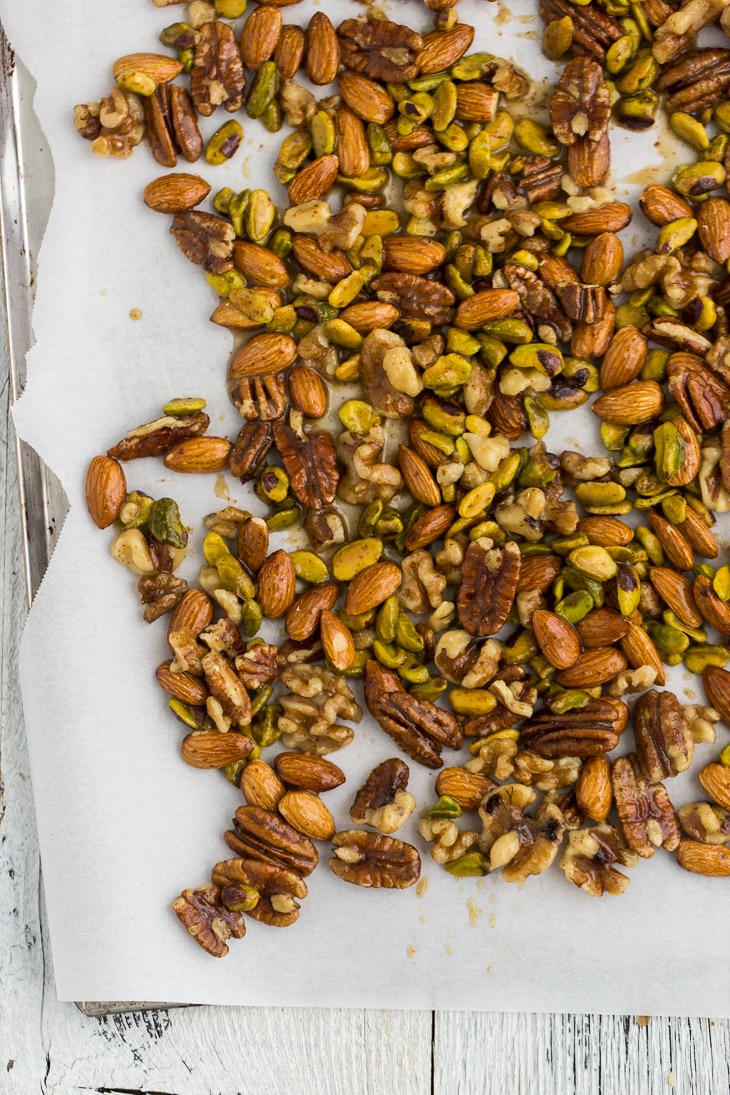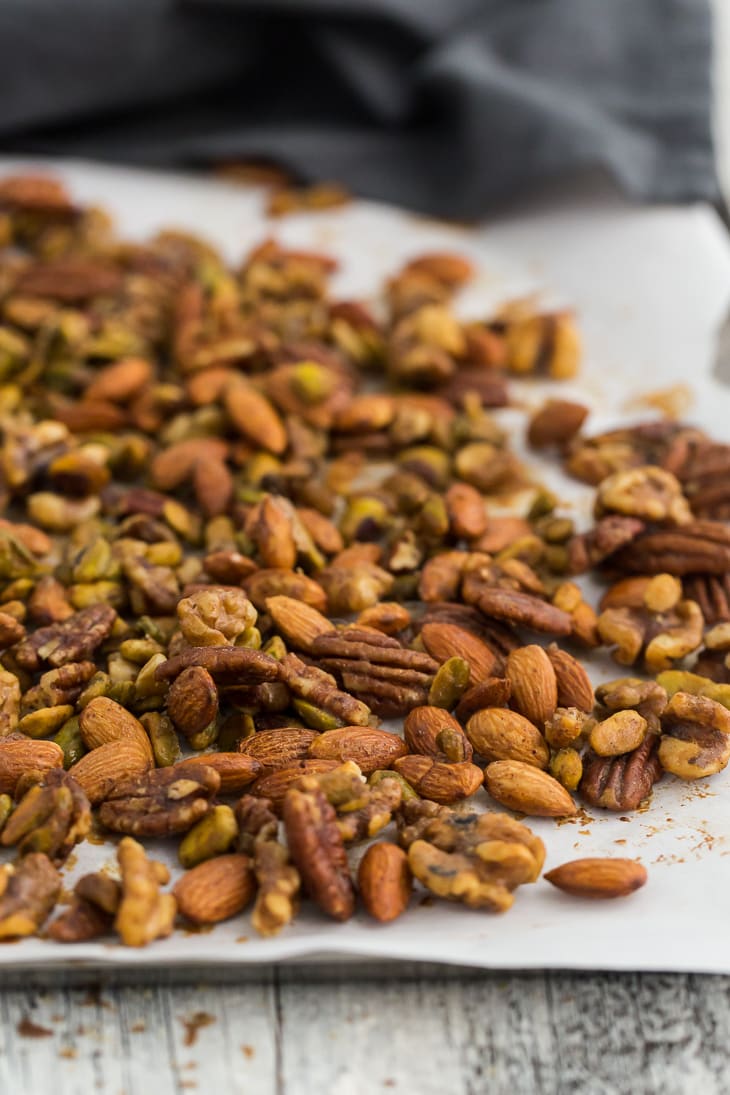 Most of the time, I go through phases on whether or not I'm snacking. Some days, it's three meals and that's it while other days, I find myself reaching for a snack every couple of hours (like today, I'm currently snacking on chocolate- but it's also been an 'owning your own business is sometimes way stressful' day). I can only assume my snacking habits are going to increase as the baby boy gets bigger (oh, and by the way, he's a boy! We found out last Saturday.)
This recipe is one of my favorite snacks. I used to think of roasting nuts as a holiday tradition but really, it's a great way to spruce up your daily snack any time of the year. Plus, you can toss together whatever you have on hand. Use one type or up to as many types of nuts as you like. Depending on my mood, I'll do Almonds/Pistachios by themselves or to a mix, like this recipe. Also, be on the lookout for different flavors. This recipe is adapted from a basil pesto recipe from the California Almond Board while my favorite recipe is one I shared on the Kitchn for Curry Roasted Pistachios (so good.)
Print
Honey Mustard Roasted Nuts
Author:
Prep Time:

5 mins

Cook Time:

60 mins

Total Time:

1 hour 5 mins

Yield:

2 cups

1

x
Ingredients
2 cups

raw mixed nuts (pistachios, almonds, pecans and/or walnuts)

1

large egg white

2 tablespoons

honey

1 tablespoon

stone ground mustard

2 teaspoons

ground mustard powder

2/4 teaspoon

sea salt
Instructions
Preheat oven to 225˚F.
Place the nuts in a medium size bowl. In a separate bowl, whisk together the egg white, honey, mustard, mustard powder, and sea salt. Pour over the nuts and stir until the nuts are well coated.
Cover a sheet tray with parchment paper and pour out the nuts onto the tray. Spread out in a single layer.
Roast the nuts for 45 minutes to an hour, stirring and checking every 15 minutes. The nut mixture should be sticky and nuts should be slightly crisp (but they will do the majority of crisping while cooling). Let nuts cool completely and transfer to an airtight container.