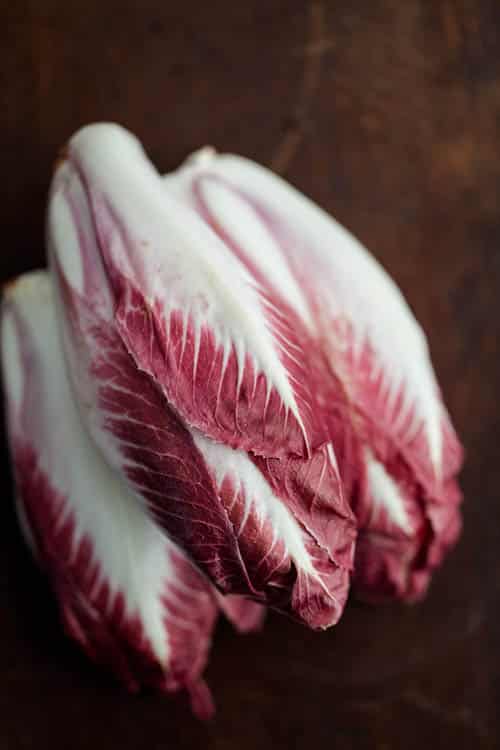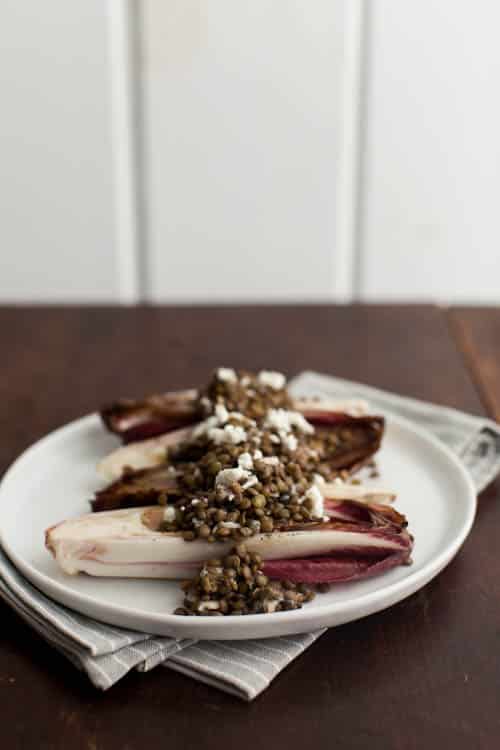 For the past few days, it has been raining here in Northern California (thankfully). I've been holed up in the house reading and planning out new recipes. (I know–so exciting!) However, a break in the rain happened over the weekend I took the dog for a nice walk only to realize that somewhere in the past couple of weeks, spring had arrived. The trees are in full bloom and the rain makes me long for a calming, spring thunderstorm. While I love the crispness of fall, the feeling of renewal in the spring can't be beat. And with spring, I've been craving lighter and more vegetable-centered meals.
I've mentioned this before, but I love lentils. When you have lentils, you have a meal. I find the earthiness of the French lentils is very much in line with the flavor of the grilled endives but the lightness of the lemon juice and goat cheese helps to keep the meal a bit on the fresher tasting side. Can't find endives? Try grilling some thick slices of cabbage instead.
Print
Grilled Endives with Lentils
Ingredients
Endives

2

endives, sliced lengthwise

½ tablespoon

olive oil

¼ teaspoon

sea salt

¼ teaspoon

black pepper
Lentils

½ cup

French green lentils (Lentilles du Puy)

2 tablespoons

olive oil

2 tablespoons

lemon juice

½ teaspoon

lemon zest

2 teaspoons

honey

1

clove garlic, minced

1

-

2

ounce crumbled goat cheese, for topping
Instructions
Preheat grill or grill pan. Brush each endive half with olive oil and sprinkle with salt and pepper. Grill, turning occasionally, until endive is charred and tender, 8-15 minutes depending on heat source. Remove from grill and place on a plate.
Place lentils in a small stock pot and add water to cover 1-2 inches. Bring to a boil, reduce to a simmer, and cook until lentils are just tender, 20-25 minutes, adding more water as needed.
Drain lentils and place in a bowl. In a separate bowl, whisk together olive oil, lemon juice, lemon zest, honey, and garlic. Pour over lentils and toss until well combined. Serve lentils over grilled endives and sprinkle with goat cheese to serve.