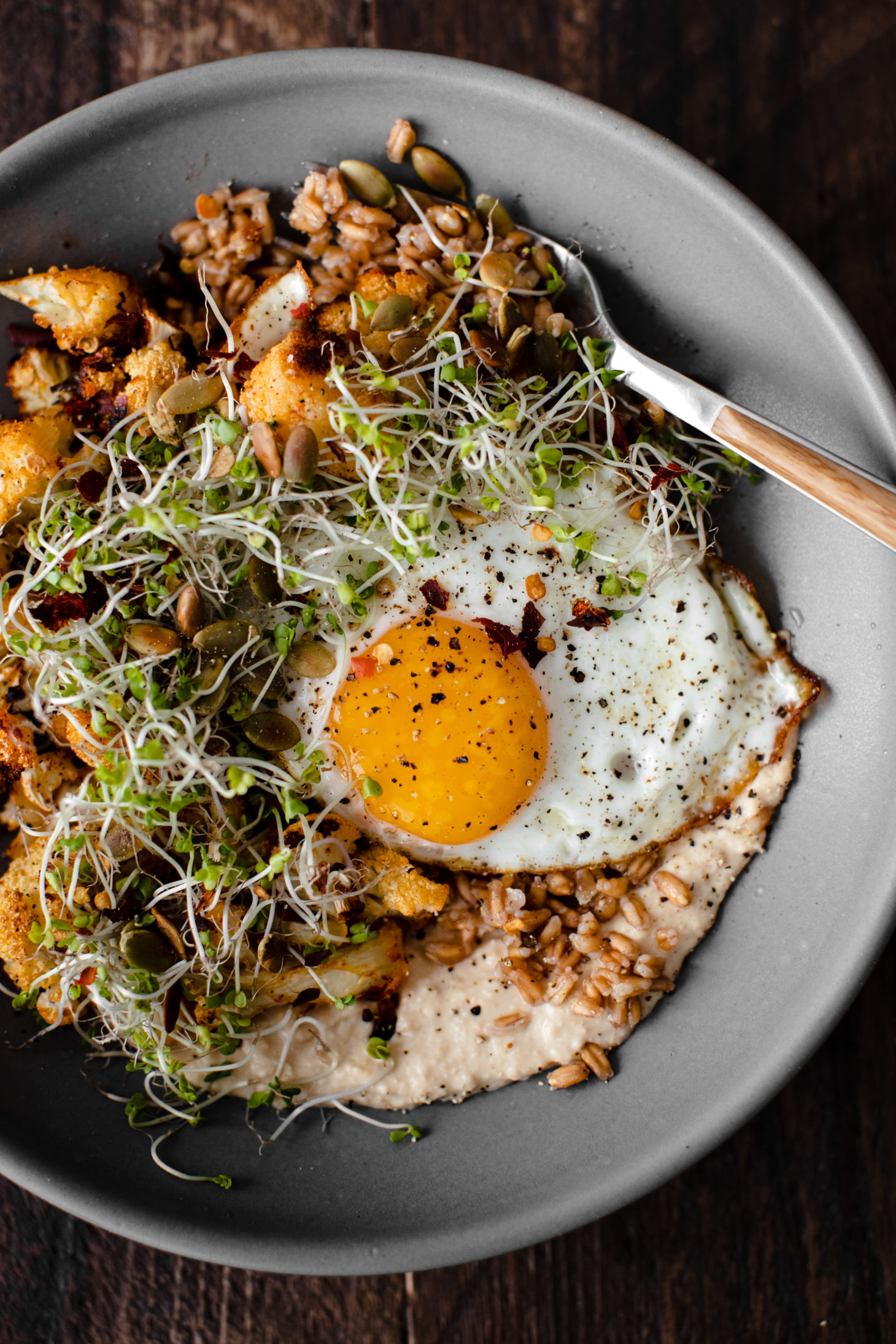 Post sponsored by Pete and Gerry's Organic Eggs. See below for more details.
It is really amazing that I do not have more grain bowl recipes on this site. A grain bowl is by far the biggest staple meal for our family. Need a filling breakfast? Grain bowl! How about a last-minute dinner made from leftovers? Grain bowl!
You can practically make a grain bowl any way but I have a few tips that might help you make it even better or easier!) For starters, try using components. Whip up some roasted vegetables and grains on the weekend, making this a practically instant meal during the weekdays.
Also, use whatever egg method your like best. I skip around depending on what I'm feeling that day (and one of the reasons I love keeping Pete and Gerry Organic Eggs on hand!) Pan-fried, hard-boiled, soft-boiled, or scramble all work great in this recipe.
The foundation of the bowl but easily changeable. I love using farro because it's hearty and provides an amazing texture to the overall dish. However, you could easily use quinoa, millet, sorghum, or barley.
If you're in a hurry and did not prep the grains ahead of time, I'd recommend using bulgur. It's quick and delicious, making this meal from scratch a bit quicker.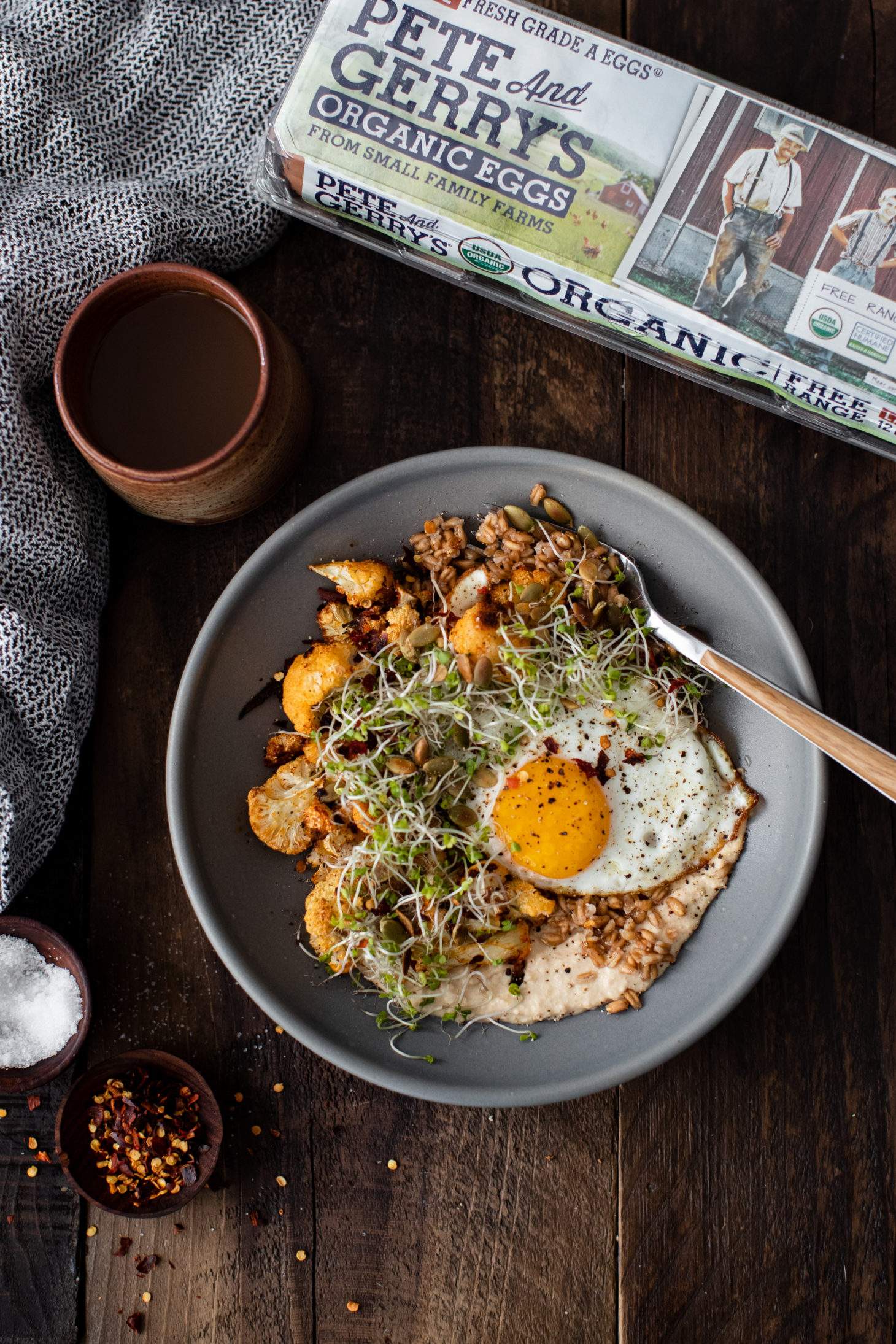 The Eggs: Pete and Gerry Organic
I'm excited for another partnership with Pete and Gerry's Organic Eggs this year. One of the reasons I love using their eggs is because I know the company is deeply invested in protecting the land, since they're a Certified B Corporation. The eggs are also produced humanely, making sure the chickens are well-cared for.
Grain Bowl: Hummus, forever.
Next in line for the components: hummus. I know this isn't for everyone but I can't eat a grain bowl without it. It's the binder and helps bring a bit more flavor to the overall recipe. Best of all, you can use any kind of flavored hummus you like.
I typically go with roasted garlic hummus but roasted red pepper, sun-dried tomato, lemon-dill, or beet hummus all work.
Vegetables
Finally, the vegetables. The beautiful thing about these grain bowls is that the cauliflower is easy to replace. Carrots, squash, asparagus, Brussels sprouts, green beans- every seasons holds a few different types of grain bowl options!
Also, if you don't feel like turning on the oven, I've been known to steam the cauliflower then toss it with a smoked paprika compound butter. A little decadent but oh-so-good.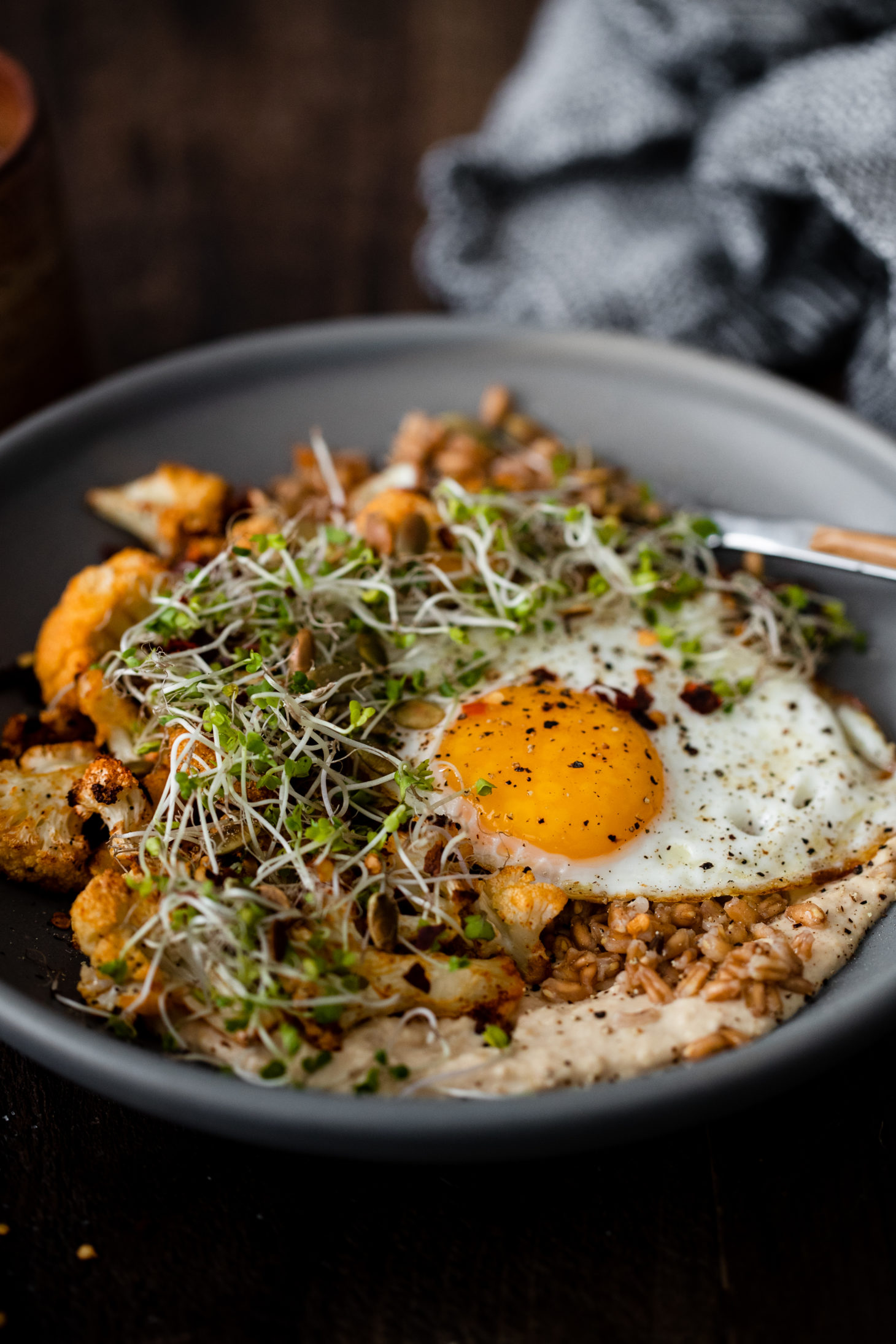 Print
Fried Egg Cauliflower Grain Bowl
Author:
Prep Time:

15 minutes

Cook Time:

30 minutes

Total Time:

45 minutes

Yield:

2

servings

1

x
Cauliflower
3 cups cauliflower florets
1 tablespoon olive oil
1 garlic clove, minced
½ teaspoon smoked paprika
¼ teaspoon sea salt
Bowls
1 cup cooked farro
⅓ cup hummus
2 Pete and Gerry's Organic Eggs, fried
3 tablespoons toasted pepitas
1 cup microgreens (I used broccoli but you can use whatever)
¼ teaspoon red pepper flakes (optional)
Instructions
Preheat your oven to 425˚F. Place the cauliflower on a sheet tray and toss with the olive oil, minced garlic, smoked paprika, and salt. Place in the oven and roast until golden and tender; 25 to 30 minutes.

When the cauliflower is done, assemble the bowls. I like to use low, shallow bowls. Scoop hummus into the bowl and give a good swirl around part of the bowl. Top with the farro, roasted cauliflower, fried egg, microgreens, pepitas, and red pepper flakes, if desired.
Notes
Use leftover grains and roasted vegetables if desired!