I really love DIY gifts, especially when done well. I think there is something a bit more soulful when the gift is crafted rather than pulled off a shelf at the last minute. I've done DIY gifts for years but this will be the first year that I'm sharing! After I did a spice blend/recipes for our wedding favor, I knew Christmas gifts would be next. I love spice blends. There is so much you can do and can completely customize the flavors. And of course, homemade vanilla extract is so easy and nice that I had to include it in the mix!
So today, I'm giving you the whole DIY complete with homemade spice blends, recipes that go well with the spice blends, and free printable tags and recipe cards. I'm pretty excited about this and I think it makes such lovely homemade, diy gift!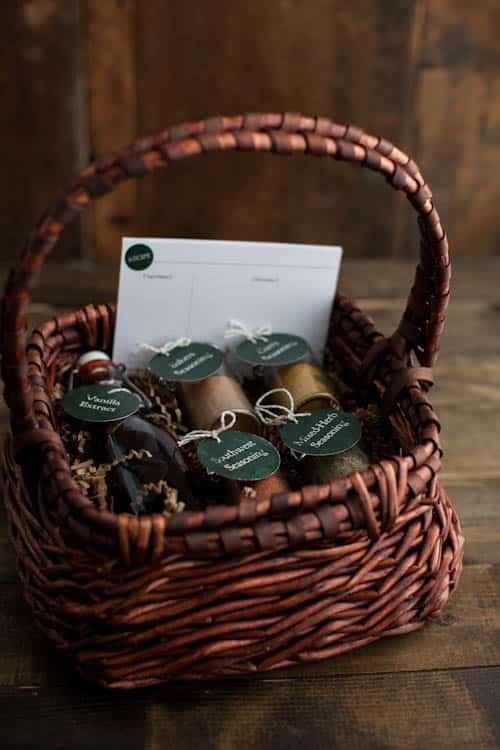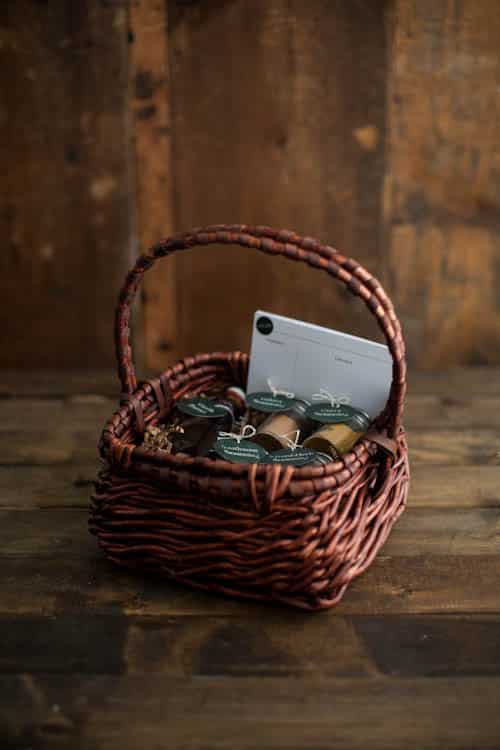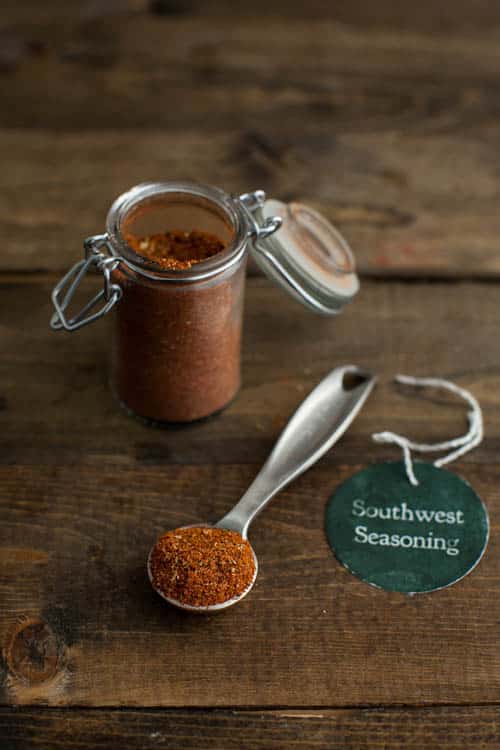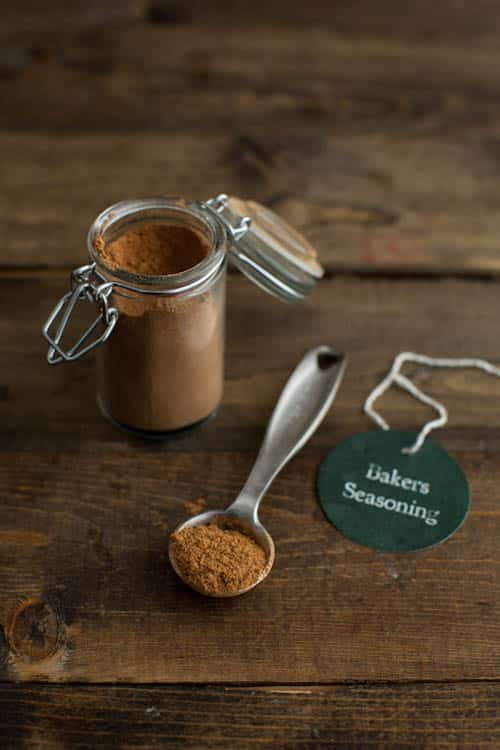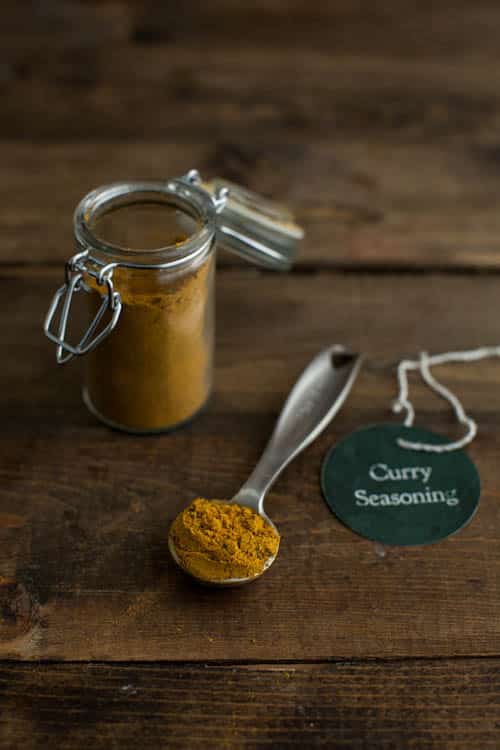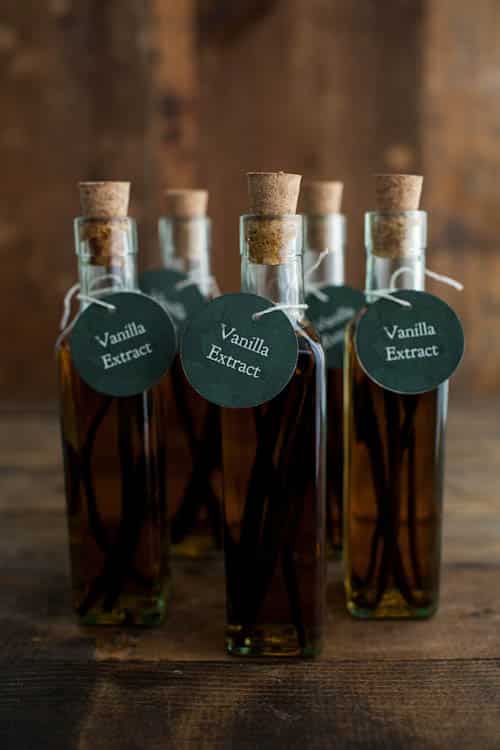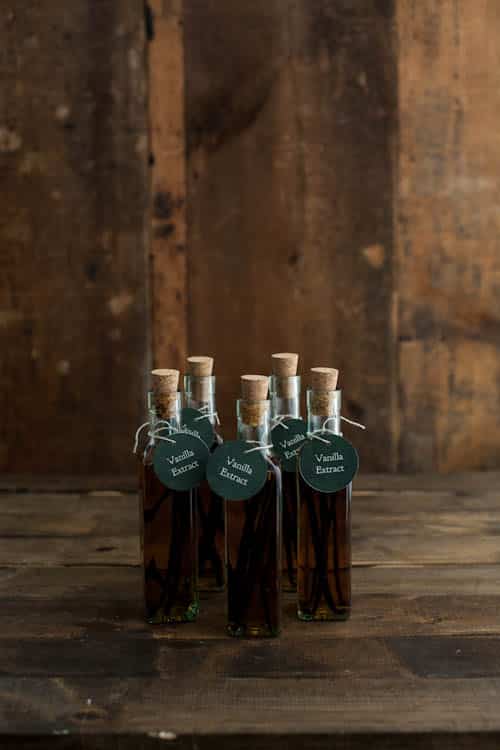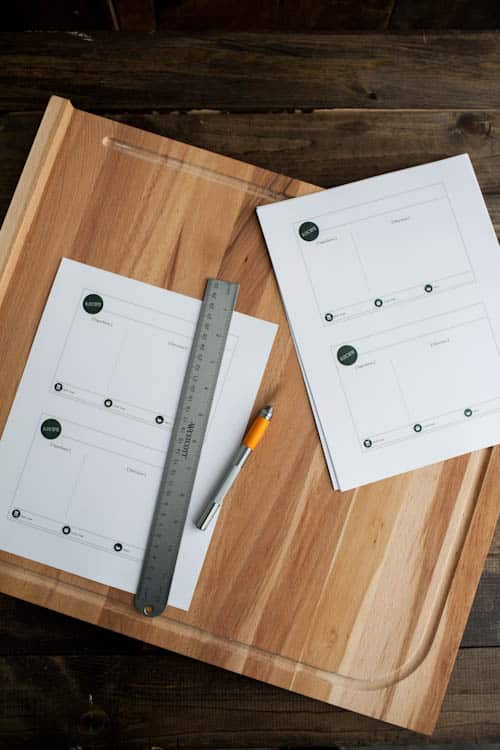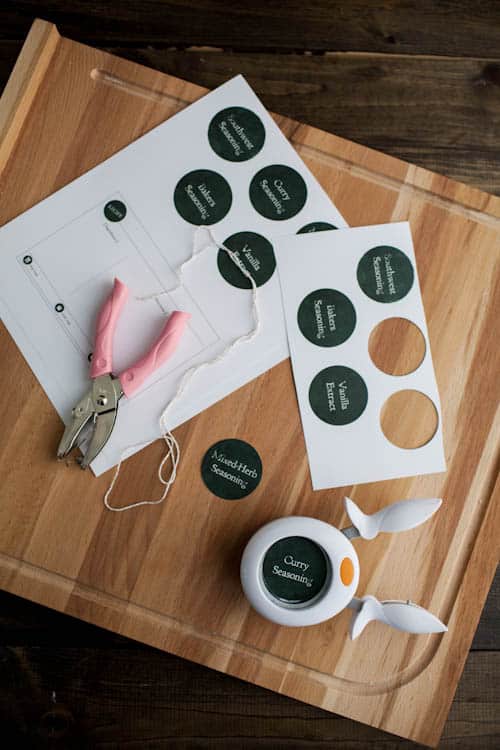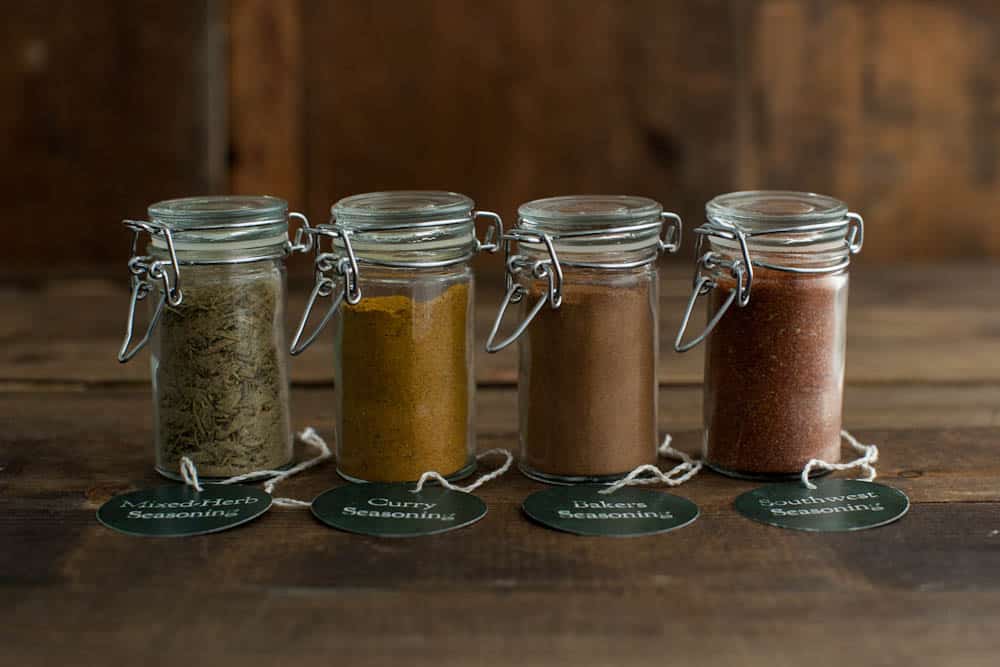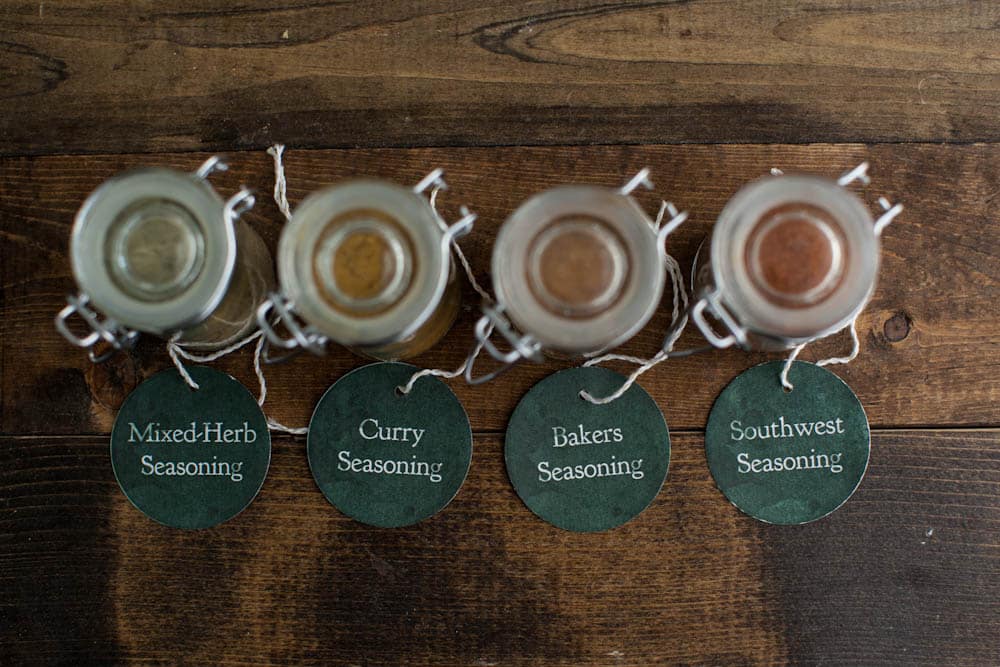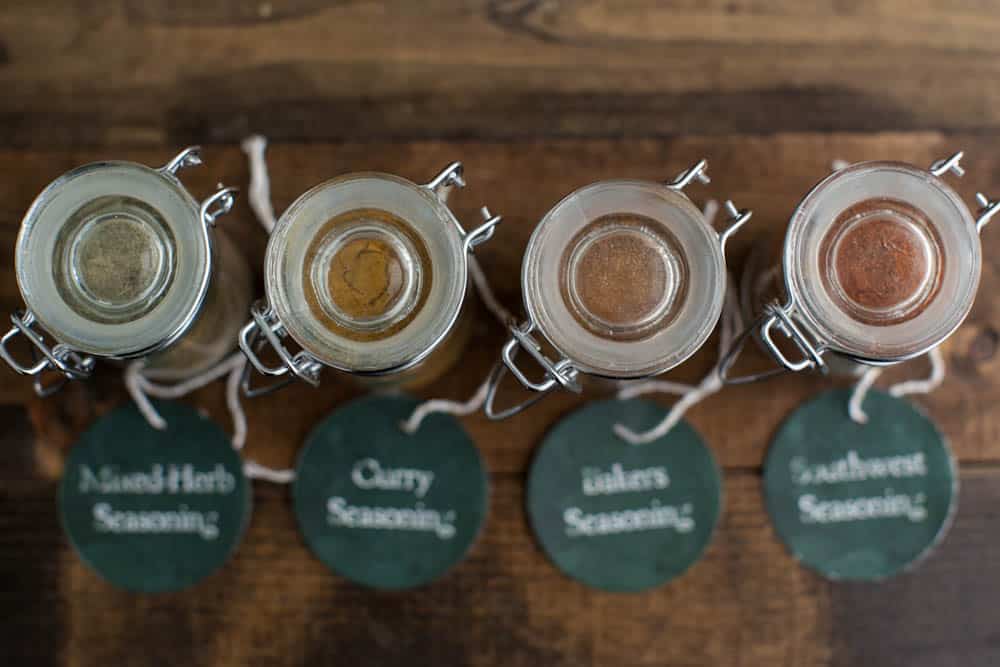 The jars:
You can use really any jar you like but I recommend looking for 3 ounce spice jars for the blends and roughly 8 ounce bottles for the vanilla. I used these spice bottles and these 8" bottles. I also like these jars or these jars.
The Spices:
Here's the amazing thing: you go to stores and spices seem to be slightly expensive. However, order in bulk and you can get pounds of spices for a good price. I highly suggest getting the spices from Frontier- great organic, well sourced spices. If you want to make smaller batches, go to a local health food store or co-op where you can buy spices in bulk.
The Blends:
While the recipes below will provide roughly enough to fill 6 jars, you can decrease or increase the amount by the jars you would like to make- just keep everything the same. Also, I tend to not include salt in my spice blends but always make a note to add salt during the cooking process.
Southwest Blend
½ cup chipotle powder
¼ cup cumin powder
¼ cup garlic powder
¼ cup oregano
¼ cup smoked paprika
2 tablespoons black pepper
2 tablespoons coriander powder
½ tablespoon sea salt *opt
(yields roughly 6-3oz jars)
Curry Blend
6 tablespoons turmeric
4 tablespoons cumin powder
4 tablespoons coriander powder
4 tablespoons fenugreek powder
4 tablespoons garlic powder
4 tablespoons yellow mustard powder
2 tablespoons ginger
2 tablespoons cinnamon
1 tablespoon nutmeg
1 tablespoon fennel powder
1 tablespoon black pepper
½ tablespoon sea salt (*opt)
½ tablespoon cardamom powder
(yields roughly 6-3oz jars)
Bakers Blend
1 cup cinnamon
½ cup ginger powder
¼ cup nutmeg
2 tablespoons ground clove
2 tablespoons ground cardamom
(yields roughly 6-3oz jars)
Herb Blend
¾ cup thyme
¾ cup rosemary
¼ cup + 2 tablespoons sage
¼ cup + 2 tablespoons garlic powder
3 tablespoons black pepper
½ tablespoon sea salt (*opt)
(yields roughly 6-3oz jars)
Vanilla Extract
To make the vanilla, I used 3 vanilla beans per jar with good bourbon. Simply split the vanilla beans in half, place in the jar, and cover with the bourbon. Let sit for at least 2 months but longer is preferable. I make a note with a jars with a "you can start using" date.
Extra tools:
Hole Punch, Ruler, Paper cutter or xacto knofe, scissors
Recipes:
If you want, you can include a few recipes to make with these spices. Below are a few of my recipes that you can sub in the spice mix for the spices that are listed in the recipe.
Southwest Blend
Spiced Sweet Potato Quesadilla 
Chipotle Black Bean and Rice Egg Skillet
Roasted Corn and Ricotta Enchiladas (use in place of chipotle powder)
Bakers Blend
Curry Blend
Curried Cauliflower and Quinoa Salad
Curried Butternut Squash Brown Rice Skillet
Curried Pumpkin and Coconut Soup
Curry Marinated Summer Squash Salad
Herb Blend
Honey Mustard Veggie Kabobs (add before grilling)
Za'atar Roasted Sweet Potato, Chickpea, and Spinach Salad
Roasted Potato and Onion Crustless Quiche (replace fresh herbs)