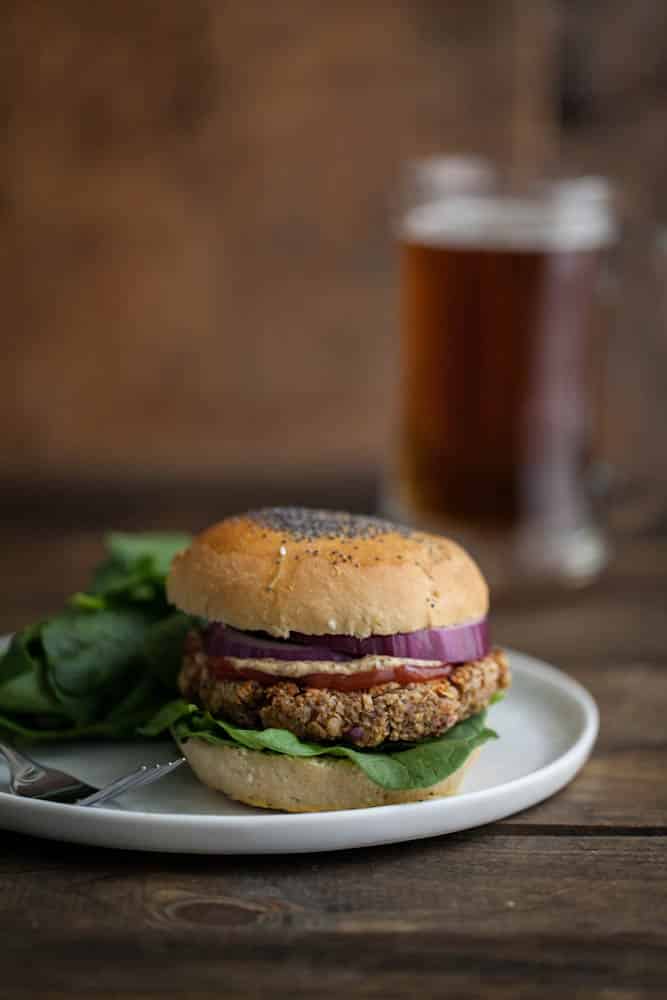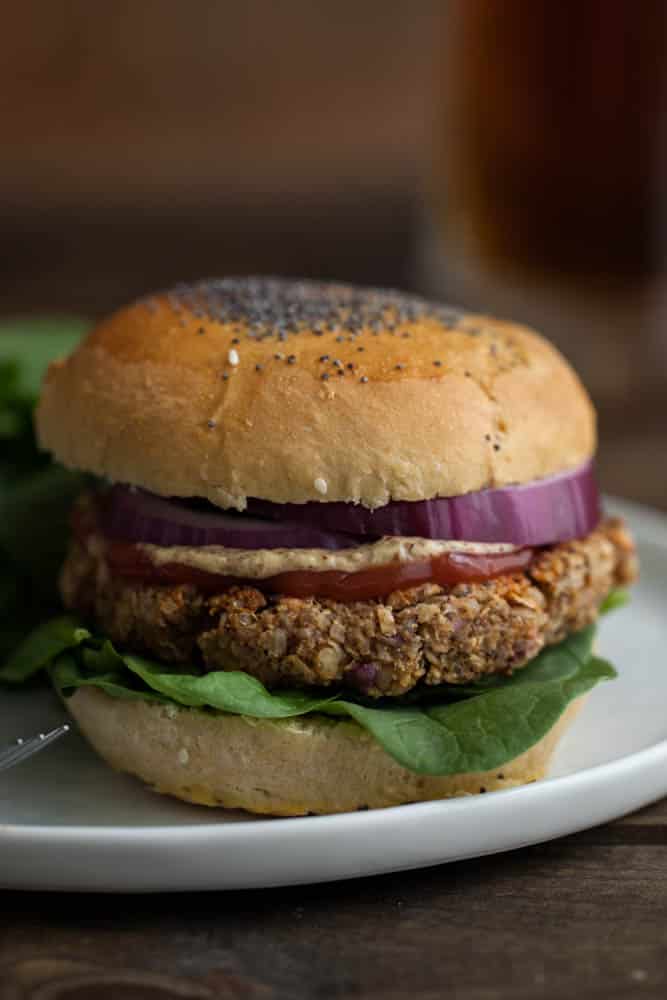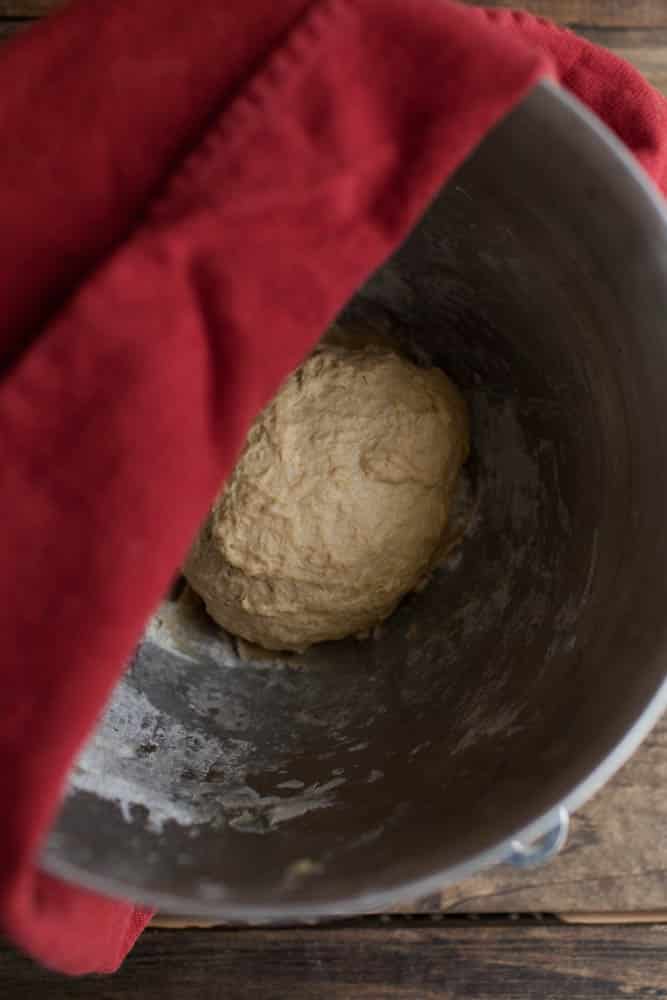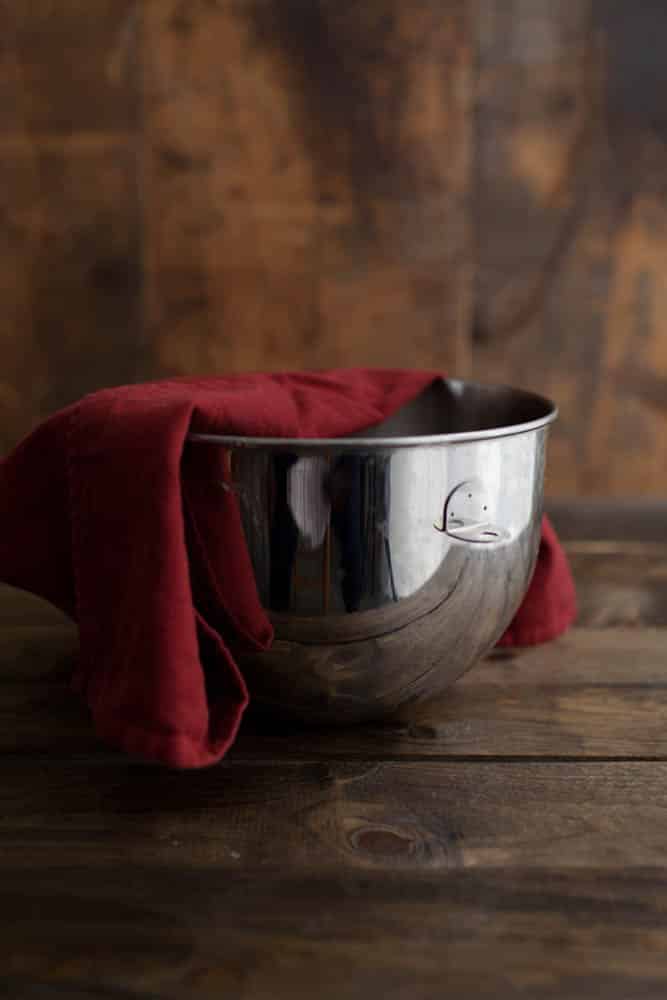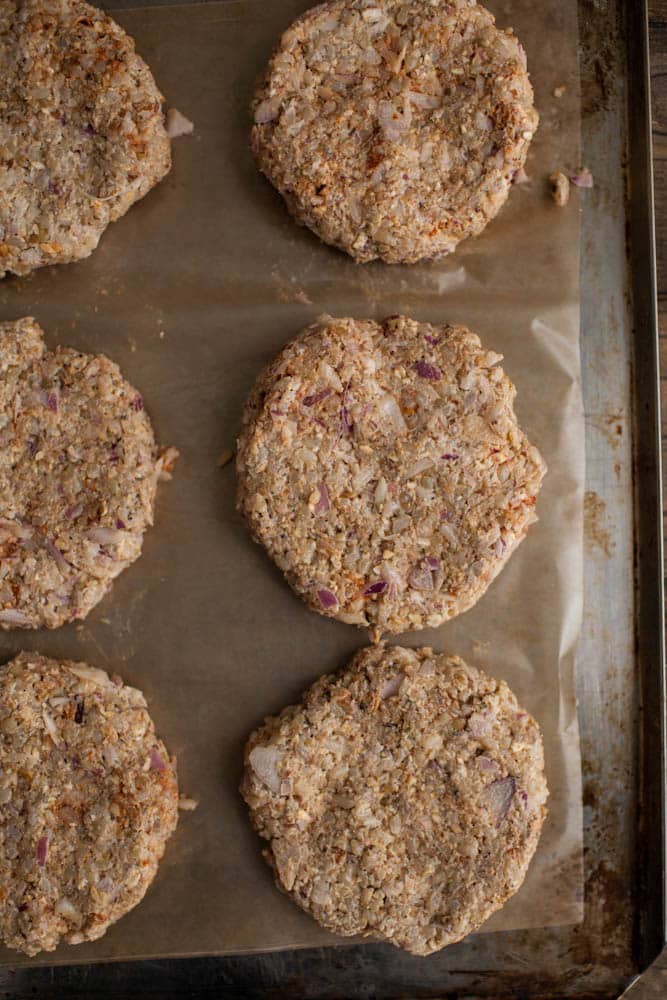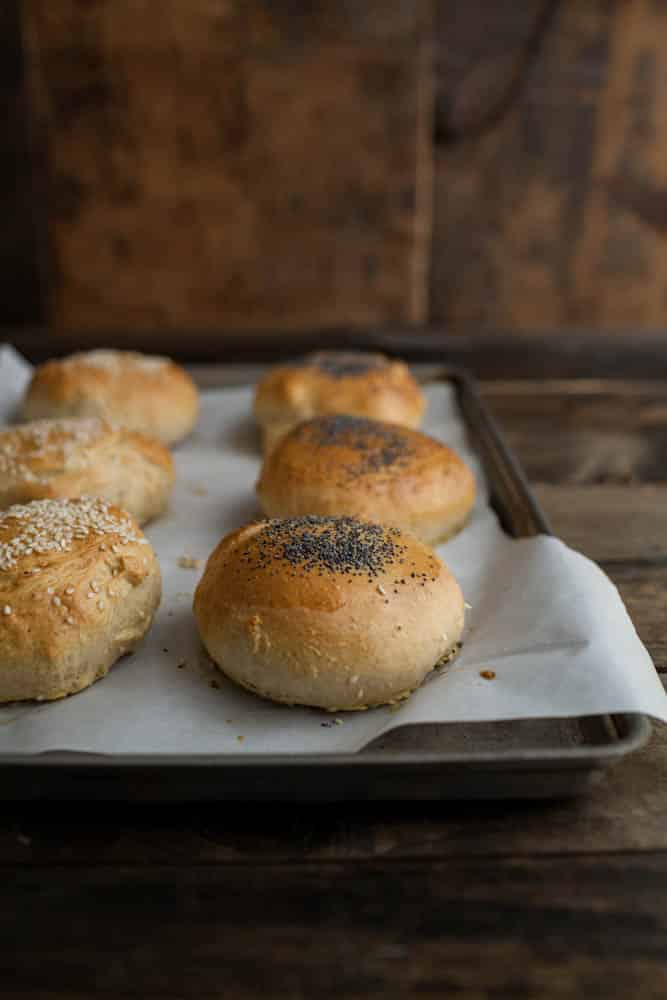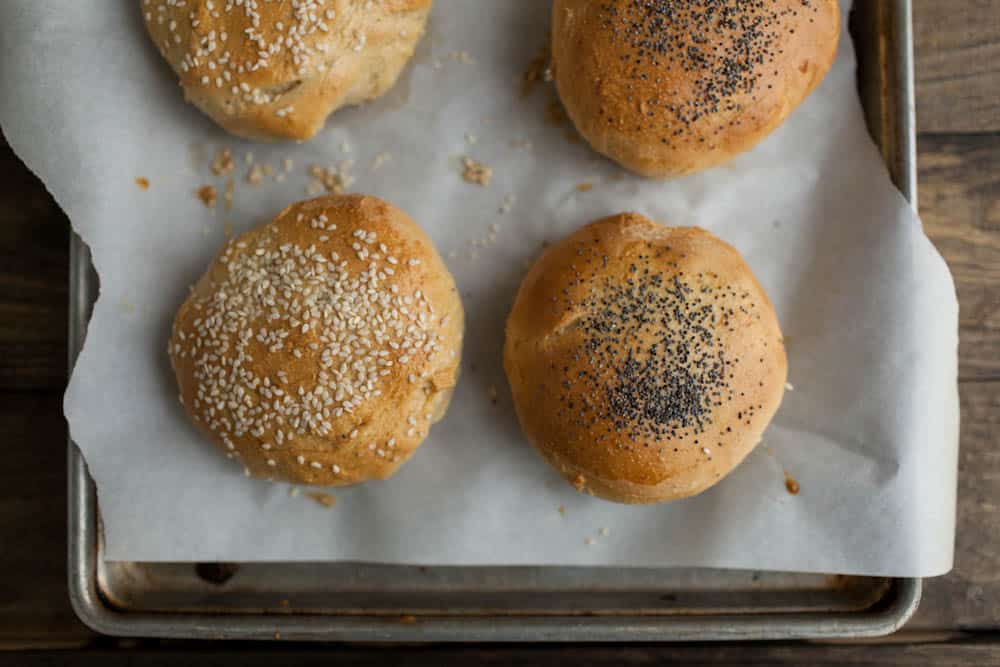 I understand that the eternal quest for the veggie burger is to find one that doesn't fall apart but I think you might be missing out. Sure, this burger might fall apart while you are eating but the flavors are not to be missed. This burger is an imitation of my favorite veggie burger from Tower Cafe. While I love beans, it's nice to have a veggie burger option that doesn't include them.
As stated, this burger may fall apart but I included a couple of ingredients to aid in the cohesiveness. Short grain brown rice has a bit more starch than long-grain brown rice. This helps create a bit more binding.  The egg is also important for this same reason. The nuts can be changed out based on what you have on hand. If a burger isn't your thing, a simplified crumble is also delicious!
As for buns, I loosely used the Kitchn's recipe but used half whole-wheat and half unbleached all purpose flour, honey instead of the sugar, and did an egg wash (1 large egg + 1 tablespoon water) then sprinkled sesame/poppy seeds on top of the buns right before baking.
Print
Brown Rice, Oat, and Nut Veggie Burger
Author:
Prep Time:

25 mins

Cook Time:

15 mins

Total Time:

40 mins

Yield:

6

1

x
Category:

vegetarian entreé
¾ cup

uncooked short-grain brown rice

½ cup

unroasted pecans

½ cup

unroasted walnuts

½

unroasted sunflower seeds

½ cup

rolled oats

¼ cup

minced red onion

¼ cup

fresh flat-leaf parsley

1

clove garlic

2 tablespoons

tamari (or soy sauce)

1 tablespoon

brown miso

1 teaspoon

chili paste

½ teaspoon

smoked paprika

½ teaspoon

garlic powder

½ teaspoon

black pepper

1

large egg
Instructions
In a pot, combine the brown rice with at least 3 cups water. Bring to a boil and cook until rice is just tender, 30-35 minutes. Remove from heat and drain well (press the rice down if need be to remove water.)
In a large skillet, combine pecans, walnuts, and sunflower seeds. Stirring frequently, lightly toast the mix over low heat, 4-5 minutes. Nuts should be fragrant. Remove from heat and let cool slightly.
In a food processor, pulse oats until resembling a coarse flour. Add in the nuts/seeds and continue to pulse until the mixture resembles a nut meal-like texture. Next, measure in the tamari, miso, chili paste, spices, cooked and drained brown rice, red onion, parsley, and egg. Continue to pulse until the mixture is well combined.
Wet your hands and divide mixture into 6 pieces. Pat the pieces into patties, approximately ½" thick.
Heat a skillet or grill pan over low heat. Cook patties on each side for 6-8 minutes (see note). Burgers should be crisp on the outside and warm in the center. Serve with your favorite toppings.
Notes
*These burgers freeze well. Simply separate leftover burgers with wax paper and seal in a freezer-safe container. Let thaw slightly before cooking. Also, because of the make-up, these burgers are better cooked on the stove top than tried on the grill.
* Upon recent testing, the burgers are amazing fried. Use a pan with about ¼" of sunflower oil. Heat over medium-low heat until water sizzles. Add the burgers and fry for about 4 minutes, until brown. Flip and cook for another 4 minutes. Place on a paper towel to absorb the oil and serve.
* While not quite as moist, these burgers do work without the egg. Try pulsing the mixture a bit more to make it cohesive without the egg.