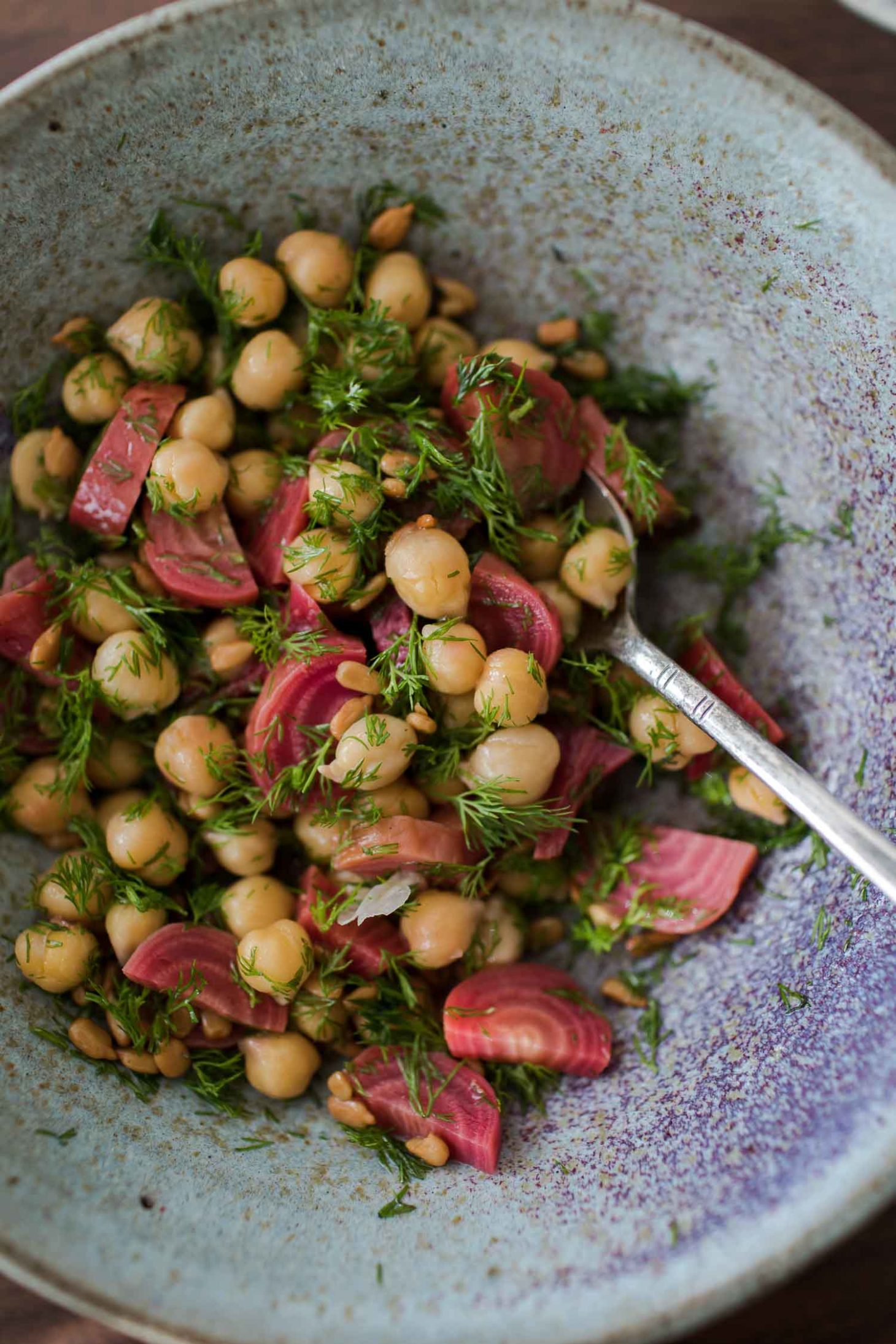 I have a problem at farmers' markets: I can never leave without beets. I think that every variety is gorgeous and I'll always find a use for them (both the greens and roots). This is my seasonal, forward-thinking salad. The dill and lemon brighten the salad to make it feel more like a spring dish. There are many different ways you can switch up the flavors, as I mention below, but one of my favorites is to add greens.
Print
Dill Beet Chickpea Salad
A fresh, spring-feeling salad featuring roast chioggia beets tossed with chickpeas, dill, and lemon. A lovely side for dinner or a great picnic salad.
Author:
Prep Time:

20 minutes

Cook Time:

45 minutes

Total Time:

1 hour 5 minutes
½

lb chioggia beets

2 teaspoons

olive oil

⅛ teaspoon

salt

1 cup

cooked chickpeas (drained and rinsed if using canned)

¼ cup

chopped dill

3 tablespoons

toasted sunflower seeds

2 tablespoons

olive oil

1 tablespoon

lemon

⅛ teaspoon

salt (or more, to taste)

⅛ teaspoon

black pepper
Instructions
Preheat oven to 425˚F. Trim the beet tops and ends if long, if necessary. Place in the middle of a piece of parchment and toss with the olive oil and salt. Fold the parchment paper up and create a sealed package (I usually fold the top part together a couple of times then tuck the sides under.
Place the parchment packet in a roasting pan. Roast the beets until tender, 35 to 55 minutes (will depend on the size of each beet). Remove from the oven and let cool enough to rub the skin from the beets.
Once the beets are peeled, cut into ½" thick wedges and place in a bowl along with the cooked chickpeas, dill, and sunflower seeds. Measure in the olive oil, lemon juice, salt, and pepper. Toss until well combined. Taste and adjust salt as needed. This salad can be eaten immediately but does taste a bit better if allowed to rest for an hour or so.
Notes
Tips + Tricks: Roast the beets up to 24 hours ahead of time. The longer the beets cool, the easier it is to rub off the skins.
Leftover Ingredients? Use them up: chickpeas, dill, sunflower seeds
Chickpea Salad
variations
This salad is forgiving. Add grains or greens, swap out the sunflower seeds- it's all fair game. I've also made this salad with roasted carrots which balance the earthiness of the beets.
Legumes: Skip the chickpeas and use white beans or black lentils.
Nuts: I also love toasted hazelnuts or almonds in place of the sunflower seeds.
Greens: I debated on sharing the version with greens but at the end of the day, I like the simplicity of the beet/chickpea combination. However, this version works well with a bit of baby spinach or arugula tossed into the mix.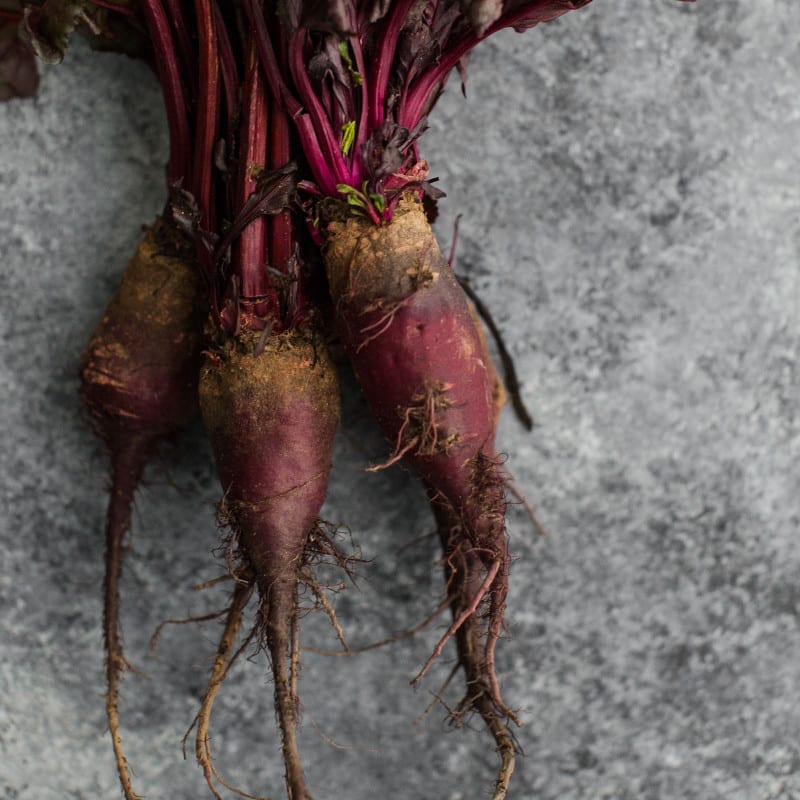 During the fall and winter months, I always have beets stowed away in my crisper. The greens make for a nice addition to stir-frys and sautés. Also, the beet roots keep for a couple of weeks and can be used in many different ways (the cupcakes are a particular favorite of mine). Look for all the different varieties as they can be used interchangeably, each adding a lovely pop of color to meals.
Cracked Spelt Risotto
Roasted Beet Pasta
Chocolate Beet Cupcakes