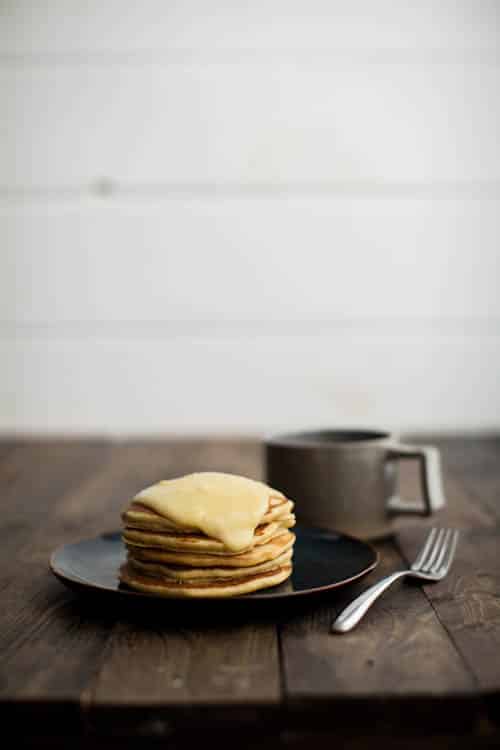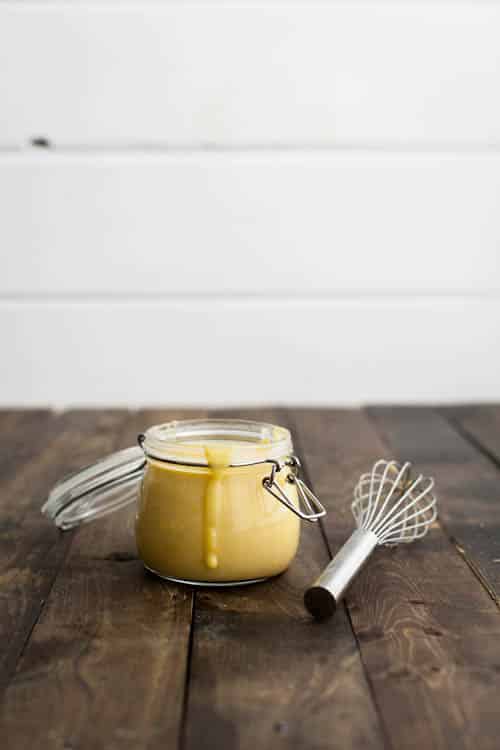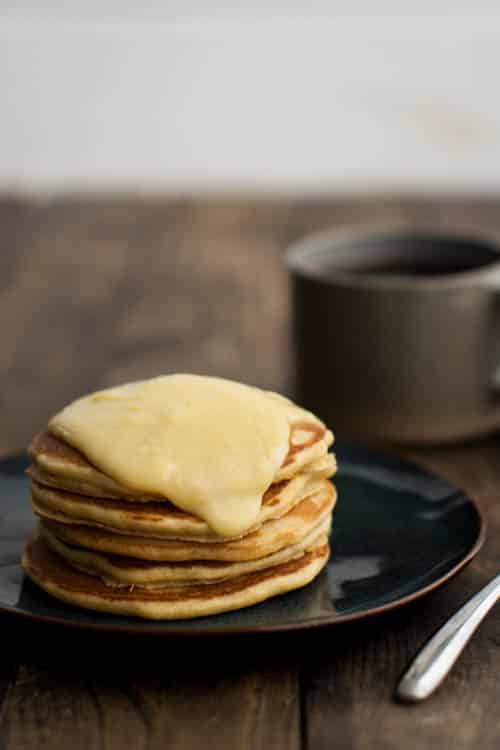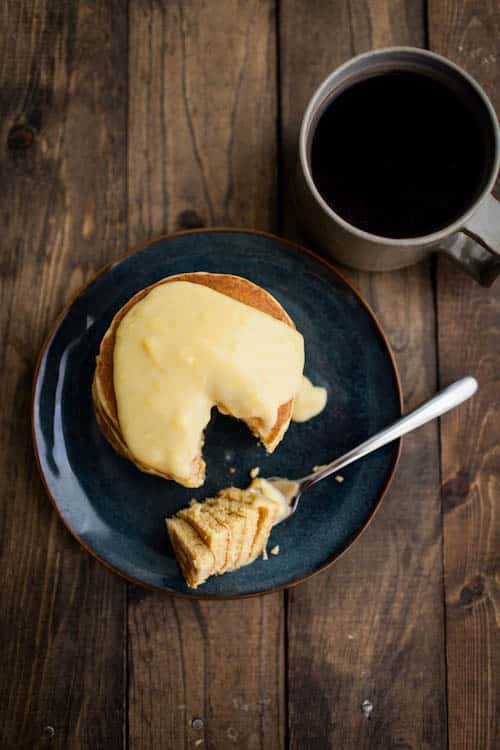 There are two things that came together to make these pancakes: my love of all things cornbread and the fact that I now live in a state that has a citrus season. The latter statement has been a dream of mine, one frankly I never thought would come true. While my dreams of having a backyard full of citrus isn't a reality, the markets and friends' yards are full of lemon, orange, and lime trees. It is absolutely lovely.
The recipe for the lemon curd comes from my friend Kathryn (aka Cookie & Kate). I've had this curd recipe saved, just waiting to be used. I've always been a bit removed from the idea of curd, mainly because when I worked at the bakery, lemon curd was my nemesis (you laugh, but it's unfortunately true.) Usually one of my coworkers would make the curd but on the days I was tasked with the project, I would almost always fail. It's darn near impossible to make curd while multitasking (I'd burn the bottom every time.) However, in the low-stress environment of my kitchen, this naturally-sweetened lemon curd came together quick and easy.
I should mention if curd isn't your thing, these pancakes are delightful when simply topped with a pad of butter and a drizzle of maple syrup. That tends to be how I eat my cornbread anyway and the using the cornbread flavors in pancakes just means I don't have to wait the 30 minutes cornbread usually takes to bake.
(PS- the mug in the photo is another one of the "things I love and would make a great gift. Shelley of Vitrified Studio makes beautiful, well crafted dishes. I have four of her mugs in my collection and plan on ordering plates soon!)
Print
Cornbread Pancakes with Maple-Lemon Curd
Author:
Prep Time:

15 mins

Cook Time:

20 mins

Total Time:

35 mins

Yield:

8

-

10

pancakes

1

x
Ingredients
Pancakes

½ cup

fine-ground cornmeal

½ cup

whole wheat pastry flour or unbleached all purpose flour

2 teaspoons

baking powder

¼ teaspoon

sea salt

2

large eggs

1 tablespoon

maple syrup

2 tablespoons

walnut oil or melted butter

¼ cup

+

2 tablespoons

whole milk

1 teaspoon

vanilla extract
Instructions
To make pancakes combine flour, cornmeal, baking powder, and salt in a bowl. Give a good stir to combine.
In a separate bowl, whisk together eggs, maple syrup, oil, vanilla, and milk. Stir in to pancake batter, just until combined. Add more milk if needed to thin batter.
Heat a skillet over medium heat. When skillet is hot (if you flick water onto the skillet, it should sizzle), take about ¼ cup of batter and pour onto skillet. Let cook for 1-2 minutes (until the pancakes begins to bubble slightly. Flip and let cook for another 1-2 minutes until pancake is cooked through.
Serve pancakes with lemon curd, crème fraîche, greek yogurt, melted butter, or maple syrup (or any combination.)
Notes
*I used Kathryn's lemon curd recipe with the only change being I used maple syrup in place of the honey. Also, using a juicer, I was able to get more than enough lemon juice from 4 meyer lemons.
v