In preparation for my csa potluck, I scoured the internet (mainly foodgawker) for delicious looking desserts that I could make.  I searched endlessly for cupcakes and tossed the idea of a tart back and forth but still, I couldn't make up my mind.  That is, until I remembered the video that tiger in a jar filmed of beet cakes.
I had the beets and I thought how fitting since I was headed to the csa potluck.  I boiled the beats, mixed the cake, covered it in ganache, and dragged M out to the potluck with me (there was promise of good food so of course he went!)
The highlight of the night came when M and I were sharing dinner with a few fellow csa members.  One of their little girls came running around the table with the saddest look on her face and tears gathering in her eyes.  I thought for sure she had tripped or hurt herself in some way shape or form but instead, when she reached her mother, she blurted, "I ate beets- I hate them."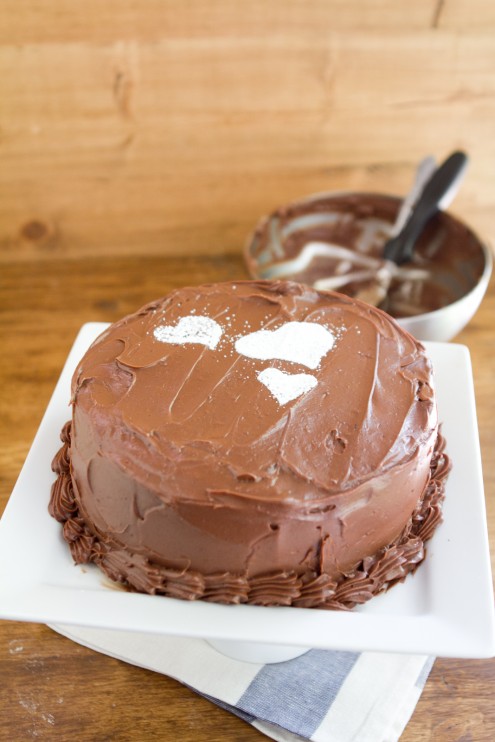 Come to find out, she ate a piece of this cake, loved it, went back for more, and then read the tag which appropriately was labeled, "chocolate beet cake."  At which point in time  she ran and professed her hatred for beets.
I absolutely love this cake.  The beats add a moistness and slight bit of earthiness to the cake that is amazing.  I seriously love this cake!.  Of course, I couldn't leave well enough alone and had to add the ganache.
What a perfect way to usher in summer!
Print
Chocolate Beet Cake with Milke Chocolate Ganache
Author:
Prep Time:

1 hour

Cook Time:

30 mins

Total Time:

1 hour 30 minutes

Yield:

10

-

1

2

1

x
Ingredients
Cake:

1 cup

butter

1 ½ cup

sucanat (or brown sugar)

3

eggs

2 ounces

semi-sweet chocolate

2 cups

pureed beets (roughly

3

large beets)

1 teaspoon

vanilla

1 ½ cups

unbleached all purpose flour

½ cup

cocoa powder

2 teaspoons

baking soda

¼ teaspoons

salt
Ganache:

3 ½ cups

milk chocolate, cut into even pieces

2 cups

heavy cream
Instructions
To prep. pull butter and eggs and bring to room temperature. Also, butter and flour two 8" cake pans.
First, peel the beets, cut into small pieces and cover with water (just enough that the beets are barely covered) and cook until beets are tender (30-40 minutes). If you have a lot of excess water left, drain so that only ½ cup remains with the beets. Puree beets in a blender until no large chunks are left. Set aside to cool.
While beats are cooking, combine ¼ cup of the butter with the ounce of chocolate. Melt and whisk the chocolate and butter together. Set aside to cool slightly.
Preheat oven to 375˚.
In either a large bowl or your stand-mixer bowl, combine remaining softened butter and sucanat, beating with a paddle until well combined. Next, beat in eggs and vanilla until the mixture comes together, scrapping down the sides of the bowl as needed. Add in melted chocolate/butter and beet puree and continue to beat. Sift together the dry ingredients and add to the batter, beating until everything is well combined.
Pour evenly into cake pans and bake for 25-35 minutes (a toothpick should come out clean when the cake is checked.) Set aside for 10 minutes, then loosen both cakes around the edges and flip onto pieces of parchment to let cool.
To make ganache (which I did while the beets cooked), place chocolate chunks in a large bowl. Bring the heavy cream almost to a boil (when the bubbles form around the edge of the pan), pull from heat and pour oven the chocolate. Let sit for 2 minutes and the whisk the ganache smooth. Cover with plastic wrap and place in refrigerator until chilled and set (2-3 hours.) Once ganache is chilled, taking a hand mixer (or a spoon), whip ganache so that it becomes slightly fluffy (only 1-2 minutes with a hand mixer.)
To assemble the cake (once the cakes and ganache are cooled), take one cake and place on your serving plate. The cake is really moist and you may have to take a knife to loosen the cake from the parchment paper. Cover the first cake with ½" layer of ganache and place the second cake on top. From here, take a healthy scoop of ganache and crumb coat the cake with a thin layer. Place in refrigerator for 15 minutes, remove, and cover cake with remaining ganache. Keep in refrigerator until ready to serve!
*Adapted from this recipe/video