I typically do not share many photos from outside the food on this site but it's summer and sometimes I feel like mixing it up. I traveled back to my hometown last week for a book signing along with spending some wonderful time with my family. There was good food, boating (a pontoon parade even!), atlatls (we started playing bocce but decided launching big spears was cooler), cats (I'd be a total cat lady if it wasn't for my dog), fireworks, and good food (I mentioned this one, but it's worth mentioning again.) This trip home was just what I needed. On Saturday, we had a group of family and friends out to the house and I whipped up a feast. This salad was one of the biggest hits and I what's even better- it's so simple to throw together with very minimal cooking. Be sure to scroll down for the recipe and to see what else I cooked up for a lovely feast!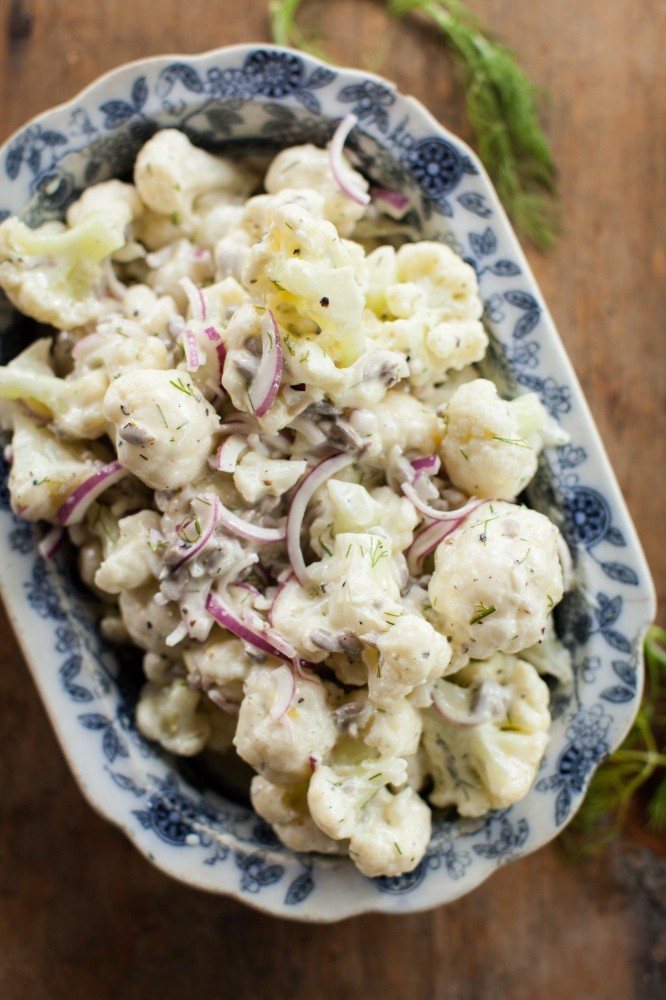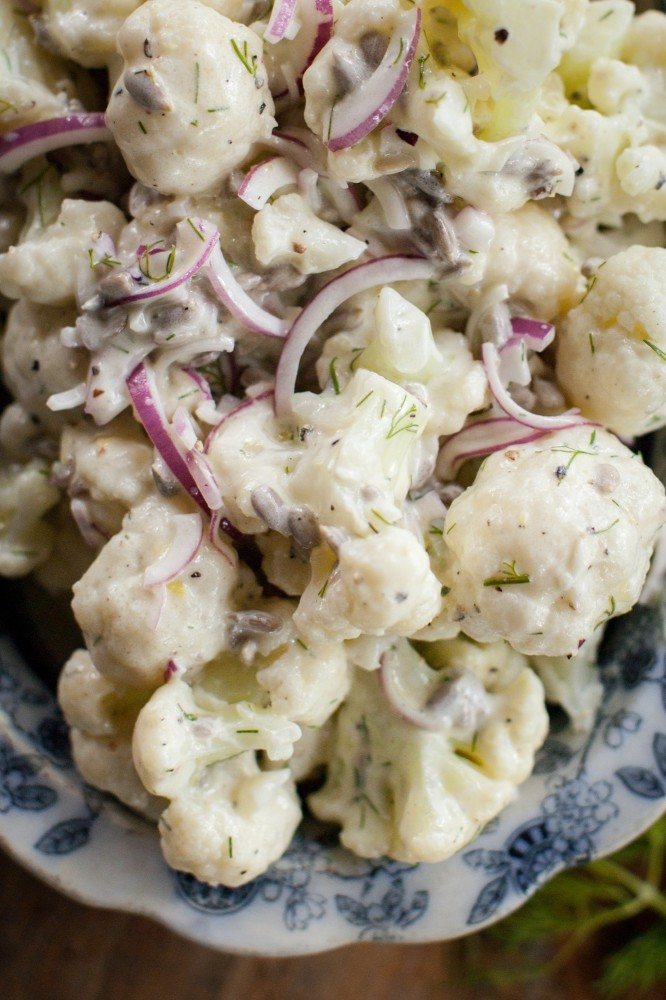 Skewers (Polenta- similar to these only with day-old cubed polenta instead of halloumi, steak, and chicken with vegetables.)
Sauces for the skewers: peanut sauce, chimichurri (I used a bit of lime juice and cilantro), and harissa
This Cauliflower Salad
Sorghum Cucumber Salad (coming soon!)
Grilled Green Beans (green beans tossed with a bit of olive oil and minced garlic)
Spring rolls (carrots, cucumbers, basil, and spinach) and hummus for an appetizer
Angel food cake (from The Homemade Flour Cookbook)
We also chose to go 100% gluten-free but it wasn't hard with all the lovely produce and my new favorite cake recipe! My Aunt also brought out a green salad, peanut cabbage slaw, and the berry cobbler from the book!
Print
Cauliflower Salad with Lemon-Dill Yogurt Dressing
1

head cauliflower

⅓

red onion, thinly sliced

¼ cup

sunflower seeds
Instructions
Break down cauliflower into bit-size florets. Bring a pot of water to a boil and ready an ice bath. Blanch Cauliflower for 4 minutes, just enough to make it tender with a bit of crunch still left. Drain and plunge into the ice bath to stop cooking.
In a bowl, toss together the blanched cauliflower with sliced red onions and sunflower seeds. Make yogurt dressing according to directions. Add to cauliflower and stir until well coated. Let refrigerate for at least an hour before serving.