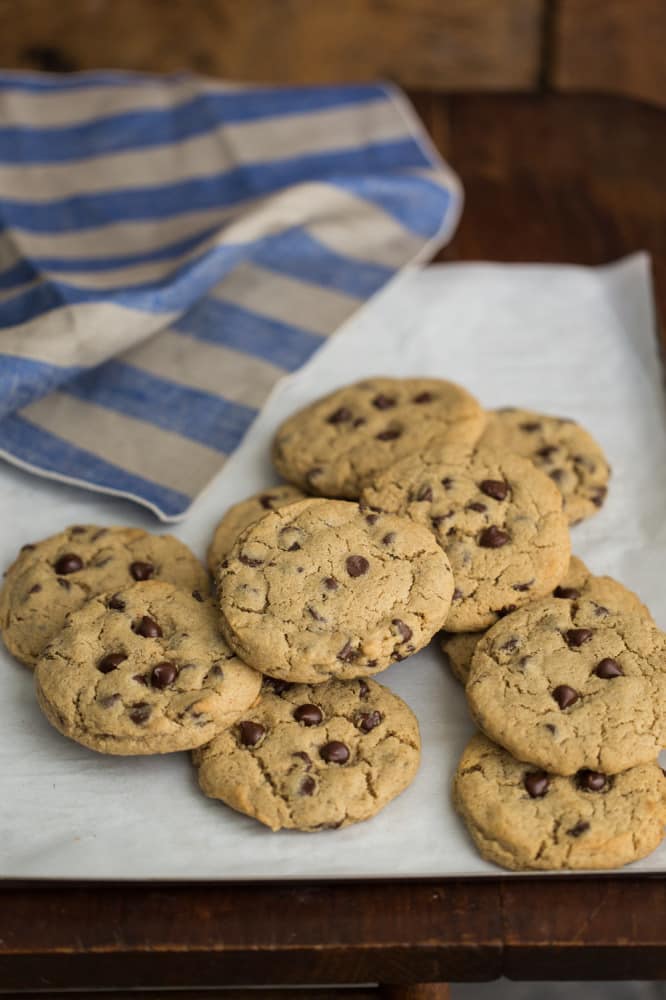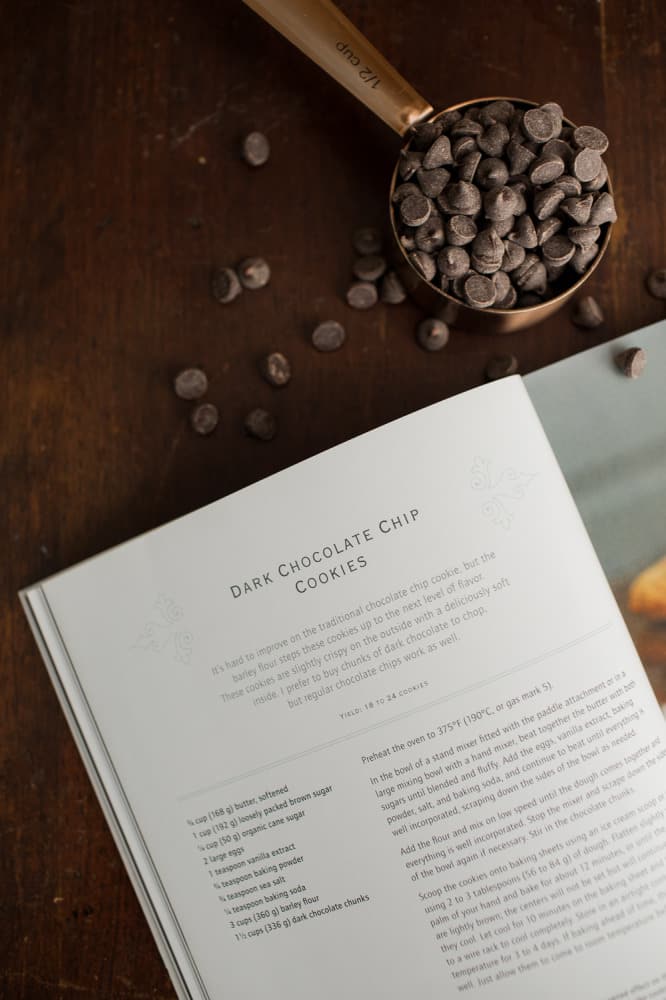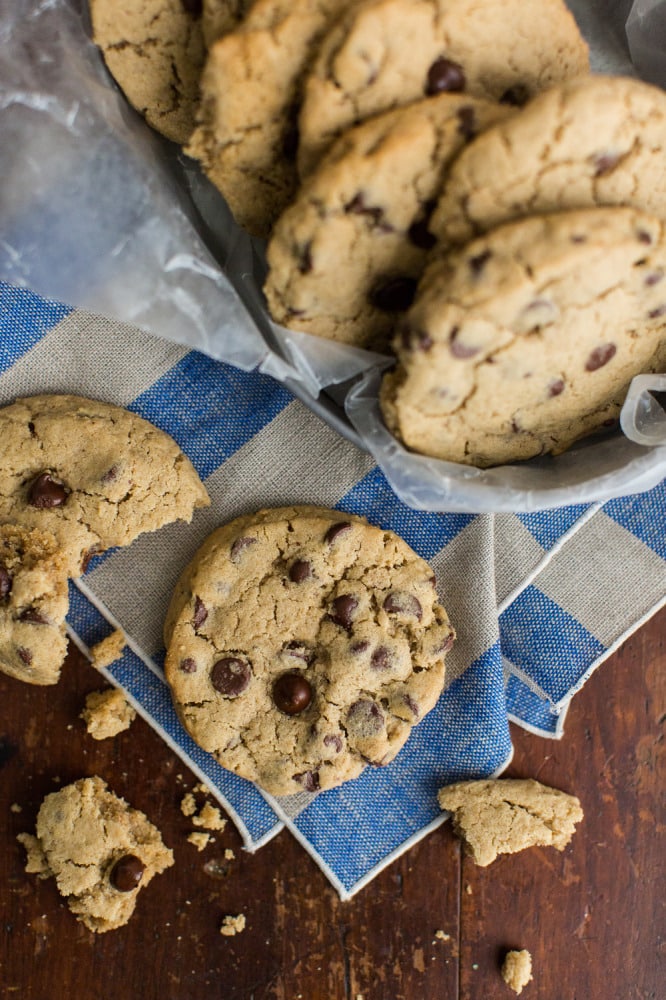 It would seem, as of recent, that there are things happening in my life that make me stop and say, "Ah, this is what it feels like to be an adult." It's usually silly things like not being able to eat those two bowls of ice cream (I try, so hard) or the realization that the cheap coach we have isn't as comfortable as we once thought (I went to Crate and Barrel the other day, sat on one couch, and realized I'd been missing out). We've had some pretty major (adult) life rumblings happening in our house that I'll hopefully be able to share soon (all good, just a bit chaotic) but in the meantime, with the fall temperatures finally hitting Northern California: I made cookies.
Over the next couple of months in honor of baking season, I'll be sharing a few recipes from The Homemade Flour Cookbook as well as a few new ones using homemade flour. This cookie recipe is a favorite of mine primarily because it uses my favorite, soft chocolate chip cookie base and mixes in the unique barley taste. There are certain recipes I haven't even attempted to use non-refined sugars in because I make them so rarely and in small quantities, I'm just fine with it so don't think I'm saying these cookies are 'healthy' because of the alternative flour. I love the barley flour strictly for the taste (I've also been known to use Rye or Einkorn- all delicious and unique!)
One major note about this recipe, it can be kind of hard to tell when these cookies are done and I've often cooked them too long and ended up with crispy bottoms. Look for a nice golden hue over most the cookie with the edges set. If you pull them out of the oven and let them cool slightly only to find they aren't done- pop them back in the oven and just check them so often (it will take the cookies a bit of time to get back a heat where they will continue to back, but it will work.)
Print
Barley Chocolate Chip Cookies
¾ cup

(

168 g

) butter, softened

1 cup

(

192 g

) loosely packed brown sugar

¼ cup

(

50 g

) organic cane sugar

2

large eggs

1 teaspoon

vanilla extract

¾ teaspoon

baking powder

¾ teaspoon

sea salt

¼ teaspoon

baking soda

3 cups

(

360 g

) barley flour

1 ½ cups

(

336 g

) chocolate chips or dark chocolate chunks*
Instructions
Preheat the oven to 375˚.
In the bowl of a stand mixer fitted with the paddle attachment or in a large mixing bowl with a hand mixer, beat together the butter with both sugars until blended and fluffy. Add the eggs, vanilla extract, baking powder, salt, and baking soda, and continue to beat until everything is well incorporated, scraping down the sides of the bowl as needed.
Add the flour and mix on low speed until the dough comes together and everything is well incorporated. Stop the mixer and scrape down the side of the bowl again if necessary. Stir in the chocolate chunks.
Scoop the cookies onto baking sheets using an ice cream scoop or spoon, using 2 to 3 tablespoons of dough. Flatten slightly with the palm of your hand and bake for 12 minutes, or until the edges are lightly brown; the centers will not be set but will continue to set as they cool. Let cool for 10 minutes on the baking sheet and then transfer to a wire rack to cool completely. Store in an airtight container at room temperature for 3 to 4 days.
Notes
*The original recipe calls for chopped dark chocolate, which is also delicious. You could also try add a handful of chopped nuts such as pecans or walnuts.
*Types of baking sheets may change the bake time of the cookies. If using a darker baking sheet, watch cookies closely at around 100 minutes. If using a silicone baking mate, like a Silpat, cookies may need longer to bake, more towards 15 minutes.
Recipe originally from The Homemade Flour Cookbook.