If you've never made baked french fries before, now is the time to start. Homemade fries take just a bit of time but once you make the recipe a few times, it becomes easier. All you need in a good-sized potato and a sharp knife to get started.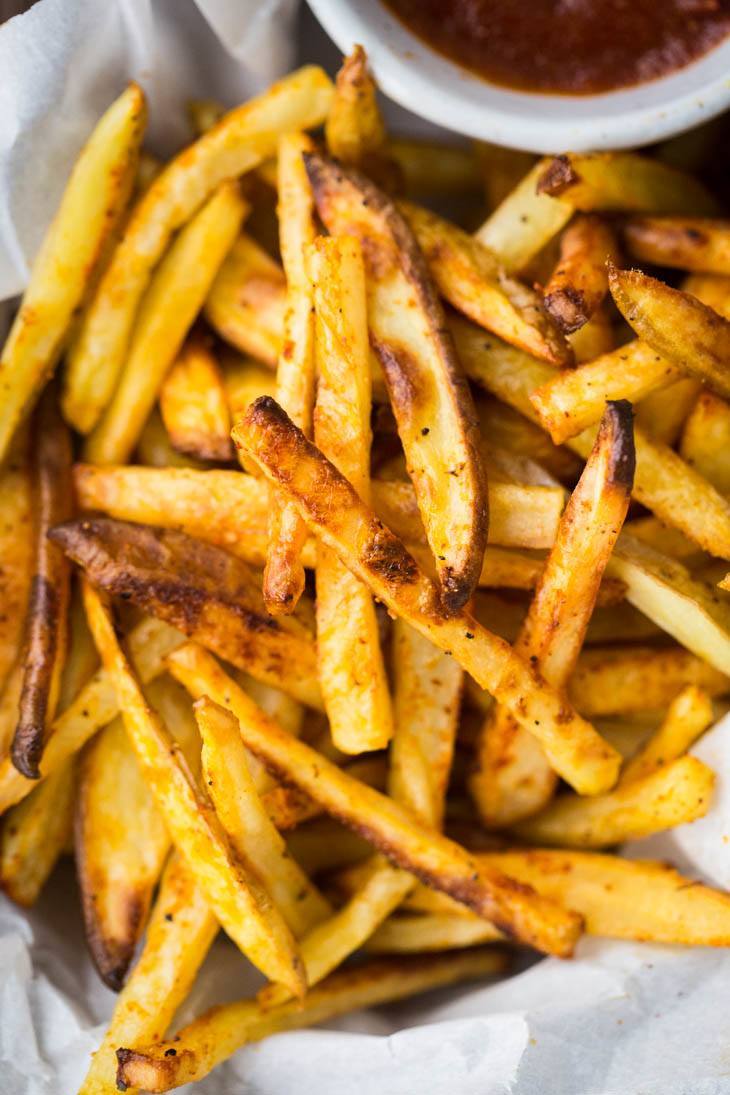 People often say, when trying to incorporate changes to their diet, that they miss certain foods. When I made the transition to a more plant-based/less eating out diet, I definitely had my moments (good-bye, buffalo wings!) While I didn't want to replace everything, there were items that could easily be replaced at home like these baked french fries.
These fries are the perfect companion to homemade burgers. However, I don't stop there. I make fries to go with grilled cheese sandwiches. And. they make the perfect base for loaded french fries. Pile these homemade baked fries with cheese and my favorite veg chili for a real treat.
Can Baked French Fries Be Crispy?
Baking versus frying can mean the difference of a perfectly crisp french fry and a soggy one. With a little patience, baked fries can be just as crisp as their fried counterpart. A few rules I always follow include using enough oil, cutting the fries evenly, and watching closely as they bake. In addition, potato variety can make or break your baked fries.
Potato Varieties Matter
There are many varieties of potatoes but when it comes to fries, I stick with two varieties: Russet and Yukon. French fries are traditionally make from Russet potatoes. The starch content in these potatoes makes the outside crisp perfectly. Nonetheless, over the years, I've switched to using Yukon gold potatoes for my baked french fries.
More often than not, I can find beautiful Yukon gold potatoes at the farmers markets. These potatoes have less starch than their Russet counterpart. Yet, these potatoes roast really well. And when you're making french fries, you're just working towards crispy roasted potatoes.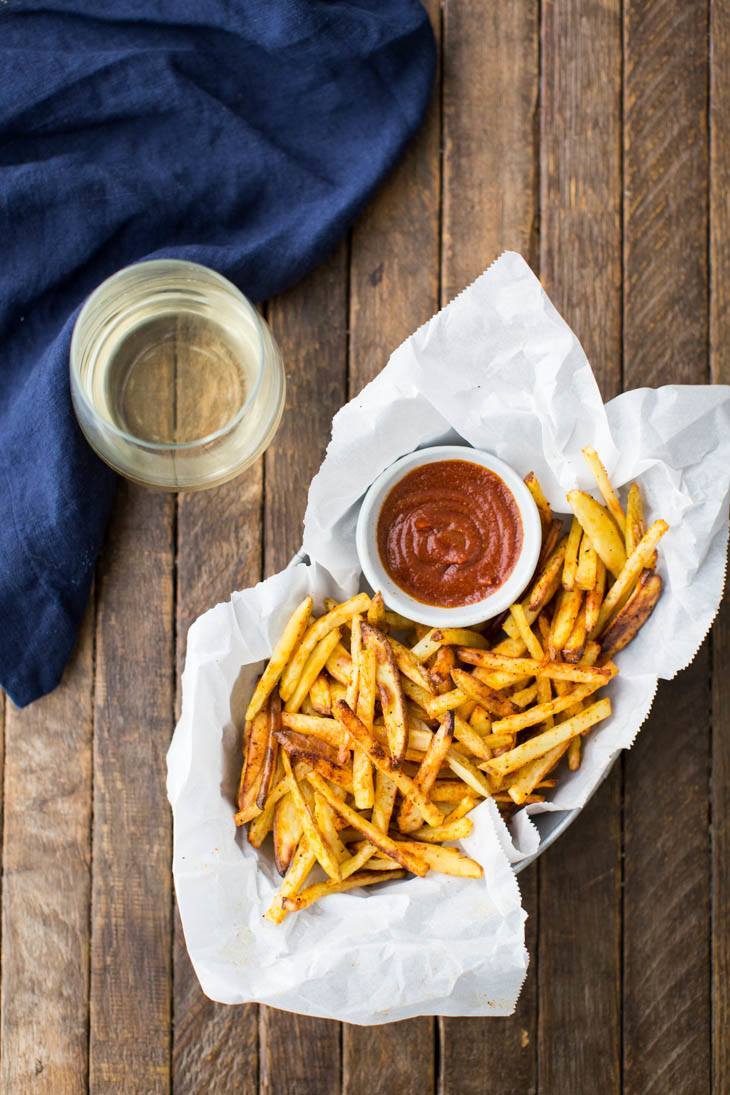 Soaking and Cornstarch: Is it worth it?
There are endless techniques for how to make the perfect fry at home. Some methods call for a soaking/rinsing/drying period before baking. I've found that when I use Yukon golds, it's not necessary. With that said, I do recommend this if you're using Russet potatoes.
Other recipes mention coating the cut potatoes with a bit of cornstarch. Again, this works but I just don't find it necessary. Because we make these fries so often, I like to keep it as simple and straightforward as possible.
Homemade Baked French Fries: The Seasoning Variations
Making fries at home is also great because you can play around with seasoning. I stick fairly close to the seasonings listed in the recipe below. However, baked fries are the perfect way to play around with seasonings.
Spice up your fries with a bit of chili powder. Flavor them with curry powder or berbere spice. Or, if you're like me and love garlic, bump up the seasonings already listed. It's hard to go wrong with this recipe!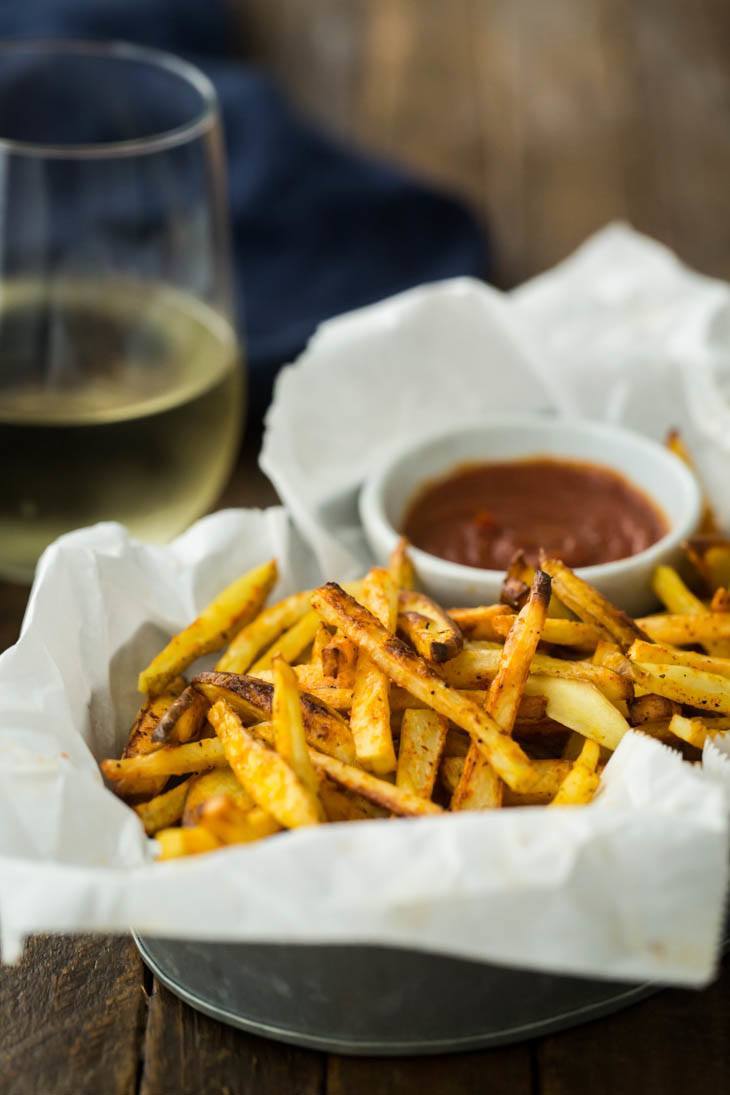 Print
Baked French Fries with Curried Ketchup
Perfectly crisp homemade baked french fries are one of the recipes we make nearly every week. These fries are the perfect companion for burgers, sandwiches, or even salads.
Author:
Prep Time:

10 mins

Cook Time:

35 mins

Total Time:

45 mins

Yield:

2

to

3

servings

1

x
Category:

side dish

Method:

oven

Cuisine:

American
Baked French Fries

1

lb yukon gold potatoes

1 tablespoon

olive oil

1 teaspoon

garlic powder

½ teaspoon

smoked paprika

¼ teaspoon

salt

¼ teaspoon

black pepper

Curried Ketchup

¼ cup

homemade or pre-made ketchup (see note)

¼

to

½

teaspoon good curry powder
Instructions
Preheat oven to 400˚ and line a baking tray with parchment paper.
Rinse the potatoes well. Taking one potato at a time, cut the ends off the potato to create a level surface. Stand up on one end and cut down the potato in ¼" thick slices.
Stack half the slices on the flat side down and cut again into ¼" thick strips. Repeat with remaining potatoes. It's important that the fries are cut in similar thicknesses. This will help the fries bake evenly.
Place the fries on one or two baking trays and toss with the olive oil, spices, salt, and pepper. Spread the fries out so that the are mostly not touching.
Bake the fries for 30 to 35 minutes until crisp and golden. While the fries are baking, stir together the ketchup and curry powder. Serve fries hot with your favorite sauce or the curried ketchup.
Notes
If you want to use traditional russet potatoes, I recommend soaking the cut fries in cold water for at least 30 minutes then rinsing before tossing with olive oil.
If I'm making my homemade ketchup, I'll add the curry powder into the cooking process.
My original fry recipe called for adding dried oregano, parsley, and a pinch of mustard powder. Try playing around with the spices to find your favorite combination.
Nutrition
Serving Size:

½ the recipe

Calories:

241

Sugar:

1.9

Sodium:

305

Fat:

7.2

Saturated Fat:

1.1

Carbohydrates:

41

Fiber:

5

Protein:

4.9

Cholesterol:

0
Keywords: homemade baked french fries, baked french fries, oven baked french fries