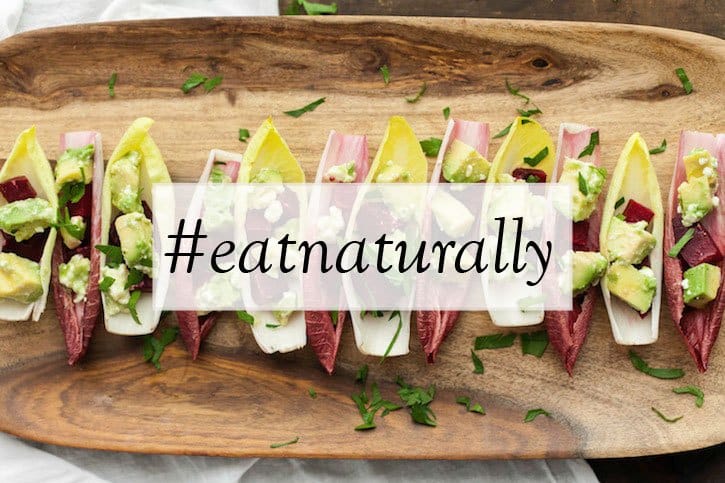 Here we are, yet another start to a new year. It's the time where I stop thinking about what has happened and focus on the potentials of the new year. For the most part, it can be an ever optimistic time but I think it's easy to over promise and under deliver. There is so much hype for "now is the time" and words like "diet" are thrown around frivolously.
Instead of of talking about the extremes, I wanted to present you with another option this year. An option that while it may start in this new year can carry through for (hopefully) a lifetime: #eatnaturally. I've mentioned before that I don't focus on the main food trends because at the end of the day, if something motivates a person to get into the kitchen and connect with their food, that's awesome. #eatnaturally is all about taking small steps, ditching the processed foods, and doing what feels good for you.
I decided to start the new year out with this big post to hopefully get you motivated to join in eating naturally. Below are a few of my all-time favorite recipes from the site, a handful of bloggers that I look to for inspiration, and a new recipe (and video!) to start the year out right. I'd love it if you join me! If you share a photo on instagram, tag it #eatnaturally and #naturallyella. I'll be sharing a few instagram photos on the site from time to time of what it looks like for others to #eatnaturally! During the month of January I'll also have new recipes, book reviews, and a couple giveaways of items that make it easier for me to #eatnaturally.
The New Site Layout/Resources
Beyond this campaign, you may have noticed a small shift in how the site is laid out. Nothing too drastic changed but I went through and updated nearly all of the resource pages. You can now browse information and recipes by bulk bin or seasonal items, broken down into gluten free grains, grains, legumes, and the fruits and vegetables from the four seasons. I've also updated my recipe page with a few of the items that I love the most like tacos and spring rolls. Overall, my goal is to make it fun and easy for you to find new ideas and recipes.
If you want to start browsing now, head to the recipe page or use the browse by widget in the sidebar! I also have a couple post that make for awesome starter post including: sourcing ingredients, stocking a pantry, and a post filled with homemade inspirations (or if you want to remember them for later, just hover over the 'resource' link in the navigation at the top of the page)!
My Favorite Recipes from NE
While I've never posted a recipe I didn't love on this site, I have a few that are the recipes I always turn to in my kitchen. The majority of these recipes are easily adapted for any type of produce you have on hand.
Blogger Inspiration
The internet can be such a powerful tool when it comes to cooking at home and pulling away from processed foods. No matter the way you choose to eat naturally, there's a group of bloggers that are pumping out amazing content. Below are just a few of the blogs I look to for inspiration and have some amazing recipes, pushing the boundaries of creativity. Of course, I could list at least 30 more but this is a good start.
Arugula and Radish Salad
This salad embodies the flavors I'm all about right now. I love the slight pepper flavor from the arugula paired with the spice of the radish and pop of flavor from the lemon dressing. You could easy make this with any combination of greens and grains, but I'd really push for the arugula and quinoa (quinoa is one of my favorite salad grains- possibly because it cooks up the quickest!)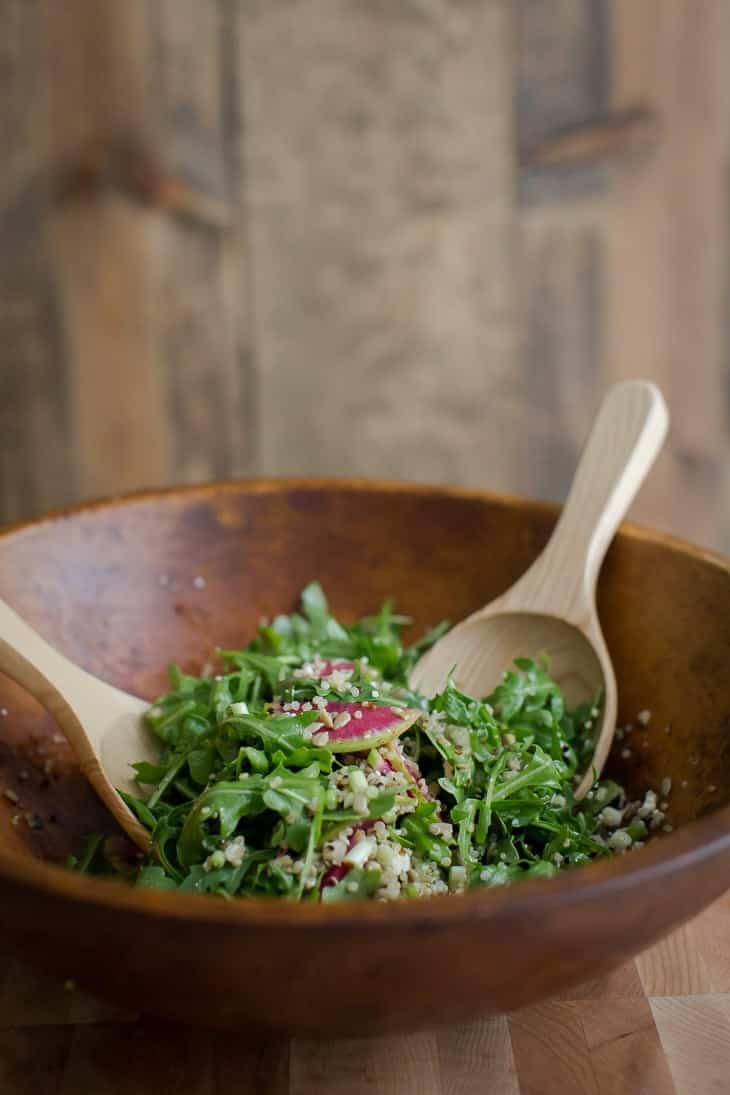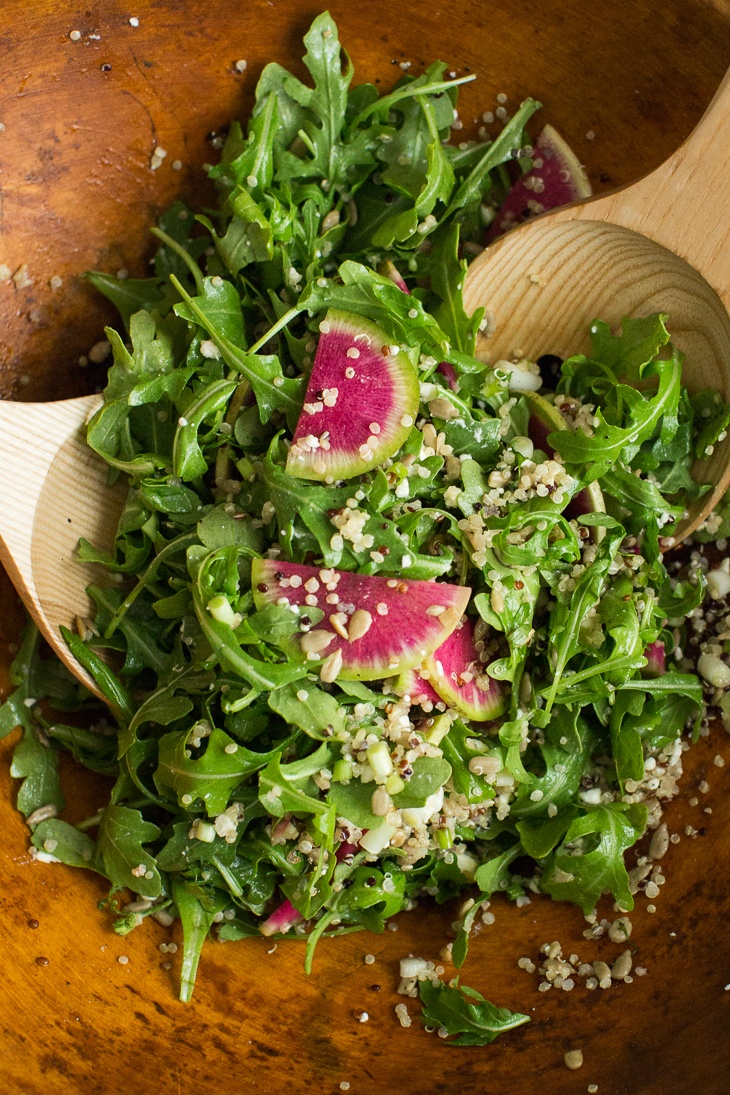 Print
Arugula and Radish Salad
Author:
Prep Time:

10 mins

Total Time:

10 mins

Yield:

3

to 4

1

x
Ingredients
Salad

4 cups

baby arugula

2

sliced watermelon radishes

1

bunch scallions

1 cup

quinoa, cooked and cooled

¼ cup

sunflower seeds

1 ounce

feta
Dressing

3 tablespoons

olive oil

2 tablespoons

lemon juice

1 tablespoon

minced dill

2 teaspoons

honey

¼ teaspoon

black pepper

¼ teaspoon

sea salt
Instructions
Wash and lightly dry arugula. Place in a large bowl and set aside. Remove the tops from the radishes and cut in half. Set the flat half on the cutting board and cut into thin, half moon slices. Add to arugula. Trim the ends from the scallions and dice through part of the greens. Place in the bowl with the radishes. Finally, add the quinoa, sunflower seeds, and feta.
In a jar with a tight fitting lid, combine the ingredients for the dressing and shake vigorously. Pour over the salad and toss until everything is well coated.