There are often lessons I learned in childhood that I still have to work on as I begin adulthood.
I can't even begin to count how many times I was told to not "judge a book by it's cover." I think this is something with which society struggles. We often take things at face value or hearsay which I think often leads us to missing some of the greatest things in life. Maybe it's my drive for knowledge and understanding, but I try hard to not take things at face value.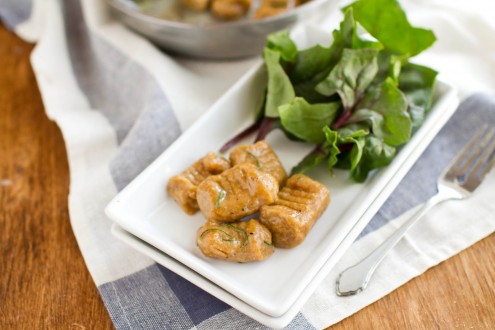 While it's a lesson that goes beyond cooking, these little gnocchi were a gentle nudge that even after twenty-five years, I still need a reminder.
I've never made gnocchi before and if I'm being honest, I've never even tasted one. Living in a less diverse area, I've only ever seen gnocchi pre-packaged and they always looked unappetizing. I've never attempted to make them because without even looking at a recipe I wrote it off as labor intensive and not worth my while. I judged this dish without even thinking twice.
Then I started seeing more and more gnocchi recipes pop up around the web. So I set aside time in the afternoon, looked for a recipe, and realized that gnocchi are actually one of the easiest, not time-intensive recipes.
This recipe screams fall with the sweet potato, cinnamon, and maple syrup. The whole wheat flour also adds a bit of earthiness to the gnocchi as well. I will be making this again (and again!)
Print
Whole Wheat Sweet Potato Gnocchi
Author:
Prep Time:

45 mins

Cook Time:

15 mins

Total Time:

1 hour

Yield:

3

-4

1

x
Gnocchi:

1

medium sweet potato

¾

-

1

cup whole wheat pastry flour

½ teaspoon

salt

½ teaspoon

black pepper

1 teaspoon

cinnamon
Brown Butter:

¼ cup

butter

1 tablespoon

fresh rosemary

2 teaspoons

maple syrup
salt and pepper to taste
Instructions
Preheat oven to 425˚. Pierce sweet potato with a fork, place in oven, and bake for 30-40 minutes or until soft. Remove from oven and let cool slightly.
Cut sweet potato in half, scoop out insides, and mash. Measure out 1 cup to use and save the rest for another time. Stir in salt, pepper, cinnamon, and ¼ cup of the wheat flour. Continue to stir and add flour until the mixture forms a soft dough (the dough might be sticky, just use more flour on your hands and surface). Place onto a surface covered in flour. Divide dough into three balls and roll each out into 1" ropes and cut gnocchi 1" at a time. Indent gnocchi with the tines of a fork. Repeat with remaining dough.
Bring a pot of water to a boil. Place half the gnocchi in the boiling water and let cook for 5-6 minutes. I let the gnocchi go for a minute or two after they float to the top.
While gnocchi cook, melt butter in a skillet and add rosemary. Continue to cook butter until the foam stops and the butter begins to brown. Remove from the heat and stir in the maple syrup, salt, and pepper. Once gnocchi are done, toss with brown butter and serve.