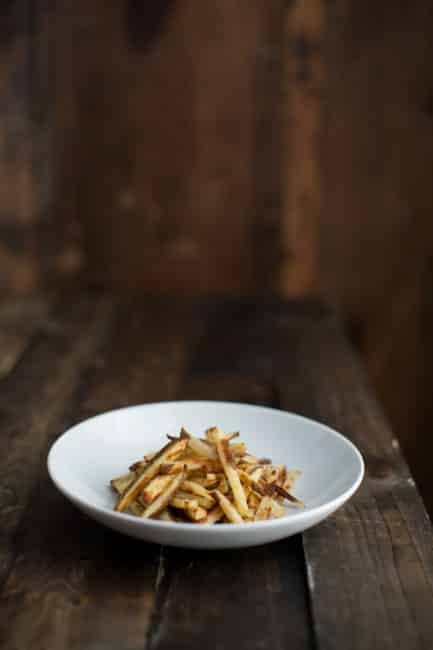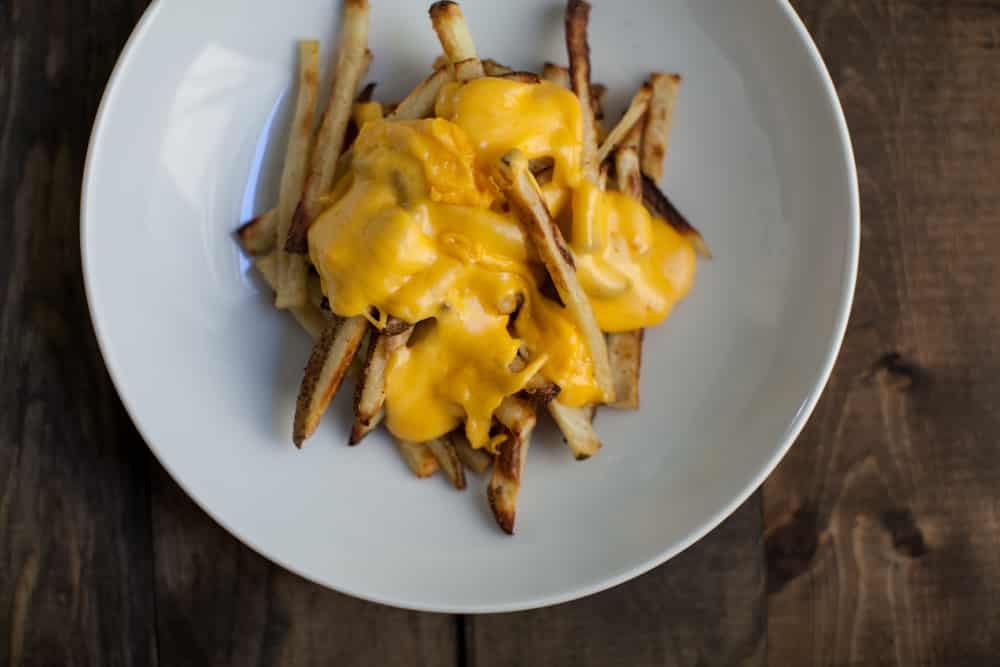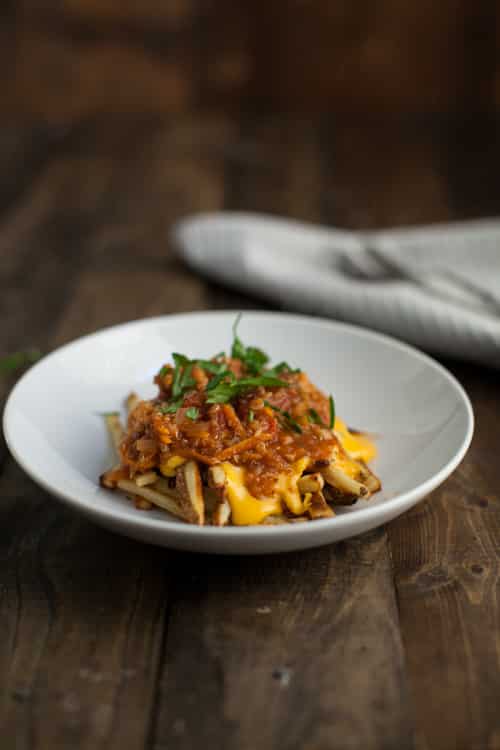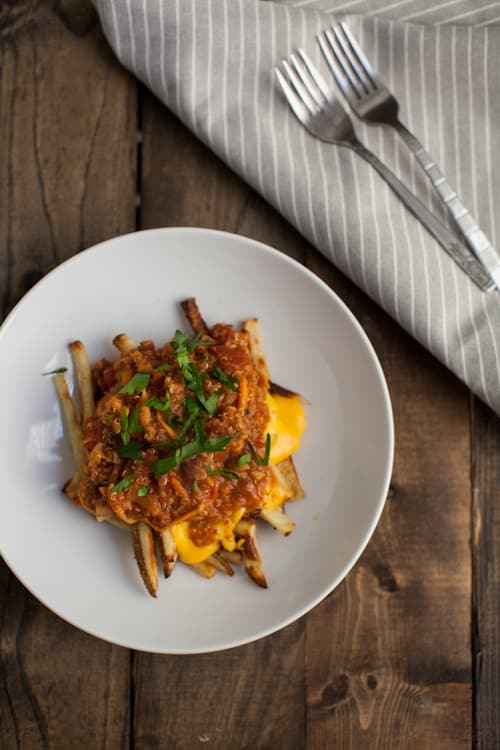 I think when discussing the move from fast food/junk food to whole foods, one major discussion is left out: how unbelievably hard it can be to leave the junk behind. I still crave fried food (my serious downfall are onion rings and fried cauliflower) and I may or may not have eaten a doughnut or two for breakfast yesterday. It's hard because most convenient food is crap and usually when I eat junk, I regret it later and I usually vow to never eat it again (although, I have an addictive personality and a forgetful memory, so I usually end up eating it again.)
I know some people who are awesome at always eating great foods for the body but that's not me. Life gets in the way sometimes.
So, part of the process of moving away from all junk is to create fun snacks and meals that rival that of the junk food but I don't feel like crap for eating. I feel like you can't go wrong with chili cheese fries. Feel free to sub in your favorite chili recipe, or try your hand at making these vegan by using cashew nacho cheese, or swap out the regular fries for some crispy cornmeal sweet potato fries (I would have done this in the first place but I didn't have a sweet potato- shocking, I know.)
Print
Vegetarian Chili Cheese Fries
Author:
Prep Time:

20 mins

Cook Time:

45 mins

Total Time:

1 hour 5 mins

Yield:

2

-4

1

x
Chili

1 tablespoon

olive oil

1

small red onion, minced

2

cloves garlic, minced

1

green pepper, minced

1

jalapeño. minced

2 cups

(1 jar or 1 ½

15 oz

can) diced tomatoes with juice

2 teaspoons

cumin

1 tablespoon

oregano

½ teaspoons

chili powder

½ teaspoon

garlic powder

½ teaspoon

onion powder

1 teaspoons

smoked paprika

½ teaspoon

sea salt

2 cups

shredded sweet potatoes (

1

small sweet potato)

1 cup

cooked quinoa

1 cup

kidney beans*

1

-

2

cups veggie broth
Fries

2

large potatoes

1 tablespoon

olive oil

2 teaspoon

garlic powder

½ teaspoon

sea salt

½ teaspoon

black pepper
Cheese Sauce

2 cup

freshly grated cheddar cheese

1 tablespoon

cornstarch

¼

-

½

cup 2% or whole milk

½ teaspoon

smoked paprika

½ teaspoon

garlic powder
Instructions
Preheat oven to 425˚ and grease a baking tray or cover with parchment paper.
To make chili, heat a large pot over medium-low heat and add olive oil. Toss in minced onion garlic, pepper, and jalapeño. Cook until onion is soft, 5-6 minutes.
While onion cooks, puree half the tomatoes in a blender with the spices to create a sauce-like consistency. Add the pureed tomatoes, remaining diced tomatoes,shredded sweet potatoes, quinoa, and beans (if using) to the pot Bring to a boil, reduce to a simmer, and let cook until ready to serve. Add veggie broth as needed to create the chili consistency you like.
To make fries, rinse well under water. Cut the ends off the potato, stand up on end, and cut slices from the potato that are ¼" thick (depending on how thick you want your fries- cut accordingly) Take slices and cut fries out of the potato-using ¼ " as the measurement.
Once all fries are cut, place in medium bowl and add the remaining ingredients, tossing until every piece is covered. Spread out onto a baking sheet covered in parchment paper. Bake for 25 minutes, flip the fries, and bake for a remaining 10-15 until fries are crispy (35-45 minutes total.) Make sure to not over crowed the pan- this is result in uneven baking.
Finally, once fries are almost done, combine cheddar cheese and cornstarch in a small pot. Heat over medium low and stir until cheddar begins to melt. Add ¼ cup milk, paprika, and garlic powder, stir until mixture comes together. Add more milk, 1-2 tablespoon at a time, to reach a pourable nacho cheese.
Assemble fries by pour cheese and chili on top.
Notes
*I tend to leave the beans out of the chili for the fries but feel free to leave them in! I also leave the consistency of the chili and cheese sauce up to you- I know some people love thick chili and some love a bit thinner. Furthermore, baked fries go soggy a bit quicker when smothered with cheese and chili. Wait until the last minute smother the fries!