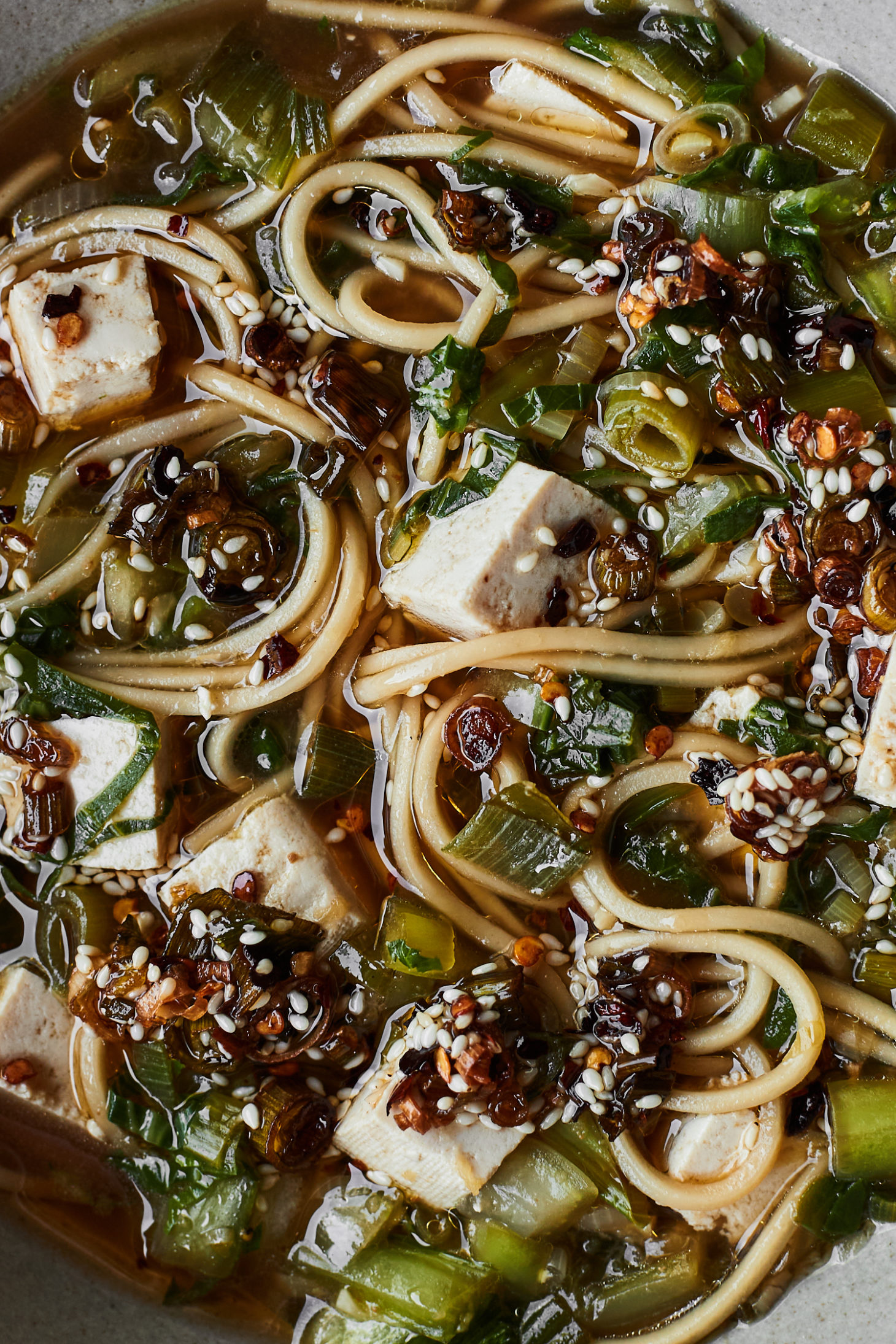 Keeping records of anything online for an extended time can be a very humbling experience. Essentially, all your growth in a particular area is out there, and unfortunately, on the internet, it should stay out there, or else the internet overseers get grumpy.
What does all of this have to do with a recipe for bok choy noodle soup? A lot. I posted a recipe for a similar soup roughly five years ago, and it's been a more popular recipe of mine. However, my understanding of building flavors has grown, and as such, the meal I make now is a bit different from the original recipe. And I'm sure, in five years, I'll be writing this again with a similar but different method.
This updated version pulls a bit of guidance from Vietnamese Phở with the use of star anise and cinnamon in the broth and a finish of miso to bring depth to this vegan soup, inspired by traditional Japanese miso soup.
Why Bok Choy?
I think bok choy is beautiful. The way it grows, the shape of the leaves, the color gradation from leaf to stem. And yet, I don't use it near enough. I love it in this noodle soup because it just melts away. The stems are cooked apart from the greens, but in the end, it all blends in with the noodles.
Don't have bok choy? Shredded kale, chard, or even spinach would work (although spinach gets a bit soft for my taste.
Tofu addition
Over the years, I've bulked up this soup quite a bit. I've added jammy eggs, poached eggs, tempeh bacon, and tofu (in various forms). I've left the tofu addition in the recipe to keep the recipe vegan. Plus, I love the texture with the noodles and the bok choy.
Miso
I keep a few different misos on hand for different uses. In more recent recipes, I've used a lot of white miso, but this recipe needs a firm flavor to balance the spices and ginger. I like using the brown rice miso because it's noticeable, a flavor that brings the umph without being the only flavor you taste.
You could, however, use the lighter miso. You might want to add a touch more. If you only have darker miso, try a smaller amount, and work your way up. Add/taste/repeat.
Salt
I'm putting this here because you must pay attention to salt. Salt in the broth, the saltiness of the miso, and any extra salt you might feel compelled to add. I've found, when I make this with my homemade broth, even with the miso, I add a pinch of salt or soy sauce. This adding of extra salt is primarily because I make a low-sodium vegetable broth. The flavors are lovely as is but sing when you balance the salt levels of everything.
My recommendation, start without adding any salt, and once you add the miso and lime, taste. If you feel compelled, add more miso paste. If you're looking for a balance, add a pinch of salt. Taste again; repeat as needed adding only small amounts. The goal is that when you take a bite of the noodles and broth, you can taste everything.
Dried Mushrooms
Finally, I'm getting more into using dried mushrooms for flavor. It's not something I've done a ton because, to be honest, I've written mushrooms off for a long time (it's a texture thing which I realize means I can still use them for flavor). If you fee so inclined, add a small amount of dried mushrooms to the broth while it cooks.
Print
Tofu Bok Choy Soup with Noodles
A brothy bowl of noodles flavored with plenty of ginger, garlic, spices, and brown rice miso.
Author:
Prep Time:

15 minutes

Cook Time:

30 minutes

Total Time:

45 minutes

Yield:

2

large servings, 4 smaller servings

1

x
Category:

dinner

Method:

stovetop
Bok Choy Soup
2 star anise 
1 cinnamon stick
1 tablespoon neutral oil (like sunflower)
1 cup sliced scallions (roughly ¾ of a bunch)
2 tablespoons grated ginger
2 garlic cloves, finely minced
4 cups vegetable broth
2 cups water
¾ pound bok choy, stems cut into small pieces and the leaves shredded and kept separate 
4 ounces noodles (ramen, udon, soba)
2 tablespoons brown rice miso
Juice from one lime 
4 ounces firm tofu, cut into ¼" cubes
Salt, more miso, or soy sauce, to taste
Scallion Oil
2 tablespoons neutral oil
¼ cup sliced scallions
1 teaspoon crushed red pepper
1 teaspoon sesame seeds
Instructions
Heat a pot over medium heat. Add the star anise and cinnamon. Toast for about a minute, until the spices are fragrant. Remove and set aside. 

In the same pan, add the oil followed by the sliced scallions. Cook until the scallions are tender and stir in the ginger and garlic. Reduce the heat to medium-low and slow cook everything together until the onions are soft. 

Add back in the spices along with the broth and water. Bring to a simmer and let cook away for 15 to 20 minutes or so. Add in the bok choy stems and the noodles. Cook until the noodles are just about tender (this will depend on the noodles you use- be tasting every couple of minutes and check the package for general cook time).

Stir in the tofu followed by the shredded greens and cook until the tofu is hot. Turn off the heat, remove the cinnamon stick/star anise, and add in the miso and lime juice. Taste and adjust the salt/miso/lime juice as desired.

Finally, make the topping. Heat the oil in a small skillet over medium-high heat. Add in the sliced scallions and cook until they are starting to brown and turn crisp. Remember the scallions will continue to cook even off the heat. Remove from the heat and stir in the crushed red peppers and sesame seeds.

Divide the soup into two bowls and top with the scallion oil.
Notes
Notes
As I mentioned in the post for this recipe, salt levels are critical. Pay attention to the salt level in the vegetable broth. Pay attention to the salt taste you add with the miso. And finally, taste a lot at the end and boost salt levels if needed. The salt from the miso and broth brings the flavors together.

If you don't have fresh limes, I'd recommend a splash of rice vinegar at the end. The soup needs a hint of acid.

The brown rice miso brings a nice roundness to the recipe. Darker misos might overpower while the lighter miso gets lost with the ginger, garlic, and spices. If you use lighter miso, you might need to add a touch more. If you use darker miso, start small and add more as desired.

I forgot to add it this time around but when my mint is plentiful and I top the soup with a bit of mint. It brings a nice fresh aspect to the soup. You could probably use cilantro as well but I've not tried that.