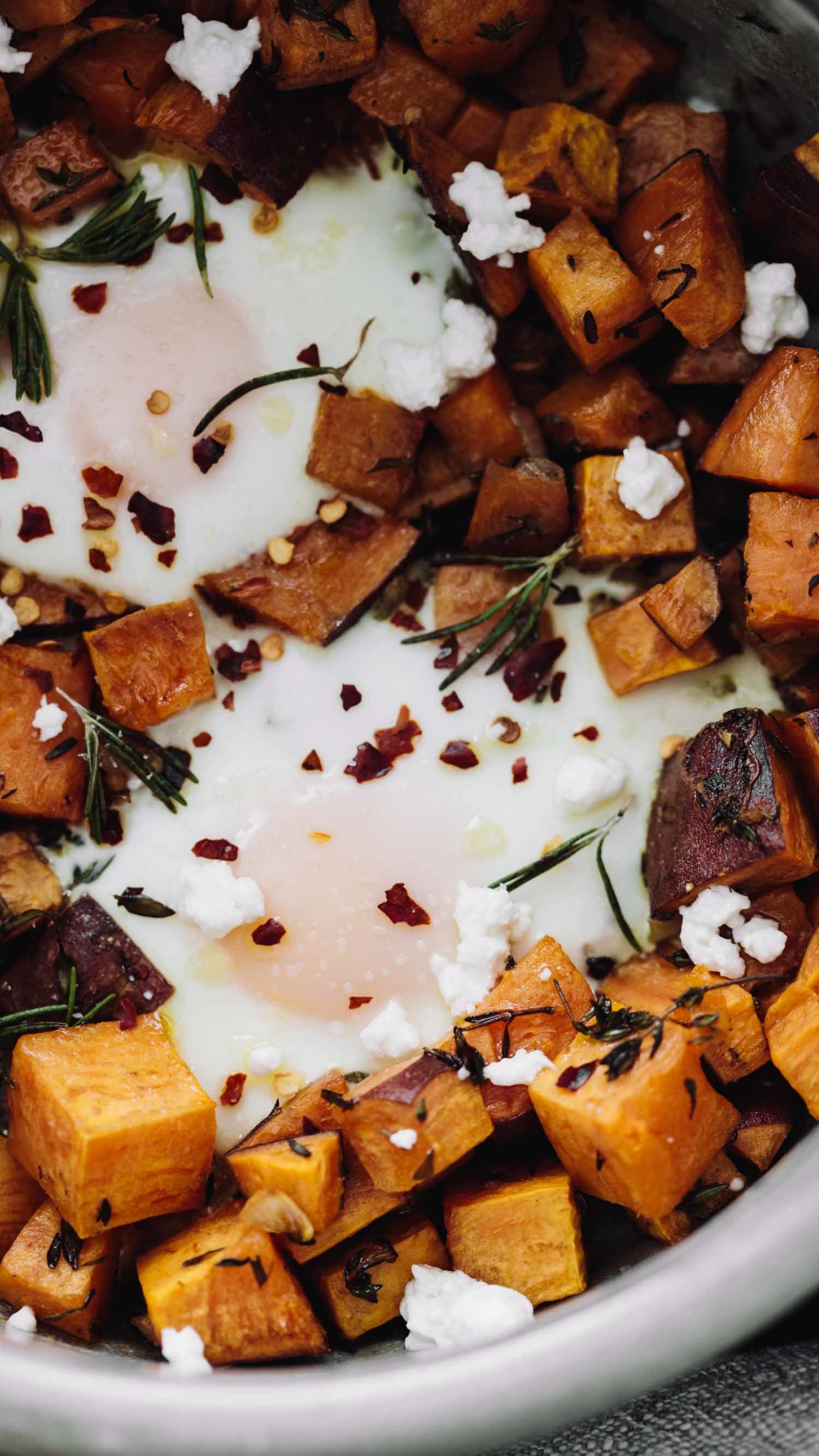 Some recipes are born from a love of making some of my recipes easier. I love to whip up a good quiche or frittata but sometimes I like to keep things simple (really simple). This baked egg dish is about as easy as it gets, once you get quick at dicing.
The Sweet Potatoes
Don't throw this recipe out if you don't like sweet potatoes. It's really the concept of baked eggs that I would recommend. Any vegetable that goes well with baked eggs, and can be roasted, is a possibility here.
During the winter months, try different varieties of squash. During the spring, roasted asparagus is a nice touch (but I'd skip the first roasting step- no one likes mushy asparagus). And finally, in summer, roasted sweet corn and peppers rounds out the year. You could also mix two recipes and use something along the lines of this sunchoke hash.
Alliums
There are a few items that you can tell I love, just by the amount I use them in recipes. Shallots are at the top of the list. Sure, they are can be more of a pain to prep but the flavor gets me every time. It's the perfect mix of sweet and savory, all with a small hint of garlic.
Of course, you can go with something a bit more forward. Try a bit of minced garlic added in with the sweet potatoes. During the spring months, green garlic can also add a nice flavor (and a bit of color contrast!) Or, go with the solid stand-by of minced yellow onion.
Vegan (a complete overhaul)
For almost every recipe I give, I can almost always turn it vegan. That is, however, a bit harder when baked eggs are the star of the show. I'd say if you're bent on doing something similar, roast the sweet potatoes and turn it into a tofu scramble. Not the same but still delicious.
Spicy Baked Eggs
Finally, switch up the herbs. I've made this with a bit more savory elements and it's delicious. Coat the sweet potatoes in a bit of curry powder, berbere spice, or a simple mix of cumin/coriander. It takes a bit of reworking the herbs but the end egg bake is delicious.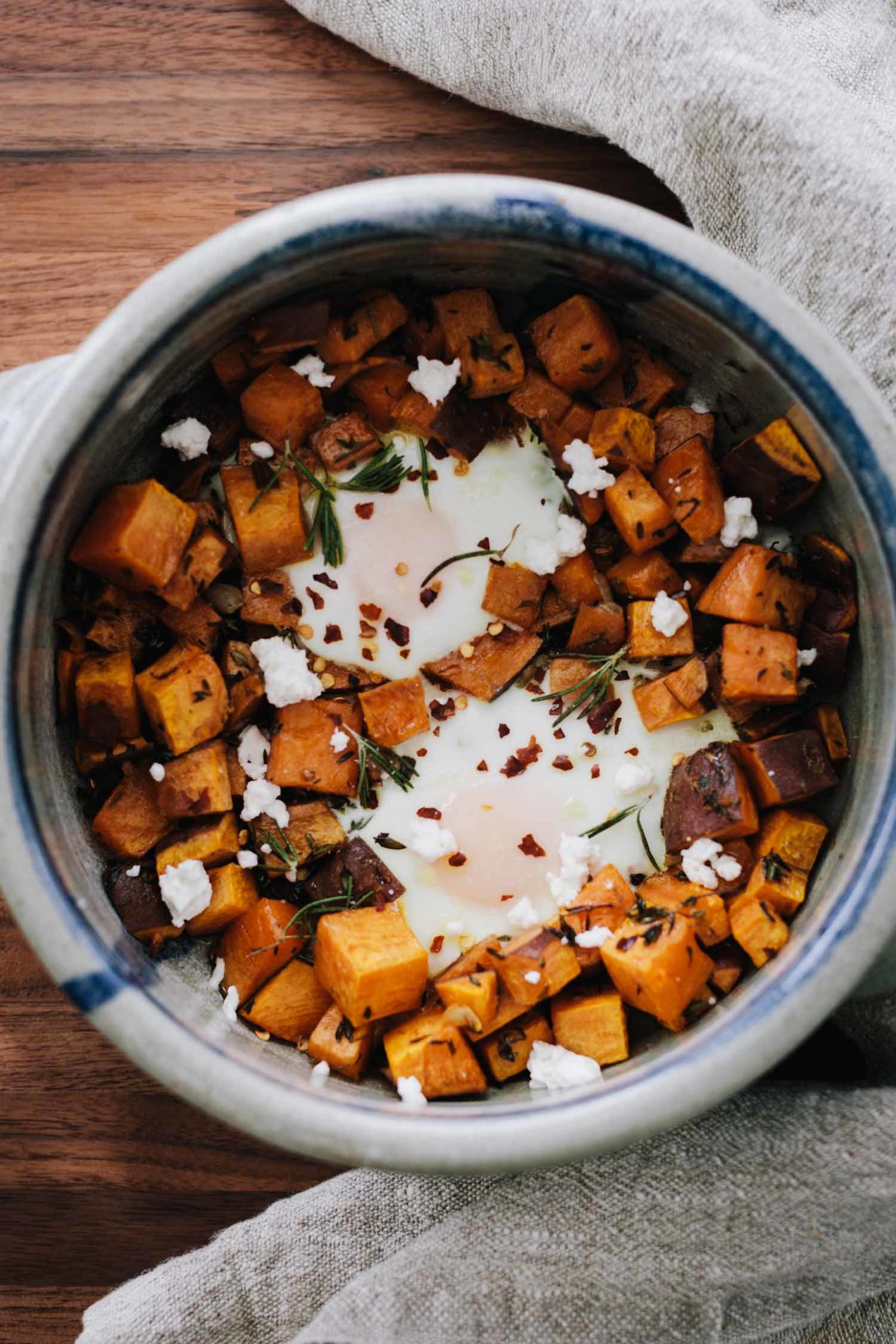 Print
Roasted Sweet Potatoes, Gorgonzola and Baked Eggs
Author:
Prep Time:

15

Cook Time:

40 mins

Total Time:

50 mins

Yield:

1

to

2

servings

1

x
Category:

breakfast

Method:

roasting

Cuisine:

international
1 medium sweet potato (about 1 pound)
¼ minced shallot
2 heaping teaspoons minced fresh thyme
2 heaping teaspoons fresh minced rosemary
1 tablespoon olive oil
¼ teaspoon sea salt
2 large eggs
Goat cheese or feta, for topping (optional)
Crushed red pepper, for topping (optional)
Instructions
Heat your oven to 425˚F and have a 8x8 (or similar-sized) baking dish ready. Give the sweet potato a good scrub and cut it into ½" cubes. Place in the pan along with the shallot, olive oil, herbs, and salt. Toss until well combined. Place in the oven and roast for 25 to 30 minutes.

Once the sweet potatoes are mostly tender, create two wells and crack in the eggs. Return the pan to the oven and bake for another 8 to 10 minutes, until the whites are set and the yolks are to your desired doneness. 

Top with cheese and crushed red pepper if desired.
Keywords: egg bake, baked eggs