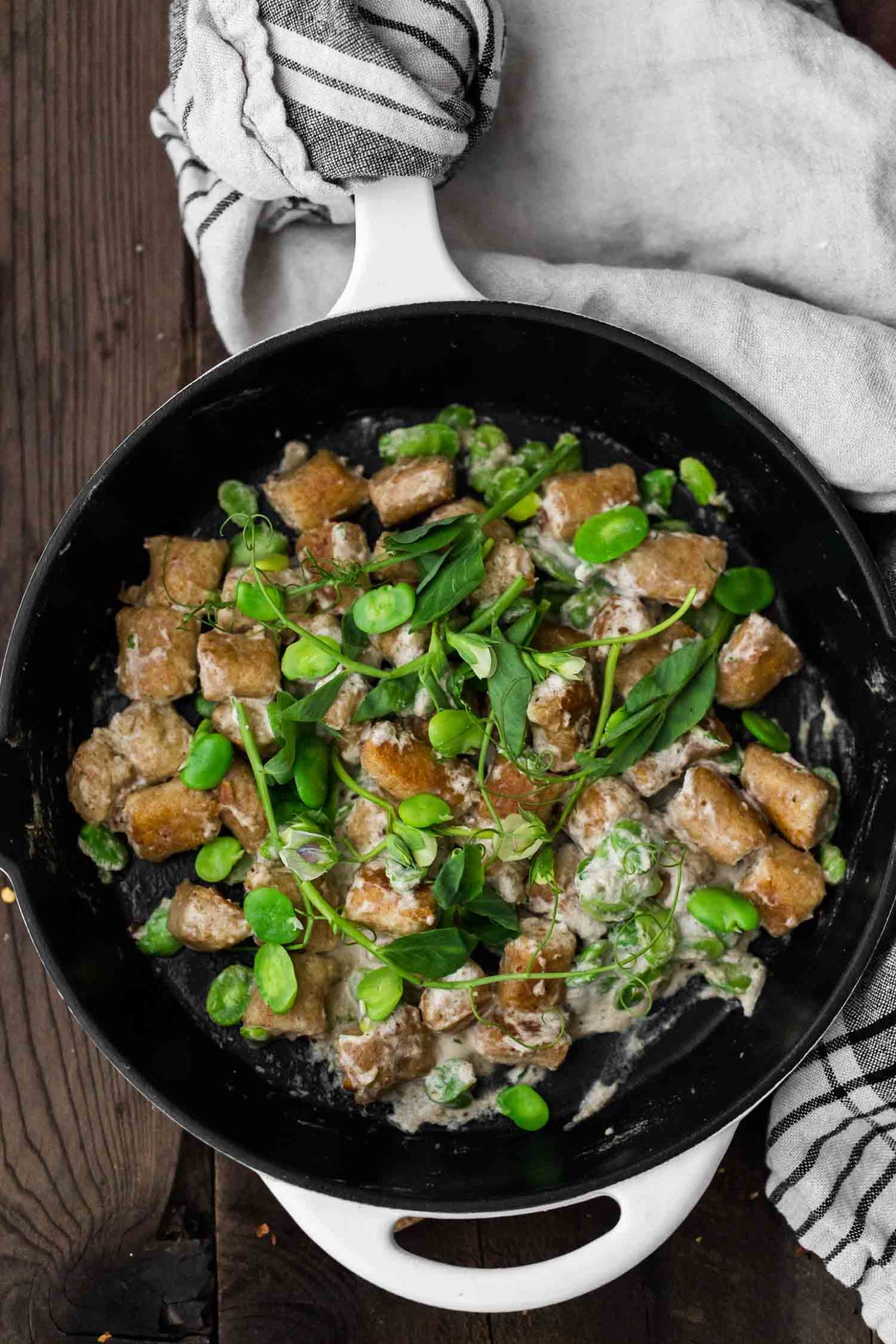 One of the things I love about this site is that it has served as documentation of my life through food. Sometimes, it's directly in the writing about the recipe. Other times, it's less noticeable through an overall trend. For example, I can't remember the last time I posted a recipe that takes longer than an hour. I love sharing quick and easy but sometimes a meal is well worth the time. Yet, after having a child, time has become a precious commodity in rare supply.
However, as Mack turns two, I'm starting to find my rhythm. I'm finding ways to be more mindful of my time. Making gnocchi has always been a therapeutic process. This spelt gnocchi requires time but the end result is worth it. There are shortcuts to this meal (like using regular pasta) but if you have the time, make this recipe in it's entirety. Also, if you can grind your own spelt flour, you should. The flavor from freshly ground spelt in these gnocchi push it over the top.
Print
Spelt Gnocchi with Fava Beans and Walnut Cream Sauce
Author:
Prep Time:

1 hrs

Cook Time:

30 mins

Total Time:

46 minute

Yield:

4

people

1

x
Ingredients
Gnocchi:
1

, 16 oz container of ricotta

1

large egg (

50 g

)

½ cup

vegetarian-friendly parmesan (

¼ oz

grated)

¼ teaspoon

salt

¾ cup

(

108 g

) spelt flour, plus extra for rolling
Walnut Sauce:
½ cup

raw walnuts

⅓ cup

water , plus extra for thinning

1 tablespoon

lemon juice

1 tablespoon

chives

2 teaspoons

dill

¼ teaspoon

salt
Pasta:
1 tablespoon

butter

1 tablespoon

olive oil

1

lb fava beans (roughly

1 cup

peeled and shelled)
Pea shoots or fava greens , for garnish
Instructions
Place the ricotta in a strainer lined with cheesecloth. Allow the ricotta to drain for an hour. Place the ricotta in a bowl and add the egg, parmesan, salt, and flour. Stir until well combined and a ball of dough has formed. Place in the refrigerator for 15 minutes. The dough should feel tacky but not stick to your hands covered with a little flour. Add a tablespoon more flour as needed to reach this consistency, refrigerating dough after each flour addition.
While the ricotta is draining, cover the walnuts with filtered water and let soak for an hour (or longer, if desired). Drain, rinse, and place in a blender along with the remaining ingredients for the walnut sauce. Puree until smooth, adding more water as needed to thin the sauce. Taste and adjust herbs/lemon flavor as desired. Set aside.
On a floured surface, divide the dough into 8 balls. Roll each ball into a rope that is about ½" thick and using a bench scraper, cut the dough into ¾" long pieces. Transfer to a lightly floured baking sheet and repeat with remaining dough. Transfer half the gnocchi to the freezer to save for a later meal.
Bring a pot of water to a boil with a hefty pinch of salt. Add the gnocchi. Let cook until the gnocchi come to the surface and continue to cook for one minute after that, roughly 3 minutes. Using a slotted spoon, transfer the gnocchi to a clean sheet tray and set aside.
If using favas still in the pods- remove the fava beans from the pods. Use the boiling gnocchi water and blanch the fava beans for 60 seconds. Transfer to a boil with ice water to stop the cooking process. Using a paring knife, shell the favas and set aside.
Heat a large skillet over medium heat. Add the olive oil and butter followed by the gnocchi. Cook, tossing occasionally, until the gnocchi is golden and crisp. Turn off heat. Add the shelled fava beans and walnut sauce to the pan, using the gnocchi water to thin more if desired. Serve with a sprinkle of fresh pea or fava greens.
Notes
Recipe Notes
Tips & Tricks: To freeze the gnocchi, place the gnocchi on a sheet tray covered with parchment paper, making sure the gnocchi are not touching. Freeze until solid then transfer to a freezer-safe container. Store for up to three months.
Stock up: get the pantry ingredients you will need: spelt, walnuts, herbs
Link: This ricotta gnocchi technique comes from the kitchen.
Spelt Gnocchi
variations
While the recipe wouldn't be the same, you could make something similar in much quicker time. Use regular pasta and spring peas in place of the gnocchi and fava. Some stores also carry pre-made gnocchi, leaving you to only have to shell the favas and make the sauce.
Pasta/Vegan: This recipe is labor intensive but for good reason. Of course, there are ways you can cut corners. You could buy store-made gnocchi or just use regular pasta in place of the gnocchi. I like to make spelt spaghetti which works well in this dish. Using pasta in place of the gnocchi is also a great way to make this vegan!
Vegetables: This spelt gnocchi is a solid base for almost any type of vegetable. During the summer it's lovely with fresh tomatoes, during the fall- roasted squash, and in spring you could use fresh peas or shaved asparagus.
Sauce: I really love the walnut flavor with the fava beans but an almond, cashew, or sunflower cream sauce would work as well. Or go my favorite route with a solid traditional cream sauce.