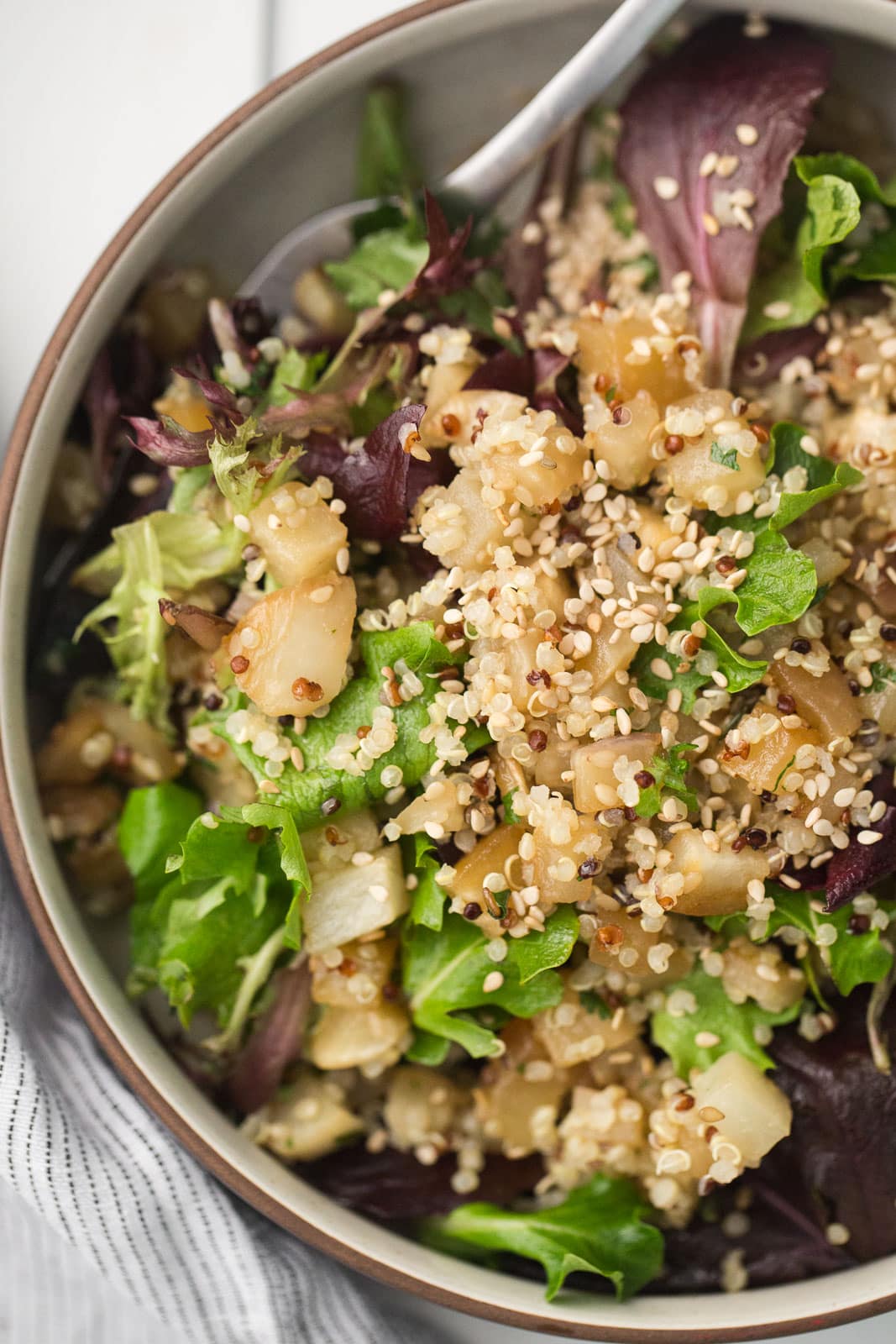 Continuing on with the theme of making dinner and having lunch ready for the next day, this turnip salad uses one of my favorite ways to eat this root vegetable: roasted. This particular salad is using the same turnips from this barley bowl. The turnips are roasted with sesame seeds, soy sauce, and honey which makes them just a little sweet which is great when paired with the earthiness of the quinoa/turnips. If you can find them, Hakurei turnips are perfect for this turnip salad.
Print
Sesame Roasted Turnip Salad with Quinoa
Author:
Prep Time:

15 mins

Cook Time:

30 mins

Total Time:

45 mins

Yield:

2

servings

1

x
1

large turnip

1

clove garlic, minced

1 tablespoon

olive oil

2 teaspoons

sesame seeds

2 teaspoons

honey

¼ teaspoon

sea salt

1 tablespoon

soy sauce

2 tablespoons

minced cilantro

4

to

5

handfuls lettuce

1 cup

cooked quinoa

¼ cup

scallions, diced

2 teaspoons

sesame seeds

2 tablespoons

rice vinegar

1 teaspoon

toasted sesame oil
Instructions
Preheat oven to 375˚ F. Cut turnips into ¼" cubes and place in a bowl. Add minced garlic, olive oil, sesame seeds, honey, and sea salt: toss until well combined. Spread turnips out into a single layer in a roasting pan and bake for 25-30 minutes until caramelizing and turnips are tender.
Remove turnips from oven and add the soy sauce and cilantro to the roasting pan. Let cool.
To assemble salad, toss the cooled turnips with the lettuce, cooked quinoa, scallions and sesame seeds. Whisk together the vinegar and sesame oil then pour over the salad. Toss until everything is well combined.
Turnip Salad
variations
If you can't tell yet, these turnips are a favorite of mine and I've found numerous uses for them. The barley bowl is a great dinner while this salad makes for a great side or lunch. However, a few ways to change it up:
Noodle Bowl: Top cooked soba or udon noodles with these turnips and an easy teriyaki sauce.
Vegan: Swap out the honey for a bit of maple syrup or leave it out completely.
Root Vegetables: If you have an assortment of root vegetables hanging around the refrigerator, toss them in with the turnips. Carrots, beets, parsnips, and rutabagas all great when roasted with a bit of soy sauce/honey.
Explore Turnips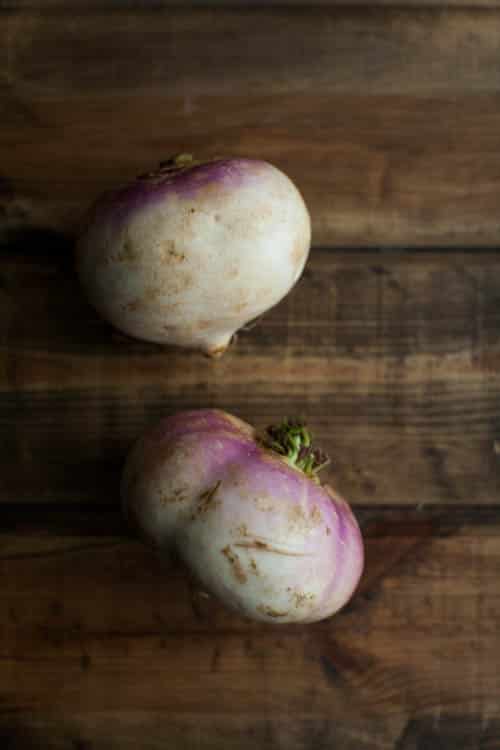 Turnips are one of the vegetables that is easy to ignore but shouldn't. They have what I find to be the perfect balance of butteriness and earthiness (compared to other roots that are all earthy flavor). They are great roasted, grilled, and can be thrown into stir fries.
Fennel and Turnips with Greens