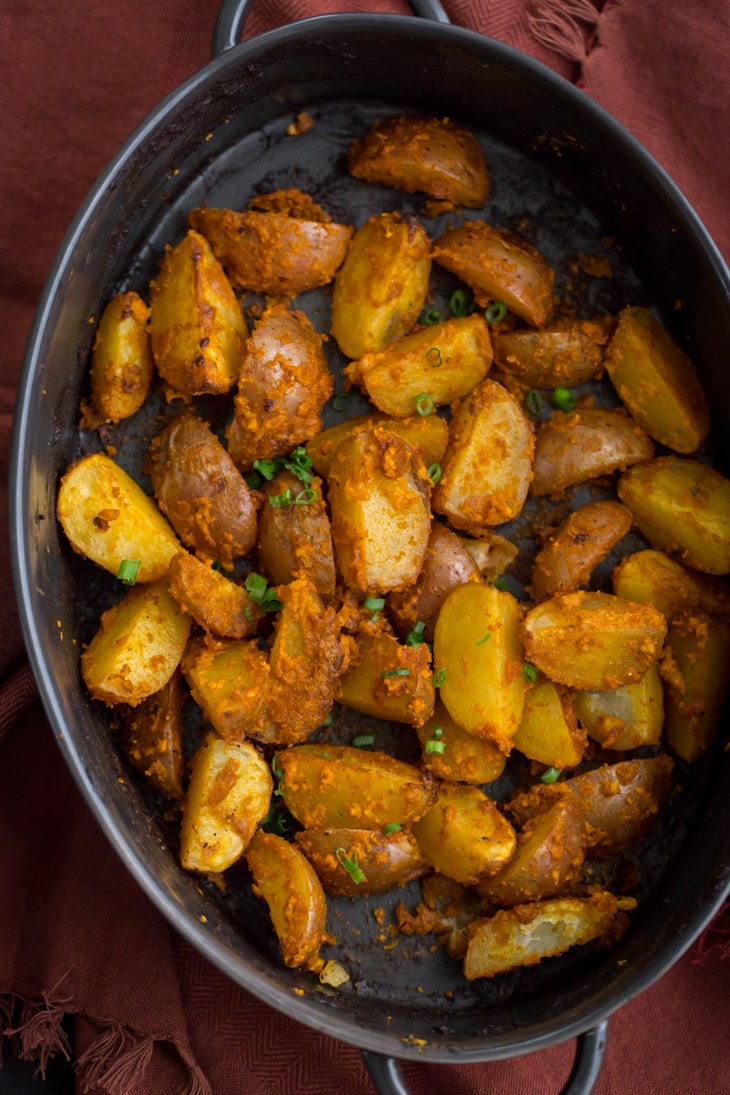 When M and I decided to pick up and move to Sacramento a little over two years ago, we did it on a complete whim. I'd only been to California once in my entire life span while Mike had never been further west than Colorado. We knew nothing about Sacramento other than it's the state capital and it's kind of near fun cities like San Francisco and Los Angeles. Plus google maps told me I could make it to either the beach or the mountains in around 2 hours which when moving from cornfields felt like the coolest perk ever. And so we packed up and headed west.
Fast forward to today and I can't believe how fortunate we are. I've fallen head over heals in love with Sacramento and the surrounding area. Of course it has it's perks as noted above but there's one thing I never anticipated: these people know food. I've had some of the best food I've every eaten at restaurants around Sacramento. There is also a non-competitive feel to the restaurants because each chef does what they do and then supports everyone else. It's an exciting time to be here.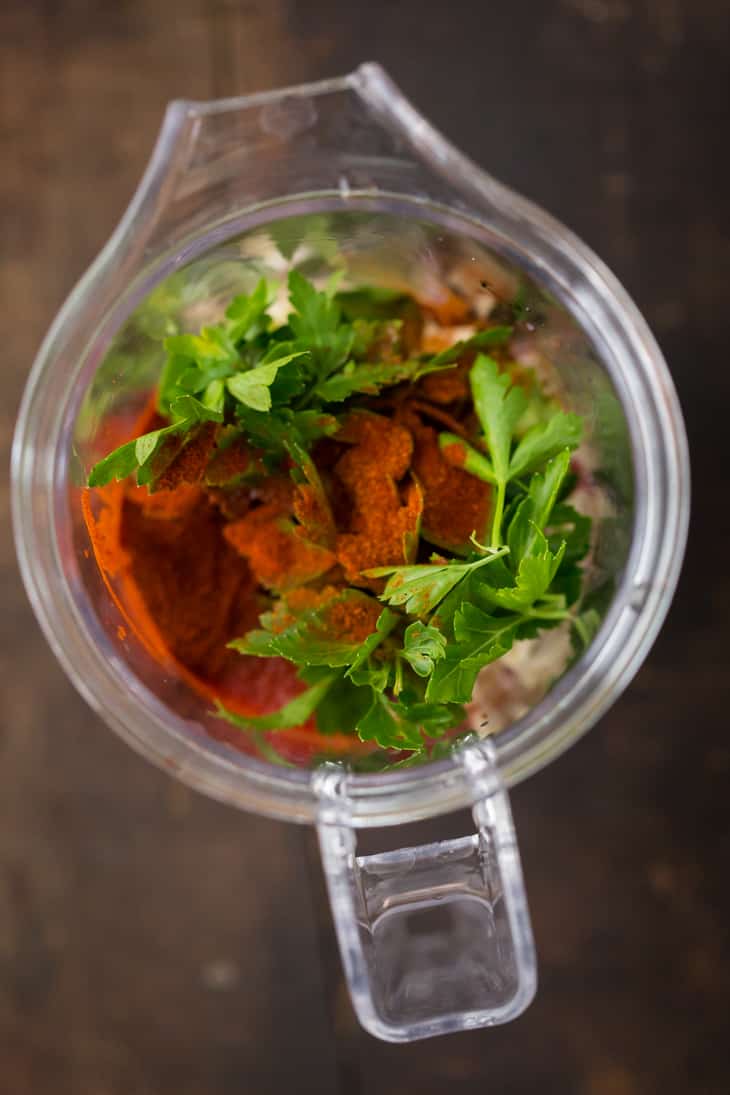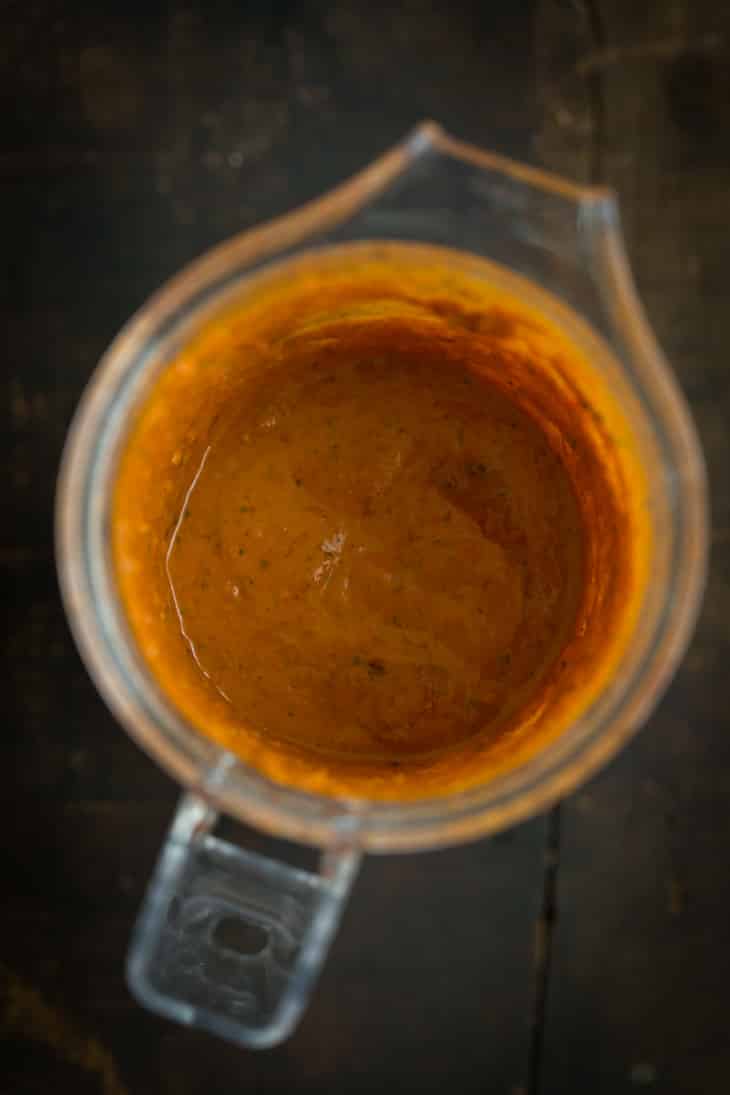 These potatoes are a knock off of a simple side dish I've eaten every time I've gone to Ella's in the past few months (a favorite restaurant of mine and not just because of the name). M's new work was kind enough to invite us to a holiday dinner (and let us order whatever we wanted, which I don't think should ever be said to a pregnant lady.) I think the first item out of my mouth was to order these potatoes. I've been craving these potatoes and these potatoes alone.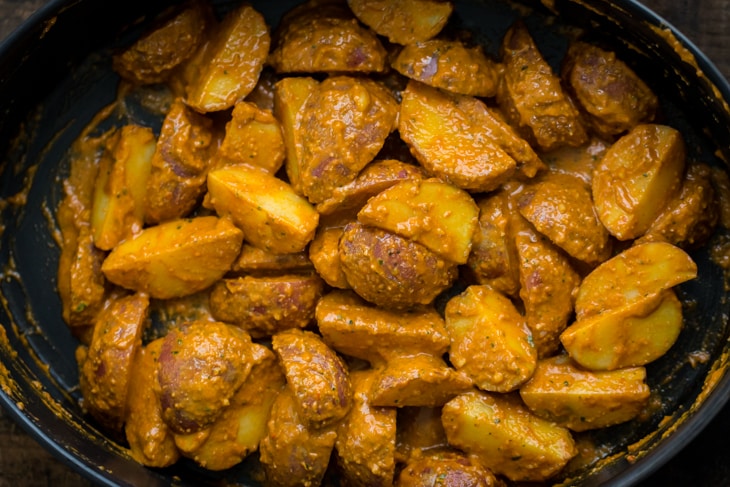 However, I thought things might get awkward if I just showed up every day and ordered three side orders of potatoes, so it was time to make them at home. The romesco sauce is easy to throw together, especially if you're using jarred roasted red peppers (which I pick up when peppers aren't in season.) Ella's uses fingerling potatoes which I can't always find. I'll often use whatever I have in the kitchen (which tends to be red potatoes). And, so I don't feel so guilty about eating a plate full of potatoes, I'll often fry an egg or two to serve with the potatoes (or something akin to this barley bowl)- a perfect breakfast or lunch!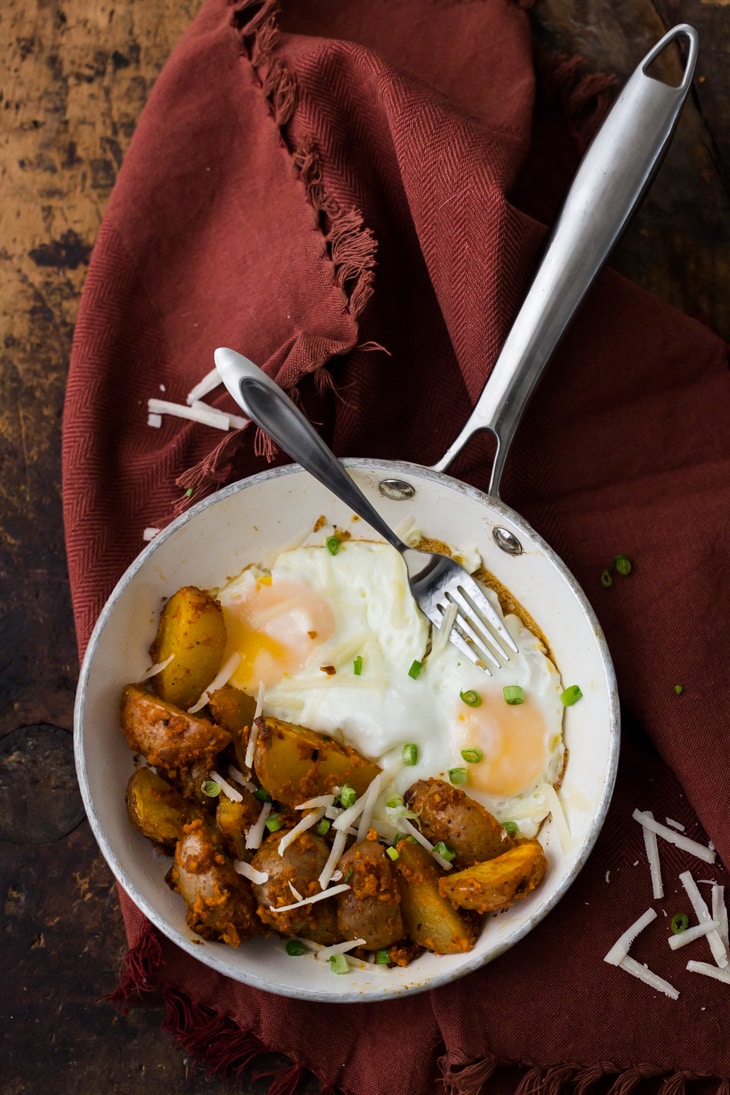 Print
Roasted Romesco Potatoes
Author:
Prep Time:

15 mins

Cook Time:

30 mins

Total Time:

45 mins

Yield:

4

to 6

1

x
Romesco Sauce

¼ cup

slivered almonds

¼ cup

hazelnut pieces

1

large roasted red pepper

1

garlic clove

¼ cup

tomato puree

2 tablespoons

flat-leaf parsley

2 tablespoons

apple cider vinegar

1 teaspoon

smoked paprika

½ teaspoon

cayenne pepper

¼ cup

olive oil
Salt and Pepper

1

pound red or fingerling potatoes
Chives, optional
Instructions
Preheat oven to 400˚.
In a small, dry skillet, add the almonds and hazelnut pieces over medium heat. Shaking the skillet often, lightly toast the nuts until fragrant, 4 to 5 minutes.
In a food processor or small blender, combine the ingredients for the romesco sauce, including the toasted nuts. Puree until the sauce is fairly well smooth. Taste and add salt and pepper as desired. Measure out ½ cup and save the remaining sauce for another use.
Bring a pot of water to a boil. Quarter (or halve, depending on the size) the potatoes and add to the water, cooking for 3-4 minutes. The potatoes should just be tender and have a good firmness to them. Drain and place in a roasting pan along with the ½ cup romesco sauce.
Stir until the potatoes are well coated. Bake for 25 to 30 minutes. Potatoes should be starting to brown and be tender. Remove and sprinkle with chives if using.