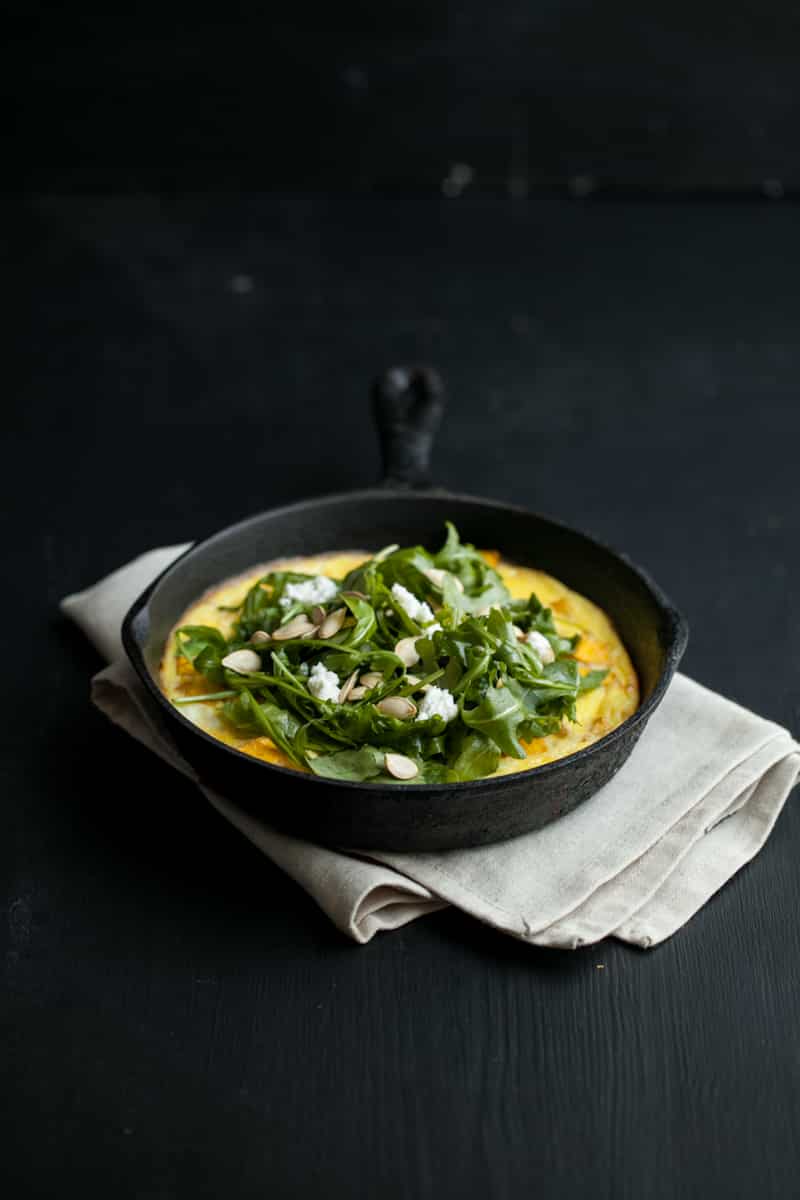 The beginning of the year is a great time to start fresh, especially with eating (even though I'd much prefer to start fresh with summer produce, winter produce will do).
I always feel sluggish after the holidays. The heavy meals coupled with going out to eat with friends and family that are home always leave me less than happy. I tend to sleep longer, get more acne, and feel (overall) lazy. And so, I use the beginning of January to assess my eating habits. I clean out the refrigerator, jot down ideas for new recipes, and head to the store to start anew.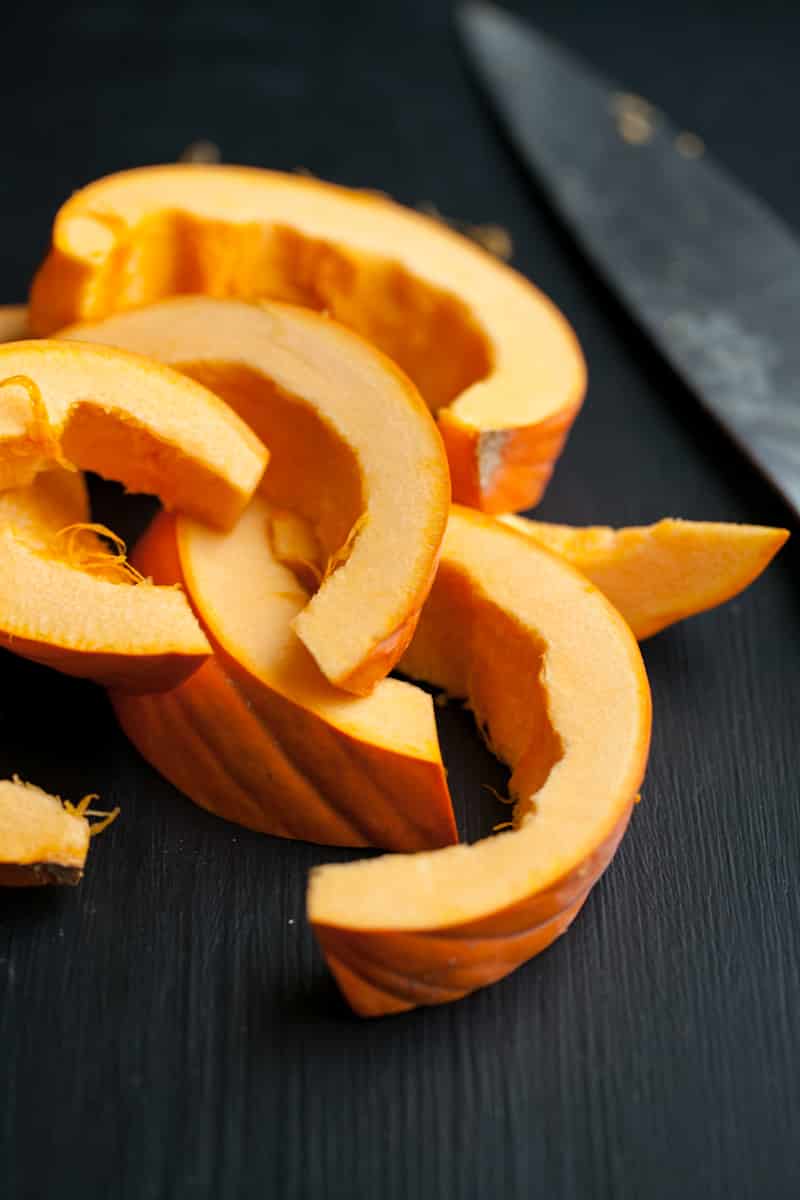 I don't abide by the idea of cleanses or anything of that nature, I simply get back into my rhythm of a whole-foods diet. More plants, beans, and grains. Also with being sick, I've stopped my coffee intake and made the switch to tea. I'm always amazed at how much better I feel.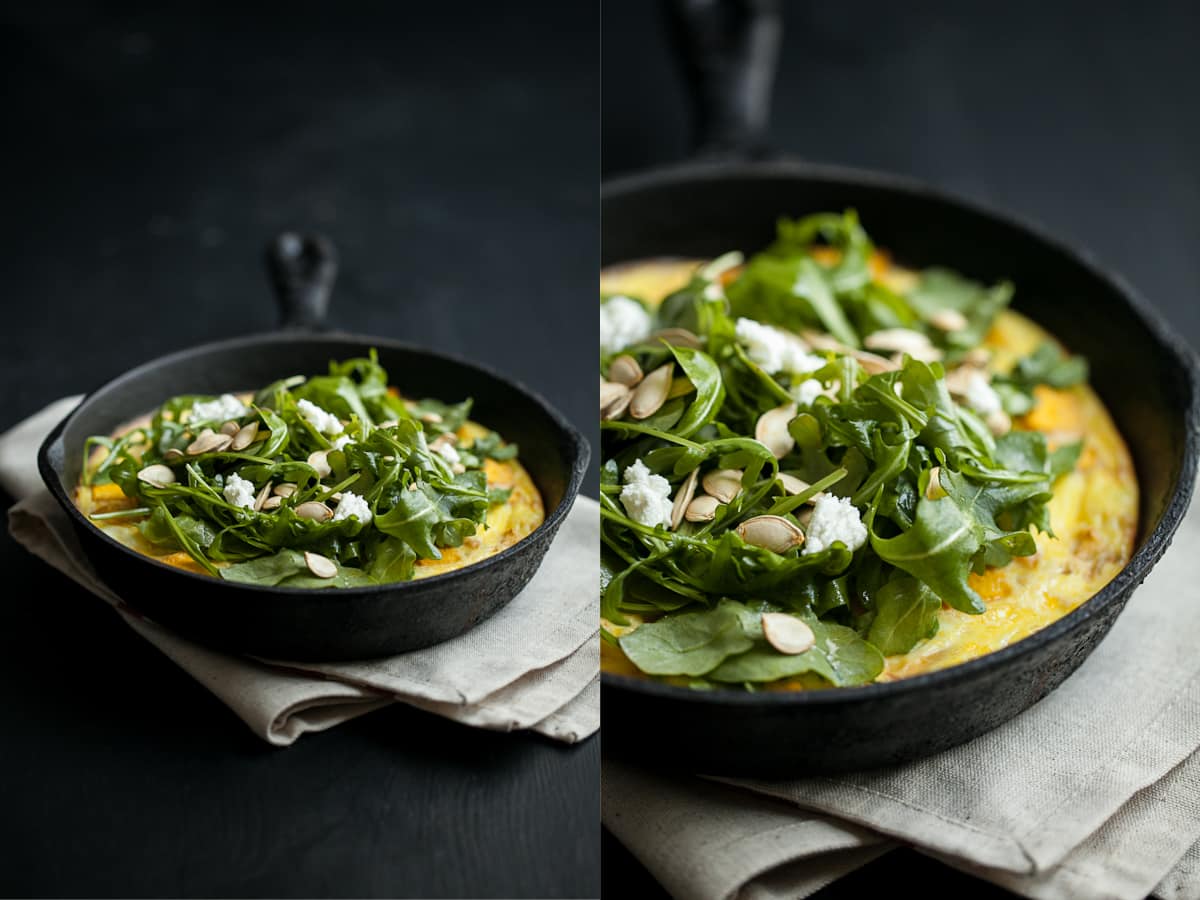 Small changes make such a big impact!
Print
Roasted Pumpkin Frittata with Goat Cheese and Arugula Salad
Cutting a pumpkin can sometimes be a pain- butternut squash or sweet potatoes make a nice (and easy) substitute.
Author:
Prep Time:

10 mins

Cook Time:

40 mins

Total Time:

50 mins
For the pumpkin

1

small pumpkin

1 teaspoon

olive oil
Seeds from pumpkin
sprinkle of salt
For the Frittata

2 teaspoons

olive oil

2

cloves garlic, minced

2 ounces

goat cheese

4

eggs

½ cup

milk
For the salad

⅛ teaspoon

salt

2

handfuls of arugula

1 tablespoon

olive oil

1 tablespoon

balsamic vinegar
(pumpkin seeds/goat cheese)
Instructions
Preheat oven to 375˚.
Take pumpkin and cut off top. Slice in half and scoop out the insides, reserving seeds for roasting. Cut each side in half and from there, cut each quarter of pumpkin into 1″ strips. Continue to cut pumpkin in to 1″ cubes and slice off shell on each piece. Cut pumpkin pieces in to ½" pieces. Toss with 1 teaspoon olive oil and roast until tender, 25 minutes.
Rinse seeds, removing any pumpkin left on them and pat dry on a towel. Spread out on a baking tray, sprinkle a pinch of salt, and roast until crispy, 18-20 minutes.
In an 8" cast iron skillet, heat 2 teaspoon olive oil over medium-low. Add minced garlic and cook until fragrant, 1-2 minutes. Whisk together eggs, milk, and ⅛ teaspoon salt. Add roasted pumpkin and egg mixture to pan. Increase heat to medium and let cook until bottom begins to set, 5-6 minutes.
Transfer skillet to oven and continue to cook until top is set, another 8-10 minutes.
While frittata is baking, whisk together olive oil and balsamic vinegar. Toss with arugula, pumpkin seeds, and goat cheese.
When frittata is done, serve warm with salad on top.