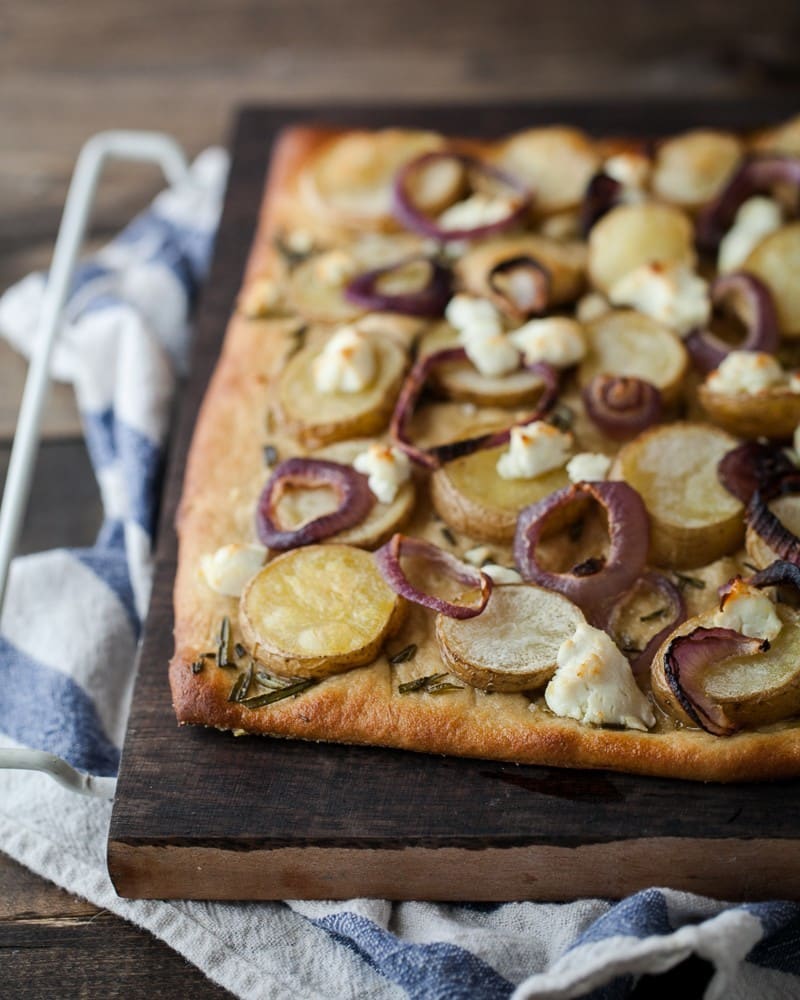 Recipe originally posted on August 20th, 2012. Last updated on September 13th, 2015.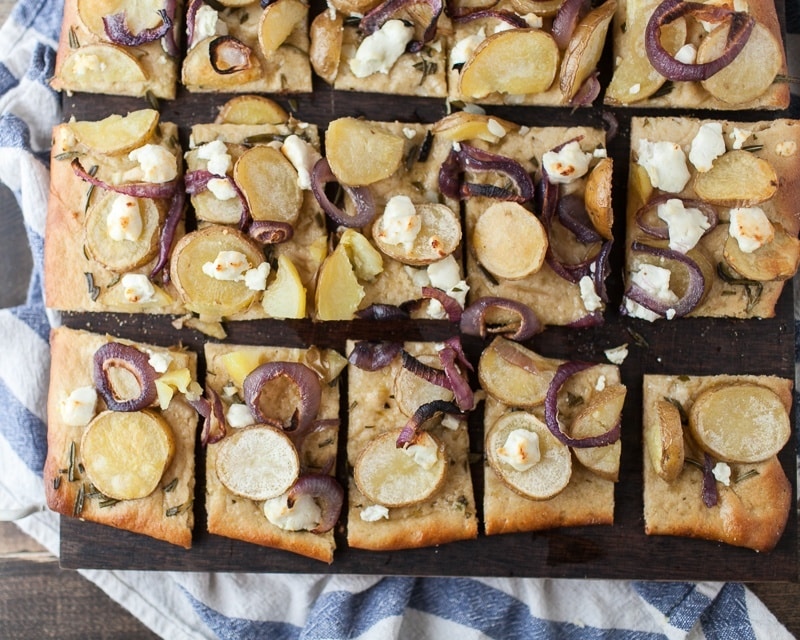 Sometimes I have huge failures in the kitchen.
There are times when flavorings are off, things don't cook right, or the whole thing just seems kind of blah.  These are the many (and I do mean many) meals that don't make it up here.  They stay in draft land, usually scratched out on a piece of paper.  Sometimes I try and fix it, but there are also times when it just doesn't seem right.
However, these bad meals make the good meals stand out even more.  Every once in awhile I make something that I can't believe came out of my kitchen.  I hit the flavors perfectly, the meal cooks up just right, and when I take the first bite I have that moment of this is amazing.  I usually do a little dance around my kitchen as I stuff my face full of whatever I made.
This pizza was one of those moments.
I remembered Alison's potato pizza and I wanted to add a few extra flavors (like the depth that comes from roasting and goat cheese.)  Each component comes together to make one killer pizza. You could even leave the goat cheese off and still have a fine flatbread (but I can't technically call it pizza without the cheese!)
What makes this pizza so special?  Roasted onions and potatoes, garlic-rosemary infused olive oil, and a perfect whole wheat crust. I devoured half of this pizza straight out of the oven (and then ate the other half for breakfast the next morning.) I highly suggest you to step out of your cheese/sauce pizza and try this one- I don't think you will be disappointed!

Pairings for Potato Pizza
With the weather starting to cool off, I'm more apt to crank up my oven and make pizza. This is definitely a paired down version of a pizza I would normally make, but the flavors really make this awesome. If you're not a fan of goat cheese, try fresh mozzarella. For a quick version, make the dough ahead of time or I've also been known to pick-up some pre-made dough from the refrigerated section of Trader Joe's or Whole Foods.
Salad: Beet, Avocado, and Arugula Salad. With this potato pizza being a bit heavier on the carbs, I like to pair it with a lighter, more vegetable-centric salad. Beets + Avocados are one of my favorite combination during the cooler months.
Drink: While I'm typically a white wine drinker, pizza is one of those recipes I nearly always have a glass of red. I love Pinot Noir but make sure you do a bit of research as I've never had a middle of the road pinot- it's either really good or really bad.
Dessert: Tiramisu (Our anniversary is coming up, so I've had tiramisu on the brain. )
Print
Roasted Potato, Rosemary, and Goat Cheese Pizza
Author:
Prep Time:

1 hour 45 mins

Cook Time:

10 mins

Total Time:

1 hour 55 mins

Yield:

2

-4

1

x
Pizza Dough:

¾ cup

warm water

2 ½ teaspoon

yeast

¼ cup

honey

2 tablespoons

olive oil

½ teaspoons

alt

1 cup

unbleached all-purpose flour

½

-

1

cup whole wheat flour (see note)
Topping:

½

pound fingerling potatoes

1

small red onion

¼ teaspoon

salt

3 tablespoons

olive oil

2

sprigs rosemary

1

clove garlic

½

to

1

cup crumbled goat cheese
Instructions
In a bowl of a stand mixer, combine the water, yeast, and honey- stir with a wooden spoon until yeast is dissolved. Let sit until yeast begins to activate, 5-10 minutes. Once yeast is ready, add in oil, salt, and 1 cup of the all purpose flour. Turn your mixer on low with the dough hook on and let mix, scrapping down the sides as needed. From here on out, add 2-4 tablespoons of wheat flour at a time, letting the dough mix for a bit until adding more flour. When the dough starts to come together, continue to let the mixer run for 1-2 minutes and adding more flour until your dough has pulled away from the sides of the mixer. Remove from the mixer and place in a warm spot. Brush with oil and let rise for 1 hour.
Preheat oven to 375˚ and with a pizza stone placed in the lower third of your oven (you won't use it now but you want it to heat up with your oven.)
Slice potatoes and onion into ¼ " slices. Toss with 1 tablespoons olive oil and ¼ teaspoon salt. Roast until potatoes are tender and brown. Remove and set aside.
In a small skillet, heat 2 tablespoons olive oil over low heat. Remove rosemary from sprig and mince together with garlic. Add to skillet and let cook until oil is warm. Turn off and let sit until ready to use.
Once your dough has double in size and potatoes are done, turn up your oven to 500˚. Return to your dough and punch it down. Let rise for 20 more minutes.
Roll the dough out onto a surface covered in cornmeal (I used a large wood cutting board put some of you may have a pizza peel.) Roll it out to the size of your pizza stone (not any bigger- you will have problems).
Brush olive oil over dough, layer potatoes and onions, and sprinkle with goat cheese. Slide onto preheated pizza stone and let bake for 10-12 minutes until golden brown.
Notes
+ You can make your pizza dough with 100% wheat flour. I've found that I (and my husband) like the consistency more with the all purpose flour.
Featured Ingredient