We've hit that point in the year when corn is a topic of family conversation.  While we happily graze on corn, we figure out whether the guy in the old wal-mart parking lot has better corn than the guy in the church parking lot (church parking lot for the win).  We talk about the flavor,size, and color (Peaches and Cream all the way).  We talk about the best way to eat it (just a little butter, salt, and pepper).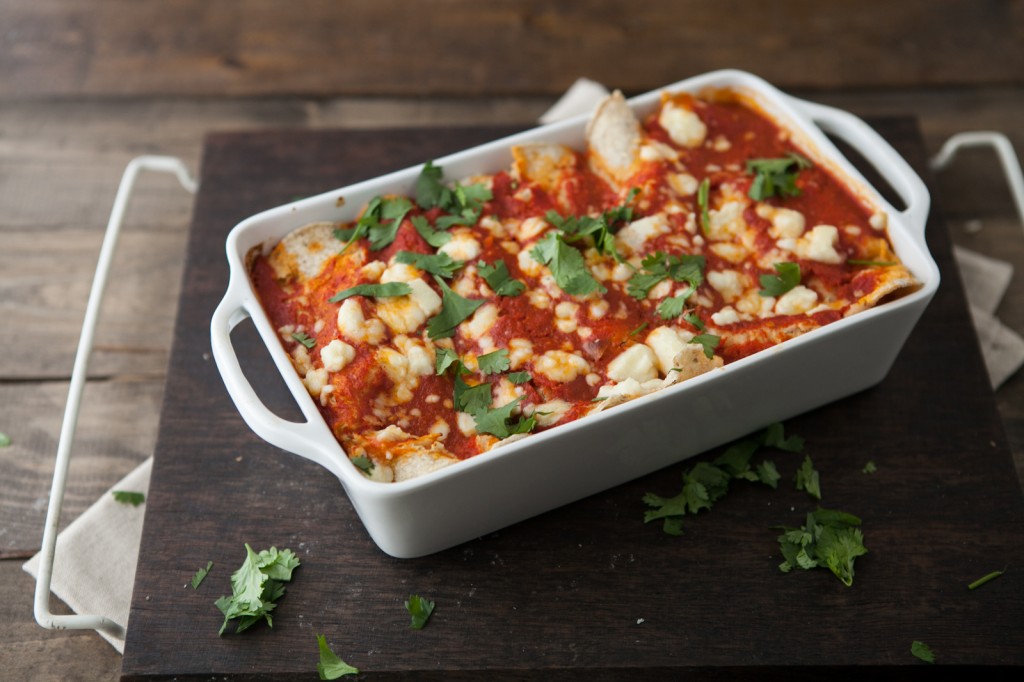 I'm actually the oddball in the family.  I'll eat corn straight off the cob but I would much rather create meals around it.  I love this vegan roasted corn chowder and these corn and cream cheese baked potstickers are drool worthy.  Give me good sweet corn during July and I won't ever let it got to waste.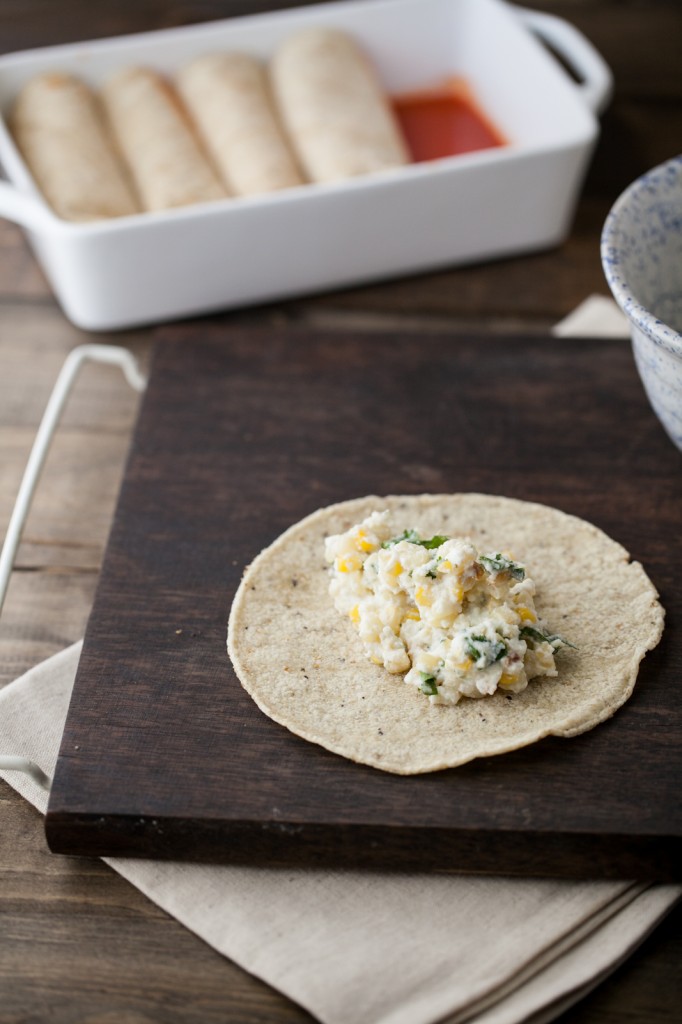 While I've been going a bit taco crazy recently, I've always had a couple recipes for enchiladas waiting to be made.  This desire to make enchiladas has been furthered by Sara's Roasted Zucchini and Goat Cheese Enchiladas and Jeanine's Green Enchiladas with Cashew Poblana Crema.  They make for such a hearty, one dish meal and yet they are still healthy (and gluten-free!)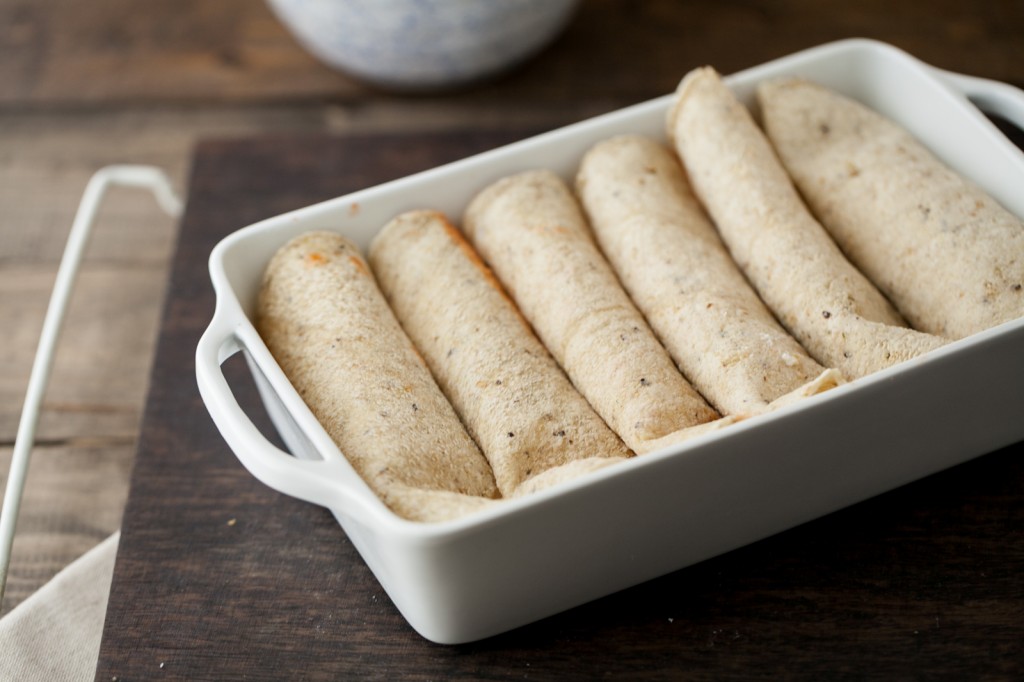 Enchiladas are also one of my favorite meals to make for guest.  I whip up everything the day before and all I have to do the next day is bake.  Perfect for when your trying to entertain and don't want to be stuck in the kitchen.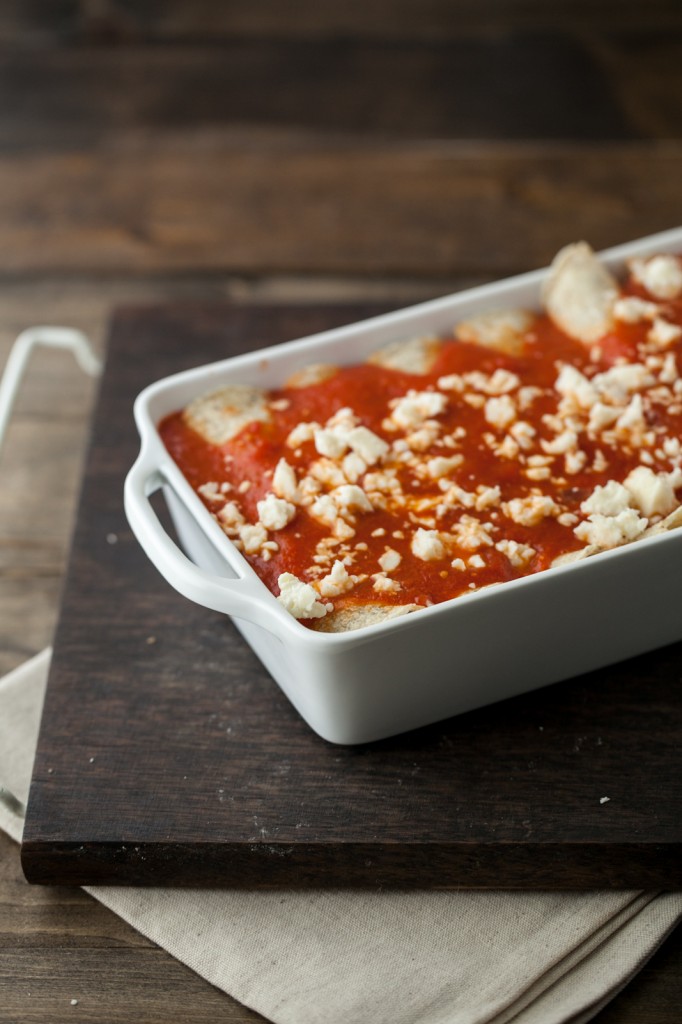 I also have to say that if you make your own corn tortillas, this dish is taken to an extra level of awesomeness.  Everything comes together just right.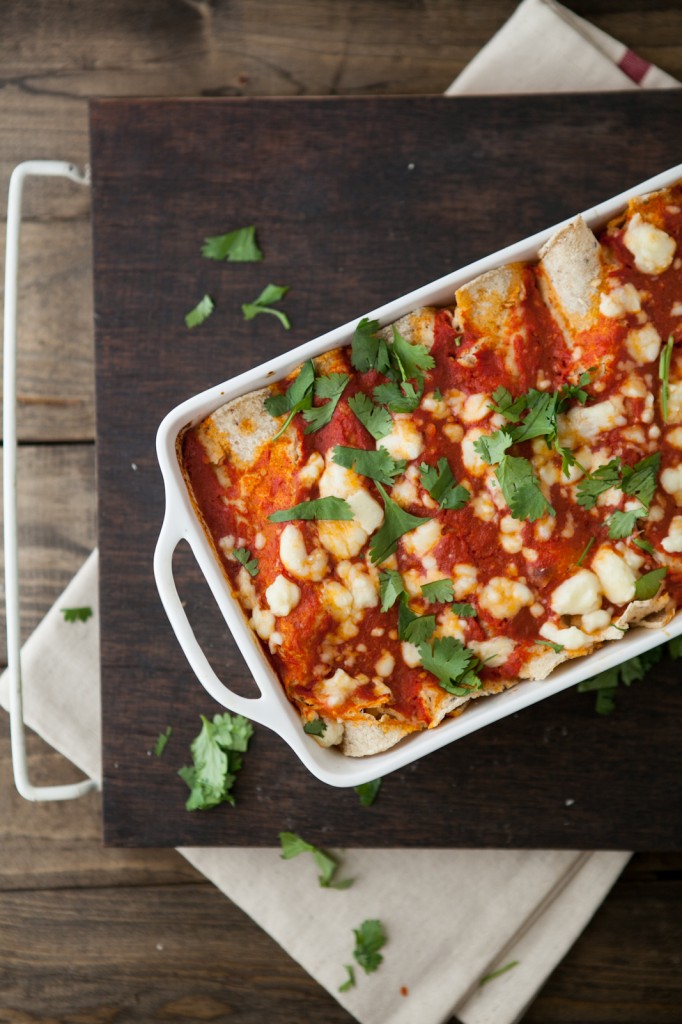 This recipe can easily be adapted for whatever you have on hand.  I think the addition of some sautéed jalapeños would be a great addition to the filling and the sauce can be adjusted to your liking of spiciness-just adjust the amount of chipotle powder you use.  I also recommend that if you are using corn tortillas, make a large batch and freeze any extra for more taco/enchilada making.
Print
Roasted Corn and Ricotta Enchiladas with Chipotle Tomato Sauce
Author:
Prep Time:

30 mins

Cook Time:

25 mins

Total Time:

55 minutes

Yield:

2

1

x
Filling:

2

large ears sweet corn

½ tablespoon

olive oil

⅛ teaspoon

salt

1 cup

ricotta

1 tablespoon

honey

1 tablespoon

lime juice

¼ cup

cilantro
Sauce:

2

large slicing tomatoes

2

cloves garlic, minced

1 tablespoon

olive oil

½

-

1

teaspoon chipotle powder

¼ teaspoon

salt

6

-

8

corn tortillas

½ cup

queso fresco cheese (or other favorite cheese)
Instructions
Preheat oven to 375˚.
Carefully remove corn from cob by placing the cob perpendicular to the bottom of a large bowl. Cut downward on the cob. Toss kernels with ½ tablespoon olive oil and ⅛ teaspoon salt. Roast, stirring occasionally, until soft, 15-20 minutes.
In a medium bowl, whip together ricotta, honey, lime juice, and cilantro. Once corn is done, stir into ricotta mixture.
To make sauce, heat 1 tablespoon olive oil over medium low heat. Add in minced garlic and saute for 1-2 minutes. Roughly dice tomatoes and add into pot along with chipotle powder and salt. Cook until tomatoes are starting to break down. Remove from heat and blend with an immersion blender or a regular blender.
Layer tortillas in between a damp towel and either place in the microwave or oven oven for a couple minutes until pliable.
To assemble enchiladas, use and 8x5 pan (or an 8x8 with extra space). Place ⅓ of the chipotle tomatoes in the bottom of the pan. Next, scoop ⅓-1/2 cup corn filling in to the center of the tortillas, roll gently, and place seem side down in the pan. Repeat with remaining tortillas, carefully squeezing the last tortillas in. Pour remaining sauce on top and sprinkle over queso fresco cheese.
Bake enchiladas until lightly browning and bubbly, 20-25 minutes.
Notes
*If you want to fill an 8x8 pan, simply make the filling by 1 ½ (3 ears of corn, 1 ½ cups ricotta, etc). The normal sauce amount with work and just use 10-12 tortillas.