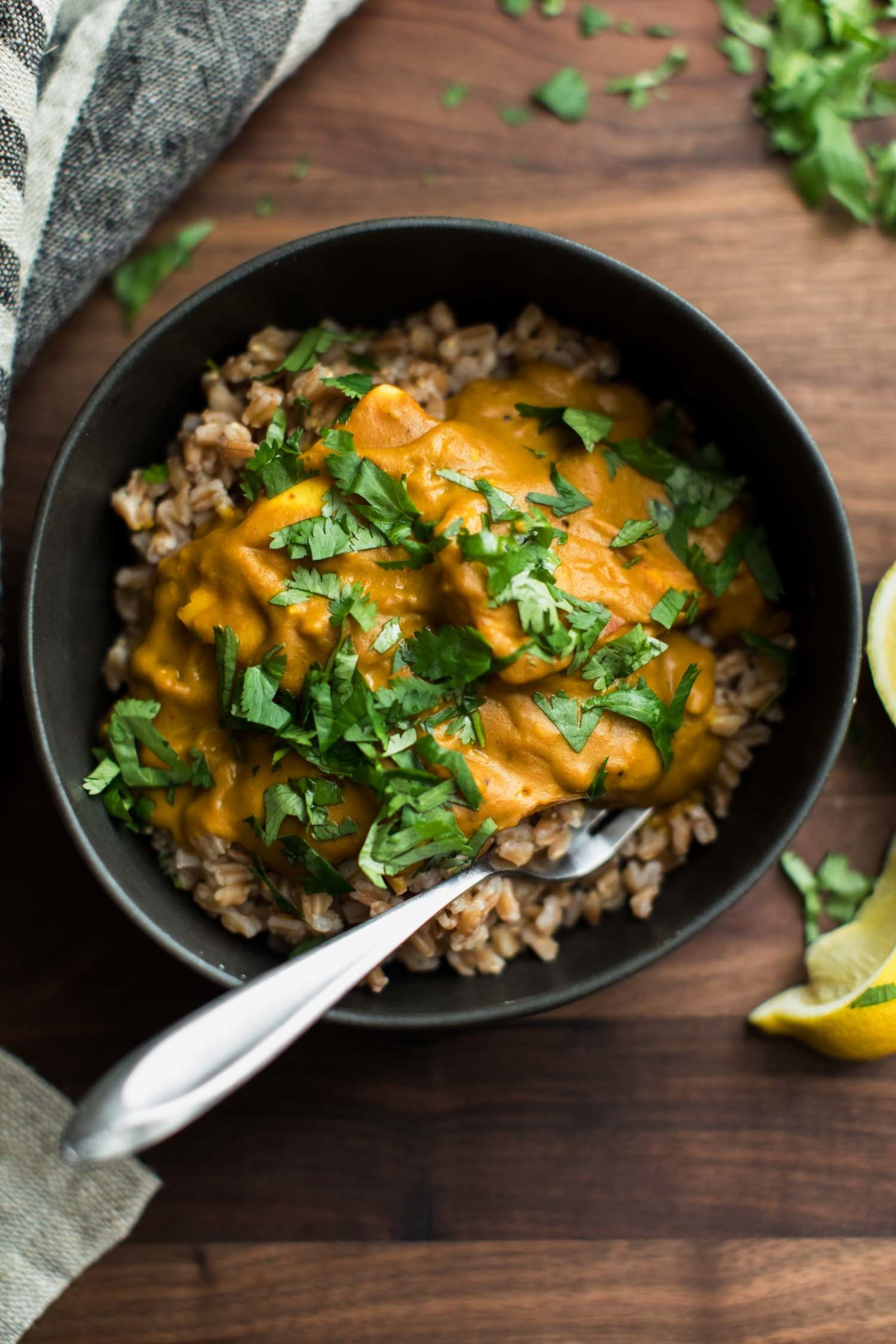 Post sponsored by Frontier Co-op. See below for more details.
One pretty well known fact is that I'm not big on tofu- it's a texture thing. I've tried to get over it for years and while there are some recipes I enjoy, it's still not a favorite of mine. I've managed to adapt most of my favorite recipes that typically call for tofu. Mostly I've done this with chickpeas but in quite a few Indian-American restaurants and food trucks, paneer stands in. I love paneer. You can make it at home, it is easy to fry, and, if you're buying it at the store, it's a bit cheaper than halloumi.
This generic curry is fast with help from a creamy curry pumpkin sauce and the fried paneer. The sauce features Frontier Co-op curry powder blend that is an all-around good blend to have on hand. I use it across recipes and it always produces a wonderful dinner. One note, if you don't already have grains made up, I recommend serving this with quinoa. It's a quick recipe and using quinoa ensures you have dinner to the table in about 20 minutes.
Print
Pumpkin Paneer Curry
A rich and delicious paneer curry that features fried paneer tossed in a coconut-pumpkin curry sauce.
Author:
Prep Time:

10 minutes

Cook Time:

20 minutes

Total Time:

30 minutes

Yield:

2 servings
4 ounces paneer

1 clove garlic

2 teaspoons olive oil

2 to 3 teaspoons Frontier Co-op Curry Powder

1 cup pumpkin puree

½ cup full-fat coconut milk

¼ to ½ cup vegetable broth, if needed

Salt, as needed

Cilantro, for serving

Lemon Juice, for serving

1 cup cooked grains, for serving
Instructions
To get started, prep the paneer and garlic. Slice the paneer into roughly ¼" thick slices then peel and mince the garlic. That's it- that's about the amount of prep for this meal!

Heat a large skillet over medium-low heat. Add oil, enough to coat the bottom of the pan. Add the slices of paneer and fry until crisp and golden, flipping once during cooking. Remove from the pan, reduce the heat to low, and add the minced garlic to the pan. Cook for a minute or so, until the garlic is golden then add in the pumpkin puree, curry powder, and coconut milk. Let simmer for 6 to 8 minutes, enough time to let the flavors mingle and warm. If the sauce becomes too thick, add a bit of vegetable broth as needed. Once the sauce is done, taste and add salt if needed. This will depend on the salt level of the curry powder.
Turn off the heat and add the fried paneer into the sauce, stirring/flipping to coat the paneer in the sauce. Divide the grains into two bowls and top with the slices of paneer and curry sauce. Serve with cilantro and a wedge of lemon.
Notes
Tips + Tricks: I served this dish over barley (I like the texture/flavor) but it would work just as well with brown rice or quinoa.
Stock up on Pantry Ingredients: Coconut Milk, Pumpkin
*Nutrition count does not count grains.
Nutrition
Calories:

432

Sugar:

4.3

Sodium:

387

Fat:

36.4

Saturated Fat:

22.5

Carbohydrates:

14.2

Fiber:

4.9

Protein:

16.6

Cholesterol:

57.8
Paneer Curry
variations
Vegan: Swap the cheese out for your favorite vegan protein. Tofu and chickpeas would work well.
Sauce: You can use canned or freshly-made pumpkin puree. Sweet potato, butternut squash, or any type of winter squash puree would work well in place of the pumpkin.
Grains: I served this with barley for a bit of texture. However, it works well with rice, quinoa, or millet.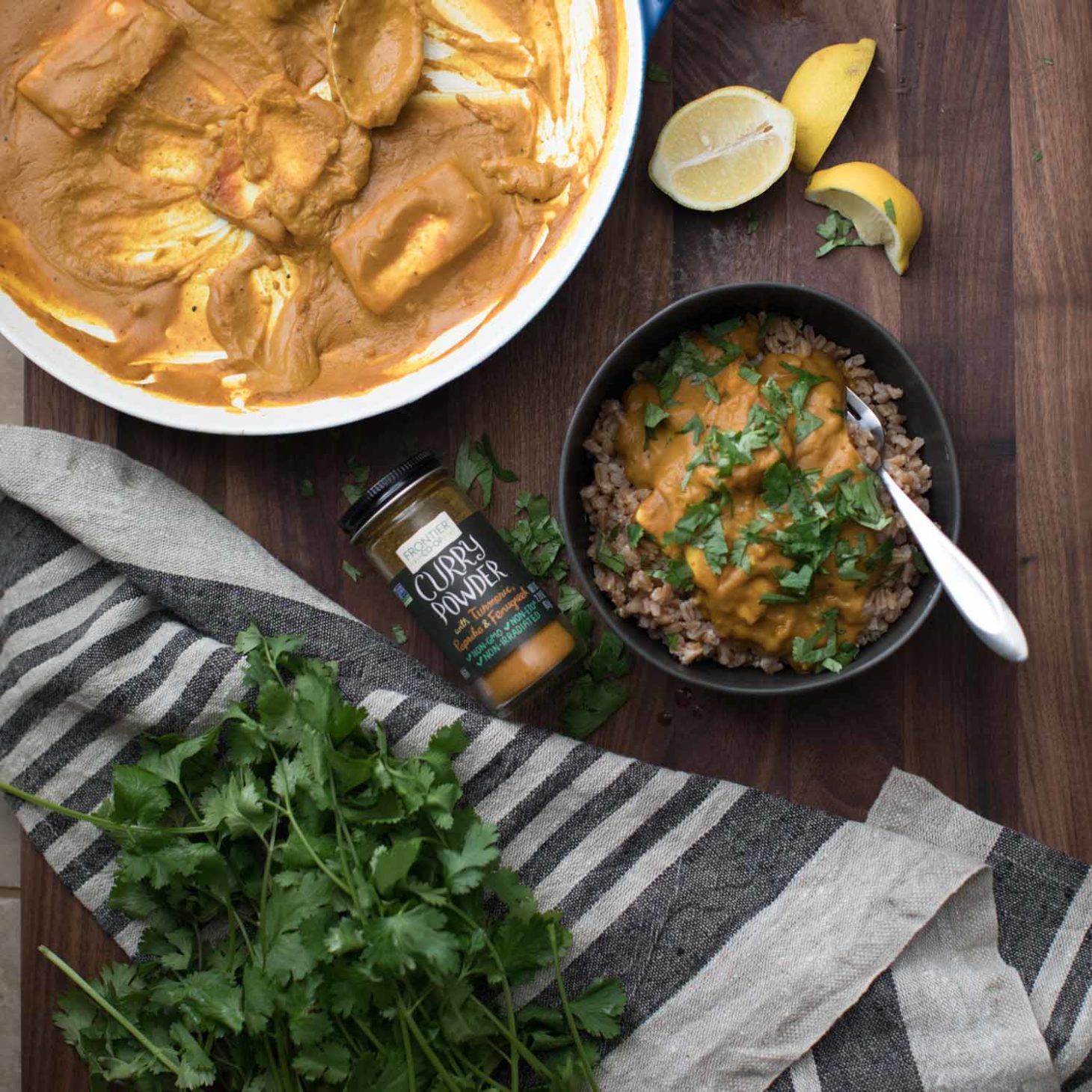 Keeping a good jar of a curry powder blend on hand is one of the best things you can do. There are so many different kinds of blends on the market, for all the different types of curry. However, I like keeping a bottle of Frontier Co-op red curry powder for quick meals. The flavor is easy to work with and it helps create a fast meal that's a vegetarian's dream. It's perfect for soups, stews, curries, and even roasted vegetables.
Carrot Curry with Kale and Paneer
Curried Cauliflower Pizza
Sweet Potato Curry with Brown Rice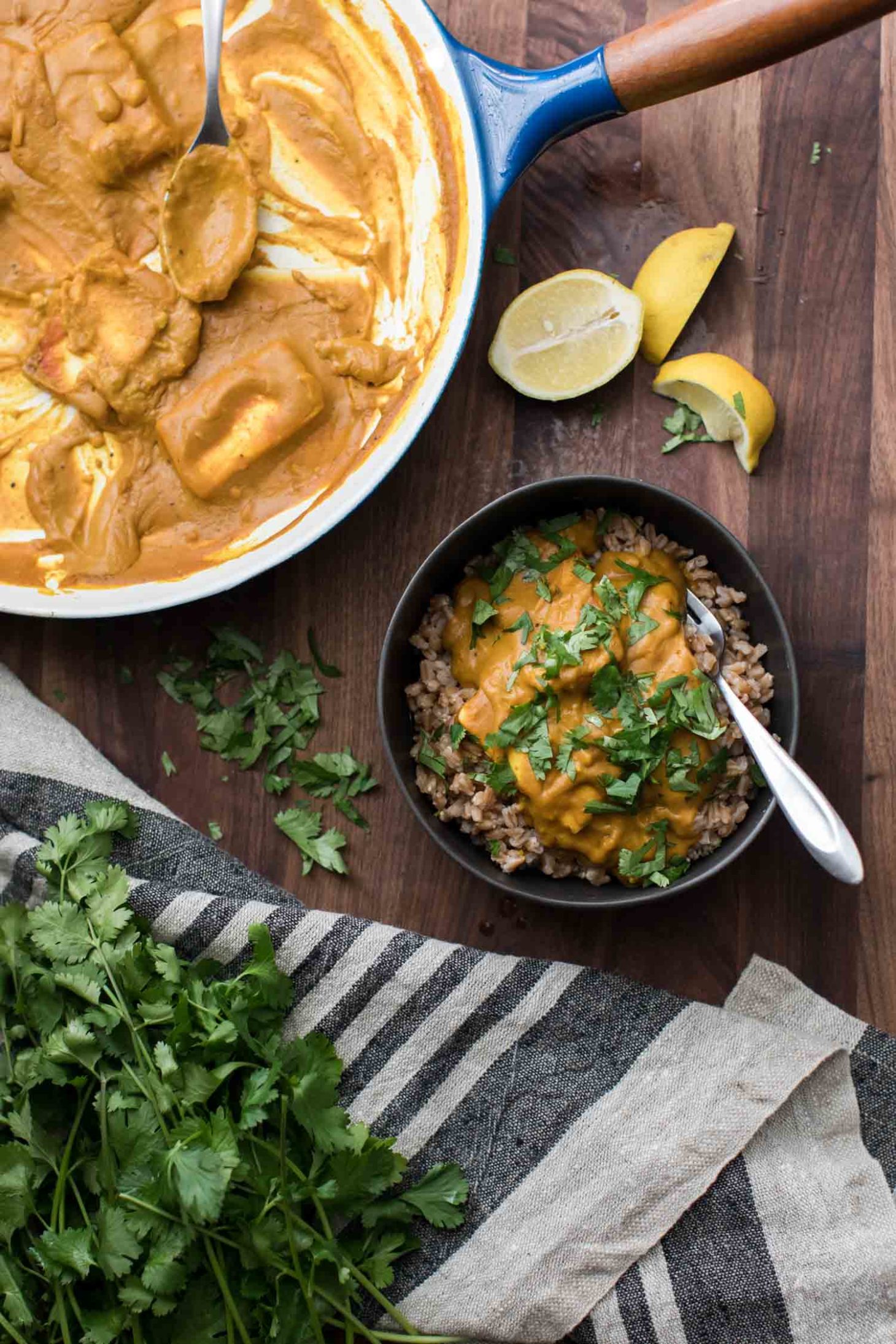 Disclosure: This recipe was created in partnership with Frontier Co-op. All thoughts and opinions are my own. It's content like this that helps me keep this site running to provide the vegetarian recipes you see every week.