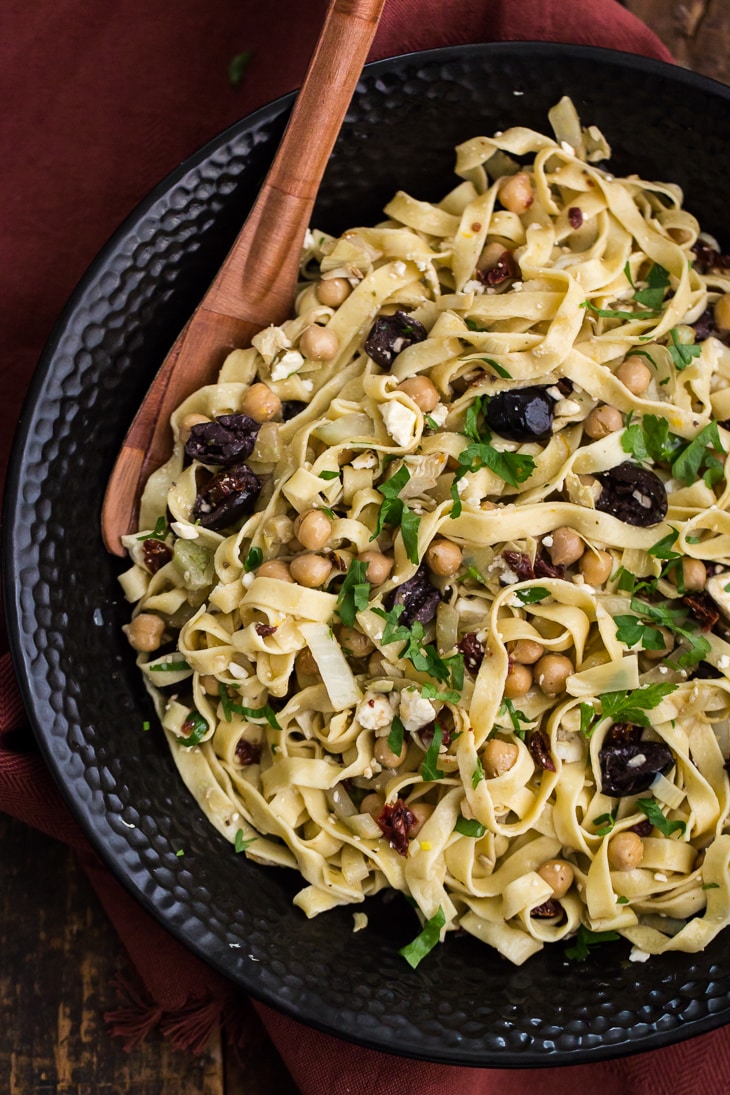 It's Sunday which means sharing another cookbook that I've had the pleasure of cooking from quite few times (and a cookbook from a couple that I've been lucky to hang out with in person.) I've known Tim and Shanna (Food Loves Writing) for a few years now and I always make time to read their posts because of the honesty (and the good food!) I've also have a beautiful water color print hanging on my wall that Shanna painted- so talented I tell you. This past year, Shanna and Tim wrote a wonderful book all about Einkorn (and if you've been hanging around this site, you might already known how much I love Einkorn.) This cookbook is a lovely extension of their blog.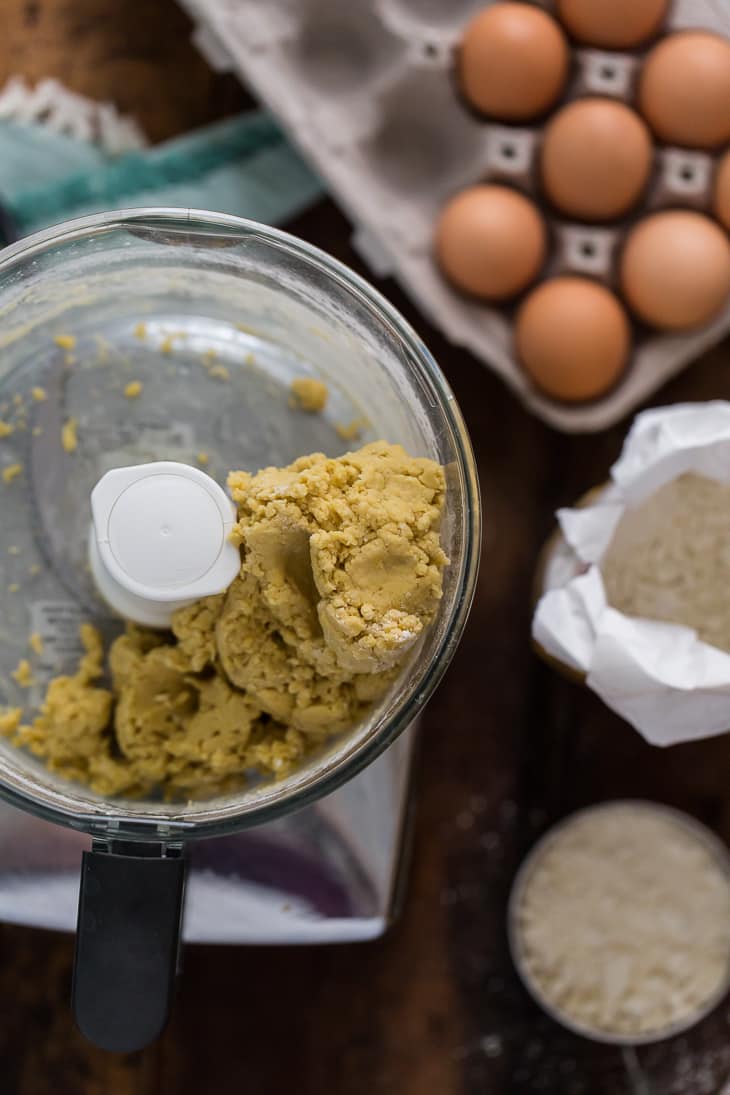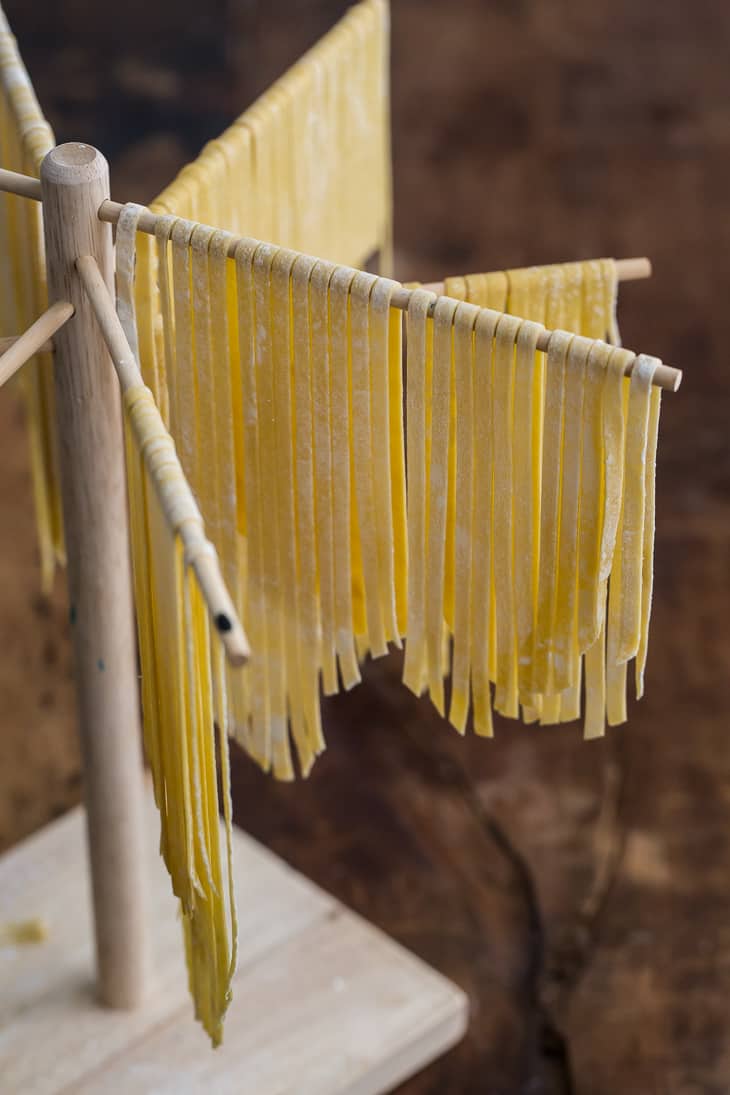 If you are unfamiliar with Einkorn, it's a variety of wheat that has been unchanged throughout history (where as modern wheat has been cross-bread with other varieties). The result is a unique wheat variety that has a nice nutty flavor and I find easy to cook with, either in flour or berry form. The Einkorn cookbook covers an array of recipes using each. I have a few Einkorn recipes on the blog, but feel so inspired by the 100+ recipes in the book. I'm particularly eyeing the lettuce wraps made with the Einkorn berries, the thin crust Einkorn Pizza, and especially the chocolate chip Belgian waffles.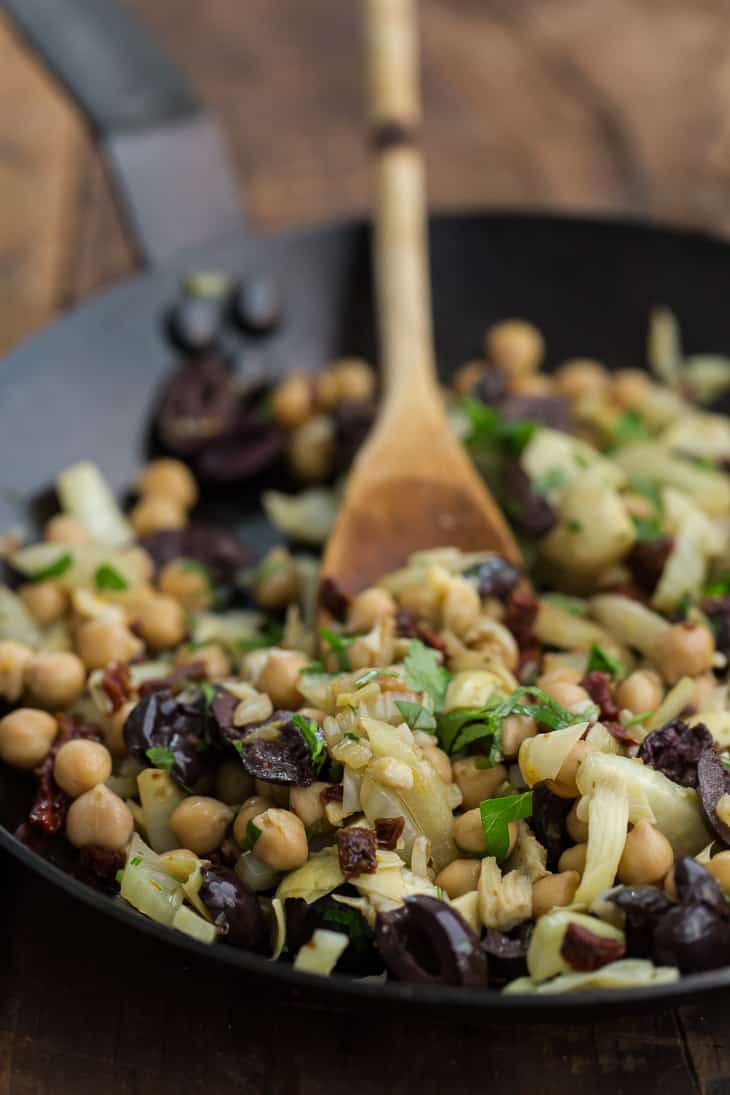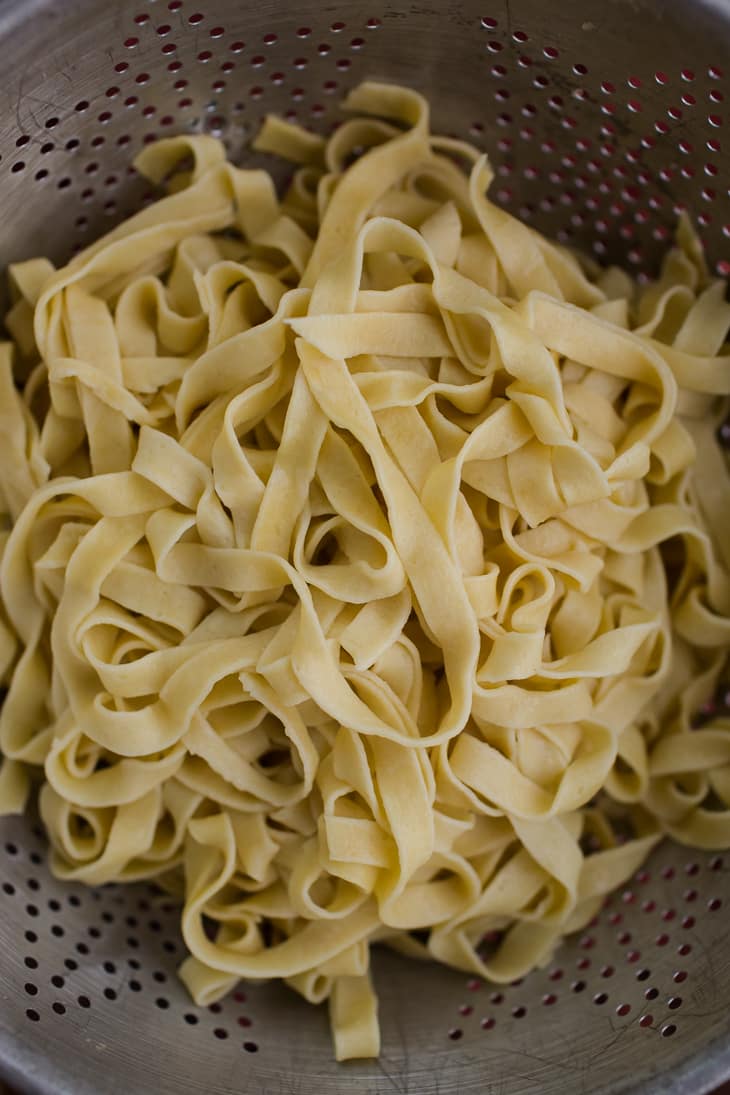 This particular pasta recipe is straight from the cookbook with minimal ingredients: einkorn flour, salt, and eggs. I really love working with einkorn flour, especially in doughs, because of the soft texture plus I find it easy to work with. If this pasta looks lighter considering I'm using a wheat flour, it's most likely because I picked up a back of Jovial all-purpose einkorn flour which has had some of the bran removed before packaging (this is part of the reason I like to grind my own as the bran continues good nutrients as well!) However, Jovial's flour is nice for those times I don't grind my own or just want to pick up a bag of flour for easy use.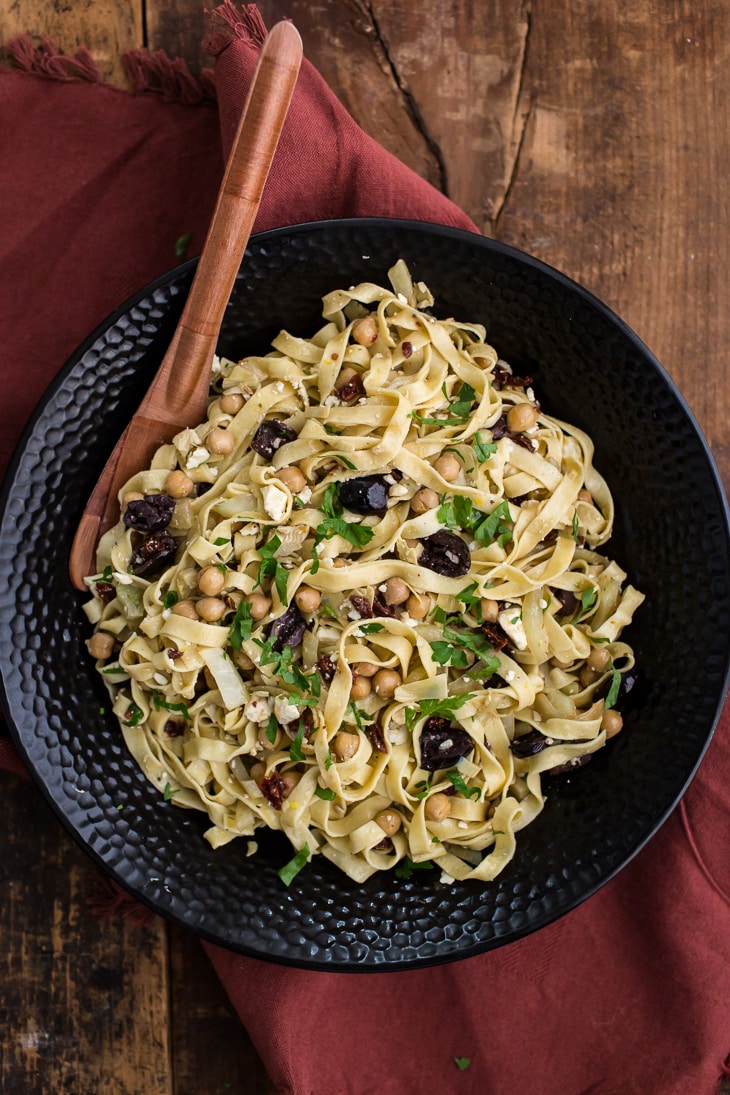 As for the filling, I've had a few leftover items hanging around since I made this Mediterranean flatbread that I decided it was time to throw the same ingredients into a pasta (because, why not?) I mixed up the ingredients a bit from the flatbread by adding chickpeas and fennel as well as subbing in the sun-dried tomatoes from the regular (I'd love some fresh roasted tomatoes in this dish but that will have to wait for summer.) Also, the amounts are rough- if you want more olives, throw in more olives. Or if you are a garlic lover, up the amount by 2 or 3 cloves. I'm not too keen on keeping pasta recipes exact- I never make it the same way twice!
Don't forget to check out the Einkorn Cookbook!
Print
Mediterranean Einkorn Pasta
This is a wonderful, hearty pasta dish that is perfect for a main vegetarian pasta dish that isn't too heavy. While the pasta takes a bit of time to make, I think it is well worth it. Of course, you can always use store bought pasta which means you could then make this pasta dish in about 15 minutes.
Author:
Prep Time:

60 mins

Cook Time:

20 mins

Total Time:

1 hour 20 mins

Yield:

4

to 6

1

x
Pasta

2

to

3

cups all-purpose einkorn flour

½ teaspoon

sea salt

3

large eggs
(or 8 ounces prepared pasta)
Topping

1 tablespoons

olive oil

½

fennel head, diced

2

cloves garlic.minced

1 cup

chickpeas, drained and rinsed if using canned

½ cup

kalamata olives, sliced

½ cup

artichoke hearts, diced

¼ cup

sun dried tomatoes
Zest and juice from one lemon

2 tablespoons

minced flat leaf parsley

¼ teaspoon

black pepper

2

to

3

ounces feta cheese
Olive oil, for finishing
Instructions
In a food processor, combine 2 cups flour, salt, and eggs. Pulse until mixture comes together and forms a begins to form a ball, 20 to 60 seconds. Add a tablespoon or two of water if the dough looks too try or add a bit more flour if the dough is sticky (if it's tacky- that's fine, you will add flour as you roll it out.) If you don't have a food process, combine ingredients in a bowl and stir until dough comes together, ditching the spoon for your hands when needed.
Remove dough from the food processor onto a floured surface and knead for 5 minutes, dough should be smooth and not sticky. Dust with flour, cover, and let rest for 30 minutes.
Bring a salted pot of water to a boil. To make pasta, divide the dough into 6 pieces and divide those pieces in half. Using a machine or a rolling pin, roll out the dough to a thin, yet manageable thickness (I use setting 4 on my Kitchen aid pasta roller). From there, cut (or using a pasta machine) cut the strips into fettuccine sized noodles. Cook pasta in 2 to 3 batches, roughly 5 minutes per batch. Pasta should float to the top and be tender. Remove and divide into two batches, saving one batch for later use.
While pasta cooks (whether premade or homemade) heat olive oil in a large skillet over medium-low heat. Add the fennel and cook, stirring often, until tender, 8 to 10 minutes. Stir in the garlic and cook for another minute until garlic is fragrant. Add in chickpeas, olives, artichoke hearts, sun-dried tomatoes, zest and juice, parsley, and black pepper. Stir and cook until everything is warm, 2 to 3 minutes.
Place ½ the homemade pasta (one of the batches you set aside) in a bowl. Top with the cooked vegetable mixture, followed by the feta. Finish with a nice drizzle (¼ to ½ cup) olive oil. Toss until everything is combined.
Notes
+ I typically buy artichokes and sun-dried tomatoes that are not oil packed, but you can use either. If using sun-dried tomatoes that are dry packaged, be sure to let them soak in water until tender.
+ Toss the remaining half of the pasta with a bit of olive oil and save for later use, either with some marina sauce or another pasta dish. Alternatively, you could make half the amount of pasta- I'm just never good at halving eggs and I love leftovers.
+ Einkorn Pasta recipe from The Einkorn Cookbook by Shanna and Tim Mallon.