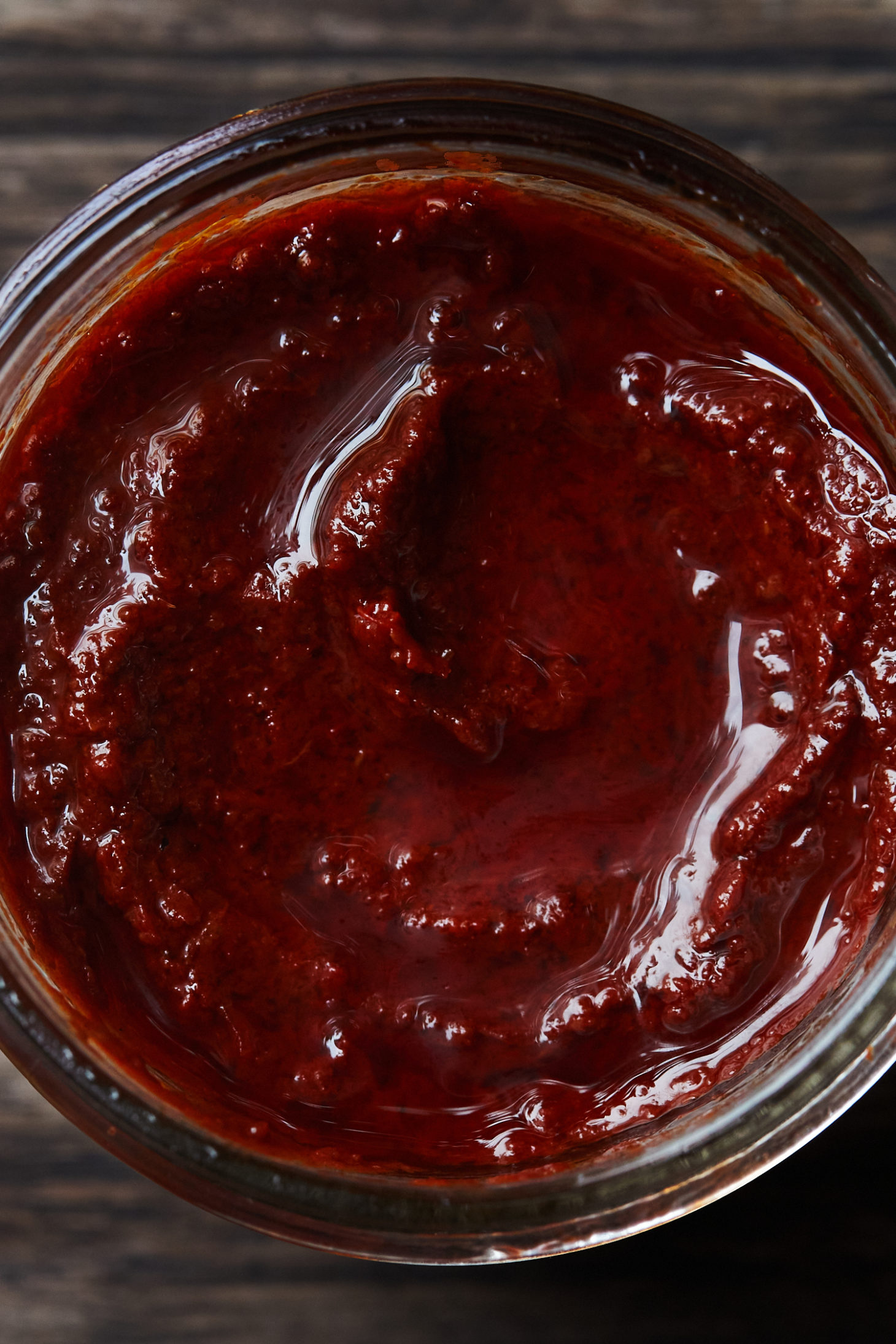 When it comes to adding a boost to meals, I rely heavily on homemade pastes. Not only can you make them extraordinarily flavorful and vibrant, they often freeze well. The ability to freeze pastes means you can make a large batch, freeze in small amounts, and have these flavors available to you at all times.
What is Harissa?
Harissa has always been a favorite of mine. It's an intense condiment from North Africa (Tunisia specifically but also Libya, Algeria and Morocco) that has endless amounts of variations. While most of the storebought versions I've tried are on the hotter side, homemade versions range from mild to spicy. I've tried storebought paste but they are often just too spicy for my family.
Why this recipe?
That is, essentially, why I made this particular paste. I riffed on this recipe from Bon Appetit as a base but scaled it down and thought about my dried chile choices. In California, we don't have access to the exact peppers used in Tunisia. Still, luckily, we have a fantastic array of dried peppers thanks to our proximity to Central America and the Southwest United States.
I try to keep a small number of chiles on hand, usually ancho and chipotle. You can make this paste with any chiles, but I recommend knowing the Scoville of what you're using. Knowing the heat level will help you determine what to add and just how hot you might make this paste. I do have a version that doesn't use dried peppers which is nice in a pinch.
My Favorite uses for Harissa Paste
The uses of this paste are far-reaching. I like to make dressings, toss cooked beans with it, use it as a condiment, add it to tomato-based soups/stews, and top dips with the paste. The myriad of uses is one of the reasons I like to make a slightly milder version- I use it a lot!
Quirks of my recipe
Some recipes call for using sun-dried tomatoes. I don't always have those on hand and found I like the flavor of using tomato paste. For the recipes that use tomato paste, it's not cooked and nor is the garlic for that matter.
I, personally, prefer to fry the garlic and cook the tomato paste. Primarily because to get the full flavor of tomato paste, it needs to cook
Chile versus Chili
One final note because inevitably someone will come along and try to correct my usage of 'chile' versus 'chili'. Technically both are right and 'chili' is the English/Americanized version of the Spanish word 'chile'. I prefer to use 'chile'. If you're curious, Merriam Webster shed's a little light on all of this.
Print
Homemade Harissa Paste
A spicy Tunisian condiment, harissa is a wonderful addition to vegetarian cooking. Wonderful with beans, grains, and vegetables.
Author:
Prep Time:

20 minutes

Cook Time:

15 minutes

Total Time:

35 minutes

Yield:

¾ cup

1

x
Category:

condiment

Method:

stove-top

Cuisine:

Tunisian
3 ancho chile peppers
1-2 chile de árbol
1 ½ teaspoons cumin seeds
1 teaspoon coriander seeds
⅓ cup olive oil
2 garlic cloves
1 tablespoon tomato paste
1 tablespoon lemon juice
1 tablespoon apple cider vinegar
1 teaspoon smoked paprika
1 teaspoon sea salt
Instructions
Heat a skillet over medium heat and add the dried peppers. Toast until the peppers start to blister, darken in color, and are fragrant; 3-4 minutes. Turn on your oven vent; if you have it for this, the pepper smell can be a bit nose-tingling once the peppers are toasted, set aside to let cool enough to handle.
Once the peppers are cool enough to hand, remove the seeds (and wash your hands after). Bring a pot of water to a boil, remove from the heat, add the peppers, cover, and let sit for about 10 minutes. The peppers should be soft after this time.
Wipe out the skillet you used to toast the peppers and return to medium heat. Add the cumin and coriander seeds. Toast for about 2 minutes, shaking the pan often. The spices should be darker in color and fragrant. Transfer to mortar (or a high-speed blender if you have it). Grind the spices.
Again, return the skillet to the heat and add 2 teaspoons of the olive oil. Peel and crush each garlic clove then add to the skillet. Cook until the garlic is mostly golden. Turn off the heat and stir in the tomato paste. Let cook in the hot pan, stirring to cook the tomato paste a bit and incorporate with the olive oil.
Finally, remove the soaking peppers from the pot and shake off excess water. Add to a blender/food processor along with the ground spices, garlic mixture, lemon juice, vinegar, paprika, and salt. puree until the mixture starts to come together and begin to drizzle in the olive oil. Puree until mostly smooth, adding a bit more olive oil if needed to help the machine run.
Transfer to a jar, top with extra oil to keep the top fresh, and store in your refrigerator to use within a couple of weeks or freeze for use later.
Notes
Notes
Soaking liquid: if bitter, discard. If not, use as you would water/broth in a recipe.
Most homemade harissa recipes say it can be stored up to a month in the fridge. I've found this hit and miss, so I tend to freeze a bit if I don't think I can make it through the entire batch.
Keywords: harissa paste, homemade harissa paste