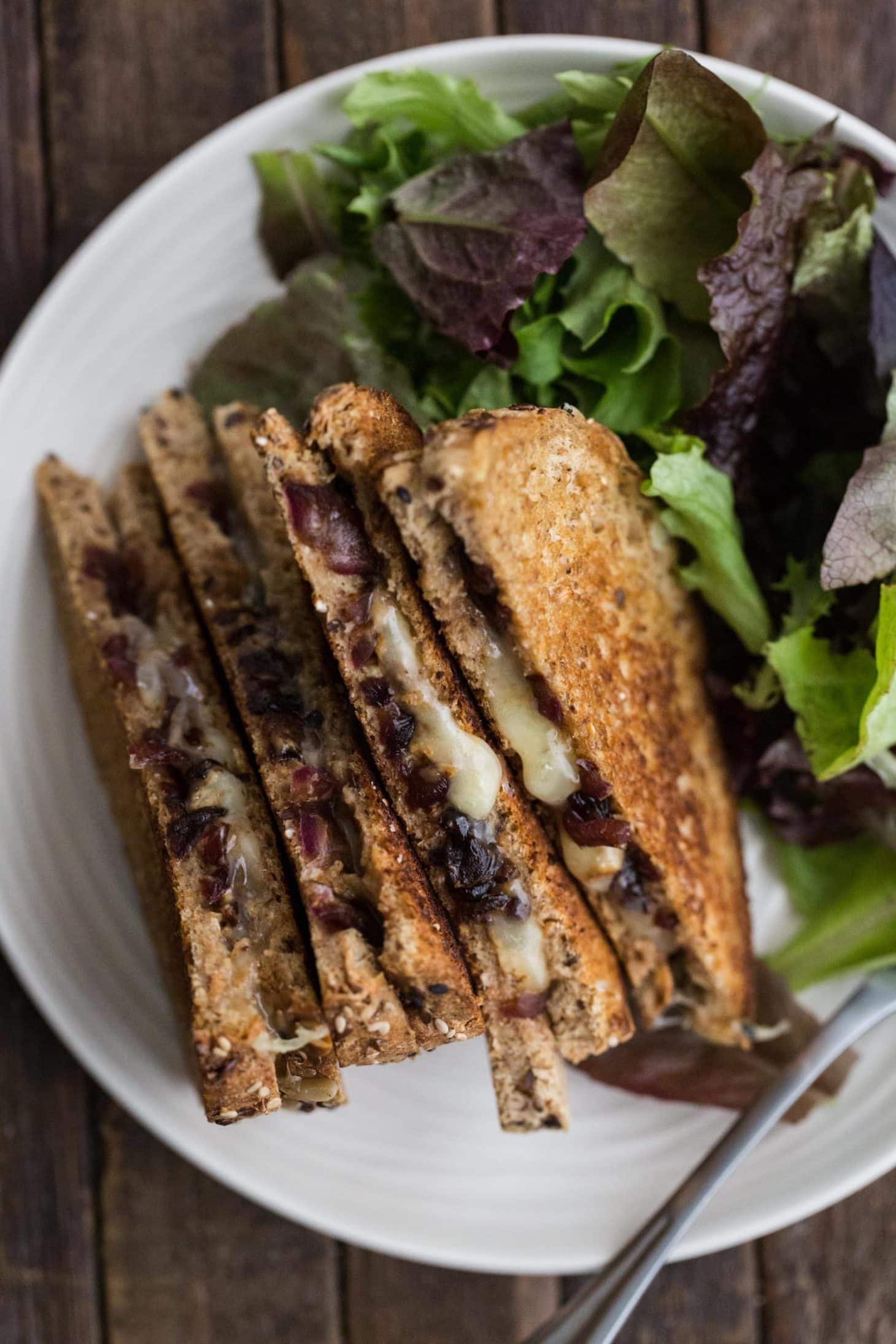 It's no secret how much I love grilled cheese sandwiches (I think I'm getting close to a dozen different variations on the site). They may not be the healthiest but sometimes a gooey, hot sandwich is just what I wanted. This particular version is a cross between balsamic onions from this galette and the cheese toasties that have a nice layer of grainy mustard. These grilled cheese sandwiches are perfect for eating alone or dunking in a hot bowl of soup.
Print
Grilled Cheese with Balsamic Onions
Author:
Prep Time:

10 mins

Cook Time:

20 mins

Total Time:

30 mins

Yield:

2

sandwiches

1

x
1

large red onion

1 tablespoon

olive oil, plus extra for brushing

2 tablespoons

balsamic vinegar

4

slices Dave's Killer Powerseed Bread

2 tablespoons

mustard

3

to

4

ounces good cheese (ie: taleggio, manchego, gouda)
Instructions
To make onions, cut into ⅛" half circles. Heat over low the olive oil in a skillet. Place sliced onions in skillet and begin to let onions cook- do not stir. Continue to cook onions until they begin to brown, 10-15 minutes. Once onions are cooked, stir in balsamic vinegar and continue to cook until vinegar reduces down, about 5 minutes.
Preheat griddle over low heat. Assemble the sandwiches by spreading 1 tablespoon of mustard on one slice of bread. Layer half the onions followed by half the cheese and top with second slice of bread. Repeat with second sandwich.
Brush the top of the sandwich with olive oil and place that side down on pan. Brush the top side of the sandwich with olive oil. Grill on each side until browning and cheese is melting, 3 to 5 minutes per side. Repeat for second sandwich.
Variations for the grilled cheese
There are endless amounts of grilled cheese variations, it is what makes grilled cheese so great (beyond melty, delicious cheese). But if you're looking to keep the balsamic onions, a few things you could add:
Greens: Bulk up the health a bit with slightly wilted greens. I like spinach best but kale or chard would work.
Tomatoes: Peak summer, toss a few slices of fresh tomatoes on this sandwich. You really can't go wrong. Even better? Swap out the mustard for pesto.
Squash: This might seem a bit weird but it makes for a really great sandwich. Roast thin slices of butternut squash before adding to the grilled cheese.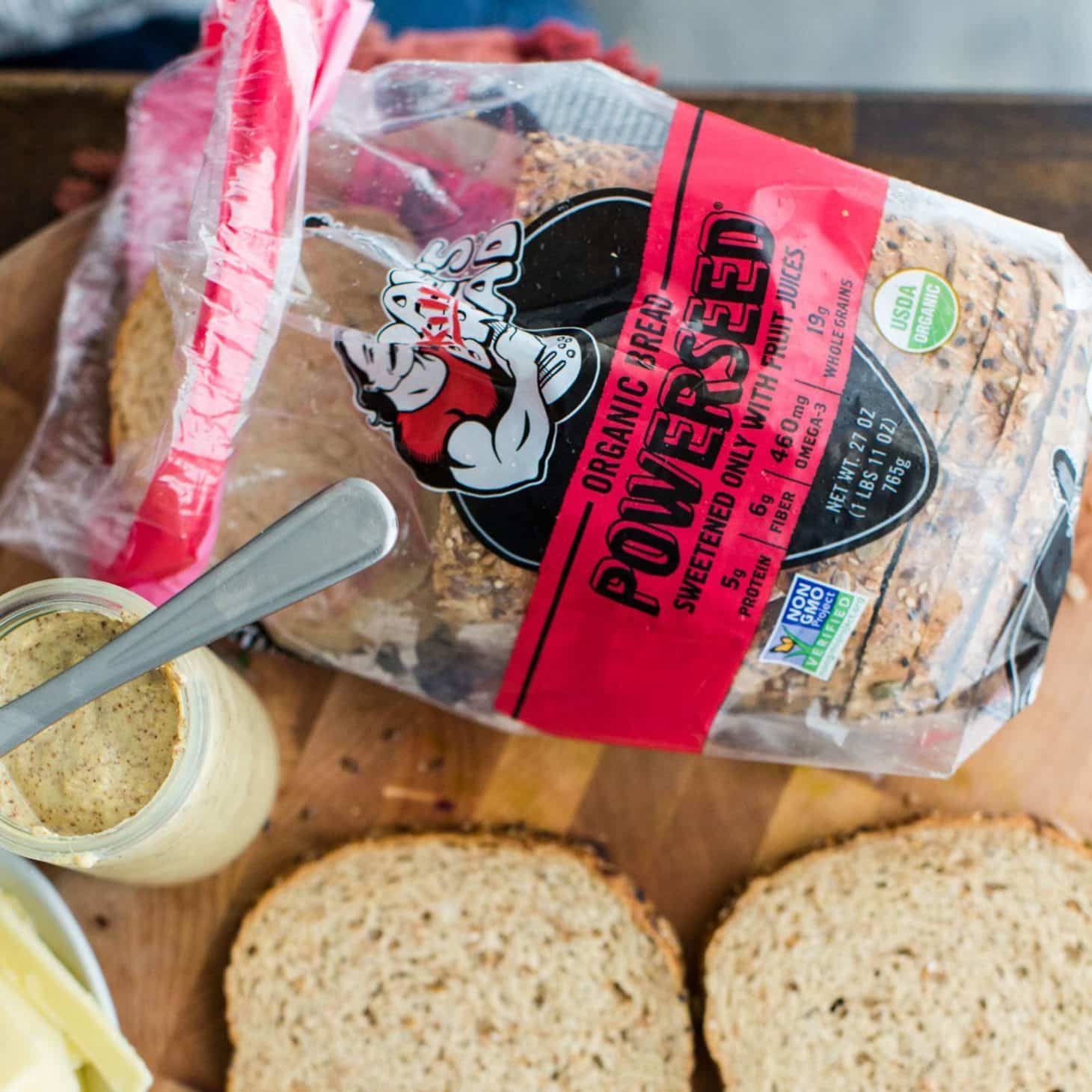 Dave's Killer Bread Powers Second Chances
As my ambassadorship comes to a close, I wanted to share a bit more information about the company if you aren't familiar. It's probably obvious by now that I love the bread, especially now that homemade bread is a bit of a scarcity. It's one of the few brands I know that I can pick up and feel good about feeding it to my family.
It's not just a killer product (pun intended) – the company also provides employment opportunities for formerly incarcerated individuals through its Second Chance program. The program gives people who were in prison a second chance to get their feet on the ground. This one opportunity can have such a profound, long-lasting effect on a person's life. I've had a couple jobs where the employer had a similar program and I met some truly inspirational people. And even cooler? Dave himself is an example of this when he turned his life around after leaving prison after his brother Glenn welcomed him back to the family bakery. The company has even started a foundation to encourage other companies to become Second Chance Employers. Want to help? Sign the pledge to show your support for Second Chance employment and help motivate more businesses to take part.