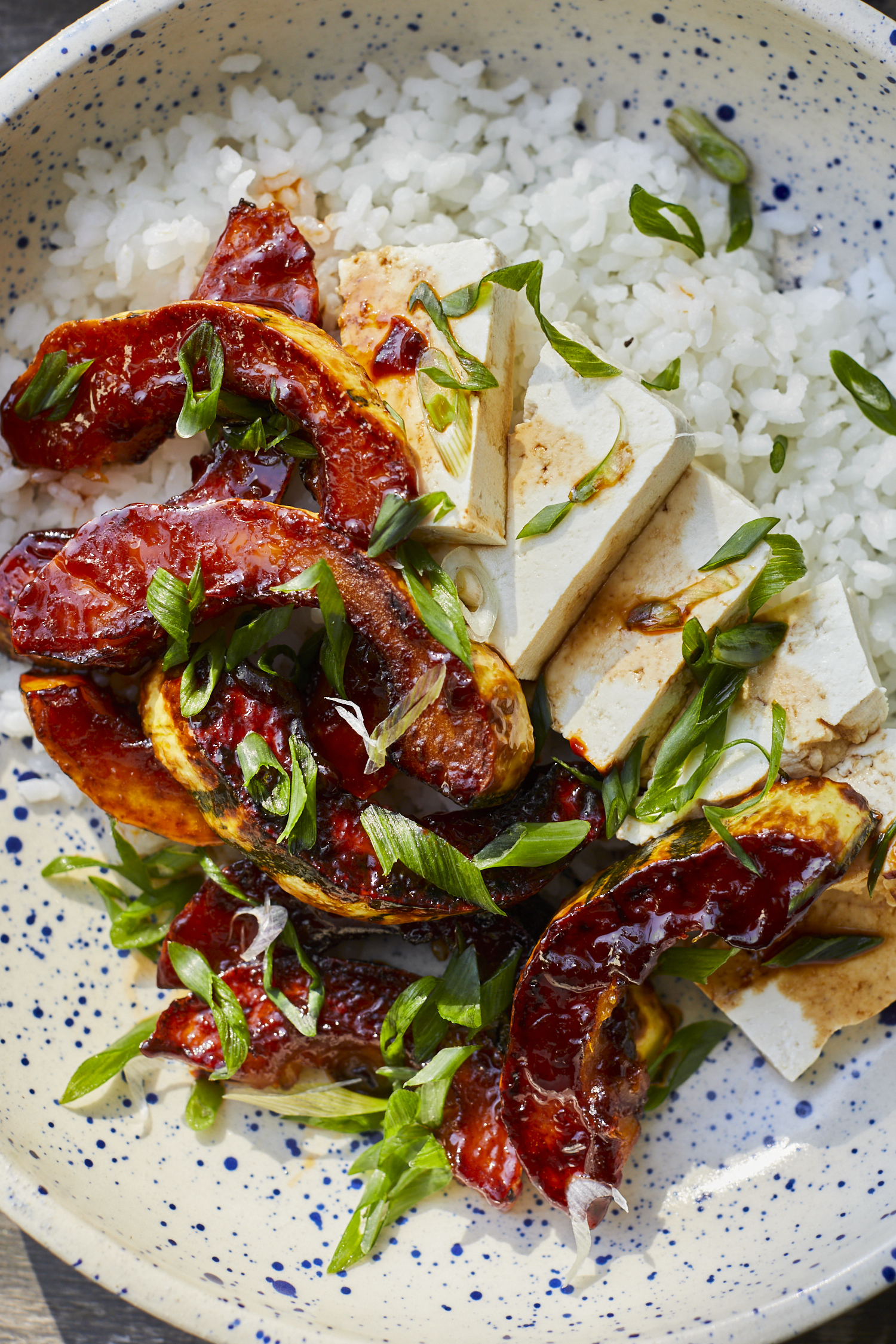 As I get back into sharing more recipes in this space, I have a few recipes that have seen heavy rotation in my cooking over the last two years. Early on, I became obsessed with this Gochujang-Glazed Eggplant from Eric Kim. I've made endless amounts of riffs throughout every season. However, this delicata squash version remains my favorite.

A few notes: I'm finishing with fresh scallions from the fried scallions in Kim's original recipe. They are delightful, and I highly recommend trying them. This meal is excellent with eggs of all kinds (jammy being my favorite). And, if you need to stock up on gochujang, buy from Mother-in-Law's because it's delicious. 
Print
Gochujang Delicata Squash with Rice + Tofu
Author:
Yield:

2

servings

1

x
Gochujang Sauce
2 garlic cloves (8g)
1 teaspoon (10g) rice vinegar
2 tablespoons (22g) gochujang
1 tablespoon (14g) soy sauce
2 teaspoons maple syrup
2 teaspoons sesame oil
Squash
½ medium delicata squash
1-2 tablespoons sunflower oil
For Serving
Rice
Tofu
Scallions
Tofu
Instructions
To make the gochujang sauce: Use a microplane to grate the garlic into a small bowl. Add the lemon juice and let rest for 5 minutes. Whisk in the remaining sauce ingredients and set aside.
To make the squash: Scrap the seeds from the squash and cut the squash half into ½" thick slices. Heat a large skillet over medium-high. Add the sunflower oil, followed by the squash, working in batches if necessary to avoid overcrowding.
Sear each side of the squash until charred. Reduce the heat to low, and if working in batches, add back in all the seared squash. Pour the gochujang sauce, cover with a lid, and braise for about 10 minutes until the squash is tender.
To serve: Add rice and tofu to two bowls and top with the squash. Finish with fresh scallions if desired.