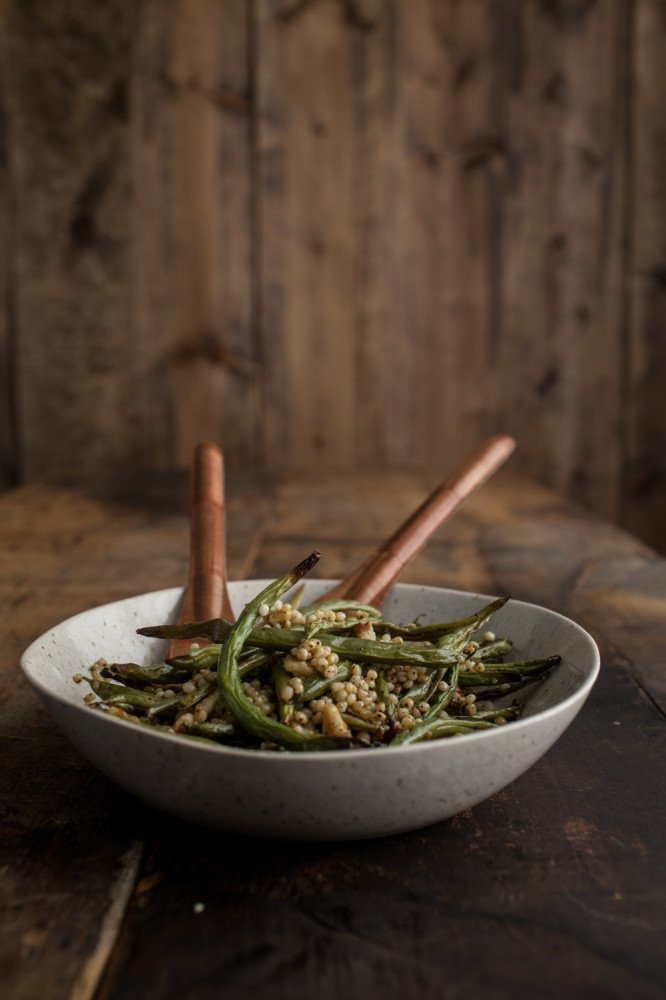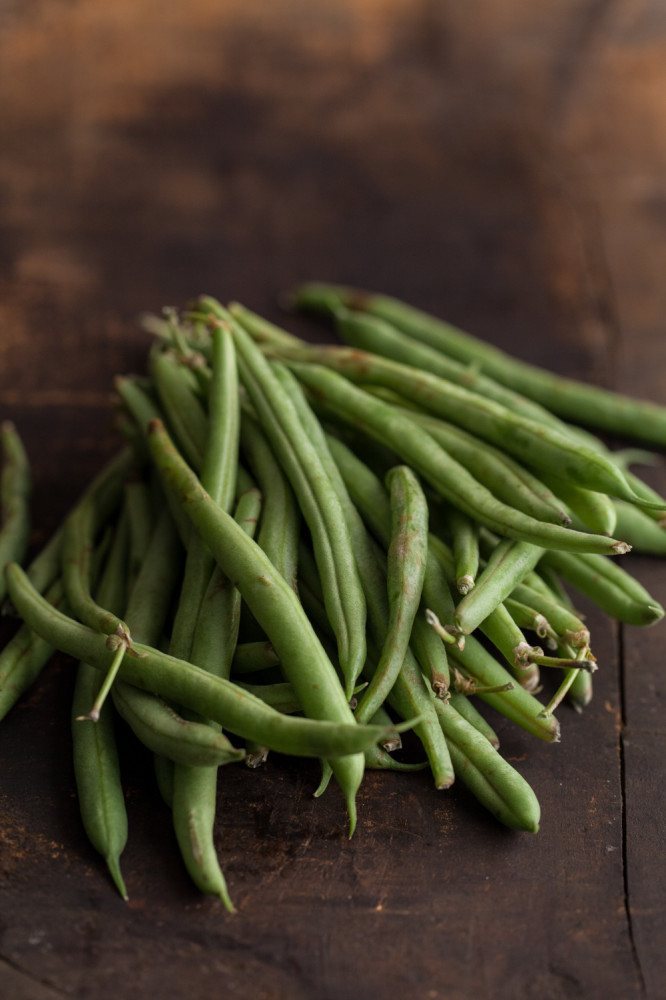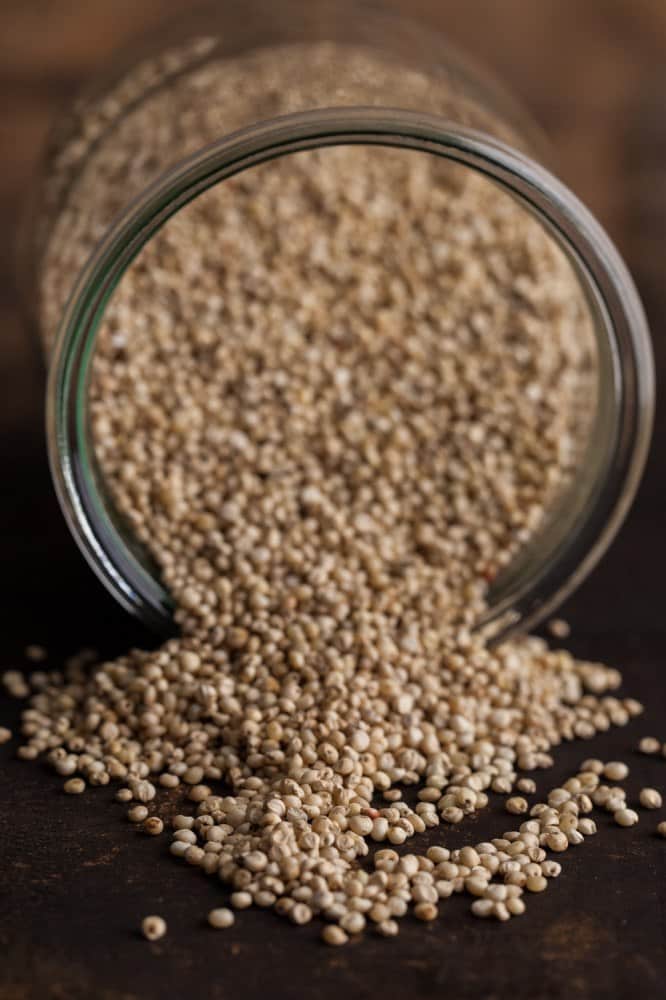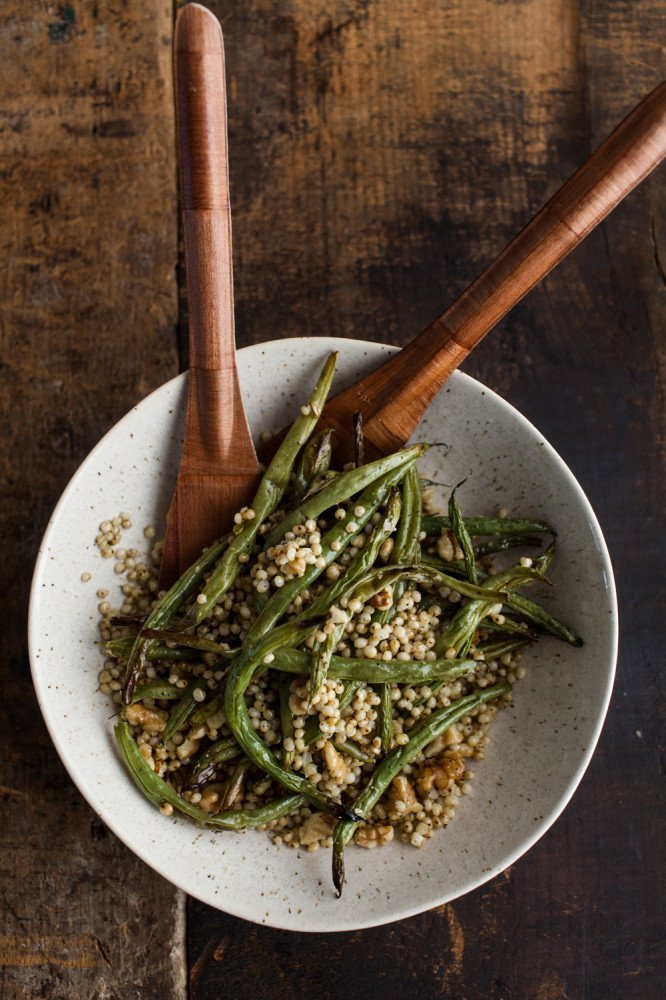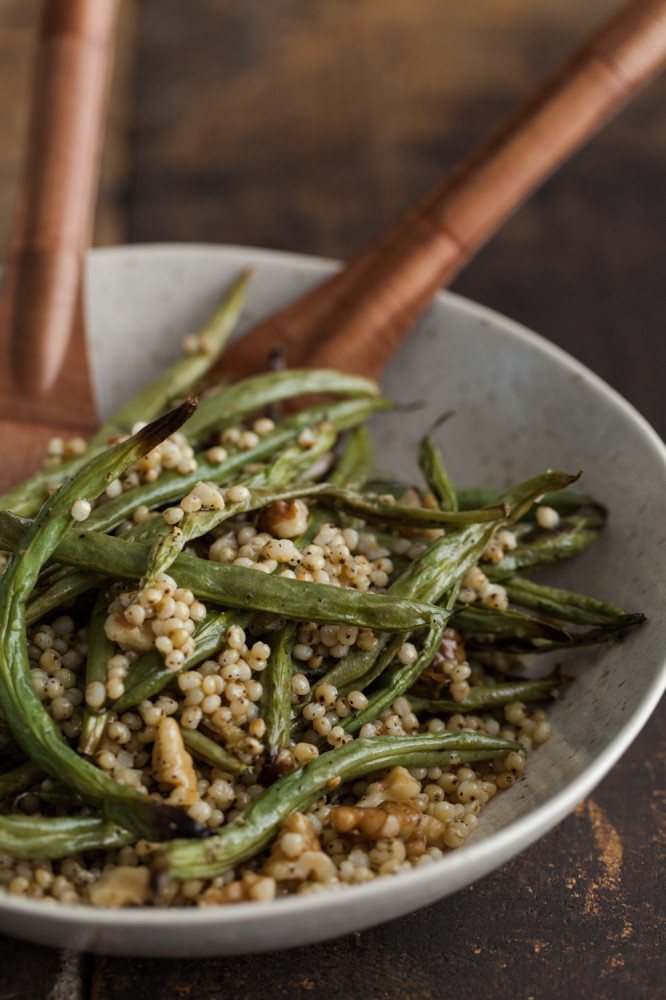 I am always amazed at how skewed our outlook on food can sometimes be. I remember driving through the great plains on our way to family vacations out west, staring at all the crops (because in most of the states, that's all there is to see.) When I got old enough, I started to ask questions. I knew what corn and soybeans looked like (that's ALL I grew up with) but there was always a couple crops I couldn't place. Eventually I learned that one of those crops was sorghum. Of course, if you know anything about US commercial ag, those crops weren't destined for our dinner plates but rather fodder for animals. For years I thought that's all sorghum was good for but come to find out, it's a delicious whole-grain that deserves space on your table.
Sorghum, as a grain, has a nice, lightly sweet and nutty flavor with a texture, after cooking, that is more akin to a cooked wheat berry. Sorghum grains are wonderful additions to salads, pilafs, and even as a side of their own like this green bean dish. Also, sorghum grinds into one of my favorite flours. The sweet and nutty flavor from the grain carries over, making it a stellar gluten-free flour (if you have purchased the book, I *highly* recommend the gluten-free ricotta pancakes made with sorghum flour- they are a favorite of mine.)
This side is fairly simple. Sorghum, some roasted green beans, and garlic. If you don't feel like turning on the oven, you can always toss the green beans in a tinfoil package and cook on the grill (so good!) Also, I left it out, but this side is great with a bit of crumbled goat cheese or if you want to turn this into a stellar main dish, grilled halloumi (and maybe a few chickpeas tossed in for protein.)
Print
Garlic Green Beans with Sorghum and Walnuts
Author:
Yield:

3

-4

1

x
Category:

side dish
1 cup

sorghum grain

¼ teaspoon

salt

½

pound green beans, ends trimmed

1 ½ tablespoons

olive oil

¼ teaspoon

sea salt

1.4 teaspoon

black pepper

2

garlic cloves, minced

¼ cup

toasted walnut pieces
Instructions
Rinse sorghum and place in a sauce pan with salt and enough water to cover by 2" or more. Bring to a boil, reduce to medium heat, and cook until sorghum is tender but still chewy, 45-55 minutes. If water levels get low, add more. Drain sorghum and set aside.
Preheat oven to 400˚.
Bring a pot of water to a boil and add green beans, blanching for 3-4 minutes. Green beans just be bright green and just tender. Drain and place in a roasting pan*. Toss with ½ tablespoon olive oil, sea salt, and black pepper. Roast until green beans start to blister, 20-25 minutes.
In a small skillet or sauce pan, heat remaining 1 tablespoon olive oil over low heat. Add minced garlic, cooking for 30-60 seconds, just until garlic is fragrant. Remove from heat and set aside.
After removing green beans from the oven, toss with the garlic olive oil. In a large bowl, combine green beans, sorghum, and walnuts. Serve warm.
Notes
*I left the green beans whole for the photos but if wanting to make this easier to eat, after blanching and before roasting, cut the green beans into bite size pieces.
 [Disclosure: This recipe was developed and compensated by Bob's Red Mill. All opinions are my own.]