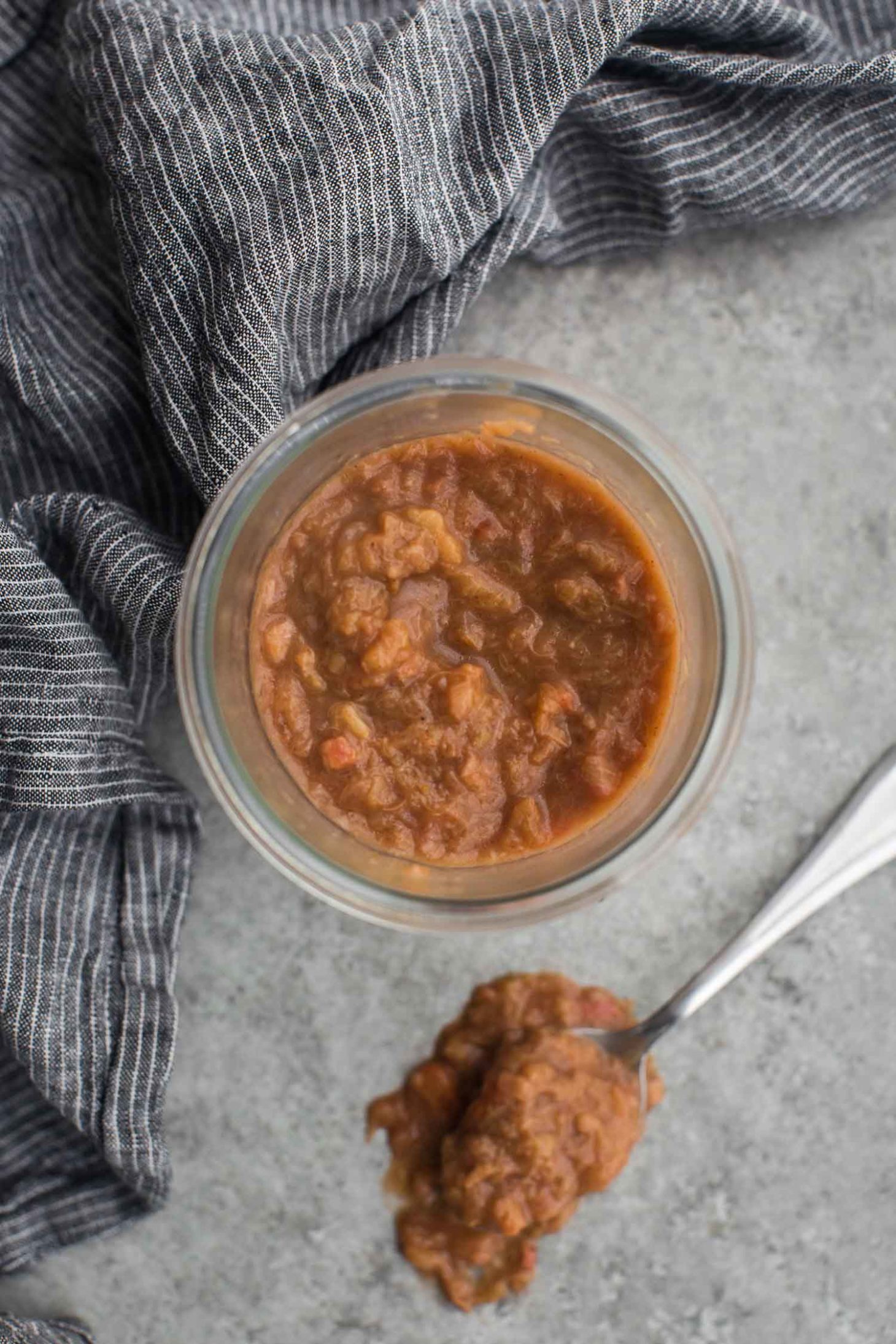 Chutney is one of my favorite condiments. It's highly adaptable to what might be in season, it can be spiced up or dressed down, and can be the star of a recipe or a nice topping. The term chutney is a pretty loose one that can encompass many different types of condiments that traditionally used in Indian cuisine (called Chatni in Hindi). However, chutney was picked up by the British during colonization. They used the term chutney and here we are.
This fruit chutney is my base for all cooked fruit-based chutneys. There are recipes out there for coconut, herb, and peanut- the possibility of chutneys is quite endless (this is a good start to chutney.) I primarily use chutney to pair with curry but there's a myriad of ways to use this wonderful condiment.
Print
Fruit Chutney
A base recipe for cooked, fruit-based chutneys. Perfect for topping curries, burgers, and grain bowls.
Prep Time:

10 minutes

Cook Time:

15 minutes

Total Time:

25 minutes

Yield:

8

servings

1

x
Category:

Component
1 tablespoon

olive oil or coconut oil

¼ cup

minced yellow onion

1 teaspoon

minced fresh ginger

2 tablespoons

apple cider vinegar

¼ cup

pitted and chopped Medjool dates ((

50 g

)- add more if you like sweeter)

2 cups

cut fresh fruit like rhubarb, apples, or tomatoes ((

½

pound))

¼ teaspoon

salt

1 teaspoon

ground cinnamon

2 tablespoons

water

⅛ teaspoon

red chili flakes ((optional))
Instructions
In a medium pot, heat olive oil for the chutney. Add in onions and ginger, cooking until fragrant, 2-3 minutes. Add in vinegar and give a good stir to loosen up any stuck onions. Add in the remaining ingredients and reduce heat to low.
Let chutney cook until fruit and dates have broken down into a chunky sauce, 15-20 minutes (depending on stove-top heat/fruit.) Taste and add more seasonings if needed. Remove from heat and let sit until ready to serve.
Refrigerate chutney for up to two weeks or freeze for longer storage.
Notes
Tips & Tricks:  This chutney can really be made to your liking. Want it sweeter? Add more dates. Like a punch of ginger? Add another teaspoon. This is a solid recipe to let yourself play.
Stock up: get the pantry ingredients you will need: dates, ginger, vinegar.
Nutrition: see the information. (based on rhubarb which is pictured above)
Nutrition
Calories:

42

Sugar:

4.7

Sodium:

74

Fat:

1.8

Carbohydrates:

6.8

Fiber:

1.2

Protein:

0.4
Fruit Chutney
variations
Fruit: I like to showcase the rhubarb chutney because it's a wonderful way to show a savory rhubarb recipe. However, you can make fruit-based chutney from mangos, tomatoes, pears, apples, peaches, figs, and cherries. For the fruit that has a peel (apples/peaches), I like to peel before cooking.
Spice: I vary the amount of chili flakes I use in chutneys. If I know the chutney is going to be a topping for curries, I'll leave out the heat. If the chutney is going on a burger, I'll kick up the spice level- it's really up to you.
Sweeteners: Chutney is typically made from brown sugar but I like using fruit to sweeten the chutney. Dates work the best but I also like to toss a scoop of golden raisins into the pot as well.
Curries: The traditional route, this fruit chutney is a nice finish for rich curries.
Crepes/Dosas: I love using chutney tucked in savory crepes or again, more traditional, dosas (like this recipe).
Grain Bowls/Porridge: I make a lot of grain bowls that usually consist of roasted vegetables and legumes. This chutney can be a nice way to bring everything together. Or, I'll make a savory morning porridge and top that with a fried egg and a scoop of chutney.
Egg Skillets: One of my favorite recipes is this turmeric cauliflower skillet. The chutney compliments the turmeric flavor and is a great way to balance flavors.
Sandwich/Veg Burger: Spread chutney on a grilled cheese sandwich or make a curry vegetable burger and use the chutney as a topping.
Cheese Platter: Use chutney instead (or with) jam on a cheese board or bake brie and add the chutney to the top before serving.
Sauce/Dressing: Puree the chutney and use as a dipping sauce for summer rolls or wraps. The puree can also be mixed into a dressing (like this lemon vinaigrette!)
Recipes that use fruit chutney