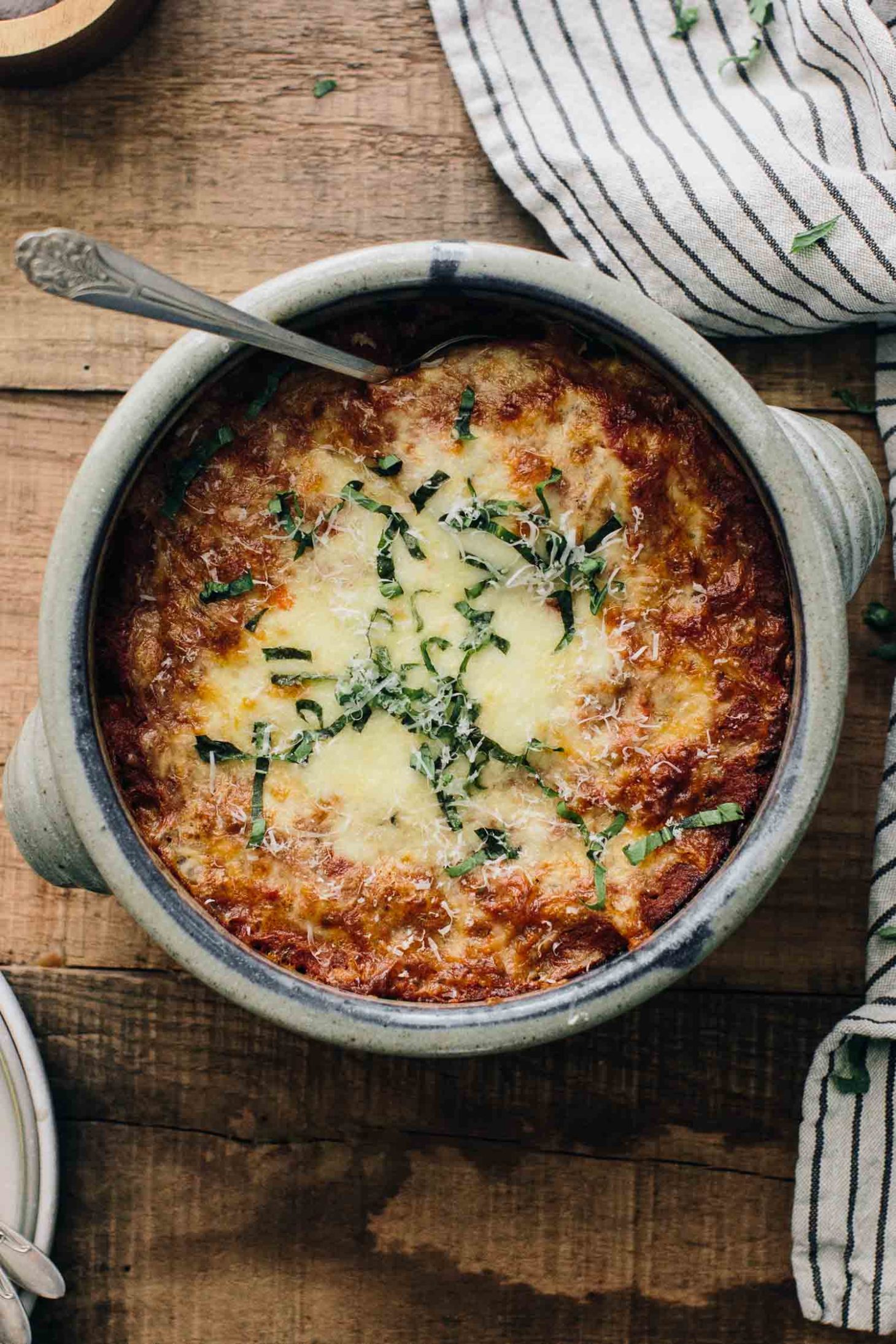 Post sponsored by Bob's Red Mill. See below for more details.
The first couple of weeks after having a baby were interesting. I wanted to cook but at the same time I was exhausted and figuring out everything new that came with motherhood. Luckily my mom was here, shopping and cooking for us. My first request she made: her homemade mac and cheese. I craved comfort food and she delivered. After that, I set out to have a small arsenal of recipes to make for new parents. Enchiladas, pasta bakes, and fresh salads are my go-to but recently I've been playing more with whole-grain bakes, like this zucchini bake. Grains hold up well over time, and hearty, and work well with a myriad of vegetables and sauces.
To make this zucchini bake ahead of time to share, prep through the assembly stage, leaving the cheese off to the side. Pack in a freezer-safe dish and deliver with cooking instructions! I also usually like to take a fresh salad if I know they might eat this for dinner that night. Anything that's easy to cook and/or assemble!
Print
Zucchini Farro Bake
A hearty make-ahead meal for yourself or to deliver to a new family. Made with whole-grain farro, ricotta, and seasonal produce.
Author:
Prep Time:

15 minutes

Cook Time:

1 hour 15 minutes

Total Time:

1 hour 30 minutes

Yield:

4

servings

1

x
Cuisine:

dinner
1 cup

uncooked farro

1 ½ cups

whole milk ricotta

1

large egg

½ teaspoon

oregano

¼ teaspoon

sea salt

1 cup

sliced zucchini and yellow squash

½

diced red pepper

¼

medium diced white onion

2 tablespoons

minced fresh basil, plus extra for topping

2 cups

homemade roasted tomato sauce

2 ounces

shredded mozzarella cheese

2 ounces

shredded fontina cheese
Parmesan (vegetarian-friendly), for topping
Instructions
Place a medium pot over medium-low heat. Add the dry farro and toast for a couple minutes, shaking the pan occasionally. The farro should have a toasted, nutty smell. Cover with 3 cups of water, bring to a boil, reduce to a simmer, cover, and cook for 35 to 45 minutes, until tender (time will depend on whether you're using pearled versus whole).
When the farro is almost done cooking, heat the oven to 375˚F. Whip the ricotta with the egg, oregano, and salt. Place the cooked farro in a 8x8 pan along with the vegetables, basil, and ricotta. Stir until everything is well combined. Cover with the pasta sauce and bake for 30 minutes. Remove from oven, sprinkle with cheese, and return to the oven for 15 minutes; until cheese has melted and lightly browned.
Serve with a sprinkle of freshly grated parmesan cheese and extra basil.
Notes
Tips & Tricks: Make ahead of time: assemble through the sauce, leaving the cheese off. Refrigerate up to 24 hours or freeze for a couple of months. To cook from a frozen state, bake for an extra 20 to 30 minutes before adding the cheese.
Stock up: get the pantry ingredients you will need: farro, zucchini, peppers
Zucchini Bake
variations
This bake is versatile- really the only constant is the ricotta base that holds everything together. Swap out the produce, grains, and even the sauce.
Vegetables: You can make this dish year-round. During the fall/winter, try pre-roasted sweet potatoes and winter squash. Fresh greens also work well in this dish. Try adding shredded kale or chard in with the cooked grains.
Sauce: I love using the homemade roasted tomato sauce on pretty much everything during the summer. During tomato's off season, make your own tomato sauce from canned tomatoes or pick up your favorite store-brand pasta sauce.
Grains: You can really use any grain that holds texture. If you need to make this gluten-free, try using sorghum or oat berries. Einkorn, wheat berries, or spelt berries also work well in place of the farro.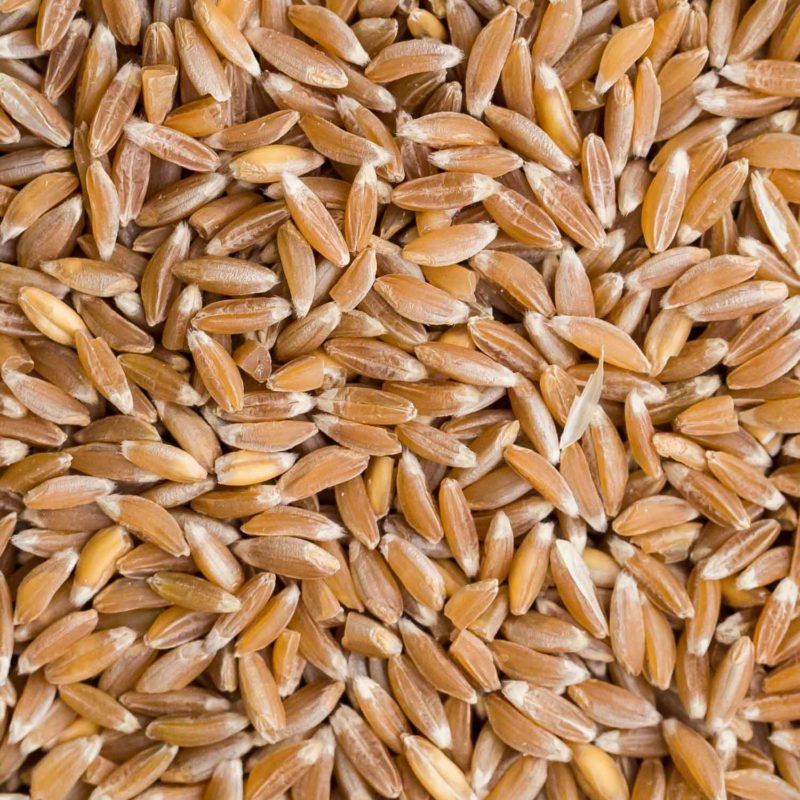 Farro is one grain that tends to stay in whole-form in my cooking. The slightly warm and nutty wheat berry is perfect for salads, stews, and bakes. It keeps a slight chewy texture but soaks up flavors of everything around it. You can also crack farro- I use this technique for whole grain morning porridges or making a farro risotto. Cracking adds a bit of extra creaminess without any additional ingredients!
Kale Risotto with Farro
Dried Apricot Soup with Emmer
Baked Farro Risotto with Cauliflower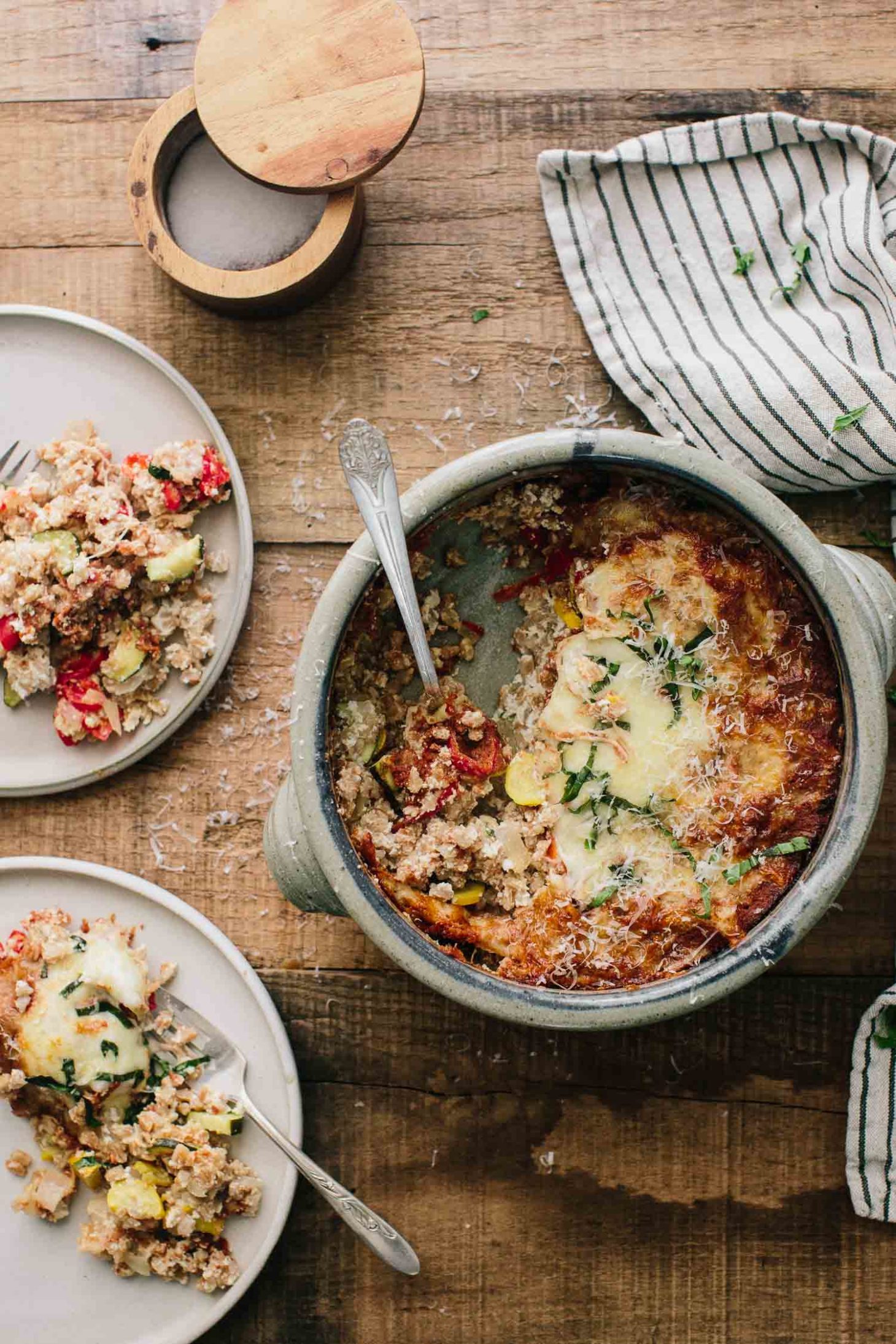 Disclosure: This recipe was created in partnership with Bob's Red Mill. All thoughts and opinions are my own. It's content like this that helps me keep this site running to provide the vegetarian recipes you see every week.