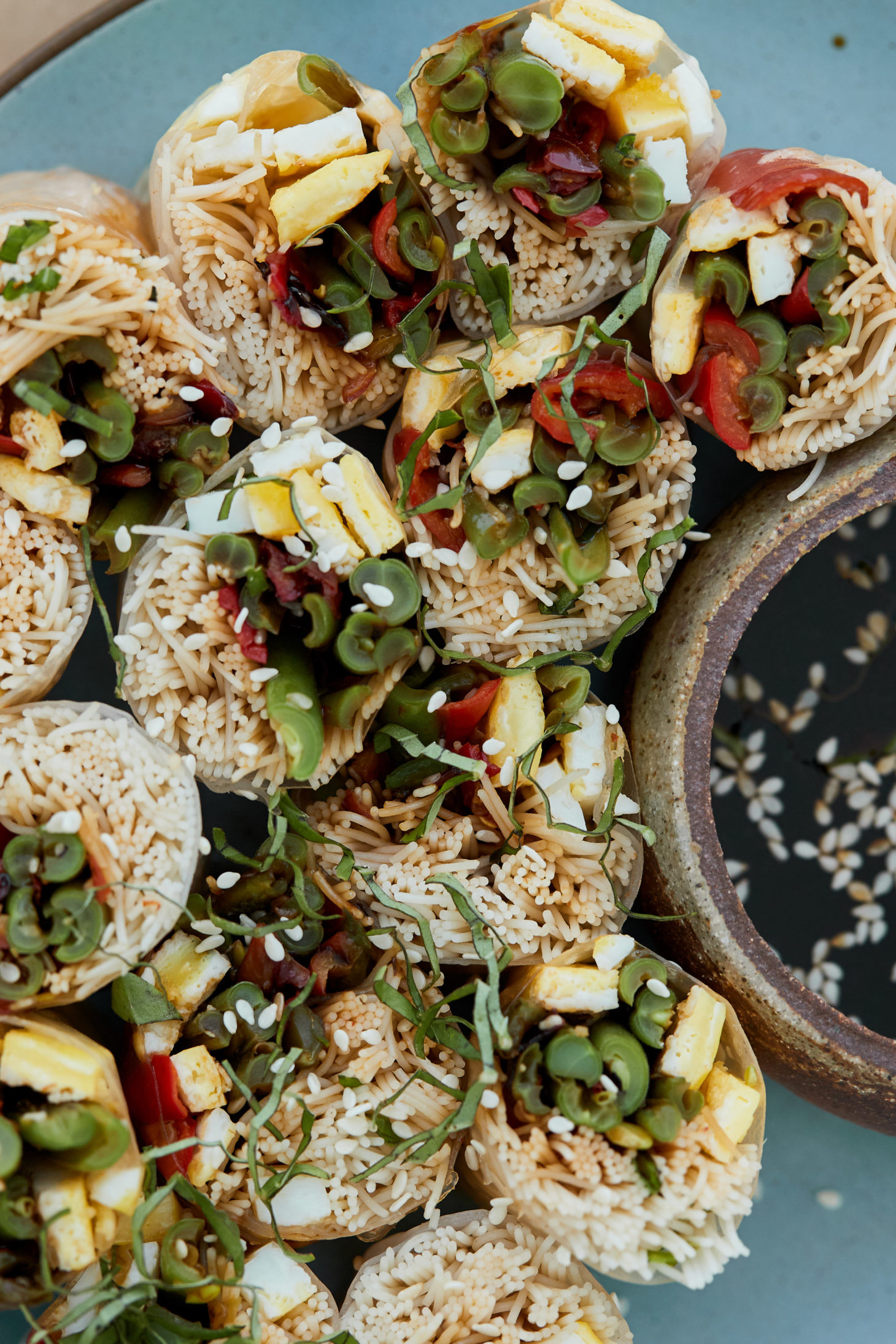 Post sponsored by Pete and Gerry's Organic Eggs. See below for more details.
What's my favorite summer food? Anything portable as I feel like I'm always on the move! These spring rolls are packed with cooked green beans, herby noodles, and to bring it all together, fried egg. It's a perfect on-the-go meal for me!
Loaded up with Vegetables
I think there's no better thing than having a hand-held option to eat a delicious array of vegetables. It's easy to load them up with any of the seasonal vegetables. During the summer, you could also add cucumbers, different types of peppers, greens, cabbage, or eggplant.
During the cooler months, this would also work well with carrots, sweet potatoes, spinach, chard, and/or kale.
Make it a meal: Pete and Gerry's Organic Eggs
Beyond the delicious array of vegetables, these spring rolls are also great as a meal with help from Pete and Gerry's Organic Eggs. One of the reasons I like using these eggs is because I know they come from small family farms that are dedicated to humanely raising chickens and ensuring care of the land for future generations.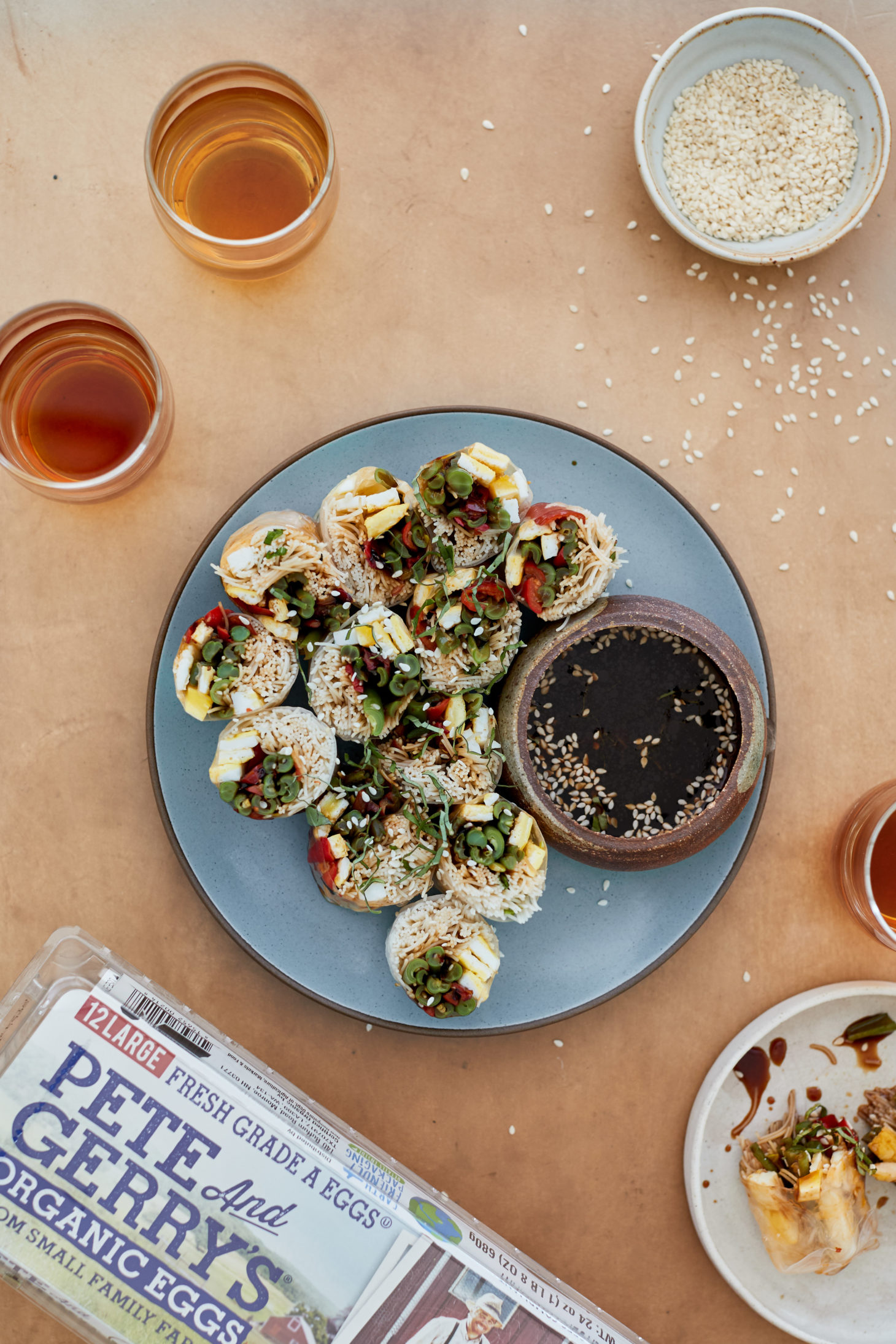 Herbs
When it comes to spring rolls in the summer, basil is the obvious choice. However, it's not the only option. A few other ways to jazz up the rice noodles include cilantro, mint, dill, or parsley. Some of these options are better for the fall/winter vegetables but I've yet to find a combination I don't like.
Rice Noodles
I love adding rice noodles to the rolls as a way to bulk up the overall bite. I prefer the smaller brown rice noodles but I've also used thicker ones in the past. Of course, you don't have to use noodles at all. I'll occasionally swap out the noodles for lettuce or spinach.
The Wrappers
Finally, there are a few different types of wrappers. There's round/square and white/brown. While I like using brown rice papers, I find they are a bit tougher to roll. I've been sticking to the smaller 6" white wrappers, which is what I used for this recipe.
Print
Chili Green Bean and Egg Spring Rolls
Author:
Prep Time:

25

Cook Time:

20

Total Time:

45 minutes

Yield:

8

spring rolls, about

3

to

4

servings

1

x
Ingredients
Eggs
1 teaspoon olive oil
2 Pete and Gerry's Organic Eggs
Green Beans
¼ pound green beans
1 cup (about 1 medium sized) sliced red pepper (see note) 
2 teaspoons olive oil
3 tablespoons soy sauce
1 tablespoon garlic chili sauce (see note)
½ teaspoon sesame seeds
2 teaspoons honey
Everything Else
2 ounces thin rice noodles
¼ cup julienned fresh basil
1 teaspoon sesame oil
8, 6" spring roll rice paper wrappers
Instructions
   

Heat a nonstick skillet over medium-low heat and add olive oil. Crack the eggs into the pan and break the yolk. Cover the pan with a lid and let cook until the egg is cooked/set. You can flip the eggs if the top isn't setting. The goal is to keep the egg together.

   

When the egg is set, transfer to a cutting board, let cool slightly, then cut into ¼" thick strips that are roughly 3" long.

   

Once the eggs are done, prep the vegetables. Trim the green beans, cut in half, then carefully slice the green beans in half lengthwise. Slice the peppers into similar size. Heat a skillet on medium heat and add olive oil followed by the vegetables. Cook until vegetables are tender, 6 to 8 minutes. While the vegetables are cooking, combine soy sauce, chili sauce, sesame seeds, and honey.

   

When the vegetables are done, turn the heat to low and add the soy mixture. Cook for a minute or two more, just until the green beans are coated.

   

While the vegetables are cooking, cook the noodles according to the package. Drain, rinse, and put the noodles back into the pan. Add the basil and sesame oil to the noodles and toss to coat.

   

Once you have all the parts ready, set up your wrapping station with the eggs, vegetables, noodles, wrappers, and a small container of warm water to soak the rice papers.

   

Soak the rice paper for 10 seconds (you don't want it too soft when taking it out of the water, it will soften as you add filling.) Place rice paper on a wet cutting board and load rice noodles, green bean mixture, and eggs. Roll, tuck, and fold in sides as you go. Continue with remaining ingredients.
●      Once done slice in half and serve with a little bowl of soy sauce or favorite dipping sauce.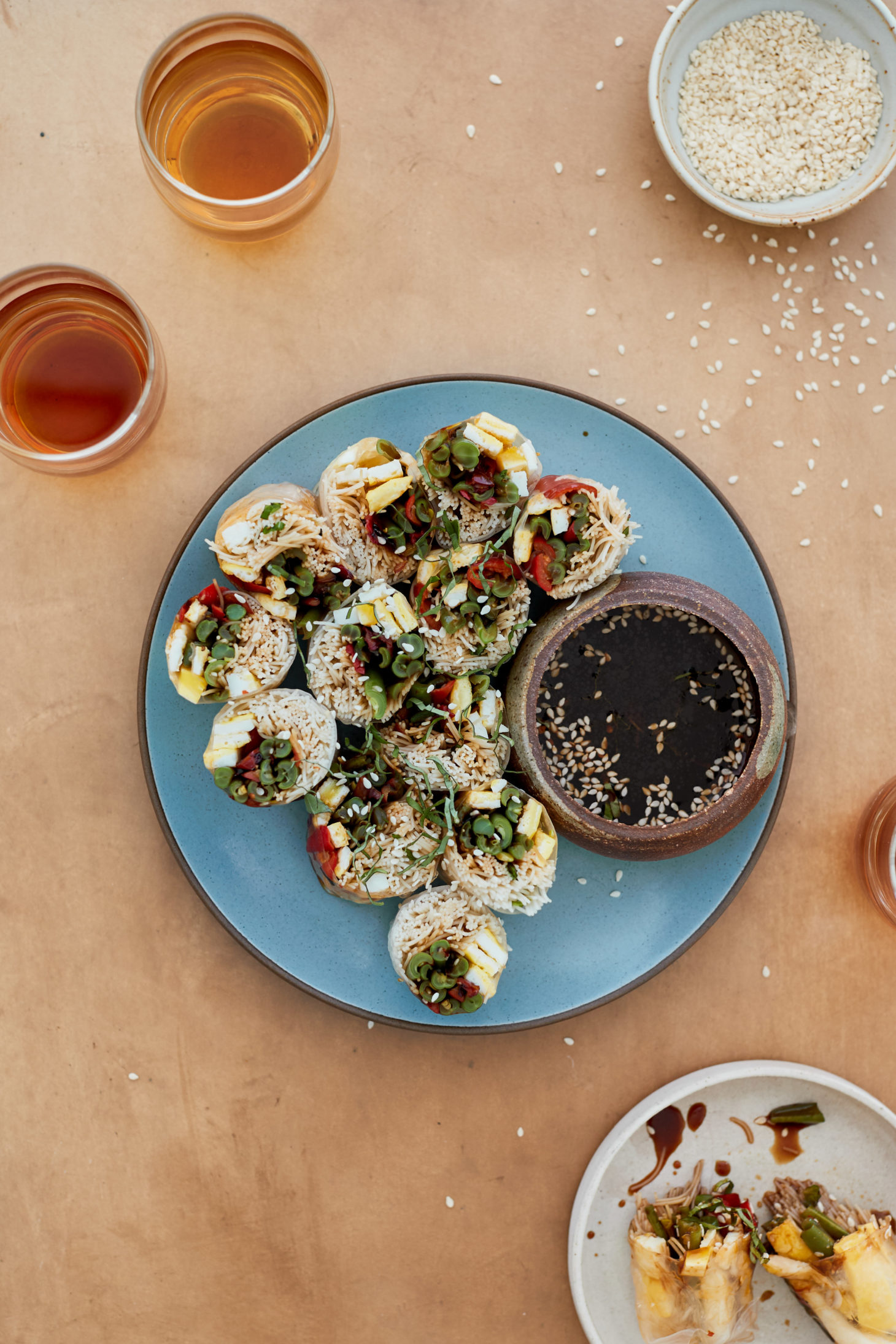 Disclosure: This recipe was created in partnership with Pete and Gerry's Organic Eggs. All thoughts and opinions are my own. It's content like this that helps me keep this site running to provide the vegetarian recipes you see every week.